The first fish I ever caught as a kid was a minnow.  And the tenth.  And probably the hundredth.  And I couldn't have been happier.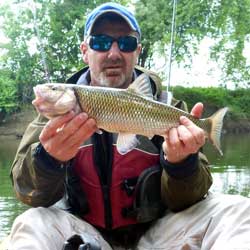 The muddy, slow moving creek running through the cow pasture behind my grandpa's barn was loaded with creek chub.  My brothers and I bugged him and our dad incessantly every weekend to let us go down to the "crick".  After chores were over, we'd dig red wigglers from the manure pile and go sprinting across the field.  Well, as best we could in our oversized black rubber boots.
We'd toss our worms to the willow tree roots floating in the water on the edge of a pool.  No sinker.  No bobber.  We didn't even use fishing poles.  Literally just a willow switch, a piece of string from my grandmother's junk drawer, and a small hook my grandfather tied on.
We terrorized that local population of chub for years.  
Thinking back to those days, it makes me smile at how excited my brothers and I would get, catching those little minnows for hours on end.  Compared to the fish I catch now – it's almost embarrassing.
But it shouldn't be.  Approaching my 51st birthday next month, it seems like I'm on the backside of the full circle most anglers move through, often known as The 5 Stages of Fishing.
Stage 1: Learning Stage.  Wanting to catch a fish – any fish.
Stage 2: Limiting Out Stage.  Wanting to catch a lot of fish.
Stage 3: Trophy Stage.  Wanting to catch big fish.
Stage 4: Method Stage. Mastering challenging techniques or species.
Stage 5: Sportsman/Woman Stage.  Being happy just to be out on the water, fishing.
I think I've been at Stage 5 for a while, although I occasionally slip into other stages now and then.  Mostly in a fit of frustration, when I'd just like to catch a fish – any fish – but they won't cooperate!
Mostly though, I find enjoyment in all the other things that come with fishing.  Satisfaction in the total experience.  Being on the water, enjoying the company of friends and family, and observing nature.
Some people say there's a Stage 6 – Joy in the Success of Others.  I believe that's 100% true.  Whenever I take someone fishing, having them catch something is my #1 goal.  It's more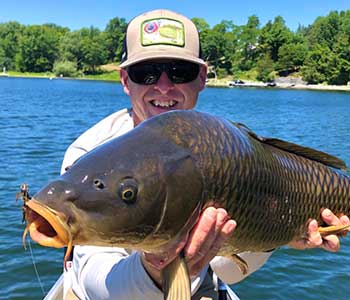 important to me than catching anything myself.  Seeing them get excited, be successful, and have fun is just as good.  Maybe better.
This is why I've enjoyed writing these Fishing Reports for the last year and a half.  I like helping others be successful, and enjoy fishing as much as I do.
Ask yourself what stage you think you're in right now.  And no matter what the answer is, I think on your next trip, you should go out and try to catch a minnow!  And appreciate the experience.
 —Shawn Good, Fisheries Biologist. shawn.good@vermont.gov
Catch A Minnow
Oh, you didn't think I was serious?  I sure am.  Now, most people have a pretty narrow view of what a "minnow" is.  It's always something small.  Swims around in schools.  Usually bait.
That's mostly true, but there's more to it than that.  The word minnow is used to generally describe fish species that are in the Cyprinidae family, and includes true minnows like the eastern silvery minnow and fathead minnow, as well as shiners (golden shiner, emerald shiner, common shiner etc.), dace (blacknose dace, northern redbelly dace etc.), and chubs.
But it also includes some species that might surprise you.  The fallfish is Vermont's largest native minnow species.  The state record is a 20.8-inch fish that weighed 3.1-lbs, caught in Otter Creek in 2013.  Fallfish in the 14 to 16-inch range are very common.  Fallfish are widespread in waters around the state, and can be caught on a worm and bobber, a small inline spinner, a panfish jig, and even small crankbaits.  They're aggressive and fight hard, making them a great species to get your kids started with.  It's one of the first types of fish my own son caught on purpose, fishing in Otter Creek when he was five.  To learn more about catching these, you can watch the Vermont Master Anglers TV episode on YouTube where department fisheries biologist Jud Krazter takes Zach McNaughton out to target fallfish.
At the other extreme, we have a minnow in Vermont that can exceed 40 pounds, and catching individuals that are 10 to 20 pounds is not out of the ordinary.  It's the common carp.  Yep.  Carp are in the same family of fish – the Minnow Family – as chubs, shiners, and dace.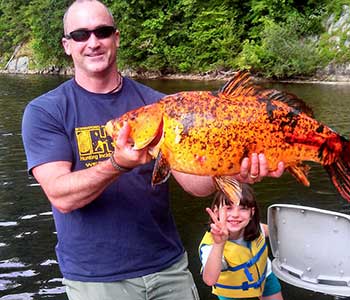 Interesting side note – goldfish and koi, closely related to carp, are also minnows.  Friendly PSA of the day – don't let your pet goldfish or koi go in the wild, or they could turn into something like this Koi that VT Game Warden Kelly Price caught while fishing on the Connecticut River.  A monstrous orange minnow, just like Otto in "A Fish Out Of Water", written by Dr. Seuss' wife Helen Geisel.
In any case, VT fishing guide Drew Price says carp action has been in full swing this summer.  He chases them on fly gear (Stage 4 angler!) which can be a challenge.  They are wary and difficult to trick.  You need the perfect fly, the right line, and accurate casting.  And even if hooked, it doesn't mean you'll land it, as they are very powerful.
But there are other ways to catch them, as I outlined in my August 16, 2019 fishing report.
Finally, if my childhood creek chub story sounds compelling, we have plenty of them in Vermont!  It's another native, widespread species that's very easy to find.  As luck would have it, Zach McNaughton did a Vermont Master Anglers episode on creek chub fishing!
Seriously.  Take your kids minnow fishing.  Don't knock it 'til you try it!
Go Deep
The summer heat has sent a lot of different species packing for deeper, cooler water.  So it pays to adjust your tactics, which can mean fishing deeper, fishing smaller baits and lures, and fishing slower.
Department staff member Olivia Bussiere has been finding a great deal of success fishing a dropshot rig recently.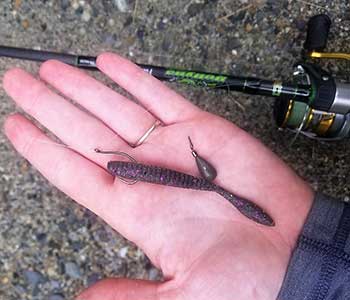 So much so that it's become her new confidence bait.  But she's also found other small, slow moving techniques like wacky rigged senkos, or subtle shaky heads are working well right now in the heat.  Olivia's been catching smallmouth bass in 15 to 25 feet on dropshot rigs.  Be careful when reeling fish up from deep water.  Don't bring them to the surface too fast.  Playing them a little slower will let them expel air from their swim bladder, and give you a better chance at a healthy release.
Department fish hatchery technician Nate Olson agrees with Olivia, saying with water in the mid-80's right now, dropshotting has been productive lately, especially if you can find deeper, isolated bottom features.  As a great example that may surprise many readers, Nate says he caught a 5-lb largemouth bass in 32 feet of water last week.  Of course, there will still be shallow fish, and the way to get them is fish late in the evenings, into the night, or around cover that provides lots of shade.  Nate recommends using topwater lures like Heddon Torpedo, Zara Spook, Rebel Pop-R, Rapala Skitter Pop and a buzzbait.  A slow pop-pop-pop-pause action tends to trigger bites – mainly on the pause.
Just to underscore my point about fishing deep … earlier this week I was talking to department fisheries biologist Bernie Pientka in the Essex Office.  He's been out this week setting survey nets for perch in the Inland Sea.  I'm the head of the department's pike and muskie team, and so he wanted to let me know that he got a 38-inch northern pike (around 18 pounds) in one of his nets set on the bottom in 45-feet of water near Eagle Mountain.  How's that for making you rethink your summer fishing techniques?
Fishing deep will work for pike, bass, walleye, panfish … just about anything right now.
Don't Give Up
VT angler Danielle McEnany wrote to say she's been following these reports for a while now, and was finally motivated to ask a friend with a boat to take her out fishing on Lake Champlain for the first time.  Usually she fishes for sunfish and shiners in a small creek near her house.  It's a complete coincidence that Danielle mentioned catching minnows.  Seriously, this wasn't planned!
Despite some trepidation after reading my last report about low, hot water conditions making the fish a little stingy, they went out for a short evening trip.  Hitting the lake around 6pm, the water was 85°F, and she didn't think she'd catch anything in the bath water.  But Danielle says the boat ride and the scenery were well worth the trip anyway.  Great attitude!  Still, they were there to fish, so fish they did.  On her first attempt, she made a sloppy cast (her words!), and the lure didn't go very far.  But as she began reeling in, a smallmouth bass grabbed her lure, and she landed it!  First time fishing Lake Champlain, first cast, first bass! 
My hat's off to Danielle for asking for help to try a new type of fishing.  And to her friend who took her out.  Nice job!
Fish the Map's Smallest Blue Lines
Middlebury VT angler Doug Zehner says the flush of rain and slightly cooler water temperatures have improved trout fishing in some of the Green Mountain headwater streams.  The ones that show up as the skinniest blue lines on a map.  Brooks even old guys can jump over, as Doug put it.  The streams Doug was fishing were in the low 60's.  A great way to cool down while you fish – wet wading in an old pair of sneakers.  Ditch they waders when it's this hot out!  For dry fly enthusiasts, Doug spotted some blue winged olives hatching off later in the day, which had the trout looking to feed on the surface.  Hot flies included Ausable Bombers, Ausable Wulffs, and Hornbergs in size 12 or smaller, fished on a short rod, 6-ft leaders and a 6x tippet.  
Hurricane Isaias didn't drop nearly as much rain on the Northeast Kingdom as it did on other parts of the state, so according to department fisheries biologist Jud Kratzer, the rivers and streams up there are still running low.  But, as the weather has started to cool off a bit, Jud's been back out brook trout fishing.  According to his fishing log, some of Jud's best trout fishing days have been in early to mid-August.  This is likely because the low water levels push trout into predictable locations that have deep water, overhead cover, and current.  Last Friday, Jud caught brookies in locations that had at least two of those elements, with the biggest fish coming from spots with all three.  He caught most fish on grasshopper-imitating dry flies, but live grasshoppers would work just as well.  Seeing a brookie take a grasshopper on the surface is a blast!
Jud says that the NEK is full of cold brooks that support wild, self-sustaining populations.  Carry a thermometer with you.  If you find a brook at or below 68°F on a hot, sunny afternoon, it probably supports wild brook trout.  If it's over 70°F they'll be stressed, and they'll die at 75 or over.  
Other Fishing Reports
Frequent report contributor Roy Gangloff says he finally started seeing some pike action on southern Champlain.  Apparently, it went from a 0 to a 4.  Promising!  They've been scarce most of the summer, probably hanging out in the deep channel, like Bernie's fish.  Even if they are spending most of their time out deep, they will come shallow to feed in the early mornings and evenings, so time your trip accordingly.  Now, keep in mind, to Roy, getting to the ramp at 5am means it's a late start, but if you get an overcast day, pike action should be consistent throughout the day.  Roy suggests fishing along main lake shorelines and outside weed edges with topwater buzzbaits and toads.
Brian Cadoret of Middlebury VT has been targeting a mixture of fish species lately.  He's been taking some beautiful smallmouth bass on topwater flies and bowfin in shallow weedy areas on Champlain.  And cooler temps and a bit of rain have cooled rivers and turned the brook trout on. 
Ron Winter of Essex VT has shifted gears a little bit lately, trolling for walleye instead of trout and salmon.  Ron said anglers are seeing an upswing in numbers in the last few years, and not many anglers target them outside of the May river-fishing season.  Ron says the best time to go is starting around 30 minutes before sunset and fishing until midnight.  The Inland Sea has been producing in areas where the bottom structure rises up to 5-10 feet bordered by 15-20 feet of water.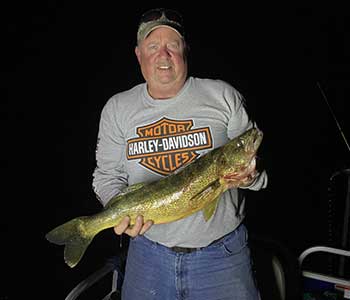 If you don't have charting electronics in your boat, for $15 you can download the Navionics app and have lake charts for all of Vermont on your smartphone.  Ron maneuvers his boat parallel to a 15-foot contour and flatlines stickbaits that dive 8 feet or so with about 100-ft of line out.  If you find a certain area where fish are biting, anchor and cast deep diving crankbaits around the area.  This works just as well with trolling to find fish.  Casting lures around sunken reefs and shoals after dark will put walleye in the boat!
I'm going to end with a plea to help retired department Wildlife Biologist Scott Darling.  Apparently, he fished a promising looking area on Lake Champlain for largemouth bass the other day – to no avail.  The next day his son came for a visit, and borrowing the same rod, using the same whopper plopper lure, and fishing the same location, Ryan landed a 6-lb largemouth.  And broke Scott's rod while landing it.  As Scott said to me, "He gets the fish, I lose a rod".  
I'll be starting up a Go Fund Me page soon to help poor Scott out.
See Also:
---

Thank you for supporting healthy fisheries in the Green Mountain State through your Vt. fishing license purchase, and through excise taxes on your purchase of fishing equipment and motor boat fuel, administered through the Federal Aid in Sport Fish Restoration Program.