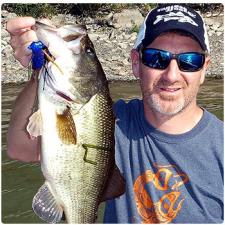 It's hard to believe, but we're looking at the unofficial last weekend of summer coming up next week. By then, kids will have already started back at school, and free time with the family will dwindle once again.
While summer officially doesn't end until September 22, for all intents and purposes, Labor Day is the last long weekend we get under the guise of summer. Labor Day is a time to honor and recognize all our hard work throughout the year—and then take a break from it. I read somewhere that the average person will work 90,000 hours—a third of their life. And one quarter of Americans say work is their single biggest source of stress.
Well, I have good news for you. Fishing is a proven de-stressor. Doing anything outside in nature, for that matter, resets our minds and bodies, and positively impacts our well-being.
Fishing with friends and family is time well spent, plain and simple. It lets us relax and unplug from our busy lives, enjoy our great outdoors, and even catch a fresh, healthy meal. It helps create special memories and builds lasting bonds between parents and children.
So, with a week left before Labor Day, take a step back and reassess what's really important in life. Do you work to live, or do you live to work, as the old saying goes?
Before summer completely slips away from us this year, use what's left of it to make a few last casts with the family.
—Shawn Good, Fisheries Biologist shawn.good@vermont.gov
Fish Grow on Trees
I get a lot of requests from teachers and school groups to come speak to a class when they're doing a module on biology or natural resources. As a matter of fact, all the department fisheries biologists field these requests. And we all try to work them into our schedules as best we can, because fostering an appreciation and understanding of our environment through outreach and education is an important aspect of our jobs as fisheries biologists.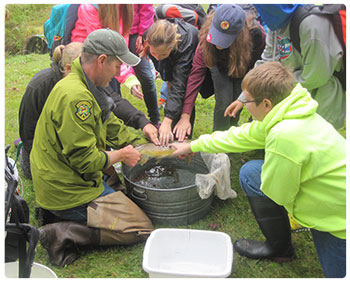 When I get these requests, my preference is always to take the class outside. I've taken pre-school classes to a town Recreation Park pond to catch minnows and frogs. I've taken elementary, middle and high school classes to trout streams to talk about aquatic habitat and trout populations. And I've lead field days for undergraduate and graduate level college biology classes.
But regardless of the age or education level of the group I'm with, I have a favorite question I always ask during my talk about fish, fish habitat, or fish biology. And that's "Do Fish Grow On Trees?"
It's always fun to hear the answers, or the silence that follows. For the younger kids, I get it. It's laughs and giggles and excited "Nooooooooo" answers yelled out to me. But older high school and even college students kind of go quiet for a bit, like they sort of think it's probably a trick question, but they aren't quite sure what the answer is.
The answer is yes, fish DO grow on trees! As a matter of fact, we have a webpage all about it.
Obviously, the "trick" part of the question is that fish don't actually grow ON the trees, but trees are as critical to fish populations as clean water and oxygen, and they help fish grow, survive and thrive.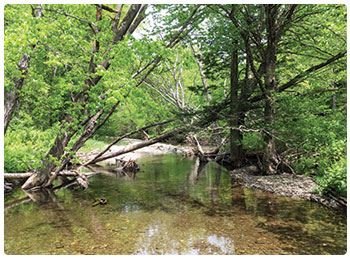 Trees shade the water and keep it cool. Their roots hold streambanks together, preventing erosion and siltation, and they filter pollutants and run-off. Leaves and sticks that fall into the water begin to decompose, which stimulates the growth of beneficial algae, and provides food and nutrient sources that support aquatic insects, minnows and everything else up the food chain. And when a tree topples over and ends up in the water, the tangle of branches and limbs provide protection and cover for fish to hide in. Tree trunks also deflect water currents scouring out pools and undercut banks, which are important fish habitat features of stream environments.
Some people look at a fallen tree or log jam in a stream as a "mess" that needs to be removed. Fish and fish biologists look at that mess and think "that's great habitat for a healthy trout stream".
The functions of trees and wood in stream environments are so critically important to trout populations that department fisheries staff operate a program called Strategic Wood Addition (SWA), where trees are purposely placed in streams to help restore depleted trout populations. In some streams, we've seen brook trout populations triple within a couple years of adding trees and wood.
Take a look at this video we made this summer about the SWA project. And for more detailed information, including more videos, pictures, and a great Handbook on how SWA works (written by department fisheries biologist Jud Kratzer), check out our Strategic Wood Addition webpage.
Exactly 100 years, 2 months and 1 day before I was born, the famous Scottish-American naturalist John Muir wrote "When we try to pick out anything by itself, we find it hitched to everything else in the Universe."
Strategic wood addition is just one of many real-world examples that demonstrate how true this is. John Muir, way ahead of his time 152 years ago, understood that Fish Grow On Trees.
Learn to Fish Clinics
Ok, real quick before we get to some fishing reports from anglers around the state. Our Let's Go Fishing Program is continuing into September with three Introduction to Fishing clinics coming up:
Sept 9 – Heineberg Bridge Access Area, Winooski
Sept 15 – Proctor Falls, Proctor
Sept 21 – South Bay Fishing Access, Newport
Click the link above to sign up (pre-registration is required), and remember, these FREE clinics are open to people of all ages and levels of experience, including those who are completely new to fishing. The programs cover ecology, knot tying, fish identification, regulations, equipment and much more. All equipment is provided.
Fishing Reports
We all know the second half of this summer has been hot. I'm not a fan, personally. I can't wait for cool fall weather. But while it's here, don't let it interfere with your fishing. Fish early in the day, or later in the evening. Hydrate, choose your spots and your quarry carefully, and the fishing can be as hot as the weather!
Streams and Rivers
Dagmar Neubauer with The Reel Angler in Manchester wrote to say he never thought he'd be saying this about August trout fishing, but it has been very good this month. The rains we've had, particularly in southern Vermont, have certainly helped. The other day, the Battenkill River was flowing at 524 cfs, the Black River at 182 cfs, Upper Otter Creek 278 cfs, and the Walloomsac at 265 cfs, all normally unheard of this time of year. While these are very fishable conditions, hot air temperatures mean anglers should play and land fish quickly, and take your time reviving them if you plan to catch and release. Or, as I said earlier, fish early and late in the day before it gets too hot. For flies, Dagmar says terrestrial patterns like ants and grasshoppers have been producing very well, as have chartreuse humpies in size 18 or 20 for brookies in particular.
Down in southeastern Vermont, Brattleboro angler Jim Commentucci says the weather we've been having lately has motivated him to spend time doing his absolute favorite kind of angling—wet wading. Jim's never told me how old he is (is it impolite to ask?), but he tells me there's nothing that makes him feel 11 years old again like wading in a stream with nothing but a swimsuit, t-shirt and a pocket of lures.
The middle of the West River around West Dummerston upstream to the dam is perfect for this. Jim says he wears felt-soled sandals he got at L.L. Bean (a pair of old sneakers work too if you're young and nimble!)  Jim has been having a ball catching brown trout and smallmouth bass in the 10 to 14 inch range, and lots of fallfish up to 16 inches or bigger, which will strike pretty much any lure you use. Mostly, Jim's been using #5 and #7 floating Rapala stickbaits. The rainbow trout pattern has been particularly deadly. Jim told me the fallfish put up a deceptively strong fight and are fun to catch, but they tend not to jump. I agree—they ARE fun, and I make it a point to fish for fallfish in Otter Creek at least a couple times a year. Aside from the fun, Jim says he likes to keep a few medium sized fallfish now and then to freeze and use as dead bait when ice fishing for pike. As a heads up, make sure you have your free Wild Baitfish Endorsement if you plan to follow suit!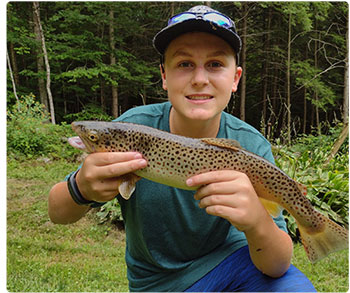 Kelley Connaughton of Pittsford sent in a nice photo of her son Riley—a budding angler who's crazy about fishing. Kelley said he hit a local stream the other day and was using a yellow inline spinner with a red and green feathered tail hook. Walking upstream, he came across a small, deep pool with a little waterfall spilling into it, and a log in the water. After a few casts, he connected with this beautiful brown trout. Nice job Riley! It pays to go exploring. And speaking of that …
Department wildlife technician Tyler Brown likes exploring, looking for new waters, or more accurately, overlooked waters. I bet every one of you drives by a stream loaded with trout every day. They are pretty much everywhere in Vermont. Many of our small mountain streams teem with wild brookies. Tyler says many people, while on their way to work, pass by these small streams that meander to and from our roadways, but never give them a second thought. You might want to rethink that and go exploring. You never know what magical place is literally just around the corner, that nobody thinks to fish.
Lakes and Ponds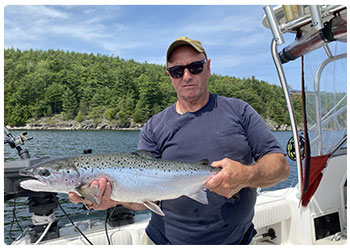 Starting out on our biggest lake, Essex angler Ron Winter says the central main lake area of Champlain has still been producing some nice salmon and even a few steelhead recently, as has the area around Valcour Island on the NY side. Ron's been finding a pretty stable thermocline (that band of dense water that separates the warmer upper layers from deeper, cold water) 55 to 60 feet down. Ron's been trolling his lures just above the thermocline in around 63°F water temperature.
How, you ask, does he know that?  Well, for avid deepwater trollers like Ron, there are probes like the FishHawk that can be used to monitor water temperatures at different depths while fishing. Knowing the water temperature at certain depths is often the key to being successful fishing for trout and salmon in deep lakes in the summer. Ron's best salmon this week was a 27-inch Master Angler beauty landed and released by Chris Peacock. Salmon action will start to wind down as we get into September, and most fish shift into spawning mode, ready to enter rivers near the end of the month. Ron says this year Champlain has produced some of the nicest size salmon he's seen in a long time. Good to hear!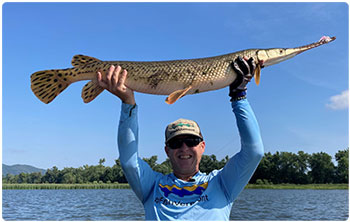 Switching species completely, Charlotte angler Drew Price says that when weather gets hot like this, he focuses more on warm water fish species like our native longnose gar. On Champlain, he's been finding active gar on the surface in the backs of weedy bays, feeding and gulping air, making sight-fishing for this awesome species a blast. Once you spot one, cast a streamer or a stickbait ahead of the fish, not at the fish. Let them intercept it as they swim. Make sure your hooks are sharp, as it's hard to get a solid hook-set in their bony mouths!
Drew says carp have been super active as well, and similar to gar, Drew's like to sight-fish for them. Carp normally feed along the bottom, so you would look for mud plumes and nose-down tailing fish, and then cast nymphs ahead of them. But lately carp seem to be staying higher in the water column, so suspended flies or bait have been working best.
Dagmar Neubauer chimed in with a few lake reports as well as his stream information. He reports smallmouth bass fishing on Somerset Reservoir has been really good lately, as has largemouth bass fishing on Gale Meadow Pond. The best techniques have been wacky-rigged Yum Dingers in watermelon and cream color, which will take both largies and smallies in both waters. Don't forget the evening topwater bite with frogs, buzzbaits and poppers.
Department hatchery technician Nate Olson says the recent heat wave has finally brought water temperatures in central Vermont lakes and ponds into the low 80s, which has pushed the bass out into slightly deeper water—out beyond 10 feet. Deep diving crankbaits and dropshot rigs having been productive in areas with vegetated bottoms, while on firmer, rocky bottoms, a Ned Rig using a Z-Man TRD setup has worked better.
Nate says when dropshotting, he prefers floating baits that give a better presentation. Nate recommends not overworking the lures—mostly cast it out, let it sit and be patient. Evenings have still been providing some great topwater action in three to five feet of water around thick vegetation. He's had some explosive hits on topwater frogs and buzzbaits. Nate finished by saying he's looking forward to September—it's one of his favorite months to fish. Let's hope we hear more from Nate in a few weeks!
Olivia Bussiere, who works in the department's licensing office, joined a bass fishing club last year. You might recall in my last report I mentioned that joining any kind of fishing club is a great way to improve your skill level. You can learn so much from other anglers who've been fishing their whole lives. Well, it certainly paid off for Olivia, as she made the Vermont State Bass Team this year and will represent Vermont at the Regional tournament next year.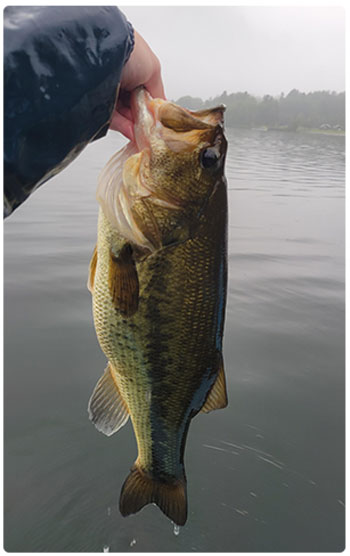 In any case, Oliva wrote to say she's been fishing a lot of small ponds this summer in central Vermont as she continues to hone her skills. This year she's been working on perfecting her use of the Texas-Rig to target largemouth in thick vegetation. So far, her favorite lure to fish on a Texas-Rig is beaver-style bait like the Missile Bait D-Bomb, Strike King Rage Bug, or Googan Squad Bandito Bug. Olivia says green pumpkin and black/blue are good all-round color choices for Vermont waters. She recommends using a heavy gauge worm hook and tungsten weights up to one ounce (for thick matted vegetation) pegged to the line. Make sure to keep the tip of the hook skin-hooked just inside the bait to keep your presentation weedless, while allowing the point to pop out when you get a bite. Flipping and pitching Texas-rigged baits triggers quick aggressive reaction bites from bass in heavy cover like this. You make a lot of casts into as many pockets in the weeds as you can, hoping a bass lurks below in one of them. What Olivia said last is my favorite part—"five years ago I thought thick weeds were unfishable, and now I'm catching big bass out of them."
And this is exactly what I was getting at when I said "join a fishing club" in my last report!
Department fish health biologist Tom Jones tells me he fished the Inland Sea earlier this week, and started out first thing in the morning using a Rebel Pop-R and immediately caught two nice largemouth in the back of a bay around scattered milfoil. But after a few dozen more casts and no more hits, he took a ten-minute boat ride and spent a few hours catching some nice smallmouth in six feet of water. But when that bite died off, and not being able to find anything else that was super active, he went back to the bay he started at in the morning but switched it up by throwing wacky-rigged six-inch Yum Dingers. In the next hour, he caught a dozen fat largemouth just fan casting the area. He eventually realized the bass were feeding on a big school of panfish. He thinks he probably would have caught more bass in the morning if he had just cycled through a few different lure presentations before leaving. Instead, he thinks his impatience cost him part of the day not catching much because he left, looking for more fish.
There's a saying I've heard frequently from other anglers—don't leave fish to find fish. I think that's 100% true. If you know there are fish around because you've seen some, or caught a few, keep trying different tactics before leaving and trying somewhere else. Sometimes you're in the right spot, but with the wrong lure!
I think there could be a bad Country Music song title in that line I just wrote.
I like getting reports from Bristol angler Dylan Verner. He does anything he can to catch fish. He's not afraid to mix it up. He wrote to say lately he's been on the hunt for new species and new waters. He's been exploring many of the department access areas on Champlain with his family, focusing on the areas around the mouths of tributaries. One remark he made is he's thankful for the cleanliness, care and quality of these locations. The parking and docks have made taking the whole family out less of a challenge and they've been enjoying more time on the water doing what they love. Well thanks Dylan! I'll make sure to pass that on to Mike and (a different) Dylan in our access area program!
Dylan's tidbit of wisdom for this report has to do with adapting to conditions. At first, he was getting discouraged because of the hot weather, which seemed to be making the fishing slow. Then he thought, "if the bite is slow, maybe I should be slow."  That seemed to be the ticket. Slow retrieves, working the bottom, being patient. Most of his bites were subtle, so using lighter rods, line and lures helped immensely. His wife and kids were using Ned Rigs, just slowly walking them across the bottom. Some nice bass, pike, and panfish were caught.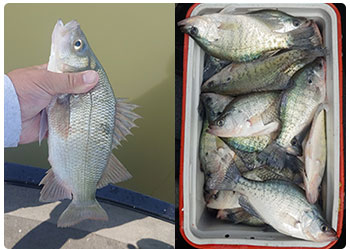 Department access area program coordinator Dylan Smith told me he took his uncle out crappie fishing on southern Lake Champlain recently. He had never been (his uncle, not Dylan. Dylan has been crappie fishing a couple times before), and wanted to see what it was all about. And maybe bring a nice meal home. Fishing out to 15 feet of water, they hit a number of spots in the channel, looking for submerged structure like sunken trees. They were consistently getting white crappie, but as they moved north and got closer to the Champlain Bridge, Dylan and his uncle started catching more white perch than crappie. The perch were higher in the water column, and it was hard to get their jigs past them to the crappie underneath. Using a heavier 1/8-ounce jig made the presentation sink faster so the white perch couldn't get it as easily.
Jack McGuire of Vergennes says he's been on a bit of a fishing hiatus this summer with some family camping trips and other things going on, but they did get out lake trout jigging on Champlain recently, and his kids Liam and Tess each caught Master Angler lakers! That's super cool. Fishing around Split Rock at Whallon's Bay, they used their trolling motor to zig back and forth in 65 to 85 feet of water, watching their fish finder. When they saw some bait and bigger fish marks around them, they dropped a heavy jig head tipped with a plastic glow-in-the-dark eel lure dipped in Berkley Gulp scent. The lake trout "absolutely mauled those lures" (Jack's words!), but they were having a hard time hooking the trout. So, they switched to 3¾-inch Steel Shad Blade baits and started catching fish. The technique was pretty simple, Jack says. Drop your lure, let it hit bottom and slowly jig it up and down—picture a heartbeat on a hospital monitor. If you've been feeling the lure on the drop, and then suddenly you don't, a fish has picked it on the fall. Set the hook!

And finally, department fisheries biologist Jud Kratzer has been having fun taking his boys fishing on some of the local reservoirs around St. Johnsbury. Being manmade, reservoirs often lack the types of fish-holding structures present in natural lakes, so Jud suggests fishing areas where trees have fallen into the water, especially if it is a tree that still has most of its branches, and is near deep water. Baitfish tend to congregate around this cover for protection as predators are often lurking nearby.
Hmmm – seriously, I did not plan my intro around Jud's report, but there you go. Fish Grow On Trees!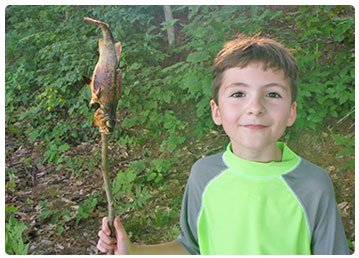 Jud and his sons fished minnows under a bobber near a fallen pine tree and caught some smallmouth bass and yellow perch, and while the kids enjoyed catching the fish, the most exciting part for them was roasting one of the perch over a campfire.
Ok, ok. I gotta stop with Jud's report again for a second. I've cooked many dozens of shore lunches in my life on the Canadian Shield lakes of northern Ontario—but it's always been walleye, brook trout, lakers, maybe an occasional pike if we were desperate. But never, ever, have I heard of roasting a perch. This is Awesome!
Jud did finish up by commenting that eating a fish they caught themselves can be a highlight for kids. To Jud, the roasted perch was bland and overcooked, but to his son, this was one of the most memorable snacks he's ever had.
See also:
---

Thank you for supporting healthy fisheries in the Green Mountain State through your Vt. fishing license purchase, and through excise taxes on your purchase of fishing equipment and motor boat fuel, administered through the Federal Aid in Sport Fish Restoration Program.