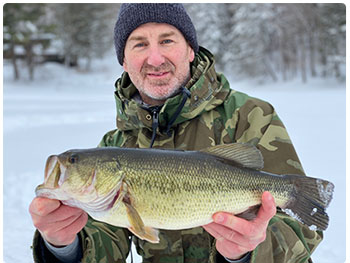 What makes for a successful fishing trip? Is it buckets 'o fish? Piles of slab fillets in the freezer? Giant wall-hangers practically impaling themselves on your hooks, hara-kiri style, all day long? Or is it something else? Something less tangible? Something with all the feels?
I was on the phone the other day with department fisheries biologist Jud Kratzer. We were comparing notes on our recent outings, both commenting on how slow our days had been. I griped a little, only half-jokingly, about the upcoming fishing report. I didn't have much to go on. Many of the anglers who were emailing me had the same thing to say … it's been slow.
Jud had recently been out on Caspian fishing with eight kids. There was little action, but they managed to catch a few small lake trout on tip-ups baited with smelt or small shiners. They set a predetermined batting order (or should I say "battling" order) for flags. Unfortunately, only four of the eight kids got to tangle with a fish. The others were the cheerleaders for the day.
Then Jud said something about the trip, almost in passing, that hit home. "It was a beautiful day."
The sun was shining. They played games on the ice. The cheerleaders still had a great time running for flags with their friends and watching them land some trout. It was a good day.
For me, I spent a day last week on Woodward Reservoir with a friend. We set big bait in deep water on tip-ups, hoping for a trophy northern pike. Admittedly, we set the tone for a slow day right out of the gate by virtue of our intended quarry, and the giant minnows we were using. In the eight hours on the ice, we only had a couple flags from something that dropped the bait. I did manage to pull in one average-sized bass.
We passed the time chatting while we jigged for non-existent panfish around our tip-up sets. We debated the merits of tip-up styles, jig rods, and electronics. We made wildly unrealistic plans to fish together for tons of species on dozens of Vermont waters come spring with time I'll never have.
Packing up just before dark, we slogged the half mile back to our vehicles through deep snow, and thinking back, I didn't feel any disappointment at all. It was a good day.
Jud and I aren't alone in our recent experiences. When St. Johnsbury Fish & Wildlife Specialist Tony Smith sends me an email that reads "fishing has been terrible for me so I can't add much to this week's report," you can be certain we've entered the wintry equivalent of the dog days of summer. Tony can catch fish in a parking lot mud puddle at the office.
Fish seem to have a case of the mid-winter blues. An online definition I found defines this as "a winter feeling of sluggishness, malaise, and lack of motivation."
It's an apt description. With thick ice cover and a heavy blanket of snow, lakes and ponds are dark and quiet under the ice right now, making the fish sleeeeepy. Anyways, that MY excuse, and I'm sticking to it.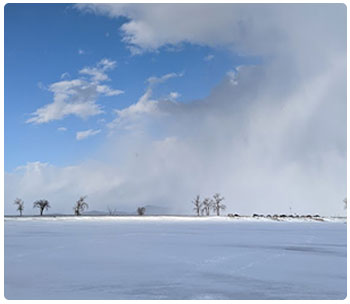 But don't worry. Fish are being caught, as you'll see by reading on. Just set your expectations accordingly. The good news is that this too shall pass. Late February and early March ice fishing almost always picks up as day length increases and the sun gets a little higher and a tad brighter.
In the meantime, pick your days carefully and enjoy being outdoors when you can. Remember what else makes for a successful trip beyond catching fish. It's time spent with family and friends. It's immersing yourself in and appreciating Vermont outdoors and all that it has to offer.
Don't focus so much on just the catching. Enjoy the fishing. They are two different things.
And if you have a slow day, it's OK. It happens to everyone. Don't be these guys. Be this guy!
—Shawn Good, Fisheries Biologist shawn.good@vermont.gov
Ice Fishing Education and Patrols

Department Game Warden Turner assisted with line management while a young angler and his father battle a nice northern pike on Lake St. Catherine at a recent Education Patrol.
A couple housekeeping items. Even though Free Fishing Day is over, the Virtual Ice Fishing Festival we created to help new anglers learn about ice fishing is still active and available, so take advantage and learn about ice fishing basics, from ice safety and drilling holes, to setting tip-ups and more. Also, the department's new Educational Patrol Program continues this month with four more dates at eight locations scheduled. This is a great chance for new anglers to meet department Game Wardens and education staff. Click the link to see if there's one near you.
Angler Reports
Dustin Loyer of Lyndonville has been fishing Willoughby, Seymour and Memphremagog, and reports catching four lakers on Willoughby last weekend. He also marked a bunch of other fish on his Vexilar fish finder but couldn't get them to bite. Dustin has been doing well with yellow perch on Magog at Strawberry Acres but hasn't connected with any lakers there yet. He says fishing at Seymour was slow, but he lost something very large that broke his tip-up line. Ooh, I hate not seeing the fish when I lose one!
Deb Martel of Newport reports the yellow perch bite on Memphremagog has been slower than usual for her, but she's noticed white perch are becoming more abundant there every year. She caught 30 last weekend between 10 and 14 inches. She's also been catching some smelt on Magog including one that measured 9.5 inches!  Deb says pike fishing has been very good in South Bay, and some nice ones were entered into the derby last weekend.
Smelt seems to be the name of the game this winter, and Adam Evans of Northfield agrees. He reports that Waterbury Reservoir and Lake Fairlee are producing good smelt catches. On an evening trip to Fairlee earlier this week, his fish finder was lit up top to bottom with smelt, and he caught some that exceeded eight inches!  For smelt, you can't go wrong with a Hali jig tipped with a waxworm.
John Hurley of Jericho tells me he fished St. Albans Bay, Monkton Pond and Lake Iroquois this past week, and his most productive depths for panfish has been right around 20 feet. It's something many inexperienced anglers overlook – the deepwater panfish bite. However, he also reports doing well on shallow crappie in Monkton Pond in the early morning. He kept a few for fish tacos, and now I'm drooling. It's my favorite way to eat panfish!
Chris Hendon of Morrisville says it's been slow for him in the last couple of weeks, following a hot start to the season on Lake Carmi for perch. Recently, he's explored lakes Elmore and Elligo without much luck. He says if anyone figures out the secret over there, let him know!
I heard some interesting information from department Education Manager Ali Thomas, who says that anglers have been doing very well for yellow perch on Shadow Lake. It's more commonly known as a trout lake and not so much for perch. That could be worth checking out for those in the area.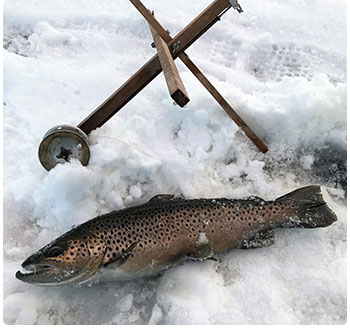 Department Let's Go Fishing Coordinator Corey Hart says trout fishing on Lake Bomoseen is finally picking up and he's taken a few nice brown trout this week, mostly late in the day. Corey sets a variety of depths, from three feet close to shore out to 40 feet of water. He sets some minnows just under the ice, and others halfway down or right on the bottom. He's been getting some good-sized fish too, big enough for a couple meals. Corey likes to bake the whole fish for the first meal and make fish cakes with the leftovers. Sounds good to me!
Over on Lake Champlain, Charlotte angler Drew Price is in on the deep water panfish program John Hurley mentioned, but much deeper. Drew has been catching 10 to 12-inch yellow perch in 60 feet of water, and he says they are spread out from 30 feet under the surface to the bottom. A tungsten jig tipped with a two inch soft plastic twitch tail minnow, or a Sebile Vibrato blade bait has accounted for all his fish. Drew says most of the perch he's catching are coughing up small alewife, so match the hatch and you should do well!
Alex Corriveau of Milton says the bluegills and pumpkinseed have started getting active in Keeler Bay while Hathaway Point in St. Albans Bay has been good for yellow perch. There's seven to eight inches of ice and the perch were hanging out in 14 to 20 feet of water.
Fairfax angler David Narwid ventured out onto Mallets Bay this week and found a consistent five to six inches of ice, thought he noticed some wet areas with ponding water he stayed away from. Pike were biting well, and he caught about ten ranging from two to seven pounds. Most fish were caught on shiners or perch he jigged up and used as bait. He set the tip-ups in three to ten feet of water with the baits set two to three feet under the ice.
John Stokes of Ferrisburg fished Lake Champlain in Addison county, and set tip-ups in 9 to 11 feet of water in areas with a sandy bottom and scattered weeds. Tip-ups were baited with medium shiners and he caught yellow perch and a few nice pike.
Roy Gangloff fished around the Champlain Bridge at Chimney Point this past weekend and says there's a solid ten to twelve inches of black ice out from McCuen's Slang, and five to six inches north of the bridge. Action was slow, but he caught a lake trout on a tip-up set in 18 feet of water or so, and he saw other lake trout being caught on tip-ups by other groups nearby.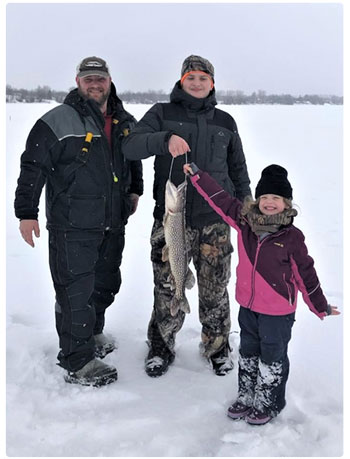 Tony Curtis of New Haven, who I know to be a very good angler, tells me fishing has been pretty slow for him so far this year. He's catching some decent perch but not finding them as well as he has in past years. The best action he's found on Champlain has been in depths of four to twelve feet. This year however, he's really gotten his daughter Harper into ice fishing, and so despite slow fishing, Tony said he's spent more family time on the ice this winter than ever before. And he's loving it. Hmmm, I think I mentioned something about that earlier on, didn't I?
And now for something completely different. I've mentioned in past reports that there are a number of streams and rivers in Vermont open to year round trout fishing (catch and release only). Not many anglers brave the elements for this type of open water winter fishing, but those that do are often rewarded. Brian Cadoret of Middlebury is one of those anglers. He's been catching steelhead in little slivers of open water on Champlain tributaries, and some brook trout on other streams. Brian says with temperatures like we've been having, he gets about three casts in before his line, leader and fly becomes encased in ice. Sounds fun? I think?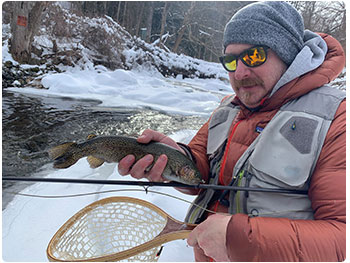 Baitshop Reports
A new addition this year to the fishing reports, baitshops are great sources of current, local information on ice conditions and fishing action. I reached out to shops around the state, and I'm really psyched to see some of them respond to my requests for fishing intel.
Down in Manchester at The Reel Angler, Dagmar Neubauer says there's good ice now in the area but daily snow squalls have made walking a bit more challenging as snow gets deeper. Emerald Lake has ten to twelve inches of good ice, and he's hearing reports of some pike and smallmouth bass being caught.
Keep in mind that bass must be immediately released at Emerald. Trout and bass season is open on lakes St. Catherine and Bomoseen, which are now finally frozen over. The smelt bite is back on at Bomoseen, while bass are providing some good action at the Little Lake end of Lake St. Catherine. Chain pickerel have been pretty active on Lake Shaftsbury, making it a great family spot for both ease of access and consistent action for the kids. Gale Meadows Pond and Lowell Lake are also producing chain pickerel and yellow perch, but snow depths make walking fairly tough. Bring snowshoes if you have them!   
Stephanie Kaiser-Gingras at Hog Island Market in Swanton says derby craziness has been keeping them busy, and she mentioned something about selling 24-inch shiners for anglers hoping to hook into Champ. What's going on up there in the Islands? Cabin Fever has definitely kicked in. Ice conditions are finally safe for even inexperienced anglers to explore, and yellow perch have been biting for some anglers, but not everywhere. Stephanie noted it's better than it was in the early part of the season. Not much to report for sunfish or walleye so far this winter up that way, but northern pike fishing has been good. No real monsters caught, but plenty of fun days of chasing flags.
Lauren Elmore at Camp Brook Bait Shop in Bethel reports Silver Lake in Barnard has six to seven inches of hard black ice and almost one foot of white ice on top. The bite has been good there for northern pike and yellow perch. Walleye fishing on Chittenden Reservoir has been slow but some are being caught. Keep in mind there's a special regulation there that sets the minimum length limit at 22 inches. Most walleye being caught are not legal, but yellow perch sizes have increased in recent years and if you use small to medium shiners, you'll stay busy with them all day!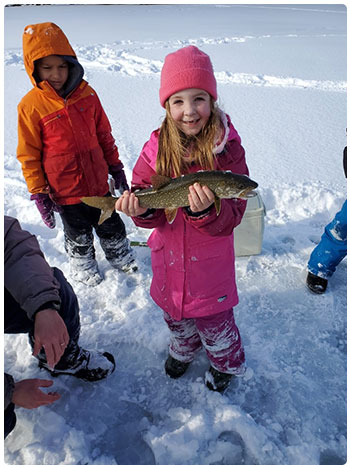 Ted Benoit at Lead & Tackle in Lyndonville says ice conditions continue to improve with the cold weather. Walleye fishing on Island Pond has been good the last couple weeks, and the best tactics have been tip-ups set with shiners, a small smelt, or a worm on the bottom. Lake Willoughby has finally firmed up with six to eight inches of good black ice in most places, but Ted advises that anglers tread lightly in unexplored areas. Brown trout and Atlantic salmon have been very active with great reports of fish off Devils Rock. Tip-ups baited with small shiners set 10 to 15 feet down over 40 to 50 feet of water have been productive, but make sure you always run one or two large dead bait (smelt if you can get them) on the bottom for those big opportunistic lake trout!
Ted says that there's been a resurgence in smelt fishing this year on Willoughby, and the hot zones are 15 to 40 feet of water along drop-offs, like out from the boat launch and at Grey Rock. Smelt fishing at Joes and Peacham ponds has been slow, but brown trout have been active on Peacham. Anglers are setting small smelt or shiners on tip-ups down five to fifteen feet. Rig your tip-ups with a six- to eight-foot fluorocarbon leader and size six hook or smaller, as the trout can be line shy and picky.
Lance Battersby at the Newbury Village Store says anglers have been enjoying the ice fishing in Orange County, and he's selling out of live bait every week. He says Halls, Groton and Ticklenaked ponds all have eight to twelve inches of ice and have been producing good catches of bass and perch.
Lastly, a little fisheries management request from department fisheries biologist Pete Emerson in St. Johnsbury. Pete says that Atlantic salmon fishing on Lake Memphremagog has quieted down from a flurry in early January, but he expects it will heat back up later in February.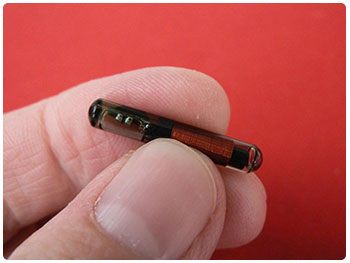 Anglers who catch and harvest salmon should look for a special tag that's been inserted into the body cavities. The tags are called PIT (Passive Integrated Transponder) tags and are coded with a serial number. It's like a dog microchip for ID. Reporting any salmon with these PIT tags from Magog or Lake Salem will help us determine the success of salmon moving between spawning waters above the dam on the Clyde River, and overwintering waters in the lake. If you harvest a salmon and find a PIT tag, contact the department (peter.emerson@vermont.gov) so we can retrieve it and download the data, which will show us the fish's tagging and river movement history, as well as the growth in length and weight of the fish between the time it was tagged and the time it was harvested.
See also:
---

Thank you for supporting healthy fisheries in the Green Mountain State through your Vt. fishing license purchase, and through excise taxes on your purchase of fishing equipment and motor boat fuel, administered through the Federal Aid in Sport Fish Restoration Program.