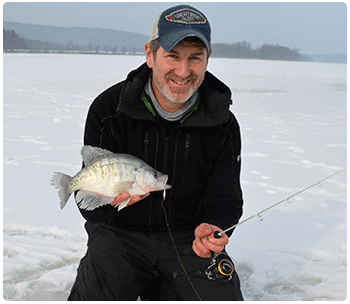 Hey Everyone! Welcome back to the Vermont Fishing Reports. We've had a bit of a break since last fall, but with ice fishing firmly underway now on most waters, it's time to resurrect them for the winter.
I don't know about you, but I'm ready to put 2020 in the rearview mirror and start 2021 with a new attitude and positive outlook. It's the end of January, we've got fresh snow, frozen lakes, and endless ice fishing opportunities to focus on. It's a new beginning, in more ways than one.
Like most states around the country, we gained a substantial number of new anglers in 2020, as Vermonters turned to the outdoors in record numbers. Restrictions imposed on many every day activities caused life to slow down somewhat, and with newfound free time, we saw more people fishing in Vermont than any year since 1992.
If I were to hazard a guess, I'd say that most of those new anglers from 2020 would probably love ice fishing just as much if they gave it a try this winter. But admittedly, ice fishing can be a little more intimidating to the uninitiated than open water fishing. It's a bit unnerving to walk out on a frozen lake for the first time. Not knowing how to read the ice, or what to do to stay safe can be daunting.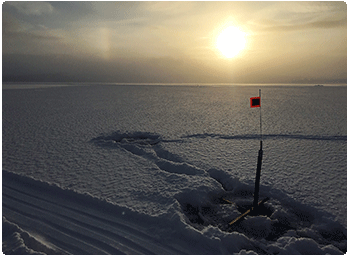 And then there's that giant expanse of white. New anglers can often be paralyzed by a lack of knowledge – they simply don't know where to start or what to do.
So once again, I'm asking for help from you dedicated, experienced anglers to step in as mentors.
Like Ringo Starr sang, "I get by with a little help from my friends. Gonna try with a little help from my friends."
Make an effort to introduce someone to ice fishing this year. Show them the gear. How you decide where to drill holes. How to set a tip-up or jig for panfish. Or, shoot me an email from time to time with any advice, insights, and information you're willing to share to help others, and I'll work it into the next report.
I've always viewed these reports primarily as a way to increase awareness of angling opportunities, motivate new anglers to go fishing, and give them information they need to have fun and be successful.
Unfortunately, despite me continuously dropping hints that I really should just be fishing five days a week to gather fishing report intel myself, my boss hasn't bit. So, I need your help, to help others.
Stay warm, stay safe, and have fun. See you on the ice.
—Shawn Good, Fisheries Biologist shawn.good@vermont.gov
Free Fishing Day - January 30,2021
A reminder that Saturday January 30 is Free Fishing Day in Vermont. This is the perfect opportunity to try your hand at ice fishing for the day without needing a license. I have no doubt you'll want to keep doing it after that!
It's important to know that fishing is still a valid, Governor-sanctioned outdoor recreational activity, despite the continuing pandemic. It really is the ultimate social distancing activity. What I especially like about ice fishing in the Covid-era is that it's generally more accessible than open water fishing as almost anyone can walk out on a frozen lake or pond and fish through the ice. No need to pile into a boat, or crowd into tight quarters on a shoreline. Once you're out on the ice, there's lots of room to spread out and stay safe.
So, hunt down an experienced friend, neighbor, or family member and invite yourself along. There's no better way to learn than by doing it with a seasoned angler.
Just take the precautions we're all familiar with by now. Drive to the lake separately. Wear masks. Stay at least six feet apart. And don't fish inside a shanty with people not from your immediate household.
Educational Patrols
If you're new to ice fishing and looking for fishing tips, why not plan a trip this weekend to one of the waters scheduled for the department's new Fishing Educational Patrols. Vermont State Game Wardens and department education staff will be roaming the ice at designated lakes and ponds this winter, stopping by to offer fishing tips, answer questions, or just chat with anglers. This weekend, staff will be at the following locations:
January 30: 
Chittenden Reservoir – 9am - 10:30am
Lake Rescue – 12pm – 1:30pm
January 31:        
Lake Paran – 9am – 10:30am
Connecticut River's Retreat Meadows – 12pm - 1:30pm
Virtual Ice Fishing Clinic
For the past seven years, the department has hosted an in-person ice fishing festival on Free Fishing Day to introduce new anglers to the activity and show them how much fun a day on the ice can be. Unfortunately, we had to cancel our event this year due to Covid restrictions.
Instead, we've created an online Virtual Ice Fishing Festival that will give you the opportunity to learn about ice fishing basics, from ice safety and drilling holes, to setting tip-ups and more. We even included demonstrations on fish cleaning and cooking! Click the link above to enter a neat online 3-D environment where you can move from station to station and watch each video at your own pace.
Kids and Ice Fishing





Kids, ice fishing, and panfish can make for a memorable day.
I'm probably going to spend a bunch of time repeating myself in the reports this winter about taking kids out ice fishing. Take your kids ice fishing! There. That's twice already.
A frozen lake is the perfect family-friendly spot take to your kids ice fishing for the day (3 times!). There's lots of space, and the little ones get the room they need to skate, run, slide, reel in a fish now and then, slide some more, and have a snowball fight.
Just remember, when you take kids fishing, it's their time, not yours. If they get distracted?  It's OK. If they lose interest for a while and would rather play with the minnows?  It's OK. But soon enough they'll be baiting hooks, cleaning out holes, and reeling in fish on their own.
Bring lots of food. A cookout on the ice is a memory that will stay with them forever. They'll be telling their friends at school the next day all about the hotdogs they ate on a frozen lake while catching fish.
And when they say they're tired, or cold, or ready to go home ... just go home. Don't push it. This will be something they will grow up loving to do with you and you'll create fond memories of good times spent on the ice with Mom or Dad. I know I have many of those myself.
Panfish are King





Yellow perch are the #1 most preferred species in the winter by Vermont anglers, like this beauty caught by Jared Shaw.
The department conducts a survey of several thousand randomly selected anglers every ten years and asks them a series of questions about their fishing habits, preferences, and opinions. Questions are repeated each time so fisheries biologists can track and understand how these change over time. In 2019 we completed the fourth 10-year survey, and it's been interesting to look at the trends.
One thing that has NOT changed over time?  Yellow perch has consistently been the number one most preferred species in Vermont in the winter for 30 straight years. What has changed is that that rest of the panfish species like bluegill, pumpkinseed and crappie have quietly been gaining in popularity for winter ice anglers.
Although panfish are often the first type of fish kids catch in their lives, it's clear they are no longer restricted to being just for kids fishing off a dock with a worm and bobber. However, panfish really are the perfect species to get kids started ice fishing.
Panfish How-Tos
Set up in a shallow bay near some old weedbeds. Drill your holes in four to eight feet of water, and fish small baited jigs on light line. Don't move your baits too much. With fish being cold blooded, and the water sitting at around 34°F under the ice, fish are generally sluggish, and don't want to work too hard for a meal. "Dead sticking", or in other words, letting your jig sit still for long periods of time, with only the occasional twitch, will usually be your best tactic.
Don't forget to set a few tip-ups with larger minnows for bass or pike that are often lurking around. This can help pass the time when panfish are being finicky and make for some exciting action when you get a flag!
Angler Reports
Alright. Let's see what's going on out there.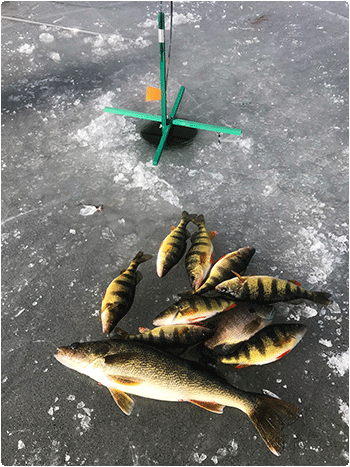 West Dummerston angler, and long-time report contributor Roy Gangloff says ice conditions on the Connecticut River setbacks have improved greatly since first ice in December. Last weekend ice thickness was 10 to 12 inches on both the Retreat Meadows and Hunts Meadows setbacks in Brattleboro. Roy says the Retreat is producing nice sized bluegills and he brought 12 home last Sunday for fish tacos. All fish were caught on a 1/16-oz white tungsten jig tipped with spikes. Over at Hunts Meadows, a good mix of species are being caught including yellow perch, white perch, black crappie, and largemouth bass. The best action came on medium shiners set under a tip-up, and Roy says most bites have been in the early morning. Jigs and spikes haven't been working too well at Hunts for some reason.
Luke Briccetti of South Burlington hit up Carry Bay on northern Champlain earlier this week, finding roughly 10 inches of good ice. Fishing a small jig tipped with a waxworm on 4-lb test line, he got into some nice 8 to 9-inch pumpkinseed in eight feet of water near points. His best action came fishing one foot off the bottom, and he noticed that the sunfish seemed to be annoyed by more active jigging. He just lowered his jig to the right depth and held still with only occasional twitches.
This might be a good time to talk about spikes and waxworms. For those of you who are wondering what the heck these are … well, they're maggots. Spikes are larvae from house flies and blow flies and are usually white and less than a half inch long. Waxworms are moth larvae, yellowish in color, and can be up to ¾-inch in size. You'll also hear about anglers fishing with 'mousies' or 'meal worms.'  You may be a bit squeamish sticking maggots on a hook, but the reality is they give your artificial jig just enough taste or scent to fool a finicky panfish into biting!
South Hero angler Jared Shaw says he's been getting some big yellow perch on Champlain, mostly as by-catch while targeting northern pike. Jared's been setting up on the edges of 8 to 10-foot flats that drop off into 20 or 30 feet of water. Setting tip-ups with large shiners, he's catching both pike and perch (some going 11 to 13.5 inches!). Jared rigs his tip-ups with a single 1/0 hook attached to an 18-inch leader of 40-lb test mono joined to the tip-up line with a swivel. He runs the tip-up line through a sliding egg sinker above the swivel which lets the line run free when a fish picks it up. He's had most of his action setting his minnows one to two feet off the bottom in an area where a large weedbed grows in the summer. The fish like to hang around these old decomposing weeds.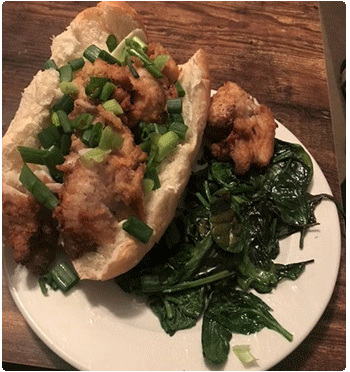 Department Let's Go Fishing Coordinator Corey Hart got out on Lake Bomoseen, fishing for trout off Green Dump access where there's still only about 5 inches of ice right now. He caught a surprise smallmouth bass on a tip-up but says it's been slow for trout so far. It should pick up in the next little while. Further north up the lake, the Float Bridge area has been a productive spot for bass and pike for Corey.
Department fisheries biologist Jud Kratzer in the St. Johnsbury office has been catching some nice yellow perch on Caspian Lake on tiny jigs tipped with a maggot. He's finding most of the fish in less than 15 feet of water, and even catching a few lake trout in the same places, using the same techniques. Jud reports that ice was about 8 inches thick in the area he was fishing and that walking conditions are good, with minimal snow on top of the ice. Jud's also been out on Lake Memphremagog, where anglers are catching good numbers of yellow perch as well as some big lake trout and salmon. Anglers are getting the perch jigging or fishing small minnows near the bottom, while trout and salmon are being taken on live bait set under tip-ups. Jud recommends accessing the lake at the department's Whipple Point access area (aka Strawberry Acres) or at "Eagle Point" which is at the northeast limit of the US portion of Magog. Jud says get there early, as finding a place to park could be a challenge at these popular access points.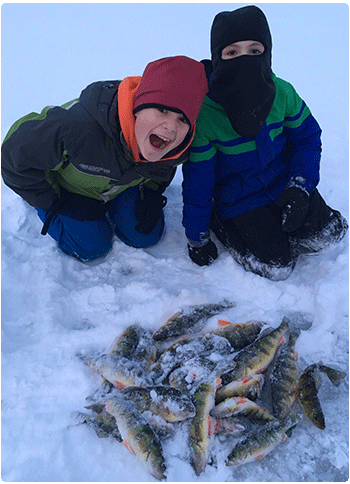 Parker Wright at The Fly Rod Shop in Stowe sent in a report with some good advice for newcomers regarding ice safety. Parker says anglers should always check ice thickness as they venture out onto a lake or pond, and not rely on what someone may have told them. Ice can vary from the shore outwards, so check thickness frequently. Great advice! Parker's been targeting brown trout with some good success over the past couple of weeks on Waterbury Reservoir. Trout have been between 8 and 15 feet down over 25 to 40 feet of water. The best success has come on tip-ups baited with smelt they also jigged from the reservoir. The smelt fishing has apparently been very good there this winter, and they can be caught on a Hali jig tipped with a maggot. Parker has also been targeting pike in Lake Elmore and some other small waters in the area, and says they've had good action in two to 12 feet of water, setting shiners or perch they jigged up just off the bottom on tip-ups. It's not just us anglers that like to eat perch!
Matt Trombley of Pittsford reports that most of southern Lake Champlain finally has good ice from Crown Point Bridge south, and yellow perch are being caught south of the bridge. Meanwhile, Matt says a nice mix of pike, bass, and walleye are coming from Larabees, Singing Cedars, and South Bay. Good numbers of bluegill and yellow perch are showing up at the north end of Lake Bomoseen and the south end of Lake St. Catherine, with a few crappies mixed in. Finally, Matt says Chittenden Reservoir was pretty good for perch and walleye early on, but a foot of snow and six inches of slush has now made it tough slogging if you're on foot. Boy, Matt sure gets around! If I didn't know better, I'd say he retired recently, and is able to fish a whole lot more now! Congrats Matt!
Department Fish & Wildlife Specialist Joel Flewelling has been in on the pike action around Larabees Point that Matt mentioned. Fishing with his daughter, Brooke, they set their tip-up spread from 5 feet deep out to 15 feet on the edge of the channel in scattered weeds and set their shiners 6 to 8 inches off the bottom. They didn't get a lot of fish, but it was steady throughout the day. Ice thickness was about 6 inches.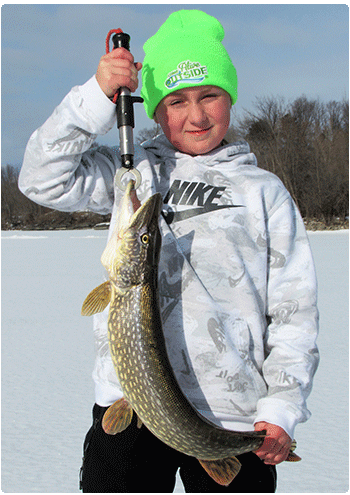 Vergennes angler Dan Bushey has been chasing lake trout around the Champlain Bridge, and while the bite isn't super-hot yet, Dan says you'll manage a few fish if you're patient. He's been setting up on the edge of the channel in 19 to 22 feet of water and working soft plastics, spoons, and rattling jigs, and his best actions has been between 9am and 1pm. Dan says when you're searching for fish, it helps to let the lure hit the bottom and stir stuff up. Then, lift and reel, stopping every six feet or so. If that doesn't work, drop to the bottom, then reel slow and steady back to the surface, which will often trigger them to chase and smash your lure just under the ice. What a blast!
Hey – one last thing. I've been seeing a ton of questions on various Facebook fishing group pages, asking where to get minnows for ice fishing. I thought I'd let you know that we have a map on our website that displays every one of the 53 currently registered baitshops in the state, making it easy for you to find one close to where you live or where you're going fishing. As a bonus, Vermont's local baitshops are great sources of fishing tackle, current conditions, and local fishing advice.
Oh – and one MORE last thing. We all know the long list of benefits that fishing brings beyond just the fishing itself. It's healthy, gets you outside, relieves stress (we've all had enough of that by now), and instills an appreciation for nature, among other things. And sometimes, it gets you up close and personal with nature, as seen in this video taken by department Fish & Wildlife Specialist Tony Smith.
Best of luck everyone!
See also:
---

Thank you for supporting healthy fisheries in the Green Mountain State through your Vt. fishing license purchase, and through excise taxes on your purchase of fishing equipment and motor boat fuel, administered through the Federal Aid in Sport Fish Restoration Program.