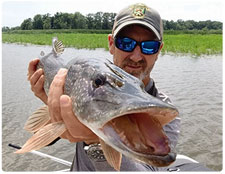 It's time for another bi-weekly fishing report, amid an extended hot spell with a lot of unsettled weather. I don't know about the rest of you, but I've been dodging thunderheads and lightning strikes every time I've been on the water lately.
Of course, that isn't too surprising, if you recall my June report and the bad weather curse that follows me around. As an aside, check out these radar maps from a trip last week. The blue dot is me. The orange and red is Mother Nature's wrath bearing down on me. Meanwhile, the rest of Lake Champlain and Vermont is beautiful and clear.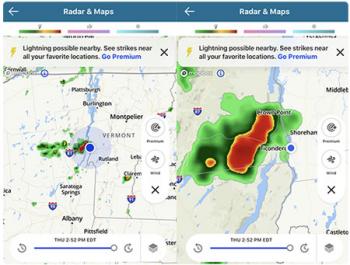 Again, I apologize to all anglers fishing in my immediate vicinity. The curse is real!
In any case, the recent heat wave has made some fishing challenging, but has created other opportunities for species that thrive in the dog days of summer. When these sorts of conditions persist, fish can get in a funky mood, but there are a few things you can do to improve your chances.
Fish early in the morning, which is always the coolest part of the day. Fish will be more active at this time of day, and you won't have to spend as much time in the sun yourself.
Change locations. In the heat of the summer, most of us turn on the A/C to cool down. Fish are no different, but for them, the equivalent of turning on the air conditioning is finding shade, heading deep, or migrating upstream closer to cold spring sources.

Lily covered bays and coves provide shade from the sun and cool the water a few degrees. They are also the favorite haunts of species like bowfin.

In lakes and ponds, water under thick vegetation like lily pads tends to be a few degrees cooler and more comfortable for many fish species. Fish can get out of the sun's direct rays and be in the relative safety this cover provides. Docks and overhanging trees do the same thing. Other fish move out a little deeper. Water temperatures can often be five to ten degrees cooler just 10 to 15 feet under the surface.
Slow down! In hot weather and water temperatures, fish get lazy and lethargic. They don't want to work too hard for a meal, so work your lures or baits slow, with short twitches.
One of my favorite methods this time of year is fishing with a hollow-bodied topwater frog. These are floating, weedless lures you twitch and drag over thick vegetation. Bass, pike, pickerel, bowfin—any predator lurking in the shade below will explode up through the aquatic plants and try to eat it. It's heart-stopping, and exhilarating.
You can also try moving out to 10, 12, 16 feet of water. You may be surprised at what you'll catch off the weed edges in deeper water. Largemouth and smallmouth bass, northern pike, and even panfish like crappie, white and yellow perch, and sunfish can all be caught in slightly deeper water.
To target these deeper fish, ditch the bobber. Rig up a small panfish jig, a hook and sinker tipped with a piece of worm, or a soft plastic minnow or worm imitation on a jig head like a Ned rig. Again, twitch or drag these slowly along the bottom, with a twitch and long pauses in between.
Don't get beat by the summer heat!  Think like a fish that's trying to stay cool, and you should have some luck. Let me know how it goes.
 —Shawn Good, Fisheries Biologist. shawn.good@vermont.gov
If you're a novice angler and want to learn more about some of your local waters, get tips on fishing gear and techniques, or have a question about fishing regulations, take a look at the Department's new "Fish With a Warden" series.
There are multiple sessions remaining between now and mid-September, and locations are statewide.
Visit Fish with a Warden to learn more, see available dates and locations, and register.
Hot Weather Trout Fishing Tips
Trout are our most sensitive species when it comes to hot weather and warm water temperatures. Our native brook trout thrive in waters that stay in the upper 50s to mid-60s. Brown trout and rainbow trout, introduced to Vermont in the mid-1800s, are tolerant of slightly warmer water temperatures, into the low 70s or so. Unfortunately, heat waves like we've been experiencing can push some streams well over 70 degrees, which is highly stressful to trout.
If you're a catch-and-release trout angler, or harvest selectively (keep some, let others go), then fishing during hot spells could result in the unintentional death of your released fish.
Here are a few things to consider if you trout fish when it's hot:
Dave Gibson was catching a mixed bag of species at the mouth of the Lamoille River.

Avoid catch-and-release fishing for stream trout when water temps are over 70 degrees. Fighting and handling a trout under these conditions increases the risk of the fish dying after release.
If you do fish trout in streams or rivers with marginal temperatures, play, land and release the fish quickly, and keep it in the water as much as possible while unhooking it.
Fish early in the morning when stream temperatures are at their coolest.
Avoid fishing in areas where trout have congregated in unusually high numbers. Cold springs and tributary inputs attract fish and make them vulnerable to angling pressure.
Or don't fish trout at all! Give them a break, and target warmwater fish species such as bass, northern pike, pickerel, bowfin, or panfish instead.
These are all just short-term band-aid actions, however. We really should be looking at this holistically, and consider what we can do to benefit wild and native trout over the long term.
The single most important thing we can do to protect Vermont's wild trout populations is protect and restore forested streambanks. Forested streambanks help keep trout streams cool by providing shade from the sun. The root systems of shrubs and trees help hold soil together and reduce erosion. And when trees do fall into a stream, they provide habitat, cover and protection for trout and other fish species.
If you care about wild trout populations, get involved through angling clubs, local Trout Unlimited chapters, and watershed partnership groups, and help re-establish streambank vegetation on impacted rivers. This will go a long way in keeping trout streams cool, and trout populations healthy.
Fishing Reports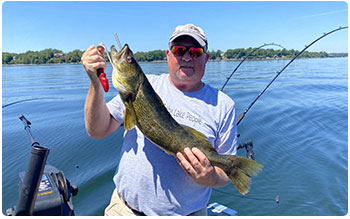 Essex VT angler Ron Winter says the Inland Sea around the Sandbar area was been fishing well for salmon. He caught five good salmon in the 20-inch range the other day, plus a bonus walleye that was down 50 feet! Ron was running short leads off downriggers and Lite Bite Slide Divers set 150 feet back. His best lures were Speedi Shiners in rainbow color and Crazy Ivan spoons in Blue Moon color.  
Captain Matt Trombley of Third Alarm Charters has been on Lake Champlain guiding a lot lately and says that many days it's been like a blast furnace on high out there. Matt agrees that the heat has indeed sent fish scrambling for cooler water, and he advises anglers to adjust their tactics for success.
For deep water trolling, Matt's been finding landlocked Atlantic salmon in 75 to 90 feet of water, and lake trout in 100 feet. Overall numbers have been down lately, but he's been catching some of his biggest fish of the season recently. Using vertical flashers on the downrigger cables have helped attract more strikes.
For shallow water fishing, Matt says bass and pike have been quite aggressive in the early morning and late evening. Smallmouth bass are hitting along rocks and ledges with Ned rigs on the bottom, and largemouth can be caught on deep weed edges with Neko-rigged finesse worms.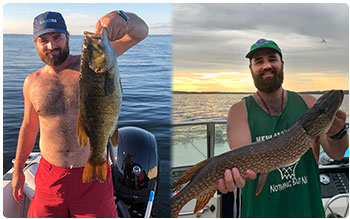 Fish & Wildlife Department staff member Tom Lacy told me he normally considers himself a "conversational angler," not taking it too seriously, but he and his family have stepped up their game this summer, going out more, and targeting fish species more intentionally. That's what I like to hear!
Tom spent a couple evenings recently fishing out of South Hero with his dad. Smallmouth bass were hitting Rapala Rattin' Raps (he got his personal best the other night), and they caught some good pike trolling spoons along 12-foot drops.
Jared Shaw of North Hero wrote in with some very similar tips for northern pike. He said they've been catching a lot of good pike out deeper in 12 to 17 feet of water, where the fish are relating to deep weed edges. When you find a good weed edge at the right depth, troll parallel to it and try to follow that depth contour. Square bill crankbaits in black/white or chartreuse/fire tiger have been working well for Jared.
Interestingly, on particularly unsettled and stormy days, Jared says he's found pike moving up shallow on sandy points and flats near deeper water. He got a 37-inch, 12-pound pike this weekend as a storm blew through by casting an orange #5 Mepps inline spinner. Lipless crankbaits reeled quickly over weed beds have been triggering strikes too.
This is good information for anglers willing to stick out bad weather (just fish near me if you're looking for some). Northern pike and other predator species are very tuned in to changes in barometric pressure that often accompany storms. Fish will go on brief feeding frenzies during these periods, taking advantage of pressure changes and turbulent water that can disorient baitfish, making for an easy meal. It's all about timing—but if you're in the right place at the right time, it can be wild fishing.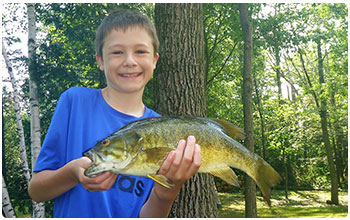 Department fisheries biologist Jud Kratzer spent last week vacationing in the St. Albans area of Lake Champlain with his family, and he too found some tough fishing due to the hot weather. After a lot of trial and error, he found the only technique that really worked was trolling Rapala Shad Raps over rocky bottoms in 10 to 12 feet of water.  Once they figured this out, he and his kids caught northern pike, chain pickerel, white perch, yellow perch, and smallmouth bass. As I mentioned, all sorts of fish species head for deep water when it gets hot. Jud says that trolling is a great way for kids to catch big fish. No casting required—all they need to do is reel them in.
Sticking with the deep-water theme, Barre VT angler John Rielly has been catching big smallmouth dragging tube jigs in 25 to 40 feet of water around the edges of humps. Moving closer to shore, he's finding largemouth in 6 to 12 feet of water along thick weedlines, flipping Texas-rigged creature baits with a one-ounce bullet weight.
So, it seems like lots of anglers have been fishing deep and catching a good assortment of species. And although most of the reports sent in this week were specific to Lake Champlain, I can assure you that any of the techniques mentioned here will work on inland lakes and ponds around the state. On your next outing, find some thick aquatic vegetation or deep water and give it a try!
Now, there are some fish species that almost never go deep. As a matter of fact, the hotter it gets, the more they seem to like it.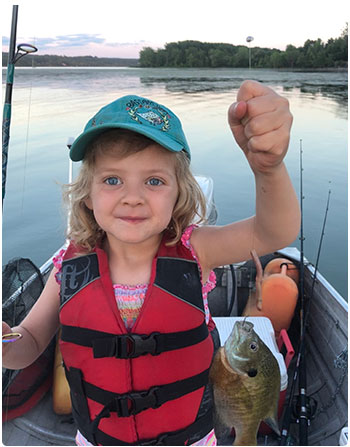 Catching catfish is synonymous with hot summer nights, and Fish & Wildlife Department staff member Adam Miller likes nothing more than soaking cut bait after dark in hopes of catching one. On a recent trip in the Benson area, Adam anchored up in two to four feet of water and put some one-inch strips of fresh yellow perch on size six octopus hooks. He caught the perch just before dark right where he set up to fish catfish. Adam tossed the cut bait out under lighted bobbers, placing the bait at the edge of where surface and subsurface weeds were growing. He finished the night with over a half dozen catfish. I'm waiting for the invite for some Cajun blackened catfish.
A few days later, Adam returned to southern Champlain, this time with his four-year-old daughter. Fishing out of Laphams Bay, they targeted bluegill, pumpkinseed, and white perch on outside weed edges with worms and a bobber. Keeping a few for cut bait, they fished into the evening for catfish as well, but didn't catch any. Adam said it was a great time fishing with his daughter. They made a fun night out of it by packing popcorn and drinks and brought an assortment of stuffed animals who "also wanted to catch fish." That's some good parenting, right there.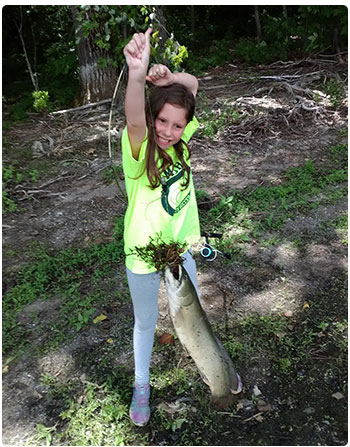 Another species that continues to bite throughout the heat of the summer is bowfin. These impressive native predators lurk in the shallows in thick weed cover and are a ton of fun to catch. They are powerful and aggressive and will hit just about anything dropped in front of them. Make sure you have heavy line, a stout rod, and use a steel leader. Their teeth are wicked.
Adam Evans of Northfield VT says the bowfin bite has been hot lately in the back coves and bays in the central main lake basin of Lake Champlain. If you can find dense lily pad beds with channels of open water, cast spinnerbaits or inline spinners, or wiggle jigs in the open pockets. And hold on to your rod. Tight.
I was in that area early this week myself, fishing with Jud Kratzer. We jigged up some yellow perch and put the heads on a heavy wire circle hook clipped to a steel leader with a bobber set one foot up. We scanned the lily pads for signs of bowfin activity, which was usually a gulping sound and a swirl, and then we'd toss the perch head and bobber right to the swirl. Within seconds, the bobber would disappear.
Getting them to bite is one thing. Landing them is another story. They battle hard and wrap up in the weeds. There's no other fishing like it in Vermont!
See Also:
---

Thank you for supporting healthy fisheries in the Green Mountain State through your Vt. fishing license purchase, and through excise taxes on your purchase of fishing equipment and motor boat fuel, administered through the Federal Aid in Sport Fish Restoration Program.