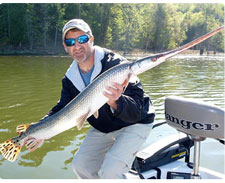 Hey Everyone, it's been great hearing from anglers these last couple weeks who are reaching out to tell me how much they're enjoying the Fishing Reports. Some really liked the "spotlight" on bowfin last time, and others were able to directly use information from report contributors to get out on different waters and catch some fish. So, thank you again to those of you who are sending me information, and thanks to everyone else for reading. That's really what these reports are all about – helping others get out, fish more and have a great time!
If you want to contribute to future reports, get in touch with me at shawn.good@vermont.gov. And if these reports have helped you, send me a trip report and tell me how.
—Shawn Good, Fisheries Biologist
Longnose Gar - Lepisosteus osseus
Since the bowfin feature was a hit last time, this week I thought I'd profile another NATIVE Vermont fish species – one that is often misunderstood, under-appreciated, and insanely cool.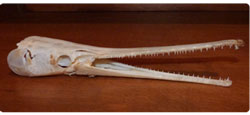 The longnose gar is like the bowfin—a living dinosaur that's been around for over 100 million years. They are native, widespread in Lake Champlain and generally found in shallow, marshy bays around vegetation. They can often be spotted in groups sunning themselves on the surface, which is how most people target them when fishing.
Gar are often unfairly blamed for eating other more "desirable" sport fish species, but this isn't true. Despite their menacing looking long snout and razor-sharp teeth, gar can't actually open their mouths very wide, so they feed almost exclusively on small minnows and abundant juvenile panfish.
Targeting Gar - Drew Price is a Vermont fishing guide specializing in non-traditional sport fish including gar, and says as the water's warmed up, gar fishing has been getting good. He's had the best luck using rope flies. These are lures with a section of unbraided nylon rope attached and can be cast on a fly rod or spinning gear.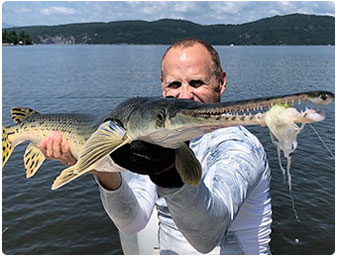 After spotting a gar on the surface, the key is to cast ahead of the fish and keep the lure moving. Often, the gar will wait until the fly is past them, and then they charge and attack it. Setting the hook is unnecessary – just lift and maintain tension so the rope fibers get caught in their teeth. This helps to keep the gar hooked, since hooks do not penetrate their bony mouths easily.
Once landed, Drew recommends wearing gloves to handle the fish and avoid being cut by teeth, scales and spines. To remove the fly from their mouth, Drew keeps the fish in the water and uses forceps or a dowel to open their mouths and carefully remove the fibers from their teeth.
Gar are impressive fish and I hope people give them the respect and appreciation they deserve as a native, worthy sport fishing adversary.
Lake Champlain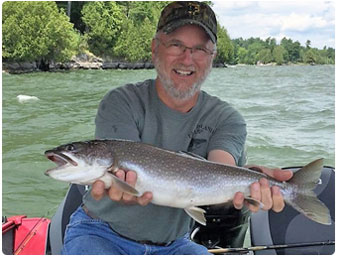 Cold Water Species - Brian Ames of Putney, a past Fish and Wildlife Board member, is a self-declared Lake Champlain novice but says he did pretty well fishing for salmon and lake trout out of Chimney Point with his wife Sherry. They started trolling about three miles north of the bridge with two lead core lines and one down rigger. They caught several salmon and lakers on the downriggers. Salmon came from riggers set at 35' deep while lake trout were caught 80' down. The lucky lure was a 3½" Mooselook Wobbler in Wonderbread color. Brian caught one salmon he estimated at 8-9 lbs but got off at the side of the boat without a photo.
Warm Water Species - Department wildlife biologist John Austin got out bass fishing last weekend around Dillenback Bay in North Hero and had a 5-60 fish day. John says the largemouth were concentrated on any emerging weedbeds close to shore but noted that vegetation growth is still behind due to high water. His best luck was with topwater baits like weedless frogs or Rebel Pop R's. John followed up missed strikes by lobbing 5 or 6-inch soft plastics back to the swirl, which would usually connect.
John Rielly of Barre had a great day fishing a bass tournament on southern Champlain by Larabee's Point. He came second in the Reynolds Boats Northern Bass Open, with a 5.02-lb lunker. John's best pattern was flipping heavy jigs and a trailer into the thickest weeds he could find, especially if there was clear water under or behind the weedbeds. As a fun bonus, John says he caught a bunch of freshwater drum working a Ned-rig slowly across areas with firm rocky bottoms. 
A report from an angler fishing St. Albans and Missisquoi bays says the water temps are in the upper 70s, and weed growth there is delayed as well. Schools of minnow fry and other baitfish are visible around the emerging weeds, and in those areas, he's found largemouth and smallmouth bass to be in full-on feeding mode—smashing spinnerbaits and crankbaits hard and furiously. Topwater in the evening has also been pretty good. The report noted that most bass are relating to slightly deeper water further from shore in the 8-10 ft range, and always near some emerging vegetation on the bottom. As a bonus, he caught a dozen northern pike and chain pickerel in those same areas.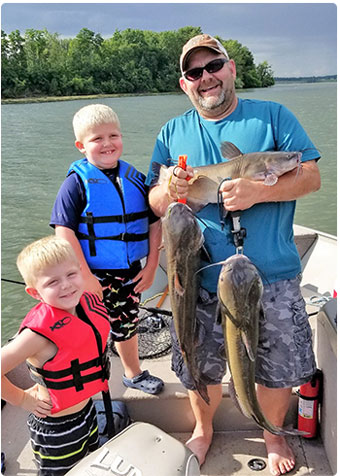 Bob Dostie of Swanton sent in another trip report and says he's found the bass are finally settling in to their summer patterns. Largemouth and smallmouth bass, and pike as well, are relating to weed beds and areas adjacent to them where scattered rocks are mixed in. Moving baits are still working for him, and he suggests casting spinnerbaits and chatterbaits around the outside edges in 6-10 feet of water. For a chance at a bigger smallmouth bass, Bob suggests fishing those same areas but backing out into slightly deeper water and working tube jigs and dropshot rigs slowly on the bottom.
If bass fishing isn't your thing, Dan Bushey of Vergennes says the catfish fishing is still going strong on the lake. Dan went out with his friend Jamie Buzzel and his three sons and caught a slew of catfish around weed beds growing in 6-10 feet of water. Use chunks of panfish or even grocery store shrimp and leave them on the bottom on the edge of the weeds. The catfish will sniff out your bait from a long way away.
Roy Gangloff of West Dummerston spend another early morning on Champlain and says the only thing better than the fishing at dawn was the sunrise that followed. Before the sun breaks the horizon, Roy says schools of alewife have been driving bass into a feeding frenzy. But as soon as the sun breaks, it's game over. If you're out before dawn, look for alewife activity in the back of coves and the mouth of rivers. Roy says the topwater bite has been the best he's seen in years, the result of bass busting alewife on the surface. He recommends large topwater baits like a Zara Spook worked in a fast, erratic manner to provoke fierce strikes.
And in true Lake Champlain fashion, you never know what you'll catch as a surprise. He's been pulling in lots of big chain pickerel up to 23" in these same areas, but usually after the sun is fully up. Small white swim jigs with a natural colored paddletail trailer have been working the best.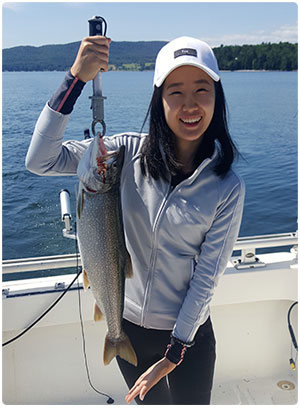 Capt. Matt Trombley has been targeting salmon and lake trout and says the action has been best at dawn and the early morning hours. Capt. Matt introduced a family from Taiwan to Lake Champlain's fishery with much success. Matt was using long leadcore rod and reel setups, short copper wire reels, and downriggers set at 45' to 50'. Suspending baitfish usually meant catching a salmon, while for lake trout, he was trolling spoons very slowly on the bottom in 85'-100' of water.
Champlain Tributaries
Several large rivers flow into Champlain on the Vermont side that offer a different style of fishing if you have a rowboat or kayak. While drifting down the upper reaches of Otter Creek, or the Winooski, Lamoille, Poultney, or Missisquoi rivers you'll often be in complete solitude, enjoy views you'll never see from the road, and have access to fish that rarely get pressured.
Roy Gangloff kayaked Otter Creek between Weybridge and Huntington Falls in search of Master Angler-sized fallfish and smallmouth bass. Though the fishing wasn't as great as he hoped, he still enjoyed the trip because of the bird watching opportunities. Roy and his wife saw ospreys nesting, feeding their young and defending their territory by driving off bald eagles. Herons and kingfishers were also abundant. As for the fishing, Roy caught fallfish and smallmouth bass at the base of the Huntington Falls on small spinners – just no big ones.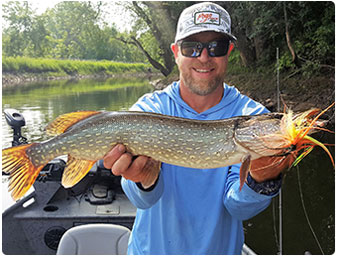 Capt. Trombley also did some float fishing on Otter Creek from Brandon down to the mouth of the creek at Lake Champlain. He was targeting northern pike with fly tackle and caught several nice fish. Matt's tip for pike fishing in rivers is to look for fish on shaded banks and throw big brightly colored streamers, then hold on for some exciting action.
Mike Elwood spend a few hours recently fishing below the Peterson Dam on the Lamoille River in Milton. He caught a bunch of smallmouth bass, some fallfish, and lots of pumpkinseed sunfish using a worm and a bobber on one pole and a #2 Blue Fox spinner on the other.
Connecticut River
The Connecticut River offers miles of fishable water and a diversity of fish species, and although it's technically New Hampshire water, Vermont has license reciprocity so Vermont anglers can fish it with a Vermont license.
Brian Ames fished the river and reported the southern section from Rockingham to Brattleboro to be very good this year. He's catching lots of smallmouth bass on stickbaits like Rapalas as well as the tried-and-true nightcrawler.
He has also been catching walleye fishing from his boat and kayak, as well as from shore using jigs tipped with half a nightcrawler under a slip bobber. And he caught some 12" black crappie and other panfish using the same setup. Brain also reported this section of the river has a growing population channel catfish and anglers are getting them up to 15-lbs.
Inland Waters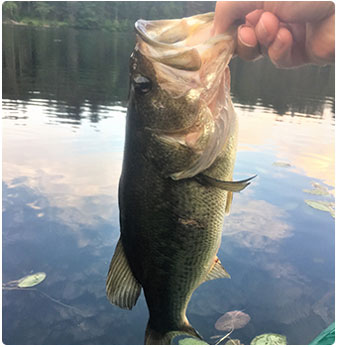 Pascal Wilkins sent in a report for Lowell Lake and Gale Meadows saying the kayak fishing has been fantastic. The fish were hungry and active, and he caught five different species—largemouth, yellow perch, pickerel, bluegill, and rock bass— fishing around lily pads and weed beds using the same lure, a yellow perch colored crankbait.
Pascal launched his kayak out of Oak Ledge Park at the Burlington waterfront and fished the rocky areas near shore, catching rock bass, smallmouth bass and largemouth bass using a swim jig. Proof you don't need a big boat to fish Champlain.
Nate Olson, a department hatchery technician at the Roxbury Hatchery, says the bass are active around the thicker emergent weeds on inland lakes and ponds. He has been having his best luck at dawn and dusk on topwater frogs like a Booyah Pad Crasher. Pike and pickerel are hitting them too!  
When the topwater action slows down, he's been catching fish flipping jigs and Texas-rigged creature baits on a ½-oz tungsten weight along weed edges. Texas-rigged Senkos or big 10" worms have been effective too.
According to Nate, the deeper water bass fishing has been picking up as temperatures get hot. He's been having luck targeting isolated rock humps, steep drop offs and points using dropshots and Ned-rigs in 15-40 feet of water.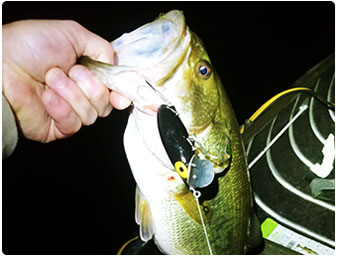 Mason Alexander of Barre saw Nate Olson's report on night fishing and reached out to say he agrees. This time of year, largemouth fishing can be tough during the day in the blazing sun, so he's been switching over to topwater fishing in the dark. Mason suggests using a red headlamp, which doesn't spook the fish, and for gear he likes to cast black jitterbugs, topwater frogs or whopper ploppers on braided line with a heavy fluorocarbon leader.
Streams & Rivers
Steve Cumming of Lunenburg MA had good luck fishing Waits River from East Corinth to Bradford. Although it was a hot sunny day, he still managed to catch and release 15 rainbows and two brook trout and lost another 6 fish. He caught them all using a small roostertail spinner.
Chris Powers, department fisheries technician in Roxbury, fished the Stevens Branch in Barre and cautions trout anglers to take care when water temperatures start getting hot. Chris always carries a thermometer with him and when water temps are above 70°F he'll look for colder water elsewhere, typically in smaller mountain streams at higher elevations.
Last week Stevens Branch was 67°F so he gave it a shot and hooked five trout and landed three—one brown and two rainbows, including a 13 incher. He was drifting nymph flies through deeper faster runs.
Let's Go Fishing Program coordinator Corey Hart is still having good luck in streams in Rutland County, and recently hit a medium-sized river in late afternoon this past weekend, catching both brook and brown trout. He said he was simply drifting a worm with a small BB-sized split shot while quietly wading the river and casting upstream along the banks. He says he didn't catch any monsters, but the fishing was fun and consistent.
What better way to beat the summer heat than to go wet wading—walking in just water shoes or sneakers—and do a little fishing! 
Fishing Report Success
Here is an email received from Chris Donahue of Rutland about the fishing reports
"Mr. Good – I'm a recent subscriber to the fishing reports and am so glad I got on the list! I really enjoy the relevant content from the local touch they provide. Following tips from Capt. Trombley in the July 4 report, I went to Kent Pond and caught and released a 2 lb. 13 oz. largemouth, and today after work I fished Woodward Reservoir and my 4th fish of the day ended up being this incredible 4 lb 4 oz smallmouth. I still feel amped from the catch!  I used a 3" Keitech Swing Impact FAT swimbait in Bluegill color on a 3/0 weighted Gamakatsu EWG hook. I released this fish as well. Thanks for the great info!"
See also: