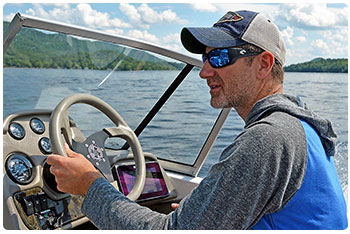 Howdy, everyone. It's the July 4th long weekend! Independence Day. Which means BBQ's, cook outs and getting saved by Jeff Goldblum and Will Smith. It's been 25 years now, and I still can't make it through this holiday without that movie coming to mind.
Anyways, as the official kick-off to summer, this weekend also means that a lot of folks will head outdoors to enjoy Vermont's mountains, forests, and waterways. For some less avid or experienced individuals, it may be one of only a handful of times they get outside to participate in activities like fishing and boating that many of us do regularly.
No doubt, some of us will inevitably see something like this take place at a boat ramp somewhere in Vermont this weekend.
As an experienced angler and boater, I know it can be maddening and frustrating, and occasionally comical. But it's worth remembering that we've all been there once upon a time. No one puts their vehicle in reverse with a trailer attached for the first time ever and backs down the ramp in a perfectly straight line. Like everything, skill and confidence come only after a lot of trial and error, and practice.
This weekend, I urge everyone to have a little patience and understanding. Yes, the ramps and parking areas will be a little more crowded than usual. Yes, you'll likely be witness to some interesting things in and around the water.
But for all involved, whether you're a pro, or someone just starting out, if everyone practices a little care, courtesy, and common sense when launching and retrieving vessels (this includes canoes, kayaks and other watercraft), everyone will be able to enjoy a good day on the water.
Check out some boating etiquette tips below, enjoy the long weekend, get some fishing in, and stay safe!
—Shawn Good, Fisheries Biologist shawn.good@vermont.gov
Access Area Etiquette
First, it's worthwhile mentioning a few things about our access area program. The department owns over 190 fishing access areas that provide shore fishing opportunities and places to launch boats. Funding for buying the land, developing the facilities, and maintaining them is generated from fishing license sales, motorboat registration fees, and excise taxes on fishing tackle and motorboat fuel tax collected by the US Fish and Wildlife Service. If you want to see the annual cost of this program, detailed annual reports are on our website. This might be an eye-opener for you.
Because this is essentially a user-pay system, certain uses are prioritized, while other activities like camping, fires, and swimming are prohibited. Allowed uses in priority order include angling and ice fishing, and launching vessels and parking vehicles and trailers used for those purposes. The launching of motorized and non-motorized vessels engaged in any activity (even if it's not fishing), and parking of associated vehicles and trailers is also allowed. Here's the regulation that lists all the approved and prohibited uses of access areas.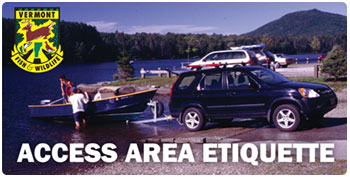 The diversity of activities, and the varied experience levels of the users can certainly make for some challenging situations at the ramps. Following the 3 C's of boating etiquette—Care, Courtesy, and Common Sense—can go a long way to easing tensions. Here's some tips.
If you're an angler, get there early. The fishing's better then anyways! Most pleasure boaters don't come out until much later in the day.
Load before you launch. This one is all too simple but so often overlooked. Pulling into an access area, backing halfway down the ramp, and then getting out and spending 10 minutes putting all your gear, coolers, beach bags etc. in the boat while others are waiting to launch or retrieve is discourteous.
Boats should be ready to launch when backing down the ramp with bow and dock lines attached, transom straps removed, and plug in place.
Be patient. On single-lane ramps, don't try to maneuver in next to someone else who's a little slow and risk damaging your boat or theirs.
Move off the ramp and into a parking space immediately after launching to allow the next person to have their turn.
Park in a courteous manner to maximize the spaces available.
Keep cool and be courteous, even when you're frustrated.
And lastly, if you see someone struggling to back up their trailer or launch or retrieve a boat, don't be afraid to lend a hand. Not everyone is a seasoned boater, and the person in need is probably already nervous and embarrassed as it is, trying to do it in front of a crowd. They'll be grateful and relieved for the help.
Angler Reports
What's going on around the state for fishing?  Well, it's been hot. We all know that. So, fishing for warmwater fish species is likely your best bet. Think panfish, bass, pickerel, and especially bowfin, which like nothing more than hot, weedy water and raw chunks of meat!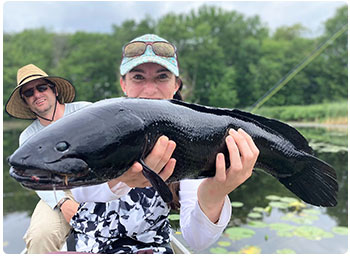 In recent years, bowfin have gained respect, notoriety, and a devout following by anglers who have discovered the challenge and excitement of battling this powerful, native species on a rod and reel. It's clear they are truly worthy of recognition as a valued sportfish species.
Matt Glebus of Port Henry NY is one of those anglers that loves bowfin and says fishing for them has been on fire on Lake Champlain with the warm weather. Matt fishes from shore, casting cut bait out into thick vegetation. He recommends using a medium to medium-heavy rod with at least 15-pound test line, or you'll risk breaking them off. And once landed, make sure you have the proper tools to handle them while you remove the hook – for the safety of both the bowfin, and your fingers!
Department fish culture specialist Nate Olson says bass fishing has been surprisingly good lately. Fishing in central Vermont, he's been finding bass in typical summer spots, focusing on water 8 to 10 feet or deeper. Jigs, deep crankbaits and weightless Senkos have been his most productive lures when fishing during the daytime. Nate says a Senko is the perfect lure for beginner anglers looking to catch bass and suggests casting them along the deep edge of visible weedlines. Just be sure to use the O-Ring setup to reduce the risk of losing these plastic lures in the lake.
At dawn and dusk, Nate uses topwater lures like buzzbaits, buzz frogs, and prop baits, and says the average size of bass he catches on these lures at night are larger. The other benefit of night fishing is the water conditions are usually calm, it's cooler out, and you'll often have the entire lake to yourself. Sounds good to me!
Dustin Loyer of Lyndonville provided a very similar report for the Northeast Kingdom, saying the warm weather has made for some really great bass fishing. Dustin has been finding largemouth along the weedlines in Curtis and Ticklenaked ponds, and says he's caught most of his fish on wacky rigged Senkos and topwater frogs. If it's smallmouth bass you're after, Dustin says you just need to fish a little deeper, in 10 to 15 feet of water, especially in clear water lakes like Lake Morey and Echo Lake, both of which have been providing good smallmouth fishing lately.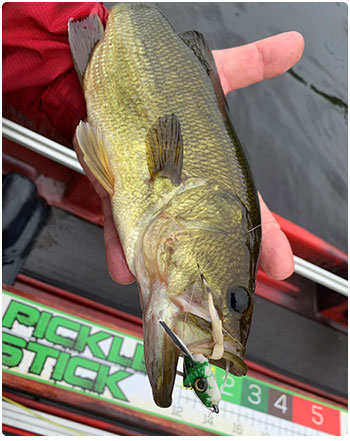 Middlebury angler Brian Cadoret has also been fishing for topwater bass at night, but with fly fishing gear. According to Brian, the last hour before darkness and the first hour after is a magical time to be on your favorite bass water. Early summer is when you can often find big bass looking skyward for an easy meal. Brian uses deer hair flies that represent frogs, birds, baby ducks and even mice. Small rubber, foam, and hard plastic poppers also work great.
When fishing midday day, Brian switches to foam dragonfly patterns or mini frog imitations. Flies with weed guards can be sent way back into the lily pads with a long cast and stripped through the cover without fouling. Impart some action with a hard strip followed by a 10 or 20 second pause, and then another strip, creating some disturbance in the water. When a largemouth blows up through the vegetation to inhale a surface fly, it's as exciting as it gets! Brian prefers to use a kayak to get way back into thick weeds and shallow water where most boats and anglers can't go.  
Though Bristol resident Dylan Verner is a diehard trout fly angler, when low water conditions and hot weather arrives, he puts his lightweight trout rod away and rigs up his 10-weight fly rod. Loaded with an intermediate sinking line, Dylan casts three- to four-inch baitfish patterns like Golden Retrievers and Woolly Buggers, and occasionally some six- to eight-pike streamers in natural colors like white, chartreuse and black leech patterns. Fishing these flies in just about any Vermont pond or Lake Champlain will put you on smallmouth and largemouth bass, pike, perch and even carp.
John Hurley of Jericho recently spent a couple days on Lake Champlain fishing in an interesting tournament called the Ditch Pickle Classic. This is a fly fishing only tournament where fish are caught, photographed, and released on site. No traditional "weigh-in"—points are awarded based on the length of the fish caught. And it's open to an assortment of species including small and largemouth bass, pike, bowfin, gar, and carp. While John fought strong winds all weekend, battling to make casts with his fly rod, he tells me that the one species he could not get away from was yellow perch in shallow water. He said the perch were aggressive from Isle LaMotte to Kingsland Bay, and they were hitting five-inch-long streamers and Clouser Minnows.
Gee, John. I feel sorry for you. Really! I know a lot of anglers, including me, who would love to have that problem. When life hands you lemons … you make perch tacos. Ok?
What I like about Brian, Dylan, and John's reports are the clear examples they provide of how fly fishing in Vermont has grown well beyond the traditional trout angling scene. The technique can be used for almost any species now.
If you're geared up for big lake, deep water fishing, Ron Winter of Essex says landlocked Atlantic salmon fishing is still going strong. The Inland Sea has been consistent with catches of three to five salmon in a typical six-hour outing. Ron says anglers should look for fish arcs on their sonar screens from 30 to 45 feet down. The best times have been from sunrise to 11:00am and then 5:00pm to 8:00pm. Small spoons like Crazy Ivan's are working great, and the color doesn't seem to matter. Ron said fishing these spoons behind a Lite Bite Slide Diver has accounted for 75 percent of his salmon recently. He recommends setting the diver to the #4 setting and putting it back 130 to 140 feet on wire or braid line. The Slide Diver is a very simple delivery system that lets you get lures down deeper without needing a downrigger.  
With the recent arrival of yet another aquatic invasive species in Lake Champlain—the fishhook waterflea—Ron recommends replacing the last 100 feet of your line with Berkley Big Game 30-pound test, and connecting it to your main line with a size eight barrel swivel, which is small enough to pass through the rod guides and a level-wind reel. On the other end of the heavy line, attach a six-foot leader of ten-pound fluorocarbon, and then your lure or spoon.
As the name implies, fishhook waterfleas have a tail with hooked barbs that catch thin fishing line. With small diameter line, fishhook waterfleas can snag onto the line in such large quantities that they gum up the rod guides as you reel in, sometimes to the point that it binds the line, making it impossible to reel all the way in. However, heavier 30-pound test line is too thick for the waterflea tail barbs to snag on. These changes will not only allow you to keep fishing but will also reduce the contamination of your fishing gear.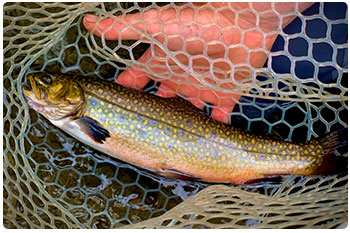 Moving on to smaller salmonids, department fisheries biologist Jud Kratzer in the St. Johnsbury office offers a tip for anglers interested in doing some stream fishing for trout this summer. Trout need cold water to survive, and they generally don't bite very well when the water is too warm. Brook trout prefer water temperatures less than 68°F, and Jud says if you find a stream that is running less than 70°F on a hot sunny afternoon, it is likely to hold wild brook trout.
There are thousands of stream miles in Vermont that stay cold enough for brook trout all through the summer, too many streams to name them all. Jud suggests looking for small streams flowing through forested areas and using a thermometer to confirm the water is cold enough for trout to be present and for them to be comfortable enough to bite. If you go fishing for trout when the water is warmer than 70°F, plan to keep any trout you catch because survival of released fish will be relatively low when the water is warm.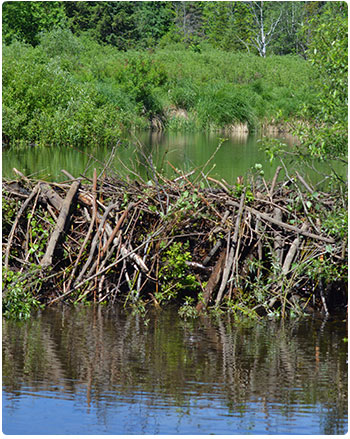 Paul Noel, who is a volunteer department Let's Go Fishing Program Chief Instructor, provides another perspective on summertime trout fishing. Dotted throughout the state, often high up on mountain plateaus, you'll likely find some remote beaver dams that have been built on brook trout streams. The ponds often stay cold and grow nice trout. Paul recently fished such a beaver pond in Orleans County and caught and released several wild brookies using a seven-foot three-weight fly rod. Paul said the trout seemed to like a wet fly presentation, especially a size 14 Royal Coachman. However, beaver pond brook trout will eat just about anything, as long as you don't spook them with your presentation. Paul said these remote beaver ponds are gems of the backwoods, and just getting to visit these sacred environs is more than enough for him.
One reminder from department Let's Go Fishing Coordinator Corey Hart. Several new introductory fishing clinics have been added to his summer program including one on fly fishing basics scheduled for this weekend. It's not full yet, so hop on to the website and sign up. It's taking place at the Northwoods Stewardship Center in East Charleston.
There are also three other (non-fly fishing) introductory fishing clinics scheduled around the state for July.
And to finish up the report, I received an inspiring email from Dennis Thomson of Bellows Falls. Being a conscientious, observant angler, Dennis spotted several patches of invasive water chestnut plants (no, not the kind you can buy in a can in the supermarket!) while fishing on the Connecticut River last year. He reported the discovery to Fish & Wildlife and the VT Department of Environmental Conservation and has been volunteering this summer to remove these plants by hand before they spread out of control.
Water chestnuts can grow rapidly and form nearly impenetrable mats on the surface that shades out more beneficial native aquatic plants, degrades fish and wildlife habitat, and clogs waterways, impacting fishing, boating and other water uses. An unchecked population of invasive water chestnut could be devastating for the Connecticut River and its aquatic community. Dennis asked that I remind readers to be responsible boaters and anglers, and make sure to thoroughly clean your boats, fishing gear and all other equipment before using it on another waterbody. Be part of the spread prevention solution. Dennis says the hand-pulling is very labor intensive, and they could use more help, so please contact him if you're interested (email me and I can put you in touch).
If we want our fisheries to remain healthy for future generations, each and every one of us needs to do our part and pay it forward. This is a great opportunity to do just that.
See also:
---

Thank you for supporting healthy fisheries in the Green Mountain State through your Vt. fishing license purchase, and through excise taxes on your purchase of fishing equipment and motor boat fuel, administered through the Federal Aid in Sport Fish Restoration Program.