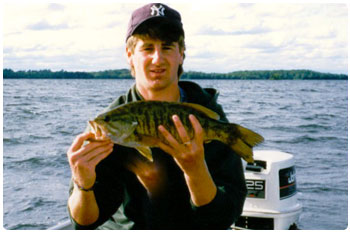 I came home from work the other night and I saw the red light blinking on my answering machine.
Now, for those of you under 30, please don't freak out. I will explain. I have a telephone in my house that's connected to a wire that goes out to a pole on my lawn and then down the road to other poles and other wires, and eventually, other phones. It's called a landline. You can hook a machine to it that lets people record a message when you're not at home—which is where my landline is located. Not in my pocket. Weird, I know.
The message was from a nice woman named Elizabeth who lives just a few miles down the road from me. We don't know each other and have never met. She was calling to tell me that a piece of mail meant for me (like, paper letters and stuff that are delivered by a mail carrier to a box at your house) was accidently delivered to her house. Elizabeth was kind enough to look up my number in the phone book (sigh … this story is getting more difficult to tell than I thought it would), and gave me a call.
After calling her back and getting her address, she asked "Are you the same Shawn Good that writes the fishing reports for Fish & Wildlife?"  Small world!
That evening I drove over to meet Elizabeth and retrieve my mail. It didn't take long for the conversation to turn to fishing. I learned Elizabeth is a retired schoolteacher who moved to Vermont with her husband just a couple years ago, and she's taken up fly fishing this summer as a complete novice. She was excited to share some stories of her outings so far this year, and being a beginner, she wanted to ask a few questions and get some advice.
Elizabeth told me she had yet to catch a fish this summer, though she was enjoying her time on the water immensely. She felt her main problem was not knowing where her fly was as it drifted downstream, and she wasn't feeling the bites. I suggested she consider using a "strike indicator"—in other words, a bobber for fly fishing. This would help her follow the fly's position, as well as help her learn to read the river. Elizabeth told me that she'd never heard of that before.
My short 15-minute conversation with Elizabeth that night made me realize, and once again appreciate, the fact that new and inexperienced anglers are basically starting from square one. They don't have the familiarity and knowledge of fishing many of us absorbed and acquired over time as we grew up learning from our parents and grandparents.
It's easy to sometimes forget this when talking to someone just learning. We expect they already know what we know. But it's also easy for us to do something about it. Make it a point this summer to take a new angler out fishing. Or if you are already out fishing and see someone who's clearly new, take a moment and offer a tip or two. Share your knowledge and experience. Budding anglers are eager to learn, and I'm sure they'll appreciate it. Pay it forward.
—Shawn Good, Fisheries Biologist shawn.good@vermont.gov
Learn to Fish Clinics
Speaking of paying it forward, there are some really great opportunities coming up this month for folks to attend fishing education clinics, and gain new skills and confidence to go fishing on your own.
First, the department's Let's Go Fishing Program is offering two Introduction to Fishing programs in Waterbury and Hartland on August 11 and 12.
Also on August 11, the department is partnering with local Abenaki community member Aaron Desroches who will be teaching participants about Abenaki fishing traditions, fishing basics, and how to honor your catch. Those interested in this Burlington program should sign up online quickly as it's bound to be popular!
Finally, we're excited to announce Audubon Vermont is teaming up with the department's Let's Go Fishing Program to offer two hands-on fly fishing courses specifically for women (Elizabeth – are you reading this?). The Introduction to Fly Fishing for Women program is a day-long course that will cover the basics of fly fishing, including topics like knot tying, aquatic insects, casting, and more. And there's time to put your newfound skills to work by going fishing at the end of the day. There will be two opportunities to take part: August 7 and September 4, and both will take place in Huntington. Visit the links to sign up online and learn more.
More on
Fly Bobbers

Strike Indicators

Honestly, Elizabeth, I'm not picking on you … but I'm going to go on just a little more about strike indicators for fly fishing. Not just for your benefit, but for anyone who thinks bobber fishing with fly gear is blasphemy. Or simply never knew it was a thing.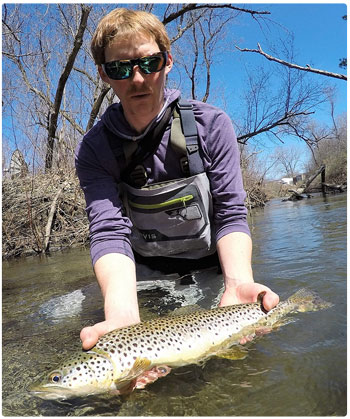 To get the expert scoop on what strike indicators are and how to use them, I reached out to department wildlife technician Tyler Brown. He's just a way better fly angler than me. First off, Tyler says attaching a strike indicator to your fly leader helps you detect when a fish eats your fly—typically a nymph or wet fly. Well, that sounds an awful lot like a bobber to me. Please go on, Mr. Brown.
There are many different types of indicators, and they can be made of yarn, foam, or cork. Some are even small plastic balls like the Thingamabobber. They come in different sizes and colors, and you often need to change what you use depending on water conditions and fly size. Tyler says larger indicators are better for high, turbulent water and heavier flies, as smaller indicators can be pulled under by heaver flies. For fishing shallow riffles or runs, the indicator should be attached closer to the fly. If fishing deeper pools, the indicator should be attached further away.  Hmm, the parallels to worm and bobber fishing are uncanny!
To fish with an indicator in a stream or river, Tyler suggests casting your line upstream on a quartering angle. Be sure to keep your rod tip high and strip in excess line as the indicator drifts downstream. Also, follow the indicator with the tip of your rod. If the indicator stops or goes under, lift and set the hook. Just be aware that if you're fishing nymphs or wet flies, you'll occasionally hook bottom. This is normal, and something you actually want to happen. If your fly isn't ticking bottom, add some small split shot to get your fly down deeper and into the strike zone. If you're hooking or snagging bottom too often, remove some of the split shot, or use a smaller, lighter fly.
If you've got some time, watch this video by Tom Rosenbauer of Orvis. It's a master class in fly fishing with strike indicators.
I really like where the fly fishing world has been going in the last ten years. It's been broadening its scope, both with the species anglers are pursing on the fly, but also by melding gear and tactics from other fishing styles and applying them to the fly world. I was just fishing with someone this past weekend who attached a light dropshot weight (generally used for bottom fishing for smallmouth bass) to a large streamer fly to catch bowfin on his flyrod. It was ingenious, and bold, and it worked.
Don't be afraid to mix it up and try new things!
Bass Fishing
It's mid-summer, and that means bass fishing is in full swing. Right now, anglers can find largemouth in dense weed cover or roaming smallmouth on flats, reefs, and points. It's your choice, and that's what makes it so much fun! You can fish to your strengths, and probably do well.
For anglers wanting to improve their bass fishing skills, I've always recommended they consider joining a bass fishing club. Many bass clubs operate with a "draw your partner" format, meaning a new member doesn't need to own a boat to join and fish, and you get to learn from anglers who've been doing it all their lives.
There's also another way. Lake Champlain is known nationally as one of the best bass fisheries in the country (and for good reason), and professional tournaments make regular stops to fish the waters we're lucky enough to have in our own backyard. Pro bass anglers are highly skilled, and always seem to find a way to catch bass—and big ones at that. Fortunately for us, most professional level tournaments are televised, and recaps are posted online. The Bassmaster Elite series was just held on Champlain a couple weeks ago, and there's lots of video on their website, including the "Unlock the Lake" feature that shows exactly what the top anglers were doing. It's fun to watch and recognize areas you've fished yourself, and see how the pros fished, and with what lures.
But what about our own pros?  Well, we have plenty of those. Anglers who live locally and fish Champlain all the time. And they know how to catch fish too.
Like department fish health biologist Tom Jones, who fished Champlain with his friend Brandon Carrier this past week. Having just a few evening hours to fish, Tom and Brandon targeted largemouth bass along six to eight foot deep weed edges in the Inland Sea. Tom reports they caught 18 largemouth on their short trip by moving slowly along the weed edges and making lots of long casts. Fish were very scattered, so covering water was important. Their best lures were Heddon Torpedos, black Terminator Popping Frogs, green and white spinnerbaits, and white chatterbaits. I do love topwater fishing!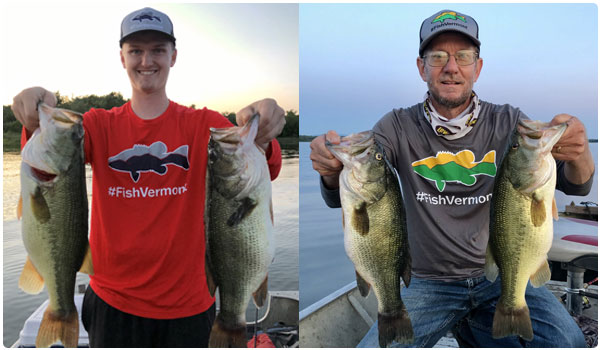 And it helps to be observant. Several of their fish were caught when they spotted some birds diving into shallow water. The astute anglers moved in on the spot quickly, lobbed some long casts to the area, and caught several bass right away. Those birds were certainly dive-bombing a school of baitfish and the largemouth bass were doing the same from underneath!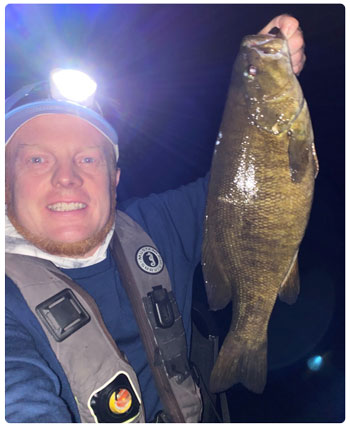 Zach McNaughton, the force behind the Vermont Master Angler YouTube channel has been fishing some inland waters in southern Vermont, and shares a technique that has been working very well for him and his young son Fisher. Zach says the "magic hour" for them begins right when the sun dips behind the mountains. As soon as that happens, they twitch Heddon Torpedo topwater lures over the deep edge of submerged weedbeds (sound familiar Tom and Brandon?), as well as rocky points and shorelines. It's a technique he learned from his own dad as a kid, and now he's sharing it forward. The quietness on a lake at that time of day makes the topwater explosions an exciting way to fish when you hear the strike more than you see it. Zach says this has been working for both smallmouth and largemouth bass, as well as giant rock bass!
Roy Gangloff, of West Dummerston tells me that he's been having very good results lately on Champlain, despite seeing a lot of fishing pressure out there. Roy says fishing in the morning and evenings has been a great way to avoid the traffic and find more active fish. When fishing clearer water, he's been doing well casting white swimbaits, when in dirtier water, green-pumpkin or black and blue chatterbaits have been the ticket. Following this prescription, Roy's wife caught her personal best largemouth this weekend, a 4-lb 10-oz taken on a white swimjig with a 3.5-inch white swimbait trailer. What a nice fish!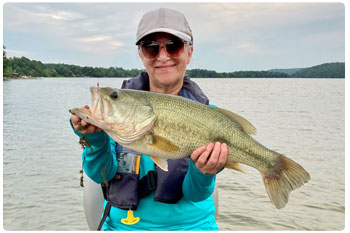 Department fish culture specialist Nate Olson says this summer has been anything but typical. Instead of fishing in deep water on lakes with 80°F surface temperatures, the cool rainy July has him fishing central Vermont lakes and ponds with 68°F surface temperatures. Unheard of for this time of year. This has also made it one of his best Julys for fishing in recent memory. The higher water levels and cool temps have kept bass in shallow water, which means topwater bites have been great. Nate has been fishing buzzbaits and poppers near weed edges right before dark with good success. The high water has also positioned bass far back in the weedbeds along the shore, and he's been doing well fishing a hollow bodied topwater frog on heavy braid line.
Trout and Salmon
There's something happening here … but what it is, ain't exactly clear. I've been inundated lately by emails and messages showing off photos of incredible trout and salmon coming out of Lake Champlain. This summer, things seem to be on fire with lots of salmon around the ten-pound mark and better, as well as big lake trout, big brown trout, and even some steelhead.
To kick it off, two brown trout over ten pounds were caught by the same angler within an hour of each other a little over a week ago. Tim Little of Orwell was trolling Speedy Shiners 65 feet down over 220 feet of water when he caught an 11-lb 3-oz brown that was 28 inches long, and then shortly after he hooked and landed a football brown weighing 10-lb 11-oz and measuring 26.5 inches. One was caught off a downrigger and the other using a dipsy diver. Watch for these fish to show up on the All-Time Vermont State Record Fish list soon. If everything checks out, they will take 1st and 2nd place for brown trout on Lake Champlain. I hope he bought a lottery ticket on the way home that day.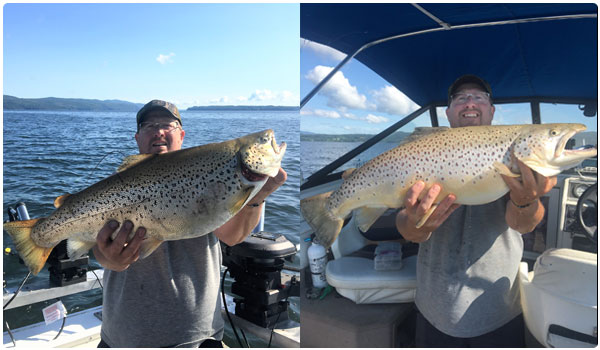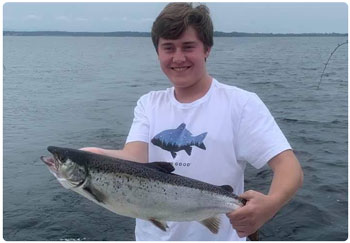 Essex angler Ron Winter confirms trout and salmon fishing has been outstanding over the past three weeks. Ron's been fishing in the Converse Bay and the Sandbar (Milton) area and both spots have been producing. Fishing 50 to 60 feet down, Speedy Shiner and Crazy Ivan spoons in various colors have been responsible for a number of Master Angler-sized salmon, including a 9-lb salmon caught by Greg Robatille and a 12-lber caught moments later by Lauren Macomber.
Matt Trombley of 3rd Alarm Charter says the constantly changing weather patterns have made for some challenging trolling conditions, but the good days have been fantastic. Lake trout of varying size classes have made up the bulk of his catch, but he's also been getting some beautiful brown trout, steelhead, and salmon while trolling, including a season-best eight pounder last week. For those without trolling gear, Matt suggests anglers use bass gear and heavy bucktail jigs or tube jigs and try lake trout jigging. That bite is in full swing right now, according to Matt and he says to look for lakers in 80 to 95 feet of water on shoals and reefs. They should hit on the first couple drops, and if they don't, move a little and try again!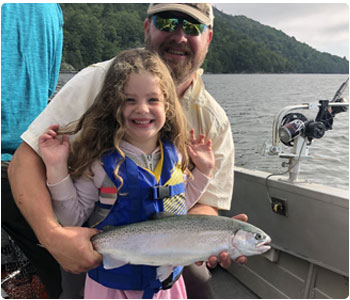 New Haven angler Tony Curtis has a daughter who's a budding angler herself, and quite possibly a Fish Whisperer, I believe. Tony tells me that on the way to Champlain for a day or trolling, Harper said "Daddy, I'm going to catch a rainbow fish today." Tony, thinking the chance of boating a steelhead would be like seeing a unicorn, agreed, saying "you sure are." Fishing over by Split Rock across from Converse Bay, they trolled south at 2.8 mph, setting lines down at 70 feet. As they got closer to Otter Creek, the water became dirtier, and Tony was dodging logs and debris in the water.  But then one rod went off, and he grabbed it, handed it to Harper, and held on while she reels. As the fish got closer to the boat, Tony realized there were two fish—a small lake trout on the cheater rig, and her 'rainbow fish.'  One happy dad. Check. One happy daughter. Double check.
Mixed Bags
John Hurley of Jericho has been fly fishing Lake Champlain for panfish and the Lamoille River for smallmouth bass. Again, not the typical targets of many fly anglers, but definitely becoming more common, which I love to see! John says Champlain has been very productive early in the day for bluegill, but the bite seems to die off around 9:30 am or so. On one trip while fishing for bluegill he caught a 21.5-inch salmon. You just never know what you're going to get when fishing!
For anyone wanting to try this, John says the Gurgler Fly has been his most productive fly lately, and color hasn't seemed to matter. I'm guessing that waterbody won't matter either. This pattern can be fished just about anywhere!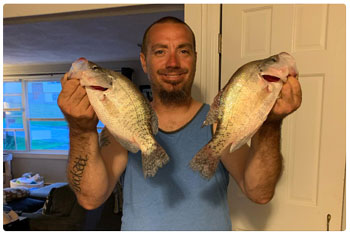 Barre angler John Rielly adds that the crappie fishing on southern Lake Champlain has been great recently as well. John's been fish both weed edges and offshore wood structures in 10 to 25 feet of water. His best baits have been small 1/32 oz tungsten crappie jig heads with various small crappie plastics attached.
Dylan Verner of Bristol says he's had some epic outings recently for bass and pike, and his whole family have gotten in on the action. Gold Acme Little Cleo spoons, dark green finesse rubber worms on a 3/0 hook, and blue/black rubber worms suspended three feet under a bobber have caught both species. And Dylan's been mixing it up catching them on a gold streamer with a white bucktail head. I love the diversity.
Streams and Rivers
St. Johnsbury fisheries biologist Jud Kratzer says there are generally good conditions for stream and river fishing throughout the Northeast Kingdom right now. Not getting the heavy rains the rest of the state has seen, Jud says flows are just right for this time of year, though water temperatures are a bit cooler than normal. Jud says that if you can time your trip to immediately follow a rainstorm, trout fishing can be really good. The short increase in flows provides more depth for the trout, making them feel safer. They are more likely to be found roaming away from undercut banks and downed trees where they hide during low flows. Trout also go on a feeding binge during and after a rainstorm, taking advantage of worms and insects that get washed into the stream.
See also:
---

Thank you for supporting healthy fisheries in the Green Mountain State through your Vt. fishing license purchase, and through excise taxes on your purchase of fishing equipment and motor boat fuel, administered through the Federal Aid in Sport Fish Restoration Program.