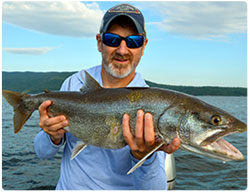 It's been sweltering out there. Water levels are low, and temperatures have been high. Fish are being a little stingy lately. Some folks may be taking a break from the heat. But not everyone. Judging by new Vermont Master Angler entries coming in, persistent anglers are catching bass, panfish, pike, bowfin, gar …. and lake trout galore. More on that in a bit.
Looking ahead we may be in for a slight dip in temperatures next week (into the 70s - woohoo), so read the report, watch the Master Angler page, and get back on the water!
This week's fishing report is going off the rails a bit but stay with me. There's some good stuff to get excited about!
 —Shawn Good, Fisheries Biologist. shawn.good@vermont.gov
Lake Trout Bonanza
I suffer from an extreme case of FADD. Fishing Attention Deficit Disorder. Meaning, I never know what to fish for, so I try to fish for everything. Angler of all trades—Master of None.
The unwelcome side effect of my affliction is that I have way too much fishing gear. I have spinning rods, baitcasting rods, fly rods, and level winds. And don't even get me started on the stacks of Plano boxes containing more lures, jigs, spoons, and soft plastics than any one angler could reasonably use in a lifetime.
I really need to streamline my collection. Or seek professional counselling. Probably both.
So, I love the idea of jigging for open-water lake trout in the summer. I can use gear and tackle I already own to catch a fish species that's normally thought of as being difficult and requiring pricey downrigging and trolling equipment.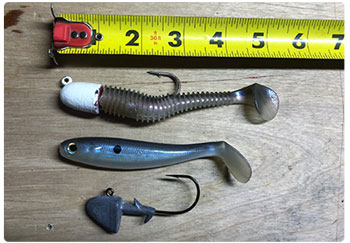 With a medium-heavy action spinning rod and reel outfit and some standard bass fishing lures, you can catch lake trout by vertical jigging in deep water. This technique doesn't require a big water boat either. If you pick the right day with favorable weather, you can do this equally well from a canoe, kayak or small tin boat.
The first step to being successful is finding summer lake trout. Fortunately, this is easy, as hot summer weather concentrates lake trout in predictable locations.
A depth chart of the lake will help you identify bottom structure that will hold fish. The Navionics Web App is a great tool to research underwater contours and locate potential fishing areas.
Look for rocky areas with long protruding underwater points, sunken reefs and shoals, and isolated humps. When you find such features that also create funnels or pinch points, that's gold, as lake trout use the gaps between the structure to chase and corner baitfish. Depths of around 90 to 120 feet of water are prime for vertical jigging, but you might find fish as shallow as 40 to 50 feet.
Once you've picked your spots, the actual fishing is straight-forward. Drop a tube jig, paddletail swimbait, or curly tail grub over the side of the boat. A 1-ounce to 2-ounce cone shaped lead-head jig is needed to get you down fast.
Braid or fluorocarbon line transmits the sensation of a bite much better when fishing at that depth. Add a high-quality swivel and then six to eight more feet of line to avoid line twist in the deep water.
Once you've tied on your lure, open the bail and drop it to the bottom. Reel up to tighten the line, then make long upward sweeps, pausing at the top, before dropping back to the bottom again. Pounding the bottom occasionally and stirring up sediment will get their attention fast.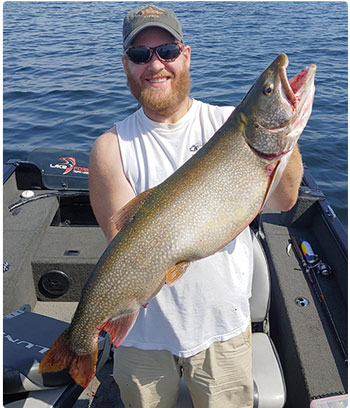 If you don't have action within a short time, try this instead. After a couple lift-pause-drops, reel up your bait as fast as you can turn the handle. Bring it up 20 or 30 feet. But hold on tight. Lake trout have great eyesight, even at those depths, and if there's one cruising nearby it will think your lure is a fleeing baitfish, and it's liable to chase it down and crush it on the move. It's exhilarating.
There's been a growing movement of anglers doing this with great success on Lake Champlain – and I'm right there with them. I got two Master Angler lake trout last week in about 30 minutes jigging in front of Converse Bay. But this technique isn't restricted to Champlain.
You can find bottom features like humps, shoals, steep break lines and drop-offs in a lot of inland waters as well. I checked in with Northeast Kingdom fisheries biologist Jud Kratzer, and he recommends Caspian, Seymour, Willoughby, Maidstone, Eligo, and Forest (Nelson) Lake in Calais as places this technique will work.
Further south in my area, I know anglers have successfully jigged lakers on lakes Dunmore and Sunset in Benson. Be sure to do your homework first by using a depth chart to find potential areas. Give it a try – it's great fun!
Fishing Challenge
I was able to put my FADD illness to use two weeks ago in a marathon fishing excursion that lasted 20 hours straight. Let me explain.
A month ago I received an email from Zachary McNaughton, creator of the Vermont Master Anglers TV show. The email said he was planning an episode that would highlight the wide diversity of fishing opportunities in Vermont. The concept was a challenge where two anglers would compete against each other to see who could get the most species in a single outing.
This sounded right up my alley. I wanted in. I suggested a team format and I recruited fisheries biologist Jud Kratzer as my partner. Zach teamed up with fishing guide Drew Price. Drew is the only angler in Vermont to catch all 33 fish species eligible for the Vermont Master Angler Program. Jud and I were in trouble.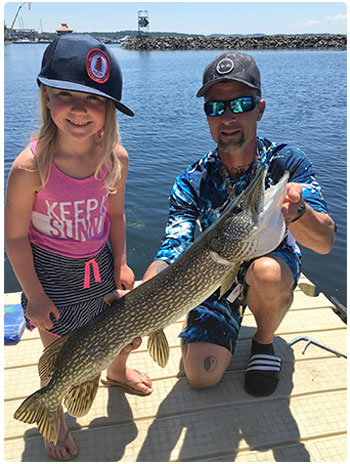 We set the date and the rules. Fishing was to occur from 6 a.m. to midnight. Open to any water in the state, fishing with any legal method. Boat or shore-based. It was wide open. Teams would get one point for each species caught, a bonus point if the fish was Master Angler sized, another point if, at the end of the challenge, the other team did not have that species.
Without spoiling too much (the episode will be edited for viewing early next year), Jud and I ended up with 14 species while Zach and Drew caught 15. If it weren't for a couple mishaps of fish literally at our feet but not landed, Jud and I would have caught more species.
The interesting thing was how different our two lists were. There was some overlap of course, but each team caught several species that the other team didn't have. A total of 20 species were caught during the event.
Jud and I focused as much as possible on very basic techniques that accounted for at least half of our species tally – a worm and a bobber, a Mepps spinner, a small crankbait. We caught fish from both shore and boat.
The take home message is this – just get out there. You don't need a lot of skill (I don't!) or fancy gear. Just by exploring and fishing, you'd be amazed at what you'll catch. And have a great time doing it!
Swim with the Fishes
With the heat we've seen this summer, I'm sure folks have been swimming a lot at beaches, off the boat, or in one of Vermont's many riverine swimming holes.
I have a tip for you. Open your eyes.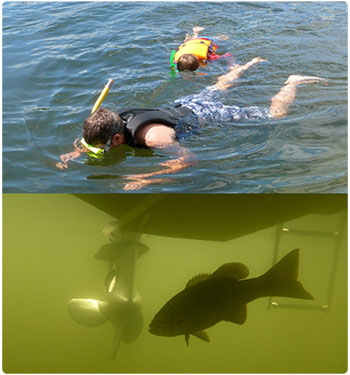 There's no better way to increase your fishing knowledge, and success, than by swimming with the fishes. An inexpensive mask and snorkel will give you a fish-eye view of the underwater world, and you'll learn how different fish species relate to habitat like pools, rocks, current, stands of aquatic vegetation, and sunken wood. You will see and learn things you never knew. It will literally open your eyes to new ways of fishing.
It will also make you appreciate and understand our aquatic ecosystems and natural resources so much more. Like how often fish are associated with weed beds, or log jams and trees in a river.
Many folks associate snorkeling with clear ocean waters, but there's a lot you can see in Vermont's waterways. I taught my own son to snorkel here in Vermont while on fishing trips. We'd put the rods down for a while, pull on the mask and snorkel, and jump in the water right where we were fishing.
If you'd rather not snorkel, then try checking out the Vermont-based YouTube page "I See Fish People."  This is the brainchild of Ben Maddox, a skilled videographer whose passion is underwater video. He has an incredible collection set to music, with educational text, all recorded in Vermont waters. I highly recommend subscribing to his page.
Shadow a Pro
Staying in the vein of learning something new, there's a 2020 Bassmaster Elite Series Tournament going on right now on Lake Champlain. This is a 4-day event that goes from Thursday July 30 through Sunday August 2 and will inevitably show off (yet again) that Lake Champlain is a world-class smallmouth and largemouth bass fishery.
There are a couple ways you can learn from these pros, who are pretty darn good at catching bass.
First, you can shadow them in your own boat. This may sound a little weird, but it's quite common. Spectators follow the pros or wait for them in areas they are expected to fish, and watch from a distance using binoculars. You can get a sense of what style of fishing they are doing (casting spinnerbaits, fishing deep dropshot baits, flipping jigs etc.), and you might learn something new. Just be respectful and stay back.
Second, watch these anglers in real time, live online. Bassmaster has camera boats all over the lake, and actually have camera operators IN the boats of the pros at the top of the leaderboard. It's a great way to get an up-close view of how they're fishing. You can watch live on the Bassmaster Live Broadcast webpage.
Although the headquarters for this tournament is in Plattsburg, NY, the field of 85 professional bass anglers from around the country will be spread far and wide on Champlain, with many of them fishing Vermont waters.
I've always said – 62 percent of Lake Champlain's surface area is in Vermont, as well as 95 percent of the best bass fishing areas!
Fight the Fleas
Invasive species are bad news. Once they've become established, there's nothing that can be done to eliminate them. We're left with either expensive (and usually not very effective) control options, or just learning to adapt and deal. In the last six years, two invasive zooplankton (microscopic animals) have arrived in Lake Champlain – the spiny waterflea and the fishhook waterflea.
In addition to the ecological damage they cause in the lake, they also make fishing difficult by snagging on fishing lines when trolling and downrigging for trout and salmon. Contaminated gear then becomes a high risk of spreading these to other waters if anglers go fishing elsewhere.
Brian Ames of Putney VT sent in a fishing report this week saying he and his wife fished for trout and salmon on Lake Champlain north of Chimney Point recently, but didn't catch anything, mostly because the waterfleas built up on the lines so thick they triggered the downrigger releases, and they clogged the line guides on the rods so much they couldn't reel in. Brian asked if there were ways to avoid this.
There definitely are. I reached out to Ron Winter and Randy Colomb who both spend a lot of time trolling on Champlain. Ron and Randy said trout and salmon trollers are learning to adapt by using heavier line which significantly reduces waterflea clogging.
Strip enough existing line off your reel to make room for 100 to 150 feet of 30 to 40-lb monofilament, and splice it onto your existing line with an Albright knot. Then, add a barrel swivel small enough to go through your rod guides to the end of the heavy line, and connect a six-foot leader of 8 to 12-lb mono or fluorocarbon to which you tie your lure. This will cut down on most of the clogging and will keep your down line clear.
Spread prevention is key to keeping aquatic invasive species at bay. The two invasive waterflea species are mostly an issue in the deep, open waters of the lake, and aren't present for the most part in shallow nearshore areas. It's best never to use gear on other lakes that's been used in Lake Champlain unless you clean them thoroughly with approved methods.
Other Fishing Reports
For anglers looking to do some trout and salmon trolling, this stable weather has improved the bite considerably on Lake Champlain. Randy Colomb of Waltham VT says this past week has provided some spectacular catches for both numbers and size. Fishing in the mornings from 7 a.m. to 11 a.m., they trolled just below the thermocline which is sitting at about 60 feet right now. They caught lake trout, landlocked Atlantic salmon, and steelhead all in the same areas, catching some of his largest fish of the season, including a 7-lb salmon and a 28-inch 8-lb steelhead.
Todd Flint of Salisbury, VT had similar luck this week, and sent me photos of what I consider to be the Ultimate Champlain Salmonid Trifecta – a landlocked Atlantic salmon, a steelhead, and a brown trout – all caught in a 24 hour period. Beautiful fish!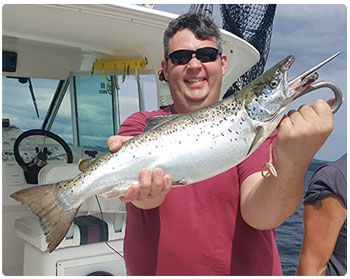 Captain Matt Trombley of 3rd Alarm Charters has been trolling for trout and salmon almost daily and says trophy-sized lake trout are stacked up on shelves and reefs in 85 to 100 feet of water right now, and like Randy, he's also catching some of the biggest and healthiest salmon he's seen this year. A copper wire setup with a flasher seems to work best on bright sunny days.
Jared Shaw of North Hero says he's found topwater bass fishing to be on fire lately. Fishing in shallow weedy bays in three to eight-foot depths, Jared said clear water under thick milfoil were holding lots of fish. He targeted them with Texas-Rigged Stanley Ribbit frogs retrieved quickly. The way the feet kick creates a lot of commotion on the surface that attracts aggressive bites. This technique can be fished on just about any bass water in the state right now and is super exciting!
Dennis Thomson of Bellows Falls spend a few days fishing on southern Lake Champlain and said they got a mixed bag of fish on live bait around weed beds, catching largemouth bass, white perch, catfish, white and black crappie, freshwater drum, and even walleye.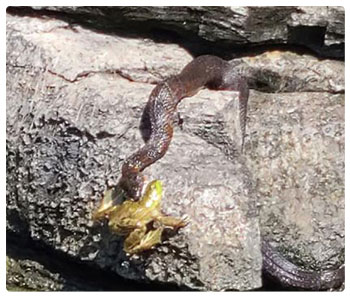 Like I said, just go out and get your line wet—you never know what you may catch. Dennis also sent in a photo he took of a Northern Watersnake that had caught a frog. It's one of the many side benefits of just being out on the water fishing—up close and personal wildlife watching experiences!
I'll leave you with this recipe from department staff member Adam Miller for Smoked Sweet Glazed Lake Trout.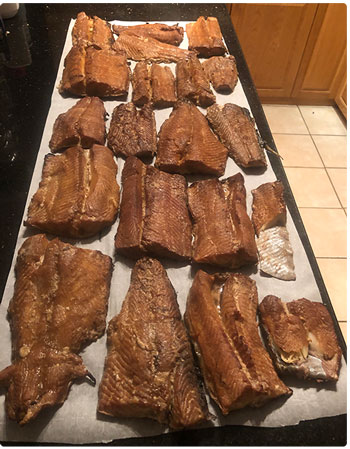 Brine:
1 gal cold water
1/2 cup non-iodized sea salt
1/2 cup brown or maple sugar
1/2 cup honey
1 tbsp tarragon
1 tsp garlic powder
Glaze:
1/2 cup maple syrup
1/2 cup honey
Creole seasoning (to taste)
Directions:
Fillet lake trout, leave skin on. Cut large fillets into 8-inch long sections
Combine and stir all brine ingredients in a large mixing bowl until dissolved
Add brine to fish and refrigerate overnight
The next day, remove and rinse fillets. Pat down and with paper towel and place on a rack to dry for an hour or so, until fish becomes tacky 
Smoke the fish on a low setting (165°F or so) for about 5 hours, or until it reaches the desired amount of doneness. The final product should easily flake when you bend it. Pecan, alder, or apple wood chips all impart great flavors.
In the last hour of the smoking process, glaze the fish with the maple syrup/honey glaze.
If you want to add some spiciness, sprinkle creole seasoning at this time
The sweet and spice really come together will with the smokey flavoring of the fish.
See Also:
---

Thank you for supporting healthy fisheries in the Green Mountain State through your Vt. fishing license purchase, and through excise taxes on your purchase of fishing equipment and motor boat fuel, administered through the Federal Aid in Sport Fish Restoration Program.