Hey everyone!  This is department fisheries biologist Shawn Good. I hope you've been enjoying these bi-weekly fishing reports I've been writing and maybe using the great information to motivate you to do some fishing yourself. These reports wouldn't be possible without the generous efforts of the many avid anglers who have contributed their insights and knowledge of where to go and what to use to catch some fish yourself, be successful, and most of all have fun. If you want to contribute to future reports, send me something by email at shawn.good@vermont.gov. And, if you're a new or novice angler, and have a successful outing due to something you read in these reports, I want to hear from you too. Tell us how they helped, and I can include it in future reports!
Alright, with the July 4th holiday forecast to hit 90°F across much of Vermont, you'd be right if you were thinking the "dog days of summer" have arrived. The Old Farmer's Almanac considers the official "dog days of summer" to be the 40 days beginning July 3 and ending August 11. High skies, intense sun and not a whiff of a breeze can make fishing conditions tough during this time. But it can also put fish into fairly predictable patterns and locations and with a little knowledge and work you can take advantage of this. Read on and see what some of our contributors are finding with current conditions.
The Dog Fish – a.k.a. Bowfin
The bowfin is a living fossil, a fish that lived alongside dinosaurs, and hasn't changed for 150 million years – it's the original NATIVE Vermont fish species. For the angler, it is the toughest, meanest, hardest fighting native fish we have in Vermont.
The "dog days of summer" are the perfect time to target bowfin. They like to inhabit warm, shallow, heavily vegetated shorelines and tend to congregate in these predicable locations. Find a thick weed edge with some scattered clumps and holes. Toss out a piece of cut bait (a chunk of sunfish or perch) under a bobber and hang on. The strikes are vicious and aggressive, and the battles are epic.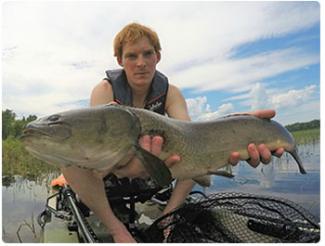 Department wildlife technician Tyler Brown recently had some luck targeting bowfin by slowly working the weedlines in bays and setbacks on southern Champlain. Tyler says bowfin are not spooky fish, and with some stealth, you'll often see them swim right up to your boat.
Tyler likes to use a fly rod setup and jig a crayfish pattern right in front of them. Heavy leaders are a must due to their teeth. Drew Price is another fan of targeting bowfin, so much so that he runs a guide service with bowfin listed as one of his specialties. This past week, Drew guided two different clients to new potential International Game Fish Association male and female line-class world records.
Lake Champlain is such an unbelievable fishery with so many unique and native species like bowfin, longnose gar, and others that deserve more respect and recognition as true sportfish.
Lake Champlain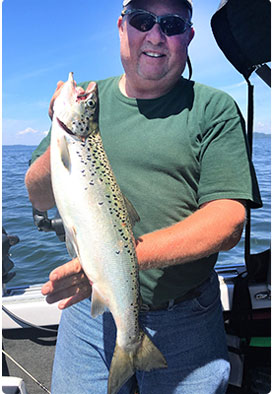 Cold Water Species – Ron Winter of Essex VT provided some more great tips this week, saying the action is finally heating up for landlocked Atlantic salmon. This is another species that becomes more predictable as summer temperatures set up. Ron says the lake's murky-colored water is finally clearing and the thermocline is setting up nicely. He's been having great action in the Inland Sea, catching salmon down 38-50 feet using downriggers and Slide Diver Lite Bites. He's been running Blue Moon Crazy Ivan spoons set back 30 feet from the releases. As a bonus, he's taken the occasional walleye on the same setup.
Capt. Matt Trombley of 3rd Alarm Charters agrees, saying trolling on Lake Champlain has picked up as the summer thermocline has finally set up. He's been successful at finding lake trout, landlocked Atlantic salmon and steelhead this week. According to Matt, his best luck has come when he's located baitfish where colored water meets clearer water. He's been setting his downriggers 30-45 feet down, running slide diver rods back 100-120 feet, and for his leadcore setups he's putting out 7 to 10 colors. He has taken fish on all of them.
Warm Water Species – Tyler Walton has been targeting catfish all season, and says the bite is still great as the hot weather sets in. Tyler says anglers will find better luck in the southern parts of the lake and suggests focusing on shallow weedy bays.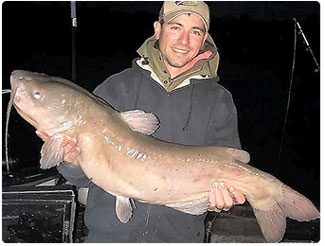 He prefers fishing with fresh cut bait over rotten bait and uses a circle hook to reduce deep gut hooking. He tosses his bait out along the edge of a weedline and uses a slip sinker and loose drag on the reel so when a fish takes it, it won't feel any tension and drop the bait.
Tyler suggests letting the fish run for 10-15 seconds before setting the hook. Smaller chunks of bait will also give you a chance at an eel or bullhead, while larger chunks tend to produce bowfin and the bigger catfish. He also says if there are catfish in the area, you will usually find out within a half hour. If you don't get any action right away, don't be afraid to move and try another spot. And the last piece of advice, if you're not a night owl, Tyler says he catches just as many catfish during the day as he does at night.
Colchester angler Geza Carr has been targeting bass and finding the largemouth primarily in post-spawn condition. He's fishing for them in the weed flats and coves of the Mallett's Bay area. Geza's been having luck casting senkos to the edge of lily pads and milfoil patches. Colors resembling bluegills have produced his best results – watermelon, green pumpkin, black and blue, or anything with purple. He also says some of his bigger bass have come from the deeper weed edges while working swim jigs. He caught a nice four-pounder that way the other day.
Dylan Smith, a department employee and avid angler, loves to chase crappie on Lake Champlain. According to Dylan, the crappie fishing at the southern end of the lake has been outstanding. With surface temperatures around 70-72°F, black and white crappie are doing two very different things. Whites are still actively spawning and not chasing bait, so working lures very slow was working best for him.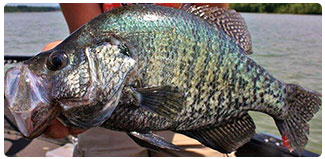 Black crappie have finished spawning and Dylan says they are widely scattered and not yet set up on their summer pattern. The fish he did find were in depths ranging from 5-15 feet around rocks, stumps, weed edges, and trees. His best luck was by slowly working a brightly colored 2¼" soft plastic on a 1/16-ounce jig. He found a more active presentation was required in areas where the water was stained from recent rains.
Dylan suggests paying attention to the weather. He noticed a clear increase in fish activity when the sun was shining, while calm conditions made it necessary to back off from structure to keep from spooking the fish. For anyone interested in trying their hand at catching a meal of crappie, he suggests fishing the south lake out of Benson Landing, George David (Singing Cedars), Larabees, Lapham's Bay, McCuen Slang and Chimney Point access areas.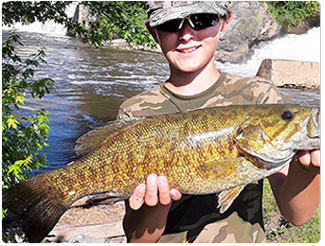 Chase Stokes is a 13-year-old fishing maniac and a regular contributor to the Master Angler photo gallery. He spends most of his time fishing Otter Creek and a few other waters in Addison County. Chase fished the pool below the Vergennes falls with his dad this past Sunday, and found the smallmouth bass feeding heavily. He and his dad caught around 75 different fish over the course of the day. The great thing is, the Stokes' do most of their fishing from shore, proving that shore-bound anglers are not limited in their abilities to have great fishing.  All the smallies were caught on live minnows and crayfish.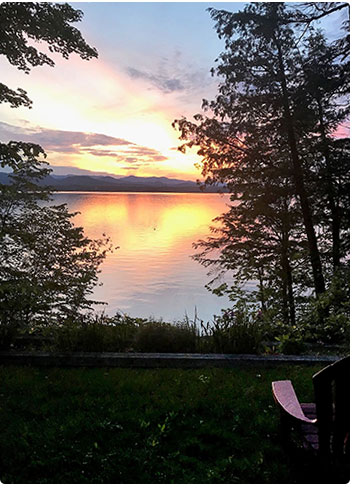 West Dummerston angler Roy Gangloff spent the week of June 22-29 with his wife Collette at a cottage in Panton on the main lake. He was surprised to find water temperatures still cold at 57°F, and very few fish of any kind were around. But as the sun began to warm things up, the smallmouth bass started showing up around Button Bay and Mud and Rock islands.
Roy said he found the bass still a bit finicky and shied away from large offerings but would absolutely smash a small in-line spinner. His best results were on a chartreuse or gold #2 Mepps with or without hackles.
As a bonus, he caught a good number of nice size yellow perch on the Mepps. Fish were feeding in 3-8 feet of water in the evening and in the mornings if you were on the water before the sun broke over the horizon.
Roy's advice to anglers is to get on Champlain sometime this summer. If you like to camp, Button Bay State Park and D.A.R. State Park puts you in reach of outstanding fishing, and you'll see some of the best sunsets in the world. And, Roy says not to miss a trip to Goodie's Snack Bar in Addison for one of Vermont's best ice cream stands. A perfect way to finish a day of fishing!
Inland Waters
Capt. Trombley also guides on some of Vermont's inland lakes and ponds for bass and says the bass bite has been phenomenal now that the spawning is more or less over. He's recently fished Woodard Reservoir, Kent Pond and Chittenden Reservoir, and has had great action at all three. For tips, he says working frogs along the edges of lily pads and other vegetation has been an absolute blast, while wacky rigged senkos have taken some smallmouth bass on rocky drop offs.
Will Eldridge, the department's Aquatic Habitat Biologist, had a great time with his three- and five-year-old boys fishing on Baker Pond in Brookfield this past Sunday. Will fished Baker Pond because most of the shoreline is public land owned by Vermont Fish & Wildlife, and since they don't have a boat, they could work their way around the shoreline looking for fish.
Will and his sons could see lots of pumpkinseed and small bass close to shore, and found success using a small spoon with a single hook or a white grub on a pink jig head. He says the single hook was important to keep from getting tangled in the heavy vegetation. Will says other anglers where taking advantage of the public access, fishing from the shore catching plenty of bass and sunfish using lures or flies.
Roxbury Fish Culture Station hatchery technician Nate Olson continues to explore the lakes and ponds of Central Vermont and the Northeast Kingdom, and finding the waters in the upper 70s and higher and the emergent vegetation fully grown. According to Nate, the vegetation beds are great places to catch bass during the early morning and late evening. He's been seeing schools of bass fry around these same locations and saying larger fish are always close by when you see fry.
His best techniques have been weightless and Texas-rigged worms and weedless topwater lures in the thick stuff, and keel weighted swimbaits, swim jigs and spinnerbaits around thinner clumps of vegetation. With summer lake activities increasing, Nate favors night fishing when lakes are calm, quiet, and peaceful. The bass fishing can be excellent, especially with topwater lures such as buzzbaits, wake baits and frogs.
Streams & Rivers
Al Moorhouse, hatchery technician at the department's Salisbury Fish Culture Station, has been fishing mountain streams for wild trout as the heat has come on. Al fished some of the upper stretches of rivers in the Middlebury/Brandon area this past weekend and found lots of willing wild rainbows and some stocked brookies.
He says he caught fish in the 4" to 9" range, and they were actively taking dry flies and nymphs in the middle of the day. Wading under the canopy of the Green Mountain in a cool stream is not a bad way to spend a hot summer day
See also: