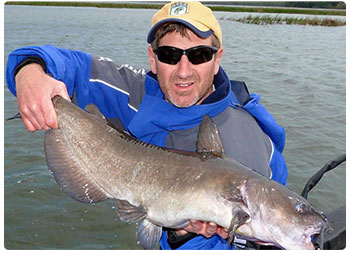 Sometimes good things come from unexpected places. It's the whole "every cloud has a silver lining" thing. Despite the very negative situation we all found ourselves in over the last year from the Covid pandemic, there were signs up hope.
One of those signs is that people had more free time, and resoundingly made the choice to get outdoors and reconnect with nature. This was a clear reminder that people crave, and need, that interaction and connection with our natural surroundings.
Overwhelmingly, people went fishing as part of that reconnection with nature. Nation-wide, studies by groups like the Recreational Boating and Fishing Foundation found that fishing participation in 2020 increased by 10% across the country, pushing the total number of anglers to over 55 million.
However, always one to buck the trend, Vermonters crushed the national average.
Vermont resident annual fishing license sales in 2020 exceeded any single year total since 1992. License sales went up 27% year-over-year and 22% compared to the 5-year average.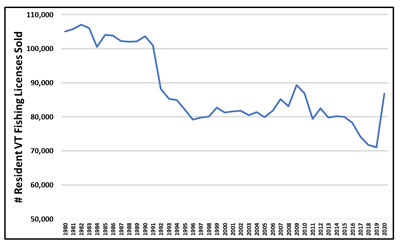 Even more encouraging, Vermont resident youth fishing licenses went up 34% year-over-year and 25% compared to the 5-year average—the highest total since 2002. Seeing more youth anglers is a very heartening trend to see!
But we still have a ways to go. Looking at the 40-year trend in resident fishing and combination hunting/fishing license sales as a gage of fishing participation, we're still down considerably from the highs we saw in the 1980s and early 1990s where we consistently had over 100,000 Vermont residents fishing each year.
Now, you might be asking yourself "why do we want more people fishing?". Well, there's a long list of reasons. Fishing is fun, promotes active healthy lifestyles, relieves stress, and promotes family bonding.
We also know that people who actively participate in outdoor activities like fishing are more likely to be responsible stewards of our natural resources, care about the environment, and support conservation efforts.
And, folks who buy fishing licenses are directly funding fisheries management activities that in turn continue to provide quality fishing opportunities across Vermont.
State fish and wildlife agencies use license dollars to match and draw in additional federal funding through the US Fish & Wildlife Service's Federal Aid in Sportfish Restoration Program. This money is collected as excise taxes from the sale of fishing tackle and electronics, motorboats, and marine fuel. Together, these state and federal funds support not only fisheries management projects but also non-game and education programs, habitat restoration, and helps purchase and manage thousands of acres of public lands across the state for all to enjoy. This benefits all Vermonters and supports a diverse array of outdoor recreational activities.
Which brings me to Free Fishing Day on Saturday June 12. Pretty much every state fish and wildlife agency in the country has at least one day or weekend each year where people can fish without needing to buy a license. Free Fishing Days help introduce new people to the sport by providing the opportunity to fish without any upfront investment. After experiencing the relaxation, fun, and excitement of quality time spent fishing with friends and family, they may continue and eventually become lifelong anglers themselves.
Free Fishing Day is also the perfect chance to be a Mentor and share your knowledge and love of fishing with others. As I've said before, mentorship is key to helping someone just getting started in the world of fishing. Everyone needs someone to show them the ropes.
Take Someone New To Fishing for a Chance to Win a Prize
To encourage you all to be a Mentor on Free Fishing Day this year, I'm going to sweeten the pot a little.
Take someone fishing on Free Fishing Day (Saturday June 12) who does not fish and doesn't currently have a license, take a photo (or video), and enter a drawing for a brand new spinning rod, reel, and tackle for the unlicensed angler!
To enter, take a photo showing something fun from that day, and share it on Facebook, Instagram, or Twitter, and use the hashtag #VTFreeFishingDay. Post your photos by June 19, and we will draw one random post with that tag from each social media platform.
Enjoy the weekend, and have fun!
—Shawn Good, Fisheries Biologist shawn.good@vermont.gov
Before we get into the meat of the slightly different report style this week, I wanted to mention that department in-person fishing clinics are back this year! These are wonderful opportunities for inexperienced anglers to learn more about fishing techniques and gear, knot tying, fish biology and more. This month the department has three Introductory Fishing clinics scheduled, and in July there's an Introduction to Fly Fishing clinic being offered. For all clinics, equipment will be provided. To see the dates, locations and to register, visit the link above. Don't be shy!
Free Fishing Day Tips for New Anglers
In the spirit of mentorship and Free Fishing Day, I decided to do something a little different with this week's report. I asked department staff and regular report contributors if they could offer one or two tips they think new anglers would find helpful in getting started fishing. It could be technical or motivational. Or a thought or two on a favorite fish, lure or fishing spot.
Once again, I was overwhelmed by the enthusiasm people have in wanting to help others learn and enjoy the sport we avid anglers all know and love.
There's some great advice in what follows, so dig in!
Tip #1. Keep it simple! Fancy or expensive gear isn't needed to have fun. For proof, just check out this newly released video from Vermont Master Anglers where Zach McNaughton takes his son Fisher out to catch rock bass with just a bamboo stick and some fishing line.
Tip #2. A basic medium-action spinning rod with 8-lb test line rigged with a bell sinker on the end and a Size 4 snelled hook tipped with a worm 12 inches above is the perfect all-round fishing setup. Toss it out and wait. You never know what you'll catch.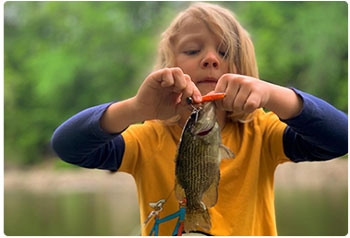 Tip #3. Target easy fish species like sunfish, perch, and bass. They are always within easy reach of anyone, are easy to catch and lots of fun!
Tip #4. Any form of fishing is a great way to relive stress and anxiety. (I agree 100%).
Tip #5. Practice casting in your yard with a plug or metal washer to work on your aim and build confidence before tying on a hook or lure and hitting the water.
Tip #6. Learn and practice fishing knots at home. The worst place to learn to tie a knot is on the water. Practice makes perfect, and helps land fish!
Tip #7. Live bait reigns supreme. Don't stress about using artificial lures your first few times out learning to fish if the goal is just to catch fish. A live worm or small minnow on a hook will out-fish just about anything.
Tip #8. You can find free bait at home or right where you fish. Dig worms in your garden or pick them from the lawn on a rainy night with a flashlight. Flip over rocks and logs on the shore for worms, and in rivers for crayfish which is a great bait for bass and other species.
Tip #9. Put a bobber on the line for the kids. The visual aspect of seeing a bite keeps them engaged. Make sure the bobber is small enough so the fish doesn't feel resistance when it pulls it down, or else it will spit out your bait.
Tip #10. To catch a bowfin or a catfish use a fresh shrimp or a piece of cut bait on a #2 hook. Toss it out and let it sit on the bottom. And hold on!
Tip #11. Be observant. You can learn a lot by standing back from the water and just watching. Do you see fish rising to the surface?  Are there insects flying around, or schools of minnows swimming by?  These can give you clues on what bait or lure to use and where to cast.
Tip #12. For new fly fishers, pick up underwater rocks to see what aquatic insects are present and active. This can help you choose a similar looking fly pattern.
Tip #13. Have patience and be persistent. Understand that there will be slow days of fishing. It takes time and experience to become a good angler, and even the best anglers never stop learning. Enjoy the process.
Tip #14. Go fishing with a friend. Not only can it be more fun but you can learn from each other.
Tip #15. When casting lures, use bright colors on bright, sunny days and dark colors on dark, overcast days.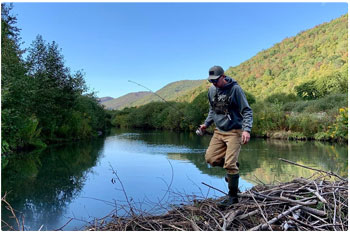 Tip #16. Don't be afraid to get off the beaten path. Some of the best fishing is "around the next bend".
Tip #17. Many of Vermont's hundreds of small mountain trout streams rarely get fished. Use a light-weight 5 to 6-foot spinning rod with 6-lb test line, a small hook and a split shot 15 inches up from the hook. Put on a trout worm and cast into deep holes and undercut banks. Be stealthy. Watch your shadow so as to not spook the fish. You'll have Vermont's beautiful brook trout all to yourself.
Tip #18. Buy your fishing license. At less than $30 to fish all year, there's no better deal.
Tip #19. A hat and polarized sunglasses will reduce surface glare, letting you see the stream bottom, fish habitat, and even fish, and helps you be more effective at knowing where to cast.
Tip #20. Get whatever fishing gear you can afford. Getting started doesn't have to be expensive.
Tip #21. Keep it short, especially with kids. A long day on the water may be too much for beginners. When you're first learning, less can be more.
Tip #22. Fishing doesn't have to be just from a boat. There are many shoreline opportunities around Vermont. Find a spot where you can cast to weed edges, which hold a lot of different species of fish.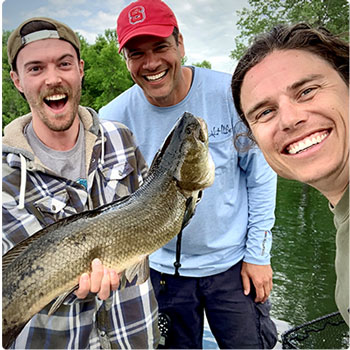 Tip #23. Remember to have fun, relax and don't stress. Fishing is a great way to get outside and enjoy the rivers, lakes and ponds Vermont has to offer.
Tip #24. A size 2 Panther Martin in "spotted yellow" is a great trout spinner. You could say the same thing for a Mepps Black Fury or a Worden's Rooster Tail). An in-line spinner is the easiest lure there is to fish and catches most every species.
Tip #25. For bass, a green pumpkin colored Senko rigged wacky style on a weedless hook is a go-to setup. Cast it out, let it sink for a few seconds, pop the rod tip up a couple of times, reel in the slack and repeat until it's back to your rod.
Tip #26. Target salmon and trout in June between 15 and 60 feet of water. A simple way to get your lure deep is to use a mini diver disc. Crazy Ivan spoons work great on Lake Champlain. The Sandbar state launch in South Hero and the Converse state launch in Charlotte are great places to start looking.
Tip #27. Always bring snacks! And water.
Tip #28. It's not always about the fish. Fishing is a season pass for adventure with your friends and family, and a way to break away from life's hectic pace. Once fishing, you'll feel the stress and pressure of the week wash away.
Tip #29. Keep an open mind and enjoy targeting many different fish species with different techniques.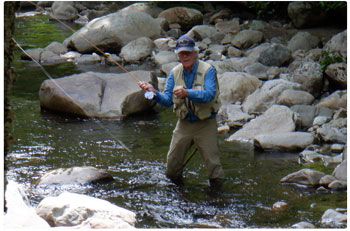 Tip #30. Fly fishing offers a different lens to see Vermont's many streams, rivers and lakes through. It can be challenging, but very rewarding.
Tip #31. Join some of the Vermont-specific online fishing communities on Facebook. You'll find lots of informative and friendly anglers willing to help someone get started fishing. Fishing 802 is a good one to start with. So is the Fish Vermont Facebook page.
Tip #32. Join a local fishing club from organizations like B.A.S.S. and Trout Unlimited. Many of these groups include mentorship and teaching as part of their mission, to introduce new people to fishing and help them learn.
Tip #33. Fish that live in streams and rivers orient themselves looking upstream. Walk from downstream to upstream to avoid spooking them from your feet disturbing the water and stream bottom.
Tip #34. When you've hooked a fish, keep your rod tip high and maintain tension on the line. If you put slack in the line, you may lose the fish. Make sure the drag on your reel is set properly. Too light and you won't be able to reel it in. Too tight and the fish could break your line.
Tip #35. As you gain confidence and skill, don't be afraid to challenge yourself with different lures, techniques, and target species. Study a species you want to catch, learn their preferred habitats and food, and find what waters have them in Vermont. The Vermont Master Angler Program is a great resource for that.
Tip #36. Fishing in the mornings and evenings are best. Just like people, fish don't like the sweltering heat.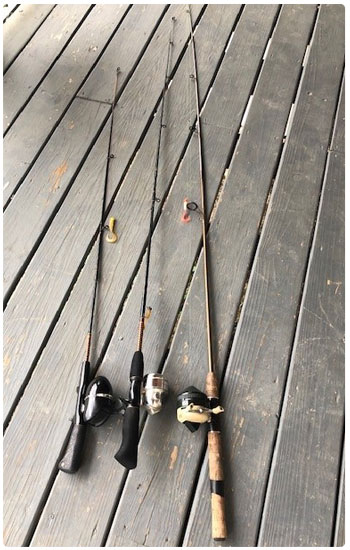 Tip #37. I saved this one for last because I really like it. Todd Flint and his wife Molly recently cleaned up three old rod and reels and repurposed them to a single mom and her boys. All it took was rooting around in the shed. Share what you have when you can, and pass along the tools and knowledge that can help young and interested new anglers get started. What a great gesture to think about for Free Fishing Day!
Lastly, I want to thank all the folks who sent tips in. Since there was a lot of common themes and overlap between tips, it was too hard to attribute any one tip to a specific angler, so here's my movie-style "closing credits" reel …. Tyler Brown, Corey Hart, Matt Glebus, Zach McNaughton, Ron Winter, Todd Flint, Drew Price, Matt Trombley, Dustin Loyer, Chris Hendon, Jason Parker, Tom Jones, Dylan Smith, Dennis Thomson, Dylan Verner, Doug Zehner, Roy Gangloff, Nate Olson, Deb Martel, and Yours Truly. Thank you all!
See also:
---

Thank you for supporting healthy fisheries in the Green Mountain State through your Vt. fishing license purchase, and through excise taxes on your purchase of fishing equipment and motor boat fuel, administered through the Federal Aid in Sport Fish Restoration Program.