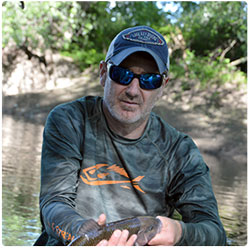 I love to fish. No surprise there. I'm no Hemingway or Williams, but I catch my fair share. From tasty pannies to Master Angler sized pike, bass and many other cool species we have in Vermont. I've even won a tournament or two.
But here's a little-known fact about me and fishing. I've got a black cloud that follows me around when I fish. If you're ever unlucky enough to see me on the water – get off. Quick. There's likely a 35 mph gale, or a microburst with torrential rains on its way. I've even been known to cause flash floods and localized hail, and I can change the NOAA Marine Weather Forecast just by picking up my fishing rod in the garage. When I see "Waves 0 – 1 foot," I know it really means "4 – 6." It's uncanny, and unnerving. But despite all that, I keep at it. Because I love to fish.
So last weekend when I decided to slide my small jon boat into Otter Creek for a few hours of fishing with my 14-year-old son, it wasn't entirely unexpected that we fought current and headwinds in both directions. Otter Creek appeared to reverse its flow that afternoon as the wind seemingly pushed water upstream, against our direction of travel. Then, it switched 180° just as we turned to paddle back. To make the return trip even more interesting, a floor weld by the transom decided to spring a leak, adding three inches of water to the bottom of the boat, and doubling our return time.
My son is starting to understand why I fish alone a lot. I can't get anyone to go with me! They're all afraid. Very afraid.
What's the point of this little story? My son still had a ball. Of course, he was the one reeling in the fish. Me, not so much, as I was doing all the paddling and bailing … and cussing. He caught some fallfish, yellow perch, and a smallmouth. I got two soakers, sore shoulders, and a broken boat.
But the ribbing and laughing at Dad bailing with one hand and fighting the wind with a single paddle in the other while trying to make progress upstream will be memories that stay with him forever.
Hopefully, the J-B Weld on that cracked transom will last just as long. —Shawn Good, Fisheries Biologist. shawn.good@vermont.gov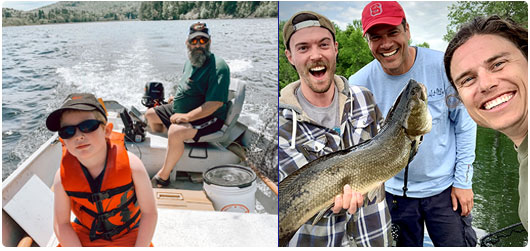 COVID-19 Guidance Changes for Non-Residents
Some good news for our non-resident angling friends who have been waiting patiently (or chomping at the bit) to come share in the great fishing opportunities we have around the state. Things are starting to open up.
Governor Scott's latest guidelines now allow residents of counties in New England and New York with a similar active COVID-19 case load (less than 400 active cases per one million residents) to travel to Vermont for recreational purposes without having to quarantine.
If you're from NY or a New England state, and want to know what your county case load is, the State of Vermont has created an easy to use map. Drag the map or zoom out to see more of the region and be sure to review the other guidance on the Cross State Travel Information page. We also continue to provide current updates on the department's Outdoor Recreation and COVID-19 webpage.
Finally, all out-of-state travelers are strongly encouraged to register with Sara Alert upon arrival to Vermont. By doing so, you will receive two weeks of daily reminders to check for common symptoms of COVID-19.
Species Profile: Freshwater Drum Aplodinotus grunniens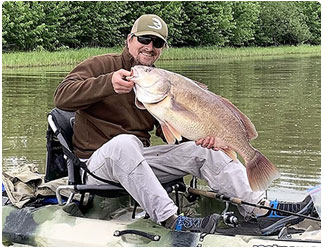 More affectionately (or disparagingly) known as sheepshead, this unique native Vermont fish has a face only a mother could love. And me. I love catching them. And judging by the run of Master Angler drum entries lately, other Vermont anglers are starting to appreciate the recreational angling value they have. They get big and fight hard. The Vermont State Record is 25 ½ pounds. Twelve to sixteen-pound fish are very common, and even drum under ten pounds will test your tackle and your mettle.
Cool Fact #1 – Freshwater drum have the largest north-south distribution of any North American fish species, naturally occurring in waters from Hudson Bay to Texas (and beyond).
Cool Fact #2 – They taste good! Freshwater drum are in the same family of fishes as saltwater redfish and black drum. They're easy to fillet boneless, and the flesh is firm and mild. They're a bit fatty so smoking produces a nice result. But blackening is probably one of the tastiest methods, and you'd be hard pressed to tell it apart from blackened redfish you'd find in some Louisiana Cajun joint.
Cool Fact #3 – They have the largest otoliths (ear stones) of any freshwater fish, bigger than quarter. Native Americans made jewelry out of them or use them as a form of currency.
Cool Fact #4 – If you're out on Lake Champlain on a late June or early July evening, and hear what sounds like the low rumble of a freight train in the distance, but you can't pinpoint the source, it's a school of drum grunting and croaking as part of their spawning ritual. When hundreds gather to spawn, it can vibrate a tin boat. I've felt it.
Cool Fact #5 – Some native freshwater mussel species rely on freshwater drum for reproduction. What's the connection?  The microscopic larvae (known as Glochidia) of certain freshwater mussel species need to develop into juveniles while attached as temporary parasites to the gills of freshwater drum.
The way they connect is another one of Mother Nature's wonders. Female freshwater mussels hold the glochidia in pouches on the end of a specialized flap they stick out of their shell and wave around to imitate a prey item. When a drum sees the "prey" and strikes at it, the pouch breaks open releasing the glochidia, which then attach to the fish's gills. Other species of mussels will just spit their glochidia out at passing drum as they swim by. Yuck! 
Glochidia stay attached to the drum's gills for a few weeks as they grow and develop into juvenile mussels before finally dropping off and sinking to the bottom to become adults. The distances the drum swim during those few weeks help spread the freshwater mussels throughout the lake and increase their distribution.
It's amazing how such symbiotic relationships develop in the natural world.
Fishing Reports
The weather has got fishing heating up, literally. Salmon are heading down, bass and panfish are coming up. It's a mixture of wide-ranging opportunities, just in time for the LCI (Lake Champlain International) Derby this weekend. So, let's see what's going on around the state.
Bass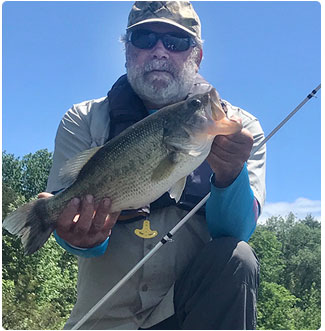 Bass fishing continues to be good all over the state, with both largemouth and smallmouth being found in all spawning conditions.
Up in the Kingdom, Nick Marcotte of Orleans VT has been finding largemouth roaming in two to four feet of water. He used a Berkley Power Worm with a bullet weight to catch a dozen and a half in just a few hours the other day.
Rutland VT angler Don Adams owns and operates Catamount Bassin' Guide Service and says he's been catching both pre-spawn and spent largemouth and smallmouth south of the Crown Point Bridge. In the main lake north of the bridge, water temperatures are still in the 50s along main shorelines, but bays and setbacks are considerably warmer, and are holding bass in all stages. The slow warmup this spring has prolonged spring fishing conditions, but that should wrap up quickly with the heat we're getting now.
West Dummerston VT angler Roy Gangloff was on Lake Dunmore earlier this week, and says his best action was just before first light (he caught two four-pounders in the first ten minutes) fishing around docks with a gold Bomber Long A, which he says looks like a perch in the water. Roy saw lots of male bass guarding fry, so it seems most of the spawning is over there. If you try a lure like this, Roy said a typical jerk-jerk-pause retrieve was best, with nearly every bite coming on the pause.
Brian Reynolds of Wilmington VT fished the Vernon Dam Pool on the Connecticut River last Sunday. Water was 70°F and the smallmouth were in post-spawn condition and active. He had good topwater action using a Lucky Craft Sammy, but any "walk-the-dog" style lure like a Zara Spook will work. Brian fished within a few miles of the Fish & Wildlife access area ramp in Putney and found most bass on the upstream side of gravel bars and rock points.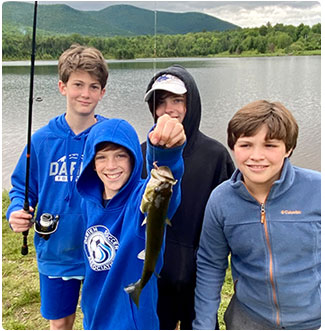 Department fish hatchery technician Nate Olson says most small waters he fishes in central and northern Vermont are 65° to 70° and the spawn has wrapped up as he's seeing males guarding fry, or empty nests. Lily pads and milfoil is coming in thick now and he's having most of his luck fishing in these areas with a Texas-rigged worm, senko, spinnerbait, chatterbait, or swim jig.
Topwater is starting to produce fish too, and that's a ton of fun if you haven't tried it. Lures like Rebel Pop R's or propbaits like a Tiny Torpedo or a Whopper Plopper fished with a stop-and-go retrieve around the thickest and greenest vegetation you can find are starting to trigger topwater explosions from bass.
Corey Davis of Warren, VT took advantage of Free Fishing Day last weekend and took his 12-year-old son Briggs and three of his friends bass fishing at Blueberry Lake in Warren. Although it was only 50°F out, the kids didn't care a bit. After three months of being home schooled and cooped up, they had a blast getting outdoors for the afternoon, catching a good number of bass on worms and bobbers in the process.
Big Water Trout & Salmon
Essex VT angler Ron Winter says the most recent conditions on Champlain have landlocked Atlantic salmon and lake trout moving deep. Ron measured the water temperature at 52°F down 60 feet in Shelburne Bay. Salmon and lakers have dropped down to the 30 to 35-foot range but can still be reached without downriggers by using gear like a Lite Bite Slide Diver set back 90-110 feet. Lead core outfits with six to seven colors out will reach that depth as well.
Department fisheries biologist Pete Emerson says as Memphremagog waters have warmed, the larger brown, rainbow and lake trout, and landlocked Atlantic salmon have started making their way across the border to Quebec's deeper, colder waters, but folks trolling the Vermont side are still picking up rainbows and salmon. Still, fishing seems to be much better to the north where anglers target trout and salmon on the shelf known as the "Sandbar."
Stream Trout
Department fish health biologist Tom Jones has some advice for anglers just getting into trout fishing on Vermont's small brooks and streams. With low water and warm weather, Tom says this is a great time to slap on a pair of old sneakers and "wet-wade."  Walk slowly, and scan for areas where you can't see bottom. These deep holes with a riffle flowing into them are prime locations for hot weather trout. Drift a two-inch piece of worm on a small size six or eight hook and a split shot attached eight to ten inches above the hook on a four to six-pound test line. Cast into the riffle at the head of the pool and let your bait drift through the deep hole, letting the weight gently bounce along the bottom. If you snag bottom often, put on a smaller weight. Keep a few for dinner, and let the rest go, says Tom.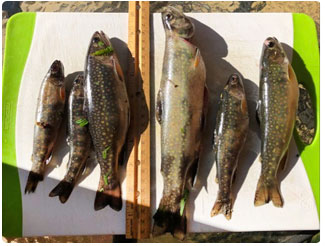 Department fisheries biologist Jud Kratzer says wild brook trout can be caught in just about every small, cold stream in the Kingdom right now, and his counterpart Pete Emerson spent a little time with his kids exploring streams near their Wheelock home. They caught some decent size brookies (the largest being 10.5 inches – big enough to excite the kids) and brought a few home for dinner. Pete says the water has dropped and warmed considerably over the past two weeks, so it's easier to find and catch the trout in small streams.
Pete saw a lot of insect hatches going on too, so it's the perfect time to hone your dry fly skills. Also, with more people fishing lately, exploring new waters off the beaten path will put you on less pressured, or even untouched fish. For stocked brook trout in the Kingdom, Jud recommends trying Paul Stream, Granby Stream, and Madison Brook.
Al Moorhouse of Brandon VT is still finding productive evening bug hatches in Rutland and Addison counties. He took his personal best brown trout on a dry fly the other night – a beautiful 20-inch fish. Al expects evening hatches to continue for a little bit longer, so he recommends spending an evening watching for rising fish, if dry fly-fishing interests you.
Corey Hart has been plying the small streams around Rutland County, and agrees that the evening is the time to be out there. And like Tom Jones' advice, Corey says the pools are where the fish are. He spotted one small pool where he was able to count over a dozen wild brook trout—a fun opportunity to just sit and observe fish behavior, if you're able to approach the stream without spooking them.
Sometimes watching what fish do will teach you more about how to catch them than fishing for them does!
Pond Trout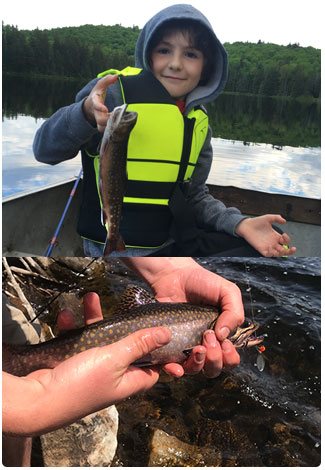 Back up in the Kingdom, biologists Jud and Pete also say the small pond trout fishing is still holding strong, as it hasn't got too warm yet. The best ponds to try are Jobs, Martins, Cow Mountain, Unknown (Ferdinand), Unknown (Avery's Gore), South America, Notch, and West Mountain. Some of these ponds are remote and require a hike to reach. Jud's been hiking in with his kids and says fishing the last few hours before dark has worked well. He's been catching trout on spoons tipped with a piece of worm.
And Corey Hart hiked into a similar remote trout pond in the Green Mountain National Forest in southern Vermont this week and caught a 12-inch brook trout just by casting a small spinner from shore. It's a unique and rare opportunity in a handful of ponds in the southern part of the state. More on that in the next report in two weeks.
Mixed Bags
Department fisheries biologist Lee Simard did some kayak fishing last week on Bliss Pond in Calais. He found that lily pads were just starting to pop up, providing enough cover to hold fish, but still thin enough to easily pull a spinnerbait through. He had non-stop action on chain pickerel and a ton of fun on a light weight spinning rod.
And finally, Drew Price of Colchester VT operates Master Class Angling Guide Service. You may remember hearing about him a couple years back when he successfully caught all 33 fish species on the Master Angler list—the first and only angler to do so thus far. Well, Drew's on another mission now, and that's to re-catch as many of those species as he can on a fly. That's a tall order. But so far this year alone, he's got 15. Impressive.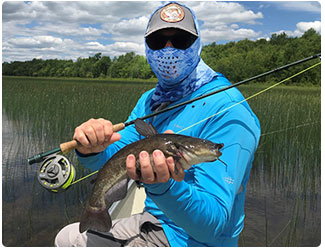 Drew says the fishing has been outstanding these last two weeks once that last cold front melted away. Smallmouth bass are hitting hard on Champlain, he's getting panfish on small buggers and nymphs, largemouth bass and pike on big Clouser flies, bowfin on crayfish flies, gar on rope flies, and he even took a walleye, a carp and a bullhead on flies last week. Bottom line is that fly fishing isn't just for trout. If you're a fly angler, expand your repertoire, and try something new!
See Also:
---

Thank you for supporting healthy fisheries in the Green Mountain State through your Vt. fishing license purchase, and through excise taxes on your purchase of fishing equipment and motor boat fuel, administered through the Federal Aid in Sport Fish Restoration Program.