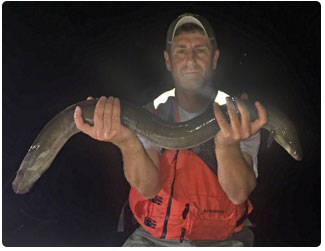 Good day everyone! Believe it or not, we've made it to June. Congratulations. To get here, we've endured a colder than normal spring, snowstorms in May, tornado warnings, several days that broke 90°F after the Memorial Day long weekend, followed by a cold front last week with overnights in the 30s. We've done a great job flattening the curve on COVID-19, but Murder Hornets are on the way. Ok. Probably not. But it has been an interesting spring to say the least!
The good news is fishing is a proven stress reliever. It gets us outside, let's us decompress, and reconnect with nature. More and more Vermonters are rediscovering the endless opportunities we have to catch the greatest diversity of freshwater fish in New England. And we're seeing some of the highest fishing participation in at least five years.
Next Saturday, June 13 is Free Fishing Day statewide. Anyone can go fishing that day without needing a license. So, let's keep the ball rolling and grow our fishing community even more. I'm personally challenging all of you avid anglers to use this opportunity to introduce, or reintroduce someone to fishing.

Take a family member, a friend, the neighbor's kids. Remember, stay safe and keep COVID-19 precautions in mind. But be a mentor and a motivator on Free Fishing Day.
If you do, I'd like to hear about it. Send me a story and some pics for the next report.
Best Fishes—Shawn Good, Fisheries Biologist. shawn.good@vermont.gov
Species Profile: American Eel Anguilla rostrata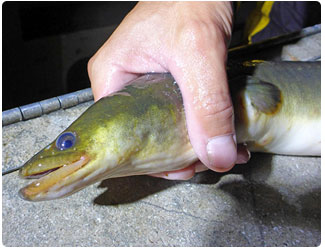 I'd like to introduce you to a fish that I think is probably the most fascinating one we have in Vermont—the American eel.
American eels are not "lamprey eels." They are not the invasive sea lamprey that live in Lake Champlain and latch onto the sides of trout, salmon, walleye, pike, and sturgeon, bleeding them until they die. They are two very different species.
American eels spend their days buried in bottom sediments, or tucked up under rocks and cover, emerging only at night to feed on crayfish, insects, and small minnows. Few people see them, though they do get caught occasionally by anglers fishing at night with live bait.
It's the eel's life history that is mind-blowing. Every American eel in Vermont was spawned in the Sargasso Sea, an area of the Atlantic Ocean south of Bermuda and east of the Bahamas.
The American eels found in Vermont are juveniles, and our inland freshwater systems are their nursey and rearing grounds. They depend on the health and productivity of Vermont's lakes and ponds to feed, grow, and mature. Once they reach 10 to15 years old, they leave Vermont and swim out to sea, navigating thousands of miles of open ocean to Bermuda where an individual female will lay up to 20 million eggs before dying. Newly hatched eels then drift northwards from Bermuda for over a year, pushed by the North Atlantic currents. As they get stronger, they head towards shore, and eventually follow freshwater rivers upstream to inland lakes and ponds, where they start the process all over again.
Our waters like the Connecticut River and Lake Champlain have good numbers of American eels because they have a direct connection to the Atlantic Ocean.
But did you know that on rainy nights when the ground is wet, American eels will slither overland for miles, looking for smaller waters to feed and live in?  How cool is that?  During fisheries surveys, I've found them in lakes Bomoseen and Hortonia, and they've also been observed in Lake Dunmore, Glen Lake, Sunrise Lake, Lake Iroquois, and small ponds in the Connecticut River valley.
What an incredible species we have the privilege to call a Vermont native fish!
Be A Mentor

Tyler Brown took two young anglers out for their first trout fishing trip, and they were very successful!
Out of the gate in this week's report we have department employee Tyler Brown leading by example, just in time for Free Fishing Day. Tyler had an opportunity to take a couple young kids fishing for the first time, and what a memorable experience it was. Tyler said planning ahead was key. He chose a recently stocked river with easy access and kept it simple—a worm on a hook and a small spoon. He helped with the casting, but they hooked and landed fish on their own, and when they did, he was sure to make a big deal about it and really express his excitement. Here is what Tyler had to say about the day:
"I always knew why the department stocked fish, but this brings it full circle. It provides excellent opportunities for kids, people who are just learning to fish, and people who are not able to travel far to catch fish. To keep kids engaged, it's important to have the first couple outings be successful. It's also important to have easy access because it can be difficult to walk any distance up or down a river. The stocked section of the Winooski River provided both of those things. Looking forward to catching more fish with them!"
More Trout Reports
Speaking of stocked trout opportunities, new contributor Troy Sargent from Dummerston expressed his appreciation for the new Deerfield River Trophy Trout section, recently stocked with two-year-old brook trout. He and a friend had a blast using ultralight poles to drift worms on barbless hooks in the fast current. They returned the following day with his friend's son, who caught his first trout, and Troy said he could not have been happier. He also remarked how beautiful the brookies were.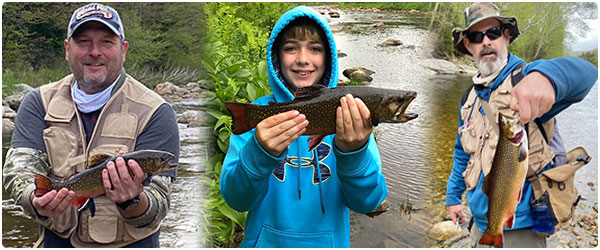 Don't forgot about our abundant wild trout opportunities—there are far more wild trout waters than stocked waters around the state. Department fisheries biologist Bret Ladago says the hatch is ON in central Vermont after temperatures dropped following last week's heat. He spoke with one angler who described it as the best hatch he's seen since 1976 with four different species emerging at the same time!  Bret says anglers should expect trout to be more active and suggests mayfly or elk hair caddis flies on the surface with a nymph on a dropper.
Al Moorhouse, hatchery technician at the department's Salisbury Fish Culture Station agrees with Bret, saying recent insect hatches have made for great trout fishing lately. He's been catching rainbow trout during evening mayfly and caddis hatches. Al likes to start fishing nymphs in the early evening but will switch over to dry flies when he sees fish start rising and surface feeding kicks in. The best hatches have been on warm days with a cool evening and no wind.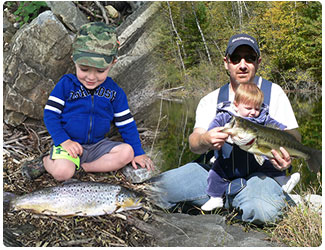 Brandon angler Jon Kimball thinks it's never too early to start a kid fishing. With recent heavy rains bringing up stream flows, Jon took his two-year-old son Ryver out to a local stream and connected with a nice brown trout. Trout are known to be wary and skittish, but when rain events stain the water a bit, the bigger trout get bolder and come out to feed. Jon was using a white Rapala X-Rap and hooked the fish while holding his son in his arms. Reminds me of when my son was even younger than that – less than a year old, and I had him strapped to my chest while bass fishing!
Department Let's Go Fishing coordinator Corey Hart says stream fishing for wild trout continues to get good around Rutland County as water temperatures climb into the 60s. Flows are perfect in most small rivers and streams and drifting a small worm and sinker on an ultralight rod has resulted in some nice brook and brown trout catches.
Lakes and Ponds
Down in the southeast corner of the state, Wilmington angler Brian Reynolds says the rock bass action has been on fire on Harriman Reservoir. I can hear some of you snickering, but don't dismiss these aggressive little guys. A 10 or 12-inch rock bass fights hard and mean and are a ton of fun to catch. And they can get over 14 inches. They'll hit small jigs and spinners but aren't afraid to smash larger bass lures either. You'll find them up shallow right now in many ponds around rocky shorelines and ledges. Brian also reports that yellow perch are starting to feed again after spawning, and he's finding them in Deerfield River tributaries, east and west along Route 9.
Roy Gangloff of West Dummerston spent a day kayak fishing on Sunrise Lake, drifting along the shoreline casting a simple in-line spinner, and caught a mixed bag of black crappie, bluegill and pumpkinseed. After catching a good mess of panfish for dinner, Roy switched over to targeting bass he spotted prowling around in a small cove. They weren't that aggressive. When you encounter an area with fish but you can't get bites, often the best tactic is to fish smaller baits, and move them very slow or not at all. Roy used a Ned Rig on 1/10 oz jig head, and weightless wacky rigged Senkos.
Proctorsville angler Zach McNaughton found just the opposite on a recent outing. He was on a lake in south central Vermont where it seems most of the bass have already wrapped up spawning. Seeing lots of empty beds, he focused on fishing nearby but in slightly deeper water. Fishing into the night provided the best action.
Once the spawn is done, bass start looking towards the sky for food, which presents an excellent opportunity for explosive topwater action with surface lures. Jitterbugs, poppers, buzzbaits and ploppers all work well this time of year, and through summer as well. It may seem counterintuitive, but dark colored lures are easier for the fish to see at night. Topwater baits are worked a little differently than your basic cast and steady retrieve. Try working the lure slowly, hesitating often, as long as 30 seconds, in order to trigger explosive strikes. Experiment with the retrieve and let the fish tell you what they want.
Department hatchery technician Nate Olson is finding bass in pre-spawn, spawn, and post-spawn stages in central Vermont lakes and ponds. The weird weather patterns have got the fish a little mixed up!  Many waters have cooled down since the extreme heat we had following Memorial Day. During the hot spell, Nate said Berlin Pond went up over 70°F, but as of yesterday it was back down to 64°F. Vegetation has begun to grow, and lily pads and milfoil have already become emergent in some places.
Like Zach, Nate has found the topwater bite to be really good lately using buzzbaits, poppers and frogs. And he suggests this is a great time for beginner anglers to try their hand at bass fishing. The best set up to use is a weedless Senko (or any similar shaped soft plastic lure). Once rigged up, cast it towards the edge of the newly growing weeds and it sink. Bass can't resist the flutter!
Over on the Champlain side of the state, Mike Elwood writes in with another Winooski River report. The suckers are mostly out of the river now, but he's been catching a lot of big fallfish lately, and what a lot of anglers have been waiting for—the white perch have finally started to move in to the rivers.
Out on the lake, Essex angler Ron Winter says a strong sustained south wind last week blew warm water north, and colder water slid down to the Champlain bridge area, which scattered the baitfish and the salmon, making salmon fishing tough for a while. But a west wind remixed the water in the last couple days and surface temperatures are back down to 57°F on the surface and 55°F ten feet down. Running Big Jon Mini divers back 75 feet, or two colors of leadcore line brought several nice salmon up to five pounds as well as a beautiful brown trout. Hot lures were Crazy Ivan Blue Moon spoons in silver/blue. For those who still want a shot at trout and salmon on the surface, now is the time!
Northeast Kingdom Conditions
Looks like things have finally started warming up in the NEK. St. Johnsbury Fish & Wildlife Specialist Tony Smith says he's been turkey hunting and not fishing lately but told me his grandfather always said when the cherries are blossoming, it's time to fish the brook trout ponds. Jud Kratzer, St. Johnsbury fisheries biologist, wrote to say that brook trout fishing is best when the black flies are at their worst and they're pretty bad up there right now.
I'm not getting in between those two. Gonna let them battle it out. Maybe they're both right. Suffice it to say, brook trout in NEK ponds and rivers are biting great right now. That's good news, as Jud also said the heat and rain have pushed adult steelhead out of the Willoughby, Barton, and Black rivers—so that opportunity has wrapped up for the year. One door closes, another one opens!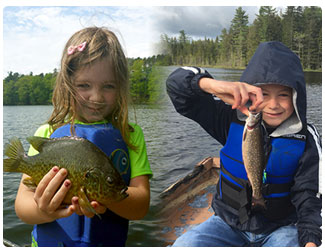 For instance, the recent heat has pushed panfish into the coves and bays of Lake Memphremagog. Jud was on Magog with his kids last week and got a nice mess of pumpkinseed and yellow perch. He said a worm and a bobber—as simple as it gets—caught all the fish, not to mention a few brookies they got from a stream on the way home after the panfish trip.  
St. Johnsbury fisheries biologist Pete Emerson says NEK bass fishing should be prime when the season opens on June 13. Smallmouth and largemouth bass in Magog and other big lakes like Seymour, Echo, Crystal, and Island Pond will be turning on at the same time. And even though steelhead have left the rivers, Pete says anglers set up for trolling are starting to catch them in the lake, along with some salmon and lake trout. With surface temps still cool, fish are being found 15 to 30 feet down.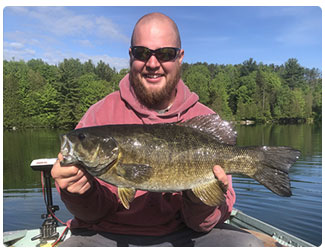 Lastly, Trevor Banister of Island Pond who works as a fisheries technician for Jud and Pete says the white perch bite on Magog is ramping up right now, with anglers reporting catching them on nearly every cast. Meanwhile, Trevor's been chasing smallmouth bass in the Kingdom and caught a five pounder in shallow water the other day. He's seeing lots of fish roaming the shallows right now. As Pete said, it's coming into its prime right now.
Just remember, during the catch and release season, minimize the time you handle the fish as you might be keeping it from guarding its nest, making it vulnerable to egg predation by nest raiders like pumpkinseed and rock bass.
You may have noticed a trend in the photos this week. Almost all of them are kids. Do your part. Get the next generation out there!
See also: