Great news! The weather forecast is telling us that we're in store for four consecutive days of sunshine with zero percent chance of rain – something we haven't had since last September according to the weather folks. This couldn't come at a better time with several important fishing events coming up this weekend
Saturday June 8 is FREE FISHING DAY across the state
Vermont's Free Fishing Day gives resident and nonresident anglers the opportunity to fish without a license for the day in Vermont lakes, ponds, rivers and streams. If you're already an avid angler, this is the perfect opportunity to take family members or friends that don't fish along. BE A MENTOR and introduce someone to fishing this weekend – and you can do it without them needing to buy a license!
Grand Isle Fishing Festival
To celebrate Free Fishing Day, the Fish & Wildlife Department is hosting its annual Grand Isle Fishing Festival at the Ed Weed Fish Culture Station in Grand Isle. Designed for young anglers, families, and those new to fishing, this event offers basic fishing instruction and the chance for kids to catch trout in the hatchery's pond. No prior fishing experience is needed, and the department supplies fishing rods, reels and bait for you to use. While you're there, check out the hatchery's visitor center, the educational exhibits, indoor aquariums and learn how to identify Vermont fish species.
READ MORE about Free Fishing Day and the Festival
Bass Fishing Season Opens
June 8th marks the opening of the bass fishing season. While catch-and-release season in open water has been ongoing, tomorrow is the start of the regular season where anglers may harvest bass. Check the fishing regulation book for water-specific rules.
Lake Champlain International Father's Day Fishing Derby
And don't forget the annual Lake Champlain International Father's Day Fishing Derby next weekend, June 15-17. It's a great way to celebrate fishing for a whole this weekend with your friends and family. 
Alright, let's get to some fishing reports!
Lake Champlain
Trout and Salmon –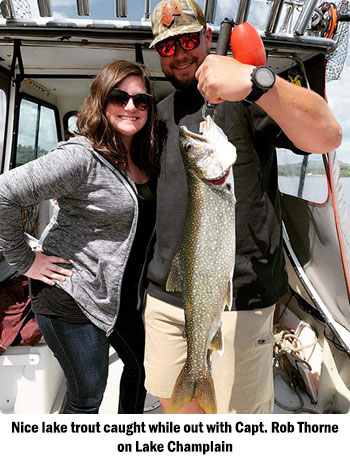 Some good reports from the big lake are coming in this week and last. Capt. Rob Thorne says though the lake is still a bit high and murky in some areas, fish are hitting in protected bays and coves, and along temperature breaks and mud lines that develop off the points that form these bays and coves. With the cloudy conditions so far this spring, Capt. Thorne has been having good luck running bright spoons close to vertical blades off downriggers.
Last week, Ron Winter fished out of Converse Bay and worked areas around Scotch Bonnet, Thompson's Point and Whalon's Bay. Trolling shallow stick baits in 51°F water took six salmon and two lake trout. This week with warmer weather and surface temps hitting 58°F, Ron says the salmon fishing is getting even better as they become more predictable, moving out of shallow water and suspending over deeper water.
He suggests using sonar units to find schools of baitfish down 10 to 15 feet. With the thermocline starting to setup at around 20 feet, salmon action has been great lately and the next two weeks should be prime time on Lake Champlain
Capt. Matt Trombley has been having great success guiding for trout and salmon this past week as well. He says finding warmer water and baitfish are key. Trolling over 40 to 60 feet of water with downriggers set 15 to 20 feet down has been the winning pattern. Lead core with 3 or 4 colors out has also taken fish.
His best luck right now is coming from areas north and south of the mouth of Otter Creek, and he's finding salmon, lake trout and brown trout all mixed in the same locations.
Bass and Pike – The pre-spawn bass fishing bonanza on the south end of the lake seems to be over for largemouth, while it's still ongoing at the north end of the lake. In most places largemouth are setting up on the nests, while smallmouth are still in pre-spawn mode.
However with a 120-mile long north-south lake, you can find bass right now in all phases. Pre-spawn, spawn, and even some reports of post-spawn largemouth are out there. It's safe to say, though, we're approaching peak spawning for both, especially with the current weather.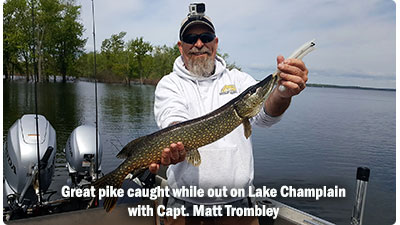 Capt. Trombley has also been guiding for bass and pike, and reports finding good numbers of post-spawn northern pike on the edges of flooded weeds and timber in the Grand Isle and Lamoille River areas. Northern pike spawn the earliest of all Vermont fish species (right after ice out), and once their finished, they slide off into deeper water near their spawning marshes to rest and recuperate. However, after a couple weeks, they start feeding heavily again to regain energy – and that time is now!  Paddletail swim baits and chatterbaits are your go-to lures right now for hungry pike.
Lake Champlain Tributaries
Walleye fishing in the rivers seems to have quieted down, and anglers are saying they haven't been getting any in the last week. However, in those same rivers, as well as other river tributaries to Lake Champlain, the "smallmouth bass run" is starting to turn on. While most smallmouth bass choose to build nests and spawn along shorelines in the main lake, a small portion of the population runs up rivers like a salmon or steelhead, and spawn in the gravel riffles of those rivers. Rivers like the Winooski, Lamoille, Missisquoi, Otter, Lewis and others all get smallmouth bass runs.
Alan Moorhouse, who likes to target these river-run smallmouth using fly fishing gear, reports bass are starting to show up on Lewis Creek. Like many other places, the water is still high and slightly discolored. Al worked a white/chartreuse clouser minnow through some of the deeper holes and landed six smallmouth. Most were around 17" to 18," and Al says he lost a couple that were bigger. The section from the Old Rte 7 bridge upstream to the snowmobile bridge can be a hotspot.
Connecticut River Setbacks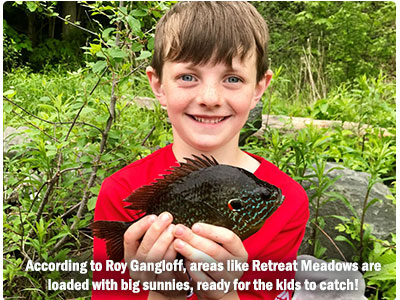 Roy Gangloff spends a lot of time on the Connecticut River and its setbacks in the evenings after work, and says right now these warm backwater areas are in full spawning mode for bass, bluegill and pumpkinseed sunfish. Fish are very visible along the shorelines; look for the small round beds they clear on the lake bottom. This is a kid's fishing dream, and areas like Retreat Meadows are loaded with big sunnies, ready for the kids!
Steven Keeylow and his brother Jeff also fished some of the Connecticut River setbacks and reports that with the river finally settling down they were able to launch their boat. Fishing Retreat Meadows, they had a lot of action for largemouth. Though they didn't hit any big ones, Steven says he and his brother caught 30 between them. Most appeared to be in pre-spawn condition.
Their best area was on the east side of the setback where a walking trail leads to many good spots for shore fishing. And if you're in the mood for some giant carp action, Retreat Meadows is loaded with them, and they have moved shallow and are getting active!
Stocked Trout Waters
Many Trout Trophy waters around the state received their second round of fish stocked out last week. The Black River (Cavendish), East Creek (Rutland), Otter Creek (Danby), and Walloomsac River (Bennington) were all stocked with large two-year-old trout. Reports coming in indicated that with the slightly higher water recently and lower angling pressure, these fish are still kicking around in good numbers and are very active and feeding.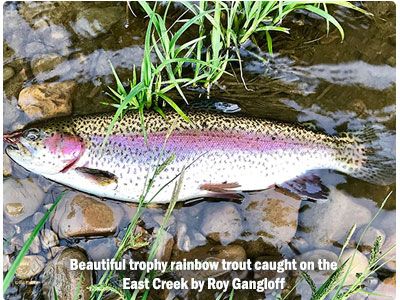 Roy Gangloff covers a lot of water in the state fishing, and he came to Rutland to fish the Trophy Trout section on East Creek. Roy said both the Country Club stretch and the Giorgetti baseball field stretch produced fish. The best areas were in the deeper riffles along the banks on either side and he had great luck with a 1/8-oz Rooster Tail.
He also caught fish in slower stretches used a small crankbait and a crappie jig. Great improvisation! Roy said fishing in the shadows found more active fish, so mornings and evenings are probably your best bet.
Last week Roy also reported that South Pond in Marlboro was fishing very well, and he checked in with us again this week to say the fishing has gotten even better there!  Roy says the trout were up high in the water column, close to the surface, and very active. He had his best luck with small brightly colored Rooster Tail spinners.
There are still plenty of fish to be caught there, and fishing pressure has been light. Bringing a canoe, kayak or row boat can get you access to more areas and more fish. Roy advises trolling the spinners at first to locate the fish, and then cast to them if you see any surface activity. Based on Roy's Vermont Master Angler Program fish, I think anyone would be wise to take his advice!
Wild Trout Waters
Tyler Brown reached out with a Southwestern Vermont river report. Tyler says the rivers are finally starting to come down to near average flows, which has greatly improved the fishing. Most rivers in the area are flowing at around 58°F, and insect hatches are really starting to kick in. According to Tyler, the main hatches right now are sulphers, caddis, blue wing olives and some yellow sally's. Evening dry fly fishing in the small valley brooks of Southwestern VT has been producing some great brook trout catches. 
In central Vermont, Brian Cadoret reports slightly high river flows but improving clarity, though he says targeting trout in the stained conditions is a great way to catch larger trout with big streamers. Brian's fly recommendations for these rivers right now include Muddy Buddy, Zoo Cougar, Circus Peanut, BZ Mickey Finn, and Zonkers in various colors. For nymphing he suggests Golden Stones, PT Nymphs, Green Copper John's, and Hendrickson's.
Inland Waters
Tyler Brown says inland bass fishing has been awesome lately, and he says it's the best time of year to target both smallmouths and largemouth bass with a fly rod on lakes and ponds.  For largemouth bass, Tyler recommends top water flies like poppers or subsurface clouser minnows. Using a sink tip line is a great way to get your fly down quickly.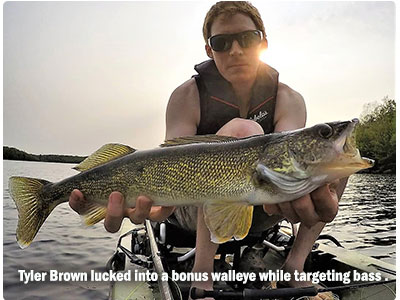 Finding a rocky point can be very productive for smallmouth when using a crayfish pattern. As a bonus, Tyler says you could luck into a few bonus species including walleye!  And to cover more water, fishing from a kayak gives you access to water others may not be able to fish from shore.
Inland bass fishing with traditional gear is still good as well. As with Lake Champlain, the smaller lakes and ponds are behind schedule with cooler than normal water temperatures, and so you'll find bass in both pre-spawn and spawning conditions.
Roy Gangloff spent a day on Lake Dunmore this past week and was surprised to find that most largemouth were still pre-spawn, with many actively feeding and hitting moving baits hard. He says his best action came on Bomber Long A's jerked, twitched and paused briefly to draw strikes.
Finally, inland waters with pike are starting to heat up just like Lake Champlain. Brian Cadoret was out a few days ago and says he had nice followers and landed one good sized pike. Brian likes to use pike streamers on fly fishing gear, but downsizes the flies slightly because the water is colder and the pike seem to like a smaller meal.
Game Warden Reports
Department Game Wardens spend a lot of time in the field checking anglers, and are a great resource for current fishing conditions and activity.
Warden Richard Watkin, who patrols southeastern Vermont, reports Lake Sadawga bass and chain pickerel have been biting very well on soft plastic worms and wacky rigged senkos. Lake Raponda has been producing some good yellow perch on worms, and a few brown trout are being caught on Sherman Reservoir, also on worms. 
Northeast Kingdom Game Warden Will Seegers says the Passumpsic River is still cool and flow conditions have been perfect, especially with the little bumps of rain. Trout are biting on spinners, worms and flies. In the upper Connecticut River he's seeing pretty good yellow perch activity on a variety of lures. Plus, anglers on Marshfield Reservoir have been catching both perch and trout.
Over in Lyndonville area, Warden Cody Jackman says the brooks are running clear and cold but have also returned to normal levels this week. Worm fishing and fly fishing are both working. Anglers are catching rainbow trout on Bald Hill Pond and Center Pond, and yellow perch on Newark Pond.
According to Warden Sean Fowler, anglers are getting good perch and rainbow trout on Marshfield Dam fishing a worm under a bobber. The Winooski River from Marshfield to Montpelier has come down to near normal levels. and streamers and nymphs are taking good rainbow trout.
That's it for now. Have a great weekend, and make sure you take advantage of Free Fishing Day tomorrow. Get someone out who doesn't fish and show them a good time!
See also: