We've had a whirlwind of weather patterns lately, from extreme cold, to warm rains and high winds, then back to cold. Next week looks warm again. March is always schizophrenic. It's a month that can tease you with the air of the coming spring and then slam you with a shot of winter, letting you know it's not quite ready to leave. But one thing is certain—the hardwater season will be coming to an end shortly.
March is a double-edged sword for ice anglers. "Last ice" can often be the best fishing of the winter. Increasing day length and a higher sun will brighten and warm the water under the thinning ice cover. This pulls fish in shallow, where they become more active and bite more readily.
But it's also the time of year when anglers need to double down on safety precautions, because ice conditions can change daily as ice begins deteriorating. I think it's worth talking a little bit about the science behind ice strength and the thawing process.
Ice thickness and ice strength are two different things. Ice can be thin and strong or thick and weak. Just a few inches of newly formed black ice early in the season can be much stronger than a foot or more of ice at the end of the season, and that's because of how ice melts.
After the initial freeze and growth of ice at the beginning of winter, it will stay fairly consistent through January and February. This has lot to do with snow cover, which both reflects sunlight and insulates the ice, causing the lake or pond to neither gain nor lose heat. As March rolls around however, the warming air and increasing sun intensity melts the snow cover, allowing light to penetrate the ice. The ice acts like glass in a greenhouse, intensifying the sun's radiation, and warming the water immediately underneath, which in turns causes the ice to start melting from the bottom up.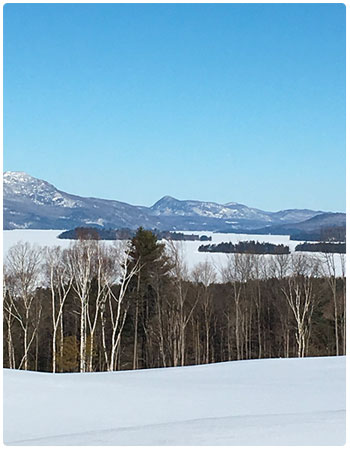 As this process continues and the ice becomes thinner, the bonds between ice crystals weaken, forming long vertical hollow "candles" in the middle layers of the ice sheet. Anglers often call this condition "honeycomb ice."
As honeycomb ice continues to deteriorate, it conducts even more sunlight, eventually causing the ice to appear grey, because it's no longer reflecting sunlight. Never attempt to go out on ice that looks like this —it's structurally weak.
As water under the ice cover continues to warm from light penetration, meltwater fills in between the crystals, causing them to begin breaking apart. Wind usually delivers the final flow, breaking the surface apart.
Folks who are interested in the science behind ice formation and thawing should check out Bob Dill's "Lake Ice" website. Bob is a Champlain Valley resident and has spent decades developing this in-depth resource on lake ice behavior from a recreational perspective. I highly recommend spending some time reading for anyone who spends time on frozen water!
Late Season Ice Safety
Being safe on late ice is much the same as it is throughout the winter, with a few extra precautions thrown in: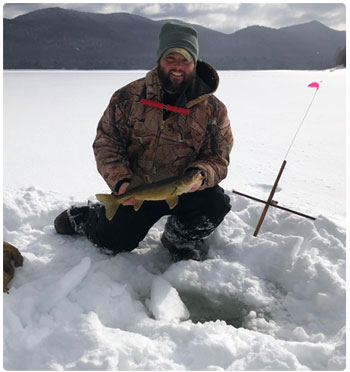 Never go out on late season ice alone. Bring a partner along.
Wearing a life jacket is never a bad idea, and always have a pair of floating ice picks around your neck.
Use a heavy spud bar to check ice integrity as you walk. Lift it up, and let its own weight come down on the ice in front of you to see how much it penetrates the ice surface. If it goes deep into soft, punky ice, it's likely not safe to continue.
Continue to check the ice as it can change throughout the day.
Drill test holes every 25-30 yards or so to measure ice thickness and integrity as you walk out.
Stay away from inlets and outlets, or narrow areas that generate current.
Ice deteriorates close to shore first, especially in areas exposed to afternoon sun. Be careful if you start seeing weak ice in those areas.
Be careful around objects such as logs, rocks, docks, or anything that might absorb heat from the sun as ice can be weaker around those objects. Old auger holes will melt and widen at this time of year as well.
There's still time to take advantage of late season ice fishing and the action that comes along with it. Just be choosy on where and when. Stay away from big lakes. Ice conditions on smaller ponds, and higher elevation waters will be your better bets in the next week or so.
And then, get ready for open water season! I can't wait.
—Shawn Good, Fisheries Biologist shawn.good@vermont.gov
Late Season Action
One look at the most recent entries in the Vermont Master Angler Program and you'll understand why late season ice fishing is panfish time. Perch, pumpkinseed, bluegill, crappie … these species are moving into shallow water right now, tempted by the warming waters under the ice. The sunlight also awakens benthic invertebrates—bugs, in other words—that live in the bottom sediments of lakes and ponds.
As the sun's rays penetrate the ice over shallow water and warm the soft lake bottom, organisms like bloodworms, freshwater shrimp and crayfish become more active, and catch the eye of hungry fish. If you find areas with a mucky bottom with scattered weeds, you should find panfish. Make sure you occasionally drop your small spoon or jig into the muck and stir it up a bit to catch the fish's attention.
Other species are moving shallow right now as well, namely northern pike and walleye, which are two of the earliest species to spawn in the spring, right after ice out. Last ice is often when some of the biggest pike and walleye are caught near their spawning grounds. Just remember, walleye season closes March 15.
Let's take a look at what some Vermont anglers were finding recently in waters around the state.
Angler Reports
This year seemed to be the winter of the lake trout. I don't ever recall seeing so many anglers out purposely jigging lakers through the ice as I have this year. It's definitely exciting!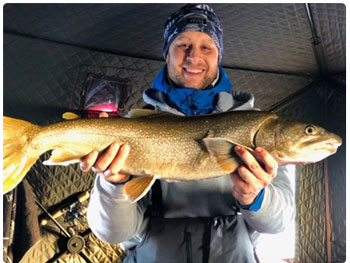 Milton VT angler Dillon Wells fished Outer Mallets Bay last weekend searching for lake trout and yellow perch, and caught a nice 10-lb trout jigging a large gold Swedish pimple. By the way, the name for this lure has always been a bit disconcerting to me. Do Swedish people have a lot of acne problems?  And do they look like oblong slabs of metal?  And what does acne have to do with fishing?  Nevermind. Back to lake trout.
Dillon says he's had the most success this year jigging with bigger "annoying" lures like large white tubes and Rat-L-Traps. Dillon recommends working your baits a little higher in the water column, and mentioned he's caught several lake trout that hit his lure five feet under the ice over 40 feet of water. Oh, and he found yellow perch that day too. They were grouped up on flats in 15 feet of water and were hitting small jigs on the bottom—color didn't matter.
Chris Bouchard, also from Milton, has been catching lake trout around the Crown Point Bridge, which is where I've been seeing a ton of angling activity lately, both on the north and south sides. Chris was there with a couple friends, and they set out tip-ups, but found jigging to be much more effective. They caught six lakers between them (the biggest coming in at 30-inches and around 9-lbs) and lost many more. White Storm Swim Shads fished in 20 to 22 feet of water accounted for all their fish.
Chris said the best tactic was to work the swim shad just off the bottom but reeling up to the hole when you marked a fish on the fish finder. Most bites would come just under the ice. Like Dillon, later in the day when the lake trout action died down, they jigged up yellow perch in the same spots using pink and orange Hali jigs tipped with a tiny piece of worm.
Over on the other side of the state Nate Olson, who works at the department's Roxbury Fish Culture Station, has been doing very well catching smelt on Peacham and Joes ponds and Waterbury Reservoir. Nate uses a tungsten or Hali jig tipped with a single maggot and fishes after dark. He's been suspending a green underwater light ten feet down to attract the smelt, and says he's had nights where he's caught upwards of 100 fish.
And while smelt are tasty little snacks for anglers, Nate's been using them as bait on Crystal Lake in Barton where he's had some incredible lake trout fishing. Setting up before sunrise, Nate puts a few tip-ups with bait near the bottom and others with the bait placed midway down. The action has been so furious on his last two trips that he's run out of live smelt, so he used dead smelt, and it didn't seem to matter. The lakers gobbled them up too. While waiting for flags Nate also caught quite a few lakers jigging using spoons, swimbaits, and Swedish pimples (bleck!).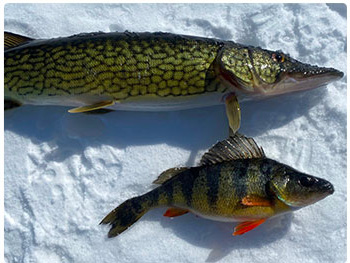 Department fisheries biologist Bret Ladago fished The Gut area of Lake Champlain recently and found a steady yellow perch bite. Bret employed a popular strategy of setting out tip-ups and waiting for flags, then jigging in the hole where a tip-up went off. A wide spread of traps like this can help you track the movement of panfish schools and focus your jigging on areas where there's active fish. Bret's best jigging lure was a tungsten bibbit tipped with a grub and a Berkely Powerbait mayfly.
Al Moorhouse, who works at the department's Salisbury Fish Culture Station sent me a tip that made me laugh, but he's also exactly right. Ice anglers are terrible at keeping spots a secret. Meaning there's tons of obvious signs as to where the fishing is good. We put out shanties and drill holes on top of weedbeds and other fish holding structure. Sometimes you'll see discarded baitfish or weeds frozen in the ice. Might as well hang a giant sign. But there's no denying that these are great places for the novice angler or someone with little information about a new pond to try when looking for an area to fish.
Even Al, who's a seasoned angler, uses this tactic himself. This week he fished a small Rutland County Pond he hadn't visited in years. Having forgot where the weedbeds were, he fished for a while in one area without catching much, and then finally happened upon an area with signs of recent fishing activity. Drilling just one hole through 14-inches of ice, he found a weedbed and bluegills in 10 feet of water. Al said the 'gills were suspended five feet below the ice and were hitting small jigs tipped with waxworms. Al likes to thread a second jig on his line one or two feet above the bottom jig.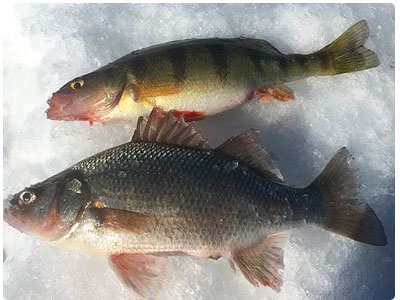 Fish & Wildlife staffer Chris Saunders fished Lake Memphremagog this week, dragging Fish Health Biologist Tom Jones along, and they had a good day catching yellow perch, with a few large white perch and smelt mixed in. Chris said they moved around a lot, fishing sand flats in 20 to 50 feet of water. Yellows were tight to the bottom while whites and smelt were suspended.
Smaller size 12 and 14 jigs in florescent colors were most effective for the larger perch, especially when tipped with small soft plastics, while live bait (spikes) only seemed to attract smaller fish. The small jigs outfished Swedish pimples (bleck!) and Hali jigs 3:1, according to Chris. Chris found that minimal movement of the jig was needed to get the fish to bite, and even then, the bites were very light, almost like suddenly not sensing the weight of the lure meant a fish had just sucked it in.
Deb Martell of Newport says lake trout fishing on Memphremagog has been slower this year, but they've caught some nice ones recently. Yellow perch have been on fire some days, then tough to find others, but she notes that white perch are really taking off on the lake now. Deb's been catching both on Hali jigs tipped with a spike.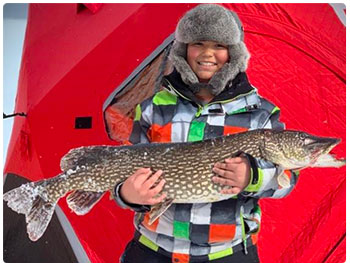 This also seems to be an up-year for smelt on Magog, according to Deb. But more than anything, Deb seems to be most excited about northern pike fishing this year. She said pike have been on fire in both South Bay and the main lake. Her son Nakai caught a 42 ¾ inch, 20-lb pike out on the main lake recently. What a beast! They were fishing tip-ups set up in 10 feet of water along a weed line, and the fish was taken with a quick strike rig tied with 40-lb fluorocarbon, baited with a dead smelt set two feet under the ice. Now that's a fish of a lifetime for a young angler!
Jud Kratzer, fisheries biologist in the St. Johnsbury District, has been enjoying fishing for some less traditional species, burbot and chain pickerel. He has great success targeting burbot on Willoughby Lake, setting up in 20 to 60 feet of water with live and dead bait set directly on the lake bottom. His best action has been between 8:30 and 9:30 at night, but he's caught some earlier too. Jud says that some nights the burbot seem to like a more active presentation and will even hit a glo-jig tipped with a piece of minnow or smelt. Seymour and Maidstone lakes are also good places to try for burbot for anglers looking for something a little different.
Jud's also been taking his sons and their friends fishing for chain pickerel, which I think is an overlooked species for ice fishing. Chain pickerel are found in many lakes and ponds throughout the state, and always seem willing to bite. Check out Pages 35 to 37 in the Vermont 2021 Fishing Guide to find a pickerel water near you.
Jud and his boys catch their biggest pickerel on live perch they catch on the spot. They rig the perch on tip-ups and suspend it a few feet under the ice. Jud recommends fish in 5 to 15 feet of water, preferably near aquatic vegetation. A little tip from Jud—cut the tail fin off the perch so that it can wiggle around without tripping the flag.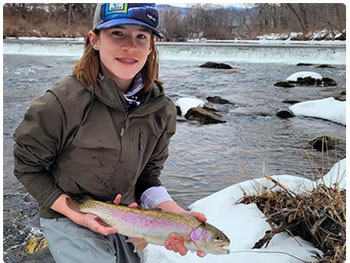 And as always, I like to end a report when I can with some out of the box fishing, like Matt Branchaud and his son Hudson like to do. I've mentioned before that there are 17 streams around the state that remain open all winter for catch-and-release trout fishing. Well, Matt and Hudson have been all over that, casting small stickbaits like the Yo-Zuri Pins Minnow and silver or gold Rapala HJ7s.
Matt likes these lures for this time of year because they can be fished slower than a spinner. Let them sink and drift with the current through deeper runs and pools and give an occasional twitch to bang the lure off rocks. A long rod and light line will allow for longer casts to reach the right areas and help avoid wading over cold and slippery rocks. Matt says a small float with a wooly bugger, stonefly, or a 1/16 to 1/32 ounce white, pink, or brown marabou jig drifted through holes and deep runs will take late winter browns and rainbows.
So there you have it. If you're itching for some trout fishing before regular trout season opens up, hit one of the year-round trout rivers. But do it before spring runoff makes the rivers run high and dirty!
Best of luck to everyone and see you when open water season gets here.
See also:
---

Thank you for supporting healthy fisheries in the Green Mountain State through your Vt. fishing license purchase, and through excise taxes on your purchase of fishing equipment and motor boat fuel, administered through the Federal Aid in Sport Fish Restoration Program.