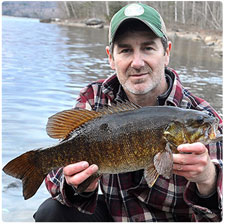 It's the May long weekend! Seems like Memorial Day took forever to get here. This is normally a time for parades, backyard BBQ's and social gatherings. But as we all are well-aware, these are not normal times, so many of the activities we typically enjoy on this first long weekend of the summer season will have to be put on hold for now.
Fortunately, fishing is not one of them.  As a matter of fact, things are ramping up. The warm weather has finally arrived with high 70s through the weekend and low 80s by midweek.  Conditions are improving and fish are responding.  Whether it's bank fishing for panfish, catch and release bass fishing, or exploring a trout stream, there's something for everyone, and this weekend and beyond should be fantastic.
Get out with your family and enjoy the sunshine.  Plan a fishing outing.  Take a picnic.  Get together with a "trusted friend."  Have fun and stay safe.
—Shawn Good, Fisheries Biologist. shawn.good@vermont.gov
Species Profile: Black Crappie Pomoxis nigromaculatus and White Crappie Pomoxis annularis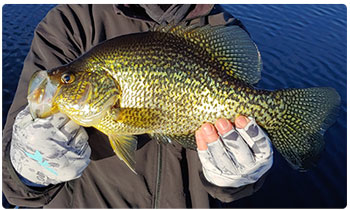 Crappie have an interesting name, and it always elicits a giggle or two from kids.  In the Midwest and southern U.S., they are pronounced CRAW-PEE.  But our New England way of pronouncing their name doesn't make them sound all that appealing.  However, don't let the name fool you – crappie are one of the tastiest freshwater fish we have.
Black crappie and white crappie are native to Vermont, though white crappie are only found in Lake Champlain—and are most abundant on the southern end.  Crappie are in the Centrarchidae (Sunfish) family, and immediate relatives include bluegill, pumpkinseed, rock bass, and smallmouth and largemouth bass.  On a side note – the name "crappie" originates from the French Canadian word crapet, which is used interchangeably to describe "sunfish" or "panfish" as a group.
Black and white crappie are fairly easy to tell apart.  The black crappie is darker overall with a speckled appearance from random black flecks on its sides.  White crappie are lighter in appearance, and have a vertical banding pattern down their sides.  White crappie have a dark spot on the upper corner of their gill cover, while black crappie do not.
The coloration of the two species has a lot of do with their habitat.  White crappie are more of an open water fish that prefers to suspend over deeper water, near some kind of structure.  They like murky water over clear water. Their pale coloration lets them blend into the murkiness of their open water background.
Black crappie, on the other hand, are more often found nearshore along the edges of weeds, cattails and bulrushes.  Their coloration and markings help them blend in with the vegetation they live in.  Black and white, dark and pale—basically traits that provide camouflage in their respective habitats.
Both species move shallow to spawn, which they are doing right now.  To learn more about catching these tasty fish, look for the tips from department staff member Dylan Smith. He's a crappie a-fish-ionado. He knows what he's doing when it comes to catching these tasty critters.
Top Memorial Day Fishing Tips Near You
I polled other Fisheries Division staff this week and asked them for their best suggestions on where folks can go fishing this long weekend around state.  Here's what they shared. Tons of good intel here for planning a great weekend fishing trip!
Jud Kratzer, St. Johnsbury District fisheries biologist
Jud offers two hot tips on great opportunities in the Northeast Kingdom for the coming weeks.  First, the very end of May and the first two weeks of June sees some of the best steelhead rainbow trout fishing in the Northeast Kingdom.  According to Jud most anglers target these fish in April and early May when they are migrating up the Willoughby, Barton, and Black rivers to spawn.  Steelies can be hard to catch at this time because they're more focused on spawning than eating.  But that changes by late May when the fish are done spawning and hungry.  The steelhead rest in deep pools, waiting for a good rainstorm to bring flows up so they can safely run back out to the lake.  Retrieving an inline spinner or drifting a live worm through these pools can be an effective way to catch these big hungry fish.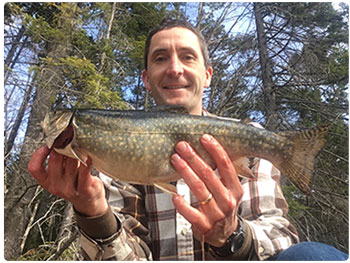 Late May through most of June is also the best time of the year to fish the Northeast Kingdom's brook trout ponds.  Jobs and Martins Ponds offer easy access.  For the more adventurous angler, there are more options, including Cow Mountain Pond, Notch Pond, South America Pond, West Mountain Pond, and the two Unknown Ponds (in Ferdinand and Avery's Gore).  The best method for fishing these ponds is to troll or cast a flashy spoon tipped with a piece of worm.  Still fishing with worms can also be effective.  Noyes Pond is another great brook trout pond, but it can only be fished from a state park boats and only with artificial flies on a fly rod.
Bernie Pientka, Essex District fisheries biologist
Bernie covers northern Lake Champlain, the northern lake tributaries, and inland waters like Lake Carmi, and he's starting to see signs that this recent warming trend is moving perch, sunfish and bass into the shallows.  Protected bays like Keeler (South Hero Marsh), Dillenbeck, The Gut, St. Albans Bay, Missisquoi Bay, and Mud Creek will all warm sooner than surrounding waters.  Bernie suggests sight fishing for sunfish scattered amongst the growing weedbeds. They can easily be reached from shore or boat.  Use a small tube jig tipped with a piece of worm rigged under a pencil bobber and set the bobber so your jig is just above the weeds.  Cast it out and slowly work it back, letting it rest periodically.  Bernie also thinks we should be seeing white perch showing up soon in the lower Winooski, Lamoille, and Missisquoi rivers.  Whites are usually pretty aggressive at this time of year, and so flashy lures like spoons and small spinners work great. 
Bret Ladago, Roxbury District fisheries biologist

Berlin Pond is beautiful this time of year, and chain pickerel are starting to turn on!
Bret manages a lot of great river and small pond fisheries in Central Vermont.  His choice for the weekend is Berlin Pond, which he says is beautiful this time of year—a little hidden gem surprisingly close to our state's Capital.  Once you've put in and round the corner from new the Fish & Wildlife access area, you quickly forget how close you are to Montpelier and the interstate.  The leaves are beginning to show, red-winged blackbirds call out in every direction and you have a good chance of catching a largemouth bass, yellow perch or chain pickerel.  Bret says the pickerel are starting to hit surface lures, and casting baits like the Heddon Tiny Torpedo or a Zara Spook close to shore can provoke vicious strikes and provide great action!  Bret thinks the bass and yellow perch are still a bit deeper, but will soon be moving to the shallows as water temperatures warm and spawning occurs.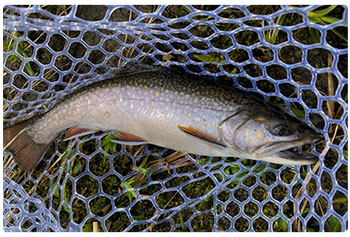 If it's trout you're after, Bret recommends some of the mid-sized Winooski River tributaries.  He's seeing most waters nearing the 50°F mark and trout fishing is starting to heat up.  Bret caught a nice 11-inch wild brook trout recently in Jail Branch near Barre using a size 4 gold panther martin spinner.  He was casting upstream into a pool bordered by woody material.
Dylan Smith, Access Area Coordinator
Working to manage and maintain the almost 200 boat ramps and shore fishing access areas the department provides gives Dylan the opportunity to see pretty much the entire state, and a lot of water.  But when it comes to fishing, Dylan is the Crappie King.  This is the best time of year for anglers of all abilities to catch crappie, and he's been seeing mass movements of this species into the shallows as the warming trend has kicked in.  And, they are eagerly biting.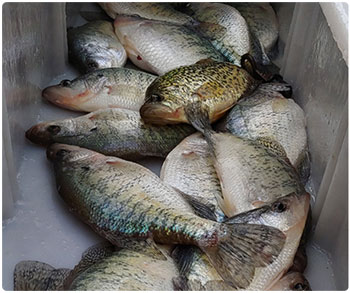 Dylan says shore fishing is a great way to get them.  Look for shallow bays, culverts, and bridges where fish funnel through to access warmer back bays for spawning.  Set a small 1/16 or 1/32 ounce jig tipped with a live minnow or soft plastic imitation a foot or two under a bobber.  Set it so your bait is just above the weeds.  If pressed for time, Dylan suggests anglers should fish in the afternoons when the daytime water temperatures peak, but once water temps reach 60°F (Dylan's magic number for crappie action), you can catch fish all day long!  Even better if you find an area with a brisk wind, as the wave action will give the bait a nice action the crappie can't resist.
Dylan says his tips work for any water that holds crappie, whether it's Lake Champlain or smaller ponds.  Use Google Earth to look for areas where a road crosses or parallels a lake or bay.  If there's a culvert or connection to a backwater area, it's a great place to try.  Keep in mind, as these fish move shallow, they become susceptible and vulnerable to harvest.  Dylan says he likes to let the larger fish (over 13 to 14 inches) go to spawn.  Keep a meal's worth of smaller fish (minimum length 8 inches). And help keep our fishing great.
Tyler Brown, Furbearer Project Technician
I know. Tyler works for the Wildlife Division.  Managing furbearers.  And despite the rumors of Northeast Kingdom Furbearing Trout, I have yet to see one in the wild.  But Tyler seems to be a pretty decent angler.  So I'll let it slide.  Tyler says this is the best time of the year to catch big smallmouth bass, especially on fly gear.  Interestingly, a portion of Lake Champlain's smallmouth bass migrate up rivers to spawn, instead of building nests along the shorelines like the rest of the population.  A number of tributaries get these runs including the Poultney River, Otter Creek, Lewis Creek, the LaPlatte River, and the Winooski, Lamoille and Missisquoi rivers.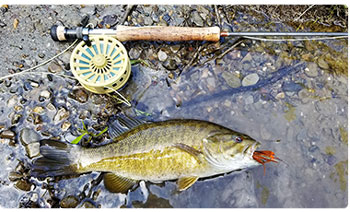 There are other smaller rivers you'll likely see smallmouth in as well this time of year.  These migrations make smallmouth bass fishing accessible to shore-bound anglers.  If you're a fly angler, Tyler recommends using a Clouser minnow or crayfish pattern.  Look for bass holding in runs and pools, cast ahead of them, and let the fly swing past the fish.  
Smaller spinners and spoons work great too if you don't fly fish.  Tyler warns that some of the more popular tributaries get a lot of fishing pressure, so be mindful and walk a little further to avoid crowds and pressured fish. 
Tyler says wild trout fishing continues to get better too, on both spinning and fly gear.  A quick trip to a small stream the other day produced an 18.25-inch brook trout on a gold/brown Mepps spinner.  For fly fishing, Tyler suggests nymphing riffles or the head of a pool with a pheasant tail, hare's ear or prince nymph, swinging the fly at the end of the drift.  He's caught a lot of fish as the fly swings to the surface, because it imitates an emerging mayfly nymph that trout can't resist. 
Al Moorhouse, Hatchery Technician
Al, who works at our Salisbury Fish Culture Station, echoes Tyler's sentiment about tributary smallmouth bass.  Al feels confident that this weekend is going to see a big push of fish upriver.  He suggests anglers use small to medium jigs or weighted flies in the slower areas of pools and along rocky, gravel banks.  And if you're fishing lower in the tributaries, you may hook up with a pike, gar or fallfish as a bonus!
Other Fishing Tips for the Weekend and Beyond
There were a lot of great emails coming in this week from anglers wanting to help with the report.  Thanks so much!  I appreciate their willingness to help other anglers get out fishing, have fun, and be successful.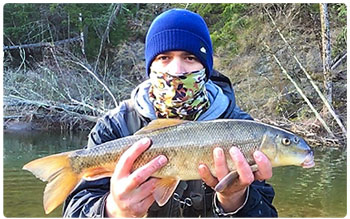 Taylor Craft of Hinesburg VT wrote in to say he really enjoyed the last report, and was motivated to go out and try to catch his first ever sucker.  He went to a local river, found the deepest, slowest water he could, and tossed out a half a nightcrawler on a hook with couple splitshot on light line.  He went three mornings in a row, but persistence paid off.  He's really been enjoying sucker fishing!  Nice job Taylor!
Roy Gangloff of West Dummerston VT is finding that panfish are moving into the Connecticut River setbacks en masse, just in time for Memorial Day, and it should be just about perfect conditions this weekend.  Fish along the Route 30 side at Retreat and along the Route 142 side at Hunts.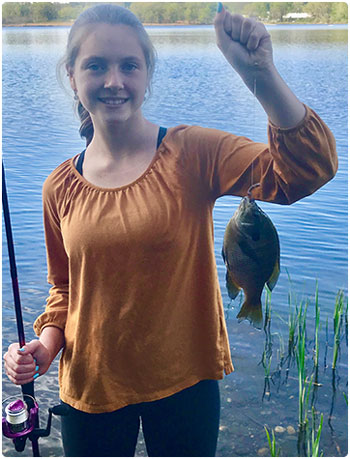 A simple setup is all you need—a slip bobber and a small soft plastic minnow imitation. The slip bobber makes for quick and easy depth adjustment and gives the plastic lure better action than a clip-on style bobber.  If fish are a bit finicky, try adding one third of a nightcrawler.  This easy shore fishing will only last a few weeks, so take advantage of it soon!
Warming water has cued waves of largemouth and smallmouth bass to move into the back bays on Champlain (spinnerbaits, squarebill crankbaits), big sheepshead are hanging out on rocky banks and bluffs (drag a tube jig, plastic grub or a Ned Rig), big chain pickerel are roaming the newly emerging weeds and are hitting swimbaits and spinnerbaits, and northern pike are finally ready to eat just about any lure you toss right now.  Look for them along the deeper edges of new emerging weeds.
Proctorsville VT angler Zach McNaughton is seeing crappie grouping up on Lake Bomoseen over shallow flats, and smallmouth building nests.  And if you live near a river with fallfish—our state's largest native minnow species—you might be seeing little mounds of pebbles they build where they lay their eggs. If you haven't caught one of these before, give it a try.  Watch Zach's "Vermont Master Anglers" TV Show episode where he and department fisheries biologist Jud Krazter go after fallfish right after the spawning season. 
Brian Reynolds of Wilmington VT has been fishing Harriman Reservoir and been catching nice brook and brown trout, with a few rainbows thrown in for good measure.  It appears there's been very good holdover there.  The trout have stayed shallow and are very accessible to shore anglers.  Look for small coves with wind blowing into them—the wind is concentrating fish in those areas.  Brian's had luck with Size 2 and 3 Mepps spinners in gold or copper, or white Rooster Tail spinners.
South Burlington angler Eric LaMontagne says he's been chasing trout on the Winooski River in Waterbury, catching several nice ones on a black woolly bugger.  He says they tasted fantastic baked with butter, garlic, lemon, and cayenne.
Lake Champlain
Over on Champlain, the trout and salmon fishing is still on fire.
Matt Glebus of Port Henry NY says shore anglers are having a great spring casting spoons to catch lake trout that are still roaming the shallow waters, and the occasional salmon is being caught too, especially near creek mouths.  As a bonus, he's been casting stickbaits at night and catching walleye.  This cooler spring has kept some of the coldwater fish shallow and accessible to shore anglers!
Essex VT angler Ron Winter says salmon are still being found chasing bait in 50°F water or warmer.  The area from Converse Bay to the Crown Point Bridge has been producing a lot of nice fish, and flatlining spoons and stickbaits on the surface is still working.  Just make sure you get your lure far back—about 100 feet behind the boat.  But no need for fancy downriggers right now!  Hot spots include Town Farm Bay, Hawkins Bay, Otter Creek to Scotch Bonnet, Barber Point and Bulwagga Bay.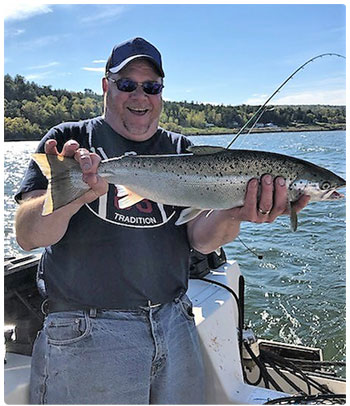 Todd Flint of Salisbury VT agrees, and says for a beginner angler without specialized equipment, this is the easiest time of year to catch Lake Champlain's salmon, with a chance for the occasional brown trout, steelhead or lake trout.  Nice weather, moderate winds and hungry fish.  Use your smartphone to track your boat speed—in general, shoot for 2.4 mph.  If you go too fast, the spoon may be too erratic and it will spook the fish.
Enjoy your weekend.  Let's see your fishing photos! Tag us on Instagram and Facebook using #FishVT and #vtfishandwildlife.  And if you catch the big one, enter it in the Vermont Master Angler Program!
See also: