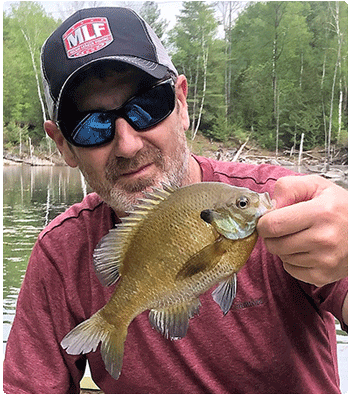 I was looking for something in the garage the other day, and as I moved some stuff off a shelf, I spotted my grandfather's orange Old Pal Custom tackle box tucked away in the back. I hadn't seen it in years.
I pulled it down, blew off the dust, and opened it up. As the hinged tackle tray swung open, a wave of memories hit me. Hard. I may have teared up for a moment. Ok, I'm not gonna lie. I definitely did.
It's astonishing how so many memories and feelings can be tied to a single object, and how they instantly flood in from the far recesses of the brain. The contents of that box represent every single childhood fishing memory I have of the farm ponds and lakes I grew up fishing with my 'Pa.'
The one thing that struck me the most however, was just how little was in it. It's not because I had previously plundered it. The box is still exactly as he left it.
It's because my grandfather knew how to catch fish. Plain and simple. And more importantly, he knew WHAT caught fish. His tackle box is a lesson in simplicity and bare necessities.
There are a couple Original Floating Rapalas in gold/black and silver/black, two 40-year old Hula Poppers, a Jitterbug, and an assortment of Mepps Aglia spinners in different sizes and colors. Throw in some brass snap swivels, a couple packs of Eagle Claw size 6 snelled baitholder hooks, some splitshot, a few red and white bobbers, and a metal stringer, and that's the entire contents. Oh, and his old wooden handle fillet knife with its blade sharpened so much from a lifetime of fishing that more than half the steel has been filed away. I bet that baby has cleaned thousands of fish.
As I went through his tackle box, I almost felt ashamed, giving the side-eye to my own ridiculous collection of lures I've bought over the years, all neatly categorized in dozens of divided utility boxes. Truth be told, I use very little of it.
I remember coming home from college one weekend in 1989 armed with the latest and greatest lures. I had joined a bass club while away at school and had been fishing tournaments. My grandfather and I went out for an afternoon to chase smallmouth bass, and I was going to show him how it was done.
He proceeded to kick my (b)-ass drifting live crayfish, and then to seemingly prove a point, he clipped on an old Mepps inline spinner and caught even more bass by trolling along an island shoreline. While I flailed around showing him the "new techniques" (with not much to show for it), he just sat there smiling with a sparkle in his eye.
I've heard it said that most lures are made to catch fishermen, not fish. I think there's some truth to that. I'm not dismissing advancements in fishing gear and tackle. There's a lot of great stuff out there today that has opened up the fishing world to just about any specialty and technique someone is interested in pursuing.
But there's a reason those lures in my grandfather's tackle box are still made today. They work.
My point in sharing these memories is to put you new and inexperienced anglers at ease. I know how overwhelming it can be to look at the endless selection of baits and lures that are out there. The aisles and shelves of tackle shops and online stores present a bewildering array of gear.
But for those of you just starting out, just keep it simple. You can't go wrong with a basic live bait rig. Bait catches pretty much every fish species that swims. To get a little more advanced, take the bobber off and add a couple split-shot. Make a long cast and slowly work your worm, minnow, crayfish or leech across the bottom.
As you gain confidence, step up your game with some simple "cast and retrieve" style lures. Like my grandfather showed me, you can't go wrong with an inline spinner like a Mepps, Panther Martin, or Worden's Rooster Tail. I've actually gone back to using these myself recently, and again, there's not much they won't catch!
At some point, you'll probably want to branch out and try different styles of fishing and lure types. It's the natural progression of The 5 Stages of Fishing. Just a word of warning … it's a slippery slope!
—Shawn Good, Fisheries Biologist shawn.good@vermont.gov
Angler Reports
It's Memorial Day weekend, and I hope you're all able to set aside some time to fish. The weather seems to have stabilized a bit, we've had some rain, and the weather forecast looks decent. Get out there and wet a line!
If you want to incorporate a little fish into your weekend meal planning, sunfish are always a sure bet, especially at this time of year. Pumpkinseed and bluegills have moved shallow and can be found schooling up along shorelines preparing to spawn.
Department fish health biologist Tom Jones fished the Keeler Bay area of Lake Champlain this past weekend and after a little hunting around found a nice school of eating-sized sunfish around boat docks in three to six feet of water. Using tiny pieces of nightcrawler on a size six hook under a pencil bobber he had an hour of steady action, catching enough for a nice meal. Tom says be patient and persistent, and you should be able to find a school. If you catch some panfish this weekend, give this Parmesan Crusted Bluegill receipt a whirl!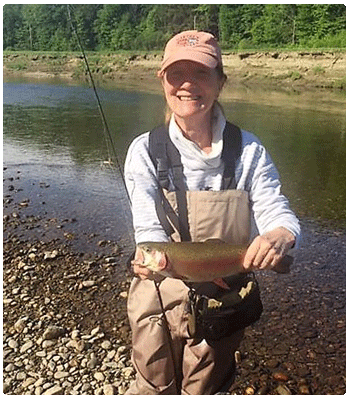 Jericho angler John Hurley agrees with Tom, saying he's found the panfish action on fire in the shallows of his local ponds. John flyfishes for these and says any type of size 8 to 12 panfish fly has been working for him. John and his wife Judy have also been on some local rivers fishing for trout, and Judy caught a nice rainbow trout this week on the Winooski with a white Mepps spinner. I like what I'm hearing. Last tip from John and Judy – they recommend pinching the barbs down on hooks if you plan on releasing your fish. Good point!
Department fisheries biologist Jud Kratzer in the St. Johnsbury district told me that there are too many good fishing opportunities right now to mention them all, but he did highlight a few. Surprisingly, he says that water temperatures in the Northeast Kingdom have finally warmed enough to bring the warmwater fish into the shallows. Hmmm. I could have sworn it was still ice and snow up there through June. Maybe I should get out of Rutland County once in a while.
Jud says Lake Memphremagog is one of the best lakes in the Kingdom for panfish. Shallow bays are the first to warm up, and he suggests targeting yellow perch, white perch, pumpkinseed, and bullheads in these areas.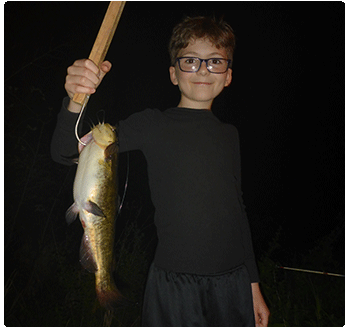 This brings up a very important and deep philosophical question. One I've asked myself for a long time. Just what is a panfish, and does it include bullhead?  I've heard the term refers to the shape of the fish being round like a pan, in which case, only bluegill, pumpkinseed and crappie would qualify, but not yellow perch! On the other hand, I've heard panfish described as any small fish that fits in a frying pan. So which is it?  I'm leaning towards the latter, myself.
Anyways, back to the wintry sunny NEK. This is also the time of year when a wide variety of species move into the lower Clyde River from Magog in search of food or spawning habitat. An angler fishing the Clyde River in Newport City right now could potentially catch landlocked salmon, brown trout, rainbow trout, smallmouth bass, northern pike, yellow perch, bullhead, rock bass, suckers, and just about any other species living in the lake. It's easy to fish this part of the Clyde River from shore with just a fishing rod and some live bait or a few small, flashy lures.
Like I said. Simplicity. Bare necessities.
Jud also reports that trout stocking is nearly complete in the NEK, and he highlighted the Lamoille River from East Hardwick to Morrisville and the Passumpsic River from upstream of Lyndonville to the Connecticut River as great places to fish for stocked trout. Last but not least, Jud mentioned that right now is the best time to fish the Kingdom's brook trout ponds before the water gets too warm. Good brook trout pond opportunities include Noyes Pond, Jobs Pond, Martins Pond, Cow Mountain Pond, West Mountain Pond, Unknown Pond (Ferdinand), Unknown Pond (Averys Gore), and Notch Pond.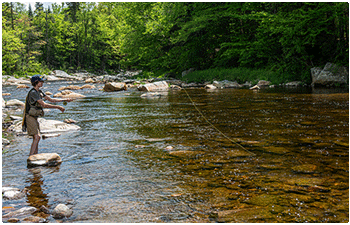 Speaking of trout stocking, department fisheries biologist Lael Will who covers southeastern Vermont waters says that they just completed the second round of trophy trout stocking on the Black River and the new Deerfield River trophy trout section. For the Black, Lael says the "Freight Train Hole" is a popular spot with good access. But for those looking for something a little more out of the way, she recommends the Deerfield. This is the second year for the Trophy Trout program there, and 1,100 two-year-old brook trout have been released into the four miles of river between the East Branch Trail bridge and the bridge on Somerset Road. If last year's angler reports are any indication, this should make for a great experience catching some beautiful brookies in a remote setting. Give it a try this long weekend!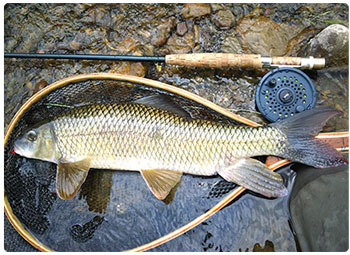 Al Moorhouse who works at the department's Salisbury Fish Culture Station has been fishing Lewis Creek lately. Lewis, like other Lake Champlain tributaries, gets a spawning run of smallmouth bass in the spring, which are a blast to target in a small stream environment. But bass are not what drew him to Lewis the other day. Right after the smallmouth are done, redhorse suckers move in. This is another unique fishing opportunity for a native species many anglers overlook. These fish can exceed 10 pounds and they fight hard. Al found redhorse that were willing to play in the gravel runs below Route 7, and he caught several Master Angler sized fish. While Al was fishing flies, anglers can do just as well drifting worms or other bait.
On Lake Champlain and most inland bass waters around the state, bass are in full spawning mode by all accounts.
Barre angler John Rielly says this move to shallow water has made for some exciting fish. On a recent trip to Lake Bomoseen he boated over 100 smallmouth and largemouth bass, with several exceeding four pounds. The hot lure was a chartreuse Ned bait for visibility.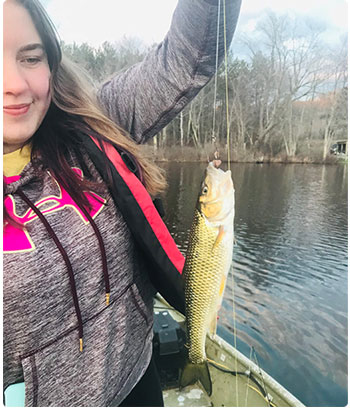 Dustin Loyer of Lyndonville has been doing a similar thing in the NEK on waters like Stiles Pond and Lake Memphremagog. Like John, he's found a Ned rig or a jig/swimbait combo has been deadly for smallies. For some added excitement, Dustin suggests fishing topwater in the evenings until dark for some explosive bites right now. Over on Pensioner Pond, Dustin and his kids have been catching fallfish, chain pickerel and yellow perch. Any fish that wants to bite is a good fish!
Instead of toying with spawning bass, West Dummerston angler Roy Gangloff has been looking for cooler waters where bass are still in prespawn mode. He found just what he was looking for on Lake Dunmore. Bass were cruising gravel and rock shorelines and were hungry. He had great luck casting Bomber Long A stickbaits and using a slow jerk-jerk-pause retrieve. Most hits came on the pause as the lure slowly floated upward. Roy also used a Ned Rig (some kind of pattern forming here it seems!) in natural colors rigged on a 1/10 ounce jig head and caught both smallmouth and largemouth, not to mention some giant rock bass.
Roy also fished Chittenden Reservoir, again looking for cooler water and prespawn bass. He used the Bomber Long A to catch some smallmouth but quickly switched over to a Mepps Aglia inline spinner and caught the best smallmouth of the day on the first cast with that lure. Roy says bass were moving into the soft bottom bays with stumps and boulders mixed in.
While Shaun Senior of Cambridge VT has been doing well this spring fishing for bass from his kayak on small ponds like Metcalf, he really had one goal this fishing season, and that was to catch a bowfin. After spending a day chasing his tail following what he called a "bad tip," he emailed me for some advice. I gave him some general information on bait, gear, and the types of habitat he should look for, and a couple recommendations on spots to try around the Islands. So, armed with worms and hot dogs (not my tip), he and his girlfriend headed to North Hero to look for the tell-tale signs I told him about. Swirls and gulps on the surface in shallow vegetation. After his girlfriend caught a small perch, they gave up on the hotdogs and switched over to cut bait. After maneuvering their kayaks through the weed bed trying to position themselves near the boils and rolls of fish, they started casting the cut bait on a hook, steel leader, and bobber to the active areas. After a few false alarms, Shaun's bobber suddenly disappeared, he set the hook and he had a bowfin on! After what he called an exhilarating five- to six- minute fight Shaun was able to land his first bowfin—a 28-inch Master Angler sized fish! He says the fight was hard, and to say he was thrilled would be an understatement.
I really love it when anglers want to expand their horizons and try for something new or different. And it's great seeing anglers discovering the thrill of fishing for some of the unique native species we have like bowfin and gar. They are truly worthy sportfish species, and not trash fish that has been the common misconception.
Trout and Salmon on Lake Champlain
Switching over to trout and salmon on Lake Champlain, the spring bite is continuing but fish are slowly dropping into deeper water.
Although Matt Glebus lives in Port Henry NY, I like what he's sent me in the past, and this time is no different. Matt continues to demonstrate you don't need a boat to catch lake trout. Fishing from shore, Matt has been catching lakers hand over fist. He said the trout are cruising the shoreline in 8 to 16 feet of water gorging on smelt. Matt casts Honey Bee casting spoons or rainbow colored Krocodile spoons. Earlier this week he hooked 14 lake trout and landed 10. That's pretty darn good from shore!
While the NY side of the mid-lake tends to be rockier and deeper close to shore, there are places on the Vermont side that are similar. Try spots like Arnold's Bay, the Button Bay State Park shoreline, the Burlington waterfront and breakwall, and the Grand Isle ferry breakwall.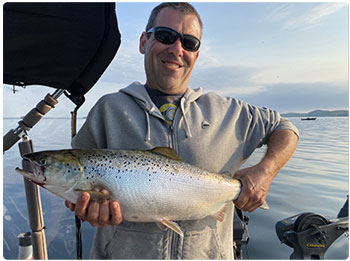 Ron Winter of Essex VT says the northern part of the lake has been on fire for salmon the last few weeks. With surface temperatures warming up, he's been finding salmon down 10 to 15 feet over 40 to 70 feet of water. Ron suggested starting early (5 AM!) if you're looking for salmon. Once the sun is up, you only have an hour or two before the baitfish go deep, and the salmon will follow. His hot lures have been Crazy Ivan Blue Moon and Phantom spoons. The action he's reporting is impressive—15 to 20 bites before noon, landing 5 to 10 of them!
Vergennes angler Jack McGuire and his kids have also been catching salmon, doing well in the main lake around Thompson's Point, Split Rock, Diamond Island and Basin Harbor. Jack has been trolling over 70 to 90 feet of water and setting his lures down 25 to 40 feet. To reach these depths, he uses mini diver discs like dipsy divers and Big Jon mini-disks set back 100-feet. Small two-inch spoons and stickbaits trolled at 2.3 mph seemed to have the most luck.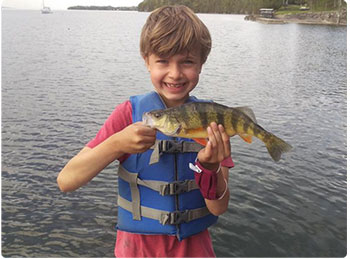 Once the salmon fishing slows down midday, Jack has been switching gears and taking the kids after perch and freshwater drum. For perch, they're casting two-inch Yo-Zuri Pins Minnow and reeling them in with a steady retrieve. They've been finding schools of yellow perch willing to chase and bite this little lure in the shallow waters around Kingsland Bay. For freshwater drum, they head up Otter creek and drift downstream with the current, dragging 3/8 ounce jig heads tipping with half a nightcrawler, making sure it taps bottom regularly.
I love the multi-species approach to a day of fishing. It keeps the kids engaged and interested. Salmon. Perch. Drum. It's all fun!
Stream Fishing
Now for some stream fishing info from Woodford angler Greg Brown. Greg's a sharp fly guy, and generally knows what he's talking about (don't tell him I said that). According to Greg, fly fishing right now in his area is pretty much 'Match the Hatch,' with good insect hatches starting to come off. Greg recommends fishing dry flies on a light monofilament tippet and a long six- to eight-foot leader. Greg likens this to hunting, calling it a sit and wait game. Get into a spot you think a hatch will come off and be patient. If you plan on being in the water for casting, get in the water before the hatch starts and let the fish get used to your presence. Once you start seeing insects on the surface, land your fly five to ten feet upstream of your target drift, letting your fly swing all the way through. Then, let it sit in the current straight downstream for a few moments before casting again. If you have the space, make sure you get a few false casts in between drifts as that's what dries off your dry fly!
Dagmar Neubauer with The Reel Angler in Manchester says river flows in southwestern Vermont have been quite fishable, with good conditions being reported on the Battenkill, Walloomsac, Black River, and Otter Creek. Panther Martin size four or five inline spinners are working great as are Mepps and Blue Fox in sizes two and three. Gold and brown trout patterns have been top producers for most streams except for Otter Creek, where rainbow trout and silver colors seem to work better. For fly anglers, Dagmar advises that the Hendrickson hatch is mostly over, so nymph fishing with flies like Prince Nymph, Hare's Ear Nymph and Wooly Buggers are good bets.
Steve Cumming of Lunenberg MA, was finally able to return to Vermont this spring to enjoy the great fishing we have, and he sent me a short report. He and his son Ben combined a turkey hunting trip with some trout fishing on the Waits River between East Corinth and Bradford. He said the rainbow trout fishing was terrific, and they caught and released well over 20 nice fish in day, with all of them coming on small Rooster Tail inline spinners. I'm telling you, if you don't have a couple of these in your tackle box, you're missing out!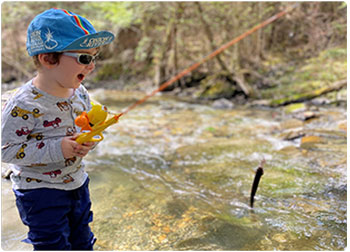 If you want to drift worms for wild trout, we have the perfect learning tool for you. Last year I worked with our Education Specialist Corey Hart to film an instructional video on trout fishing with worms. Another department staff member Will Duane, who describes himself as "very very new to trout fishing" decided to watch the video last week, and then give it a try with his three-year-old son James. Duane said the video showed how easy it could be, and it had everything they needed to know. Within ten minutes of arriving at a local stream his son had caught his first wild brook trout!
The great thing about Vermont is that we have hundreds of miles of mountain streams and rivers with healthy populations of wild trout. There's likely more than one within a short drive of your home. Spend some time this summer exploring these waters!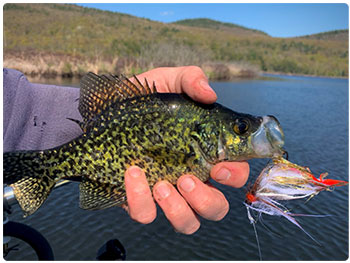 Finally, multi-species fly angler Dylan Verner of Bristol says the warming waters have fish becoming more active. He's catching pike, pickerel, bass, crappie and bluegills on local ponds using small streamers with a slow but consistent stripping presentation. A pause now and then entices hard strikes. Black, yellow and white streamers on size eight and ten hooks are working well, though bigger fish have been liking the six-inch streamer, including a crappie that wasn't bashful about taking a big fly!
Whatever way you like to fish, make some time to do it this long weekend!
See also:
---

Thank you for supporting healthy fisheries in the Green Mountain State through your Vt. fishing license purchase, and through excise taxes on your purchase of fishing equipment and motor boat fuel, administered through the Federal Aid in Sport Fish Restoration Program.