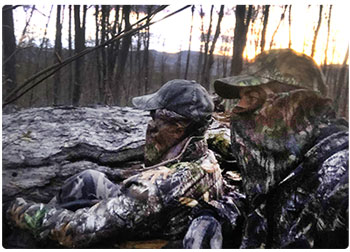 I was telling a coworker the other day about a recent morning out turkey hunting with my 14-year-old son. "Enjoy it while you can," he replied. "The extent of my interaction these days with my teenage daughter is 'Hi Dad' and 'Bye Dad' on her way in and out of the house."
I fear the day when my son thinks it's no longer cool to hang out with me. I understand. It's part of growing up. He's got friends and other interests that will eventually take him away from our time together. But knowing that's coming won't make it any easier. It just makes me sad.
But here's a tip that shouldn't come as much of a surprise—you can head that off to some degree by just going fishing. Or hunting. Or just a walk in the woods, for that matter. It isn't important what you do. What is important is developing bonds with your kids around shared experiences and activities.
It's never too early to start. And they're never too old to keep at it. The family bonds and relationships developed from spending time with your kids—real, authentic, quality time (in other words, not with a screen in either of your hands)—will last a lifetime.
For Aiden and me, those bonding times over the past 10 years have been youth sports, hiking, biking, fishing, and most recently hunting. There's rarely a day where we don't spend a couple hours together driving to a soccer or hockey game, hitting the trails on foot or bike, or getting a few quick casts in.
Or sitting quietly together in the woods as the sun comes up over the mountains, listening for a distant gobble, like last Sunday.
I think it's working. He still gives me hugs that I don't even have to ask for. Which may be unusual for a 14-year-old. But I'm going to hold on to that for as long as I can.
As we head into Mother's Day Weekend, and Father's Day next month, make sure to spend some quality time on the water (or the woods, or literally just anywhere) with your kids. Keep reinforcing those bonds. Put down the phone and pick up a rod.
If you're a grown adult, and fortunate enough to still have your own parents around, call them up and say "Hey Mom, Hey Dad … you want to go fishing with me this weekend?"  I bet that's something they've been longing to hear. It'll probably bring a flood of memories back for the both of you, from when the roles were reversed, and they took you fishing as a kid. Pay it back.
I've said this many times before. Fishing has always been more than just fishing.
—Shawn Good, Fisheries Biologist shawn.good@vermont.gov
Angler Resources
I get a lot of calls and emails asking if Lake X or Stream Y has been stocked yet this year. Or people writing to say they plan on fishing Pond Z this weekend and want to know if there's a depth chart available.
I have good news for you. Like most things these days, all that information can be found online.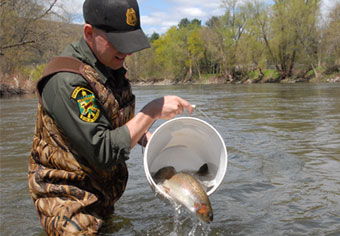 The department has a Fish Stocking Search tool on our website where you can see a list of waters that are scheduled to be stocked, and find which stockings have already been completed and when. Department staff update this table almost daily through the stocking season to provide anglers with as up-to-date information as possible.
The webpage lets you search for stocking information in a variety of ways, and you can narrow the results down by selecting criteria like waterbody, town or county, species of fish, or any combination of those. It's a great tool for anglers looking to fish for stocked trout around the state.
For depth charts of Vermont lakes and ponds, the VT Dept. of Environmental Conservation's website has a list of downloadable maps on their website.
There are currently charts available for 170 different waters around the state. Keep in mind, many of these were made the old fashioned way decades ago with a rope, a rock, and a compass (not kidding!) – like the Maidstone Lake map from 1949. But in the last few years, VTDEC has been creating updated maps using sonar mapping, like this one of Joe's Pond made in 2018. These are all in PDF format and can easily be printed.
A couple other online tools worth mentioning are the Navionics WebApp and the GPS Nautical Charts websites. The links I provided should center you in the state. As you drag the map around and zoom in to an area, lakes with depth charts will appear. These can be printed by taking a screenshot, or you can just use them as research tools when planning a trip to a water you've never fished, and you want to scope it out ahead of time.
Angler Reports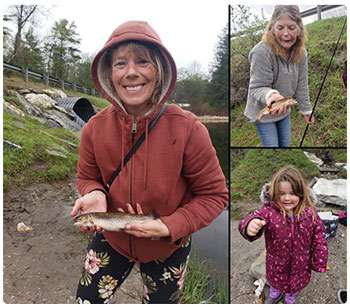 I want to start this section out with a story I heard from Jessica Stickney, of Florence VT. As a mom with three kids, Jess picked up a fishing rod for the first time last summer during the pandemic. She's been learning a lot, just trying to catch anything she can from the local waters around her house. And now Jess fears she's become addicted, telling me she may like it more than gardening, which has always been her passion. That's what I like to hear!
When Jess heard a nearby pond had recently been stocked with brook trout, she called up her mom, grabbed her youngest daughter Kat, and headed out. In Jess' words, "It was so much fun. We ran out of crawlers, so many bites! Kat caught her first trout all by herself. She was so proud. Thank you for all you guys do for the sport of fishing."
I'm going to be a little blunt here. There are anglers out there who look down on stocked trout. Maybe even think we shouldn't be stocking them. I would beg those anglers to look beyond their own personal interests. Kat, Jess, and Jess' mom illustrate the exact reason why state agencies stock fish.
No one starts out as a skilled angler. No one starts out with species or gear bias. Stocked trout serve a valuable role in providing accessible fishing opportunities in areas where the habitat may not support wild fish. They give inexperienced anglers the opportunity to develop their skills, get hooked (pun intended) on fishing, and have fun. And it's a great way to introduce kids to fishing.
Ok. I'm jumping down from the soapbox now.
Jess finished up her message to me with this: "We were there for two hours and saw a bald eagle, osprey, blue heron, two beavers and fish jumping everywhere. I feel blessed."
On the other end of the spectrum, I received reports from two different anglers who are quite skilled, and have an open mind when it comes to fishing.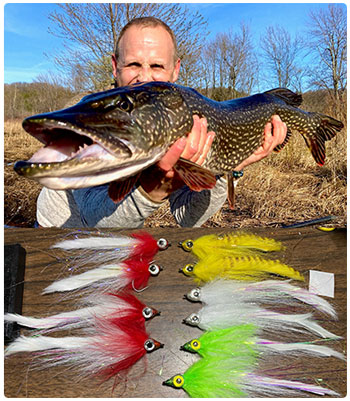 Drew Price is a fly fishing guide and an Orvis Ambassador. At first glance, you might assume he's a trout fishing purist. You'd be wrong. Drew chases just about every Vermont fish species there is with fly gear. He was the first (and only) angler to catch all 33 fish species on the Vermont Master Angler list, and 26 of them were caught on a fly. That's impressive.
So with Lake Champlain water temperatures in the mid-50s, Drew has been targeting post-spawn northern pike with big, bright flies thrown on an eight-weight rod. Drew rigs his rod with a 12- to 20-pound leader and a six-inch bite tippet of 30-pound line. His favorite flies include Bunnies, Deceivers, and Clouser Minnows in white, red/white, chartreuse/white, pink/white, yellow, and purple.
Drew recommends fishing around old weed growth and new emerging weeds in one to six feet of water and varying your retrieve speed until you get some reaction. A strip-pause works great for weighted flies, as pike often strike when the fly sinks on the pause. And if you see a pike following, don't slow down the retrieve. Keep stripping! For anglers who tie their own flies, Drew has a video on how to tie his Champlain Bunny fly.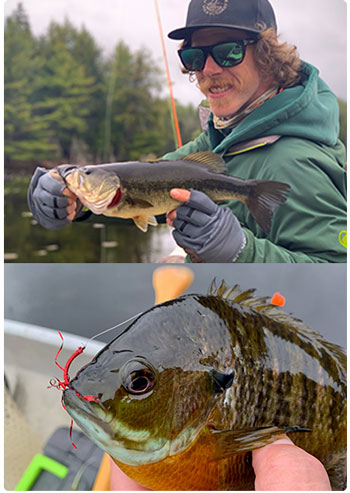 Dylan Verner and his brother Jake have a similar philosophy as Drew. While they love fly fishing for trout, you can find them just as often in a canoe on southern Vermont ponds using five- and seven-weight fly rods throwing poppers and small streamers. Dylan said they had an "epically fun day" this past weekend catching bass, perch, pickerel, and sunfish casting around submerged wood, stumps, and emerging lily pads. A slow presentation with a pause every three to four pulls helped entice bites.
Dylan loves tying experimental flies and making new patterns just to see if he can trick a fish. And the time spent fishing with his brother, he says, is priceless.
Drew Price and the Verner brothers are clear examples of how the fly fishing world has broadened its scope. And this is something I've written at length about in past reports. To stay engaged, I've always encouraged anglers of all types to expand their horizons, use different techniques, and try to catch species they're not accustomed to fishing for. It's challenging, exciting, and you just might find out you're enjoying yourself!
As for stream trout, Dylan's been chasing those too. The cold weather pattern and rainfall we've had has made conditions challenging, but he's found slowing his presentation down and getting his flies deep have made all the difference. Adapt and Overcome.
His most productive tactic for wild rainbow trout was a size 12-to 14 caddis fly under a small indicator with a size 16 to 22 black or olive midge or a Rainbow Warrior on a dropper. When the big rivers are high and flooded, the smaller streams offer an escape. Though you'll find smaller fish, they are often bright and pretty. As Dylan put it, "their colors are so bold, and their spots erupt with the flickers of sunlight."
The weather reversal we saw after the first week of April has slowed down the bass action, but also extended the season. For a while there, I thought we were going to blow right through the spring pre-spawn bass action we all love, like it never even happened. But water temperatures are actually lower now than they were three weeks ago, and that's OK by me.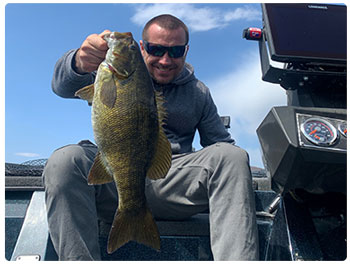 Barre angler John Rielly has been hitting small lakes and ponds in the Kingdom, and says water temperatures are still around 50°F. He says these ponds don't produce the numbers of bass in the spring that you'll typically find on Champlain, but you have a real chance at landing a giant. John found smallmouth relating to shallow rock flats near spawning areas, but unlike three weeks ago, they wouldn't touch a jerkbait on his recent trip. Instead, John caught all his fish on tube jigs and Ned rigs fished painfully slow (his words).
But how can fishing ever really be painful?  Ummm, just ask these folks.
Jared Shaw of North Hero says that up his way, low 50-degree water temperatures are bringing pre-spawn largemouth into two to six feet of water. Anglers should fish along shorelines that typically have aquatic vegetation along them in the summer, especially if there's an area where soft mud bottoms transition to hard rock. These areas tend to warm up faster and hold baitfish. Jared likes to fish lipless crankbaits or #3 to #5 Mepps spinners in silver and white. Just cast and retrieve and cover water. This time of year, fishing is very simple!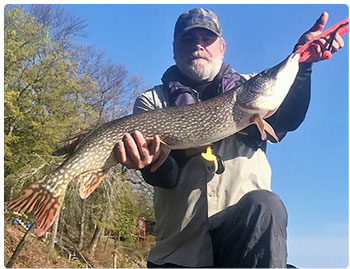 Roy Gangloff has been on southern Champlain a lot this spring and says the crankbait bite has been very good. You'll probably see the pattern here—and this holds true for spring bass fishing in almost any water—Roy says rocky points and shorelines have been the best places to find a good mix both smallmouth and largemouth bass with waters still cool.
His best lure by far has been a crawfish colored square-bill crankbait. To fine-tune your technique, Roy recommends using a silent crankbait in clear water, and one with rattles in stained water. Cast parallel along points and banks in three to six feet of water. In bays and around weeds, Roy is finding pike are starting to feed again following their post-spawn recovery period, and a ½ ounce white/chartreuse chatterbait retrieved slow enough to tick the top of the weeds has been taking some big hungry pike.
Ben Vicere says the Connecticut River in the Springfield area is still cool at 47°F, and high from all the rain, but in the setbacks he's finding largemouth bass in four feet of water along the banks, especially in areas with dark bottoms. They didn't seem to want to move and chase lures too much, so he found that casting a jig and other soft bait lures worked best.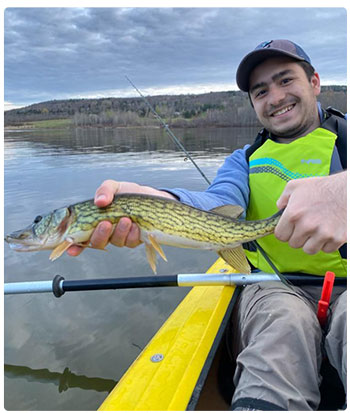 Luke Bricetti of South Burlington says the weather has definitely slowed the bass fishing down for him, but on the flipside, pike and pickerel action has been great! Shallow weedy areas in two to six feet of water have been holding fish on small waters like Lake Iroquois and Shelburne and Colchester ponds. His best action has been on big inline spinners retrieved at a steady pace. I throw those for pike a lot myself and they are definitely a fun way to fish. Not sure about Luke, but my favorite is the #5 Mepps Aglia in Hot Orange with a brown Marabou treble. Killer.
Ron Winter of Essex says the recent rains and winds have made the last few weeks a challenge for salmon fishing on Lake Champlain. Ron says the surface to 15 feet down is the target depth, and running Big Jon Mini Disks 100 feet back, and inline planer boards to get lures into the outside lanes has been effective. The hot lure of late has been a 2 ¾" Yo-Zuri Pin's Minnows in gold/black. Ron recommends trolling at speeds of around 2.6 to 2.7 mph in the clear water just on the edge of mud lines, trying to stay in 20 to 30 feet of water following the shoreline. Despite the weather, Ron says this spring has produced some of the biggest salmon in recent years.   
And finally, department fisheries biologist Jud Kratzer says the recent rains have brought the Northeast Kingdom's rivers up to levels that are more typical for this time of year, but water temperatures are still low. Jud recommends focusing on cold water fish species until things warm up.
The salmon fishing hasn't been hot and heavy in the Clyde River, but anglers are catching a few. Small numbers of salmon from Lake Memphremagog run up the lower Clyde River (in Newport City) in the spring to feed. Anglers can catch them on streamers, spoons, spinners, and small crankbaits, but live bait is probably most effective. Drifting a chunk of nightcrawler or a live minnow with the current is a good technique.
The department stocked the first batch of two-year-old Trophy Trout in the Passumpsic River this week, and these fish are stocked right in downtown St. Johnsbury from the Arnold's Falls Dam (just downstream of Concord Avenue) to the Gage Dam (just downstream of the I-91 bridge). Drifting a chunk of nightcrawler with the current is a great way to catch these fish. Spoons and spinners are great lure options.
Have a great Mother's Day weekend everyone. Get outside, take your kids, and your parents, and spend some quality time together.
See also:
---

Thank you for supporting healthy fisheries in the Green Mountain State through your Vt. fishing license purchase, and through excise taxes on your purchase of fishing equipment and motor boat fuel, administered through the Federal Aid in Sport Fish Restoration Program.