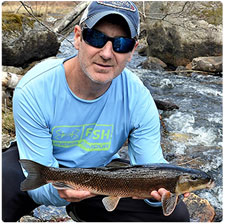 Two weeks ago in the last report, I wrote how Spring just doesn't seem to want to show up this year.   And now May is here and we're facing yet another cold front with the possibility of snow across the region this weekend. Happy Mother's Day! Isn't it supposed to be all daffodil's and daisies by now?
There is hope, however. I see light (and sun) at the end of the tunnel. The long-term 10-day forecast shows 60-degree weather across most of Vermont by the end of the week. Get your gear tuned up, if you haven't already, because May fishing is poised to get really good in the next couple of weeks.
Having said that, the fishing hasn't been too shabby as it is, as you'll see in the excellent information provided by this week's contributors—an exciting indication of what's in store for the rest of the month.
And there's more good news for Vermont anglers as Governor Scott amended his "Stay Home, Stay Safe" order as part of the state's gradual reopening.  Addendum 13 provides broader latitude to pursue outdoor recreational activities. Of particular significance to anglers, guidance directing Vermonters to recreate within ten miles of their homes has been lifted, so anglers can explore more areas of the state in pursuit of our diverse fishing opportunities.
Vermonters may also once again socialize with members of another "trusted household," such as family, neighbors or friends known to be following Vermont Department of Health guidelines and safety precautions. This will allow anglers to reconnect with small groups of family and friends. So, grab your trusted fishing partner and get on the water!
Just remember, while these changes to outdoor recreational guidance are welcome, it is important to know there are limitations and restrictions that still apply to reduce the risk of spreading COVID-19.
For more details, visit the Outdoor Recreation and COVID-19 page on the department website.
Stay Safe, and Fish On!
—Shawn Good, Fisheries Biologist shawn.good@vermont.gov
Species Profile: Walleye (Sander vitreus)
I've been asked by a number of folks if I'm going to continue the species profiles. Of course! I love telling anglers about all the unique and interesting species we have in Vermont that can be fished for. Since walleye season kicked off last weekend, I thought that would be a good species to start with.
The walleye is a native Vermont fish, though it's not as widespread across the state as other native species. As a matter of fact, its original native distribution in Vermont was restricted to only Lake Champlain and some of the lower river tributaries. Populations in waters like the Connecticut River, Chittenden Reservoir, Lake Carmi, Island Pond, and Salem Lake were introduced. The department continues to maintain some of those fisheries through stocking, using eggs from wild fish collected from those waters.
Despite its small geographic distribution, walleye are a popular species for anglers—mostly because of how tasty they are. In 1978 the Vermont Legislature designated the walleye as one of two official State Fish. Can you guess what the other one is?
In Vermont, most of the angling pressure directed towards walleye occurs in the spring after they've migrated into spawning rivers. At this time they concentrate in predictable areas and are easier to target. Spawning runs usually begin as water temperatures approach 50°F. Once spawning is over and they've returned to the lake, they spread out widely and become more difficult to find.
Studies conducted on Lake Champlain found that each spawning river has a distinct walleye spawning stock. This means that adult walleye return to spawn in the same river where they hatched, and will continue returning to that same river over their lifespan. At the same time, walleye from these different rivers will mix in the lake during the rest of the year. A few years back, department biologists tagged walleye in the Poultney River in April, and some of those tagged fish were caught by anglers in May and June in St. Albans Bay. They do roam far and wide!
Walleye are light-sensitive. For anglers, this means walleye are more active in the early morning and late evening. Some savvy Lake Champlain walleye anglers will even fish them at night by trolling or casting large minnow-imitating stickbaits around rocky reefs. 
In rivers, standard fishing techniques include bouncing a jig head tipped with a minnow or a plastic curly tail grub on the bottom as the boat drifts downriver. Casting these lures from shore can also be effective. Of course, bottom-drifting the legendary Green Mountain Grabber worm harness is probably one of the most effect techniques you can employ.
Trout Fishing
The last two weeks have seen a lot of trout stocking activity around the state. Most lakes and ponds are now complete, and crews from our five hatcheries have been working hard to get hatchery trout into rivers and streams. Stocking will continue for the next couple of weeks.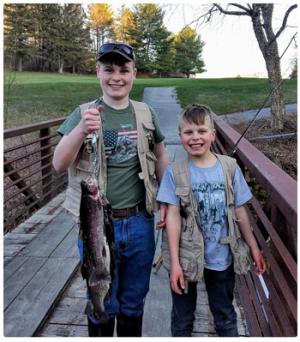 For anglers who get excited about the two-year-old "Trophy Trout" stocking program, eight of the nine rivers with designated Trophy Trout sections have been stocked. To see what streams receive Trophy Trout, visit our Fish Stocking page.
It hasn't taken long for anglers to get out and fish some of these Trophy Trout streams, like the Connaughton boys, who had a great time fishing East Creek in Rutland on a recent evening, and caught a couple of beauty rainbows!
An exciting new development in the Trophy Trout is the addition of the Deerfield River. There will be 1,100 two-year-old brook trout stocked into a four-mile section between the East Branch Trail bridge up to the bridge on Somerset Road. This should make for an interesting and fun adventure for anglers who want to fish a little off the beaten path.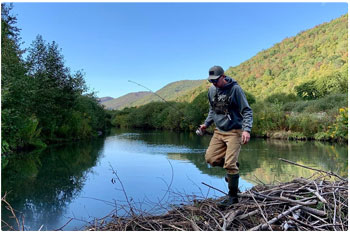 Tyler Brown of Rupert VT says wild trout fishing has really picked up in the last couple of weeks, and brown trout have become quite aggressive. Fly fishing with brook trout pattern streamers he ties himself, Tyler has been slowly walking streams and sight-fishing. He spotted and caught a nice 22-inch brown earlier this week that took his streamer as he twitched it while drifting downstream. Tyler recommends a short sink-tip link on a six-weight rod and six feet of 0x fluorocarbon for a tippet. The fluorocarbon is practically invisible to fish. Tyler also says he's had luck catching trout with an ultralight spinning rod casting a small yellow with red dot Panther Martin spinner. 
Down in the southeast corner, Woodford VT fly-guy Greg Brown says afternoon insect hatches have provided some steady action on area streams. Greg's been running a 5x-6x tippet and small (size 18-14) pheasant tails, midges, and stoneflies. Rivers are running super clear so overcast cloudy days have provided better action. 
Department fisheries biologist Jud Kratzer says the water is still quite cold in the Northeast Kingdom, so anglers should adjust their tactics for sluggish fish. When he stocked trophy trout in the Passumpsic River in St. Johnsbury a few days ago, the water temperature was only 35°F. 
Jud spent some time fishing as well, and managed to catch one nice, apparently wild brown trout on the Passumpsic using a live minnow he trapped himself. Jud says at these temperatures, live bait fished near the bottom is probably your best bet. A neat trick Jud shared is he uses a small piece of closed-cell foam just ahead of the hook to help keep the bait just off the bottom, where trout are more likely to see it.
Walleye
Ian Brett of Burlington VT says the start of the walleye season has been phenomenal. Judging by the photos I've seen come into the Vermont Master Angler Program, and posted on social media sites, I'd have to agree with him. 
Ian reports his best luck this year has come at last light while trolling medium-sized stickbaits in fluorescent colors. He's focused most of his attention on the lower stretches of the Winooski and Lamoille rivers and says these big, wide, slow moving rivers offer great opportunities for beginner anglers to try their hands at walleye fishing from small boats or even kayaks. Ian says trolling speeds of 1.5 to 2 mph, which any rowboat or paddle craft can achieve, has elicited the best bites. Both Ian and his girlfriend Danielle (who happens to grace the cover of this year's 2020 Vermont Fishing Guide with a walleye she caught last year) both caught Master Angler walleye this past week.
Moving further north, St. Albans angler Chris Smith has spent a lot of time walleye fishing on the Missisquoi River. So have quite a few other anglers, as Chris said he counted over 70 boats on the river on opening day and about half that on Sunday. With flows lower than normal and water temperatures right at 50°F, the bite was pretty good. Chris reports seeing pretty much every boat landing walleye. A jig tipped with a minnow was most effective, though artificial soft plastic minnow baits on a jig head also worked.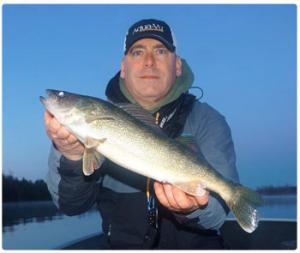 Bob Dostie, of Swanton VT, is hardcore.  His email to me goes like this: "Lake Carmi.  5/02/2020.  Midnight – 1PM. Water temp 47°F.  Winds light out of the NW.  Walleye on crawler harnesses (Orange Fire Tiger) trolled at 0.6 – 1.0 mph on a 3-way swivel rig.  Five walleye landed; 19", 20", 22", 23", 23." Smallmouth bass on white Flasher Jig with a 3" white paddletail trailer.  Shallow rocky areas.  Fish were sparse and scattered. Water needs to warm up a little before the fish really get active."
Ok, so did anyone catch the TIMING? Thirteen hours straight starting at MIDNIGHT! My hat's off to you, my friend.
Bass and Pike
First time contributor Jared Shaw of North Hero wrote in to say he primarily fishes northern Lake Champlain and has been finding largemouth bass moving shallow. Water temperatures are hitting the mid-50's in the shallow bays (magic time, in my opinion!) and he's had superb outings recently working the shorelines and reed lines with Number 5 Mepps inline spinners in silver and white.
Old School! My grandfather would be proud, Jared. That was about the only lure he used (in various colors) to catch just about everything that swims. Jared agrees, and says he thinks spinners are an overlooked lure. They allow you to cover a lot of water searching for active fish. 
Jared says he observed the bass keying in on baitfish moving into the warmer backwater areas, and he caught several pike and pickerel in these same areas.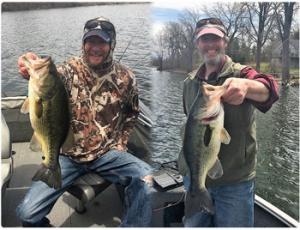 Department biologists Tom Jones and John Austin also got out this week on northern Lake Champlain and had a banner day catching over 40 largemouth and a dozen pike and pickerel. Like Jared, Tom and John found pre-spawn bass concentrated along shorelines and cattail edges in six feet of water or less.  Their best lure was a small perch-colored jerkbait.
For those who aren't familiar with this type of lure, a jerkbait is a long slender minnow-shaped lure that you don't reel back steadily.  You cast it out and then erratically twitch it back with a stop and go action. Bass often hit it when you've stopped your retrieve and let it sit for a few seconds.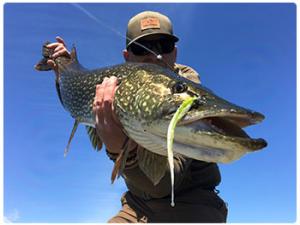 Drew Price of Colchester VT has been chasing northern pike on a fly rod. For those that haven't tried it but are interested, all I can say is—adrenaline rush. Pike on the fly is a blast! Drew says the slowly warming waters and a bit of rain has really turned on the pike bite on Champlain. Drew has been chucking streamers like the Clouser Half-and-Half, and Bunny flies in chartreuse/white, red/white, and yellow/white. 
If spin-fishing is your thing, spoons (Johnson Silver Minnow, Eppinger Dardevles), or any inline spinner or spinnerbait are all productive lures. Drew's waiting until later in the day to let the water warm up a few degrees, and then looking for pike in water two to six feet deep near fresh weed growth. Try varying your retrieve speed until you find what the pike react to the best. Sometimes they want it slow. Other times fast.
Lake Champlain Salmonids
It wouldn't be spring without the flotilla of boats trolling for trout and salmon on the big lake. This is the time to take advantage of the fact that these normally deep fish can be found on the surface right now.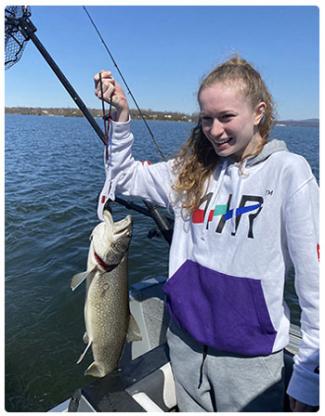 Essex VT angler Ron Winter says early May is a special time for folks who like to chase these fish. Water in the shallows is still reading 41°F - 45°F, and you'll find plenty of lake trout there. Warmer pockets of 46° - 50°F are holding schools of salmon, especially near the outflows of small creeks. Ron suggests paying attention to bird activity on the water. It's usually a sign that salmon are aggressively pushing the baitfish to the surface. 
Small minnow-shaped stickbaits or spoons trolled in the top five feet of water in these areas will catch fish. Ron says he's had great luck recently with his kids trolling on the main lake side of the Colchester Fill catching lake trout and salmon in just eight feet of water. Flatlining jointed Rapala J-11 floating stickbaits in Fire Tiger Green color 75-feet back has been working magic.
As the owner of Crazy Ivan Lures (another homegrown Vermont lure company) Todd Flint of Salisbury VT spends a lot of time trolling for brown trout and salmon on Champlain. Todd says one of the most overlooked factors that affects fishing success for spring trout and salmon is wind. He says anglers who study recent wind history in the area they plan on fishing and understand how sustained heavy winds can drastically change water temperatures and cause baitfish to move will substantially increase their success. Finding the right temperatures, the bait, and the fish in the spring is often just a matter of watching where the wind blows!
Other Fishing Action
Mike Elwood of Burlington VT fishes from shore access points on the Winooski River—Windemere Access Area and the Heineberg Bridge Access. He says he's been catching some good smallmouth bass from shore as well as fallfish, big bullhead, white suckers and redhorse suckers. Mike says a worm fished on the bottom will catch them all.  Very true!
I joined the list of sucker chasers myself this week, taking my son to a nearby lake with a river that flows into it. These sorts of situations exist all over the state, and it's almost a sure thing that you'll find schools of spawning suckers right now crowding the tail end of riffles and rapids. 
To catch them, we used a small piece of frozen corn on a 1/16-oz jig head, tossed it to the head of the riffle, and let it tumble along the bottom until I saw the line stop. When I lifted, it was often a big sucker that had vacuumed up the corn as it went by. My 13-year old son caught over a dozen in less than an hour. And boy, do they fight! Many were in the 18 to 21-inch range, and we both got Master Angler sized fish (the profile pic of me is from the other day).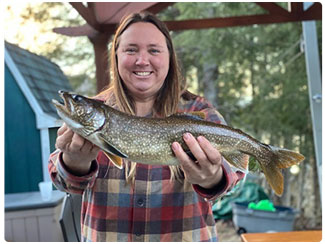 Jen Kirkman of Pomfret VT spent some time fishing Seymour Lake last weekend for lake trout. They fished set lines with live suckers, running lines out about 100 yards. Jenn says they caught three lakers, two of which were keepers. Seems like a good time to me, but Jenn says the bite is just getting started and will likely get better.
Orleans angler Nick Marcotte writes to say salmon are just starting to come into the Clyde River from Lake Memphremagog, but fishing has still been slow. He had a good one on the other day drifting a night crawler but lost it. He's seen some other fish caught on minnows, and says live bait is the only thing that seems to be working right now. For more action, Nick recommends fishing around Scott's Cove on Magog. He's been getting good yellow perch there lately and says accessing the cove through Prouty's Campground is a great area for kids and families. A simple bobber with either a minnow or a worm under it is the most effective way to catch them.  
And finally, if you want to catch your own worms for bait, check out this video some of our department fisheries biologists put together this spring:
Don't forget to tag us on Instagram and Facebook using #FishVT and #vtfishandwildlife. We love to see what everyone's catching!
See also: