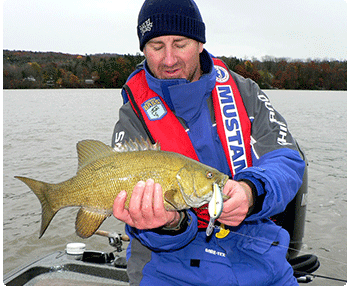 Here we are, nearly the end of October, and the 2020 open water fishing season is coming to a close. Or is it? In truth, "the end of the season" is really just a state of mind. It doesn't truly end. It just changes. There are plenty of opportunities out there for those anglers who understand that "fishing season" isn't wedged between Memorial Day and Labor Day.
Sure, "trout season" ends on October 31. Unless you want to fish on one of the numerous catch-and-release trout streams and rivers scattered around the state.
"Bass season" ends on November 30. Unless you think a little cold weather won't deter you from the catch-and-release bass fishing available on most waters of the state starting December 1.
Walleye season? Open now through March 15. Pike season? Channel cats? Open year round. Trout and salmon on Champlain? Perch, bluegill, pumpkinseed, crappie and the like? No closed season.
** Insert Legal Disclaimer Here (read by one of those speed-reading radio voices) 
Indicating Special Regulations May Be Present on Some Waters ** 
In other words, read the Fishing Guide before you go, just to make sure!
But the bottom line is that in Vermont, there's always something you can fish for. It's not time to hang up the rods. It's not time to go into hibernation. It's time to get bold, creative, and try something new.
Read on and you'll find my Top 5 Late Fall-Early Winter open water fishing opportunities. I challenge you to pick one. Any one. And give it a try.
One last note. I'd like to say thank you to everyone who's been reading the bi-weekly fishing reports this year. It's been fun writing them, and I genuinely enjoy the feedback and emails I get from people wanting to share their stories and experiences, or even ask for help.
I set out a year and a half ago with the intention of writing fishing reports that would be entertaining as well as informative. I hoped to excite and motivate anglers to fish more often and try new things. To grow participation by providing new anglers with information on locations, techniques and other tips that would help them get started, have fun, and be successful. And to simply spread the word on the incredible diversity of fishing opportunities we have here in Vermont.
I could not have done this nearly as well without the support from all the anglers who generously contributed detailed intel that helped readers get outside and catch fish. It's much appreciated.
Judging by the increase in fishing license sales we saw this year, I'd say we made some progress. The number of Vermonters who bought fishing licenses increased 27 percent from last year. More than 52,000 adult Vermonters bought annual fishing licenses this year, compared to 41,000 in 2019. This is more than any other year since 1992. Even more encouraging to see—youth fishing licenses were up 34 percent over last year, from 2,600 to 3,500.
That's a lot more teenagers fishing. And that's a good thing.
Keep in mind, these numbers are for just straight fishing licenses, and doesn't include hunting-fishing combo licenses. And, if we consider all the kids who probably tagged along with Mom, Dad, and grandparents, the future looks bright.
Of course, it wasn't ALL due to these fishing reports.
There was this little thing that happened back in March called a pandemic. While it has, and continues to be, disruptive to our school, work, and home life, it gave many of us some unexpected time to reconnect with the outdoors. We spent more time with our immediate families and discovered (or rediscovered) our love for fishing.
Let's keep that up going forward. Pandemic or not.
Oh, and FYI. This is the last fishing report of the year. But don't worry. I'll pick it back up again in a few months. See you when the water turns hard.
—Shawn Good, Fisheries Biologist shawn.good@vermont.gov
World Fish Migration Day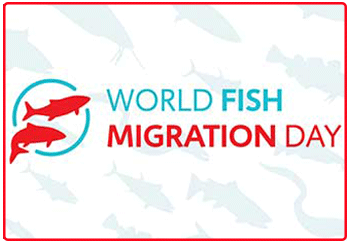 If someone were to mention the words fish migration, I'm guessing most folks would automatically think of the hundreds of miles traveled upriver every fall by West Coast Pacific salmon to reach their spawning grounds. Or maybe, if you're a little smarty-pants (and you read my June 5, 2020 fishing report), you could wow your friends and neighbors with your expansive knowledge of the journey Vermont's American eels take to Bermuda to spawn in the Sargasso Sea.
But did you know that brook trout and brown trout need to migrate just the same, albeit much shorter distances, in Vermont's trout streams to reach critical spawning habitat in the fall? Or to find cooler water in the heat of the summer?
Vermont has many fish migrations that occur every year, from spring runs of American shad and anadromous sea lamprey coming up the Connecticut River, to lake trout movement to spawning reefs and landlocked Atlantic salmon runs up Lake Champlain and Lake Memphremagog tributaries.
Saturday, October 24 is World Fish Migration Day – a global celebration about the importance of free-flowing rivers and migratory fish. The department, along with local, state and federal conservation partners, will be celebrating by hosting in-person events and online presentations and activities, including visits to a dam removal site and a digital scavenger hunt.
If you're an angler, your enjoyment of fishing is in some way dependent on the ability of fish populations to migrate or move about unimpeded. I would encourage everyone to check out these events and learn more about efforts going on in Vermont to ensure our aquatic habitats are connected and healthy, so they can support migratory fish.
Fishes of Vermont: Confessions of an Ichthyologist
Another online event that's coming up that you might find interesting (and could help you improve as an angler) is a presentation on the Fishes of Vermont by Saint Michael's College biology professor Doug Facey.
Hosted by the North Branch Nature Center in Montpelier, the presentation will explore the major groups of fish species found in Vermont, discuss their biology and ecology, and answer some of your most pressing fishy questions. Like, why does Vermont have more species of freshwater fish than any other state in New England? Which fish in Vermont is born in the Sargasso Sea? Which fish species did Samuel de Champlain carefully describe in his diary? Which fish have a lung-like structure that allows them to breathe air?
I can tell you one thing: if you've been a faithful reader of this fishing report over the last year and a half, you should be able to answer at least half of those questions right now!
Top 5 Vermont Late Fall-Early Winter Fishing Opportunities
November is a state holiday in Vermont. First couple weeks of December too. It's deer season. Archery, rifle, muzzleloader. A lot of Vermonters will be tromping around the woods chasing the wily Whitetail. But if you're not one of them, there's still plenty of fishing to be had!
These are my Top 5 picks for what to fish for over the next month or so.
Don't be afraid of a little snow. The steelhead can be great!

Steelhead. Yes, this photo is probably making you shiver in horror. I get it. You're not quite ready yet for that scene. But this is Vermont. And it could happen at any time.  Fitting in with World Fish Migration Day, steelhead are migratory rainbow trout. The spent their adult lives in the open waters of larger lakes but migrate into rivers to spawn. Migrations will start in the late fall, and many of these fish remain there over the winter, spawning in the spring. Some strains of steelhead will actually spawn in the fall. Look for fall migration runs in Lake Champlain tributaries like Lewis Creek, Mill River, Lamoille River, Winooski River, or Otter Creek. In the Northeast Kingdom, steelhead run the Black and Willoughby rivers. Egg-imitation flies and small spoons work great.

Pike can be caught in the early winter from shore, even with snow on the ground!

Pike. From Champlain to the Connecticut River, and all ponds in-between. Look for ledges & rocky shores near dying weeds. Cast slow-wobbling spoons for hungry pike! I've talked about the fall pike in at least the last two reports. But it's worth repeating. Big fish can even be caught from shore when there's snow on the ground!
Bass. Vertical jigging blade baits, deep diving crankbaits, or working grubs and crayfish imitations slowly across the bottom are killer for cold-weather bass. Both smallmouth and largemouth bass can be caught in the late fall with these techniques. Work slow moving baits on the bottom or find schools off drops and ledges and target them by jigging. Slow down and fish deep.
Lake Trout. This is the one time of year anglers have a real shot at catching a lake trout from shore. When the water temperature drops below 52°F lake trout will begin congregating to spawn along breakwalls,

Late October and into November gives shore-bound anglers a rare chance at catching a lake trout.

reefs and rocky shorelines. On Lake Champlain, check out Arnold Bay, Button Bay State Park, and the Burlington Bay and Grand Isle breakwalls. Cast spoons, twitch lightly weighted flukes, and slowly work paddletail swimbaits on a jighead. Streamers on a fly rod work too!
Brook, Brown and Rainbow Trout. There are 17 rivers around the state that are open to catch-and-release fishing after trout season closes on October 31. Artificial flies and lures only. Fish the deeper, slower stretches below riffles or dam tailouts using bead head nymphs, streamers, wooly buggers and bunny strips, or cast Phoebe spoons or Worden's Rooster Tail spinners.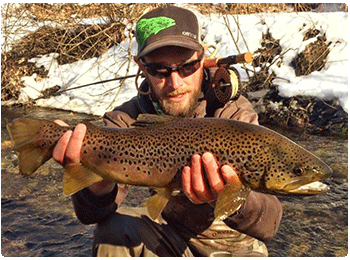 Other Fishing Reports
Northeast Kingdom fisheries biologists Pete Emerson and Jud Kratzer say landlocked Atlantic salmon are still showing up at the Clyde River fish ladder, and there are lake trout in the river now as well. Fishing has been slow, but the fish are there, and some are being caught. The recent rains should get them a little more active. Just remember, the Clyde River regulations require the use artificial lures and flies only, and all salmon must be released. Tackle tips? Pete says it's impossible to recommend any one fly or lure. He's seen everything from bare hooks and beads to 6-inch streamers and bombers take fish! Try everything. You never know.
Over on the other side, salmon and steelhead are slowing showing up at the Winooski One fish lift, the Grand Isle Hatchery Cove, and a few of the other tributaries. But again, the rains could pull more fish in over the next couple weeks.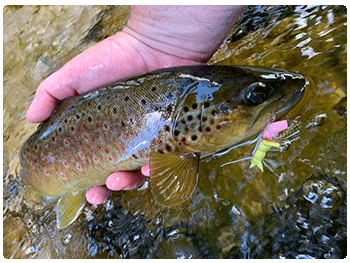 Middlebury angler Brian Cadoret and Brandon angler Al Moorhouse both say the trout fishing has been pretty good lately in some of the trout streams coming off the western slope of the Green Mountains. Terrestrial flies and nymphs have been working well.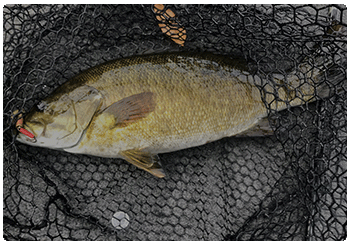 And finally, West Dummerston angler Roy Gangloff has been sticking closer to home, fishing the Connecticut River. Roy said October and November can be great months on the river, and last weekend he fished Vernon Pool. Two inches of rain had the river up, and Roy thinks the river fishes better when there's current and slightly stained in color.
Roy likes the stretch between the Old Ferry Road access north to the Dummerston F&W Access Area (just recently renovated with a new ramp). The fishing is simple at this time of year—Roy casts a spinnerbait along sloping banks with submerged wood and rock. He caught a fat 22-inch smallmouth bass on that bait. He caught a few other smaller fish on a spider jig, a Ned rig, and Rat-L-Trap and a Mepps spinner. But the ½-oz double willow leaf spinnerbait in chartreuse outfished all other baits.
See also:
---

Thank you for supporting healthy fisheries in the Green Mountain State through your Vt. fishing license purchase, and through excise taxes on your purchase of fishing equipment and motor boat fuel, administered through the Federal Aid in Sport Fish Restoration Program.