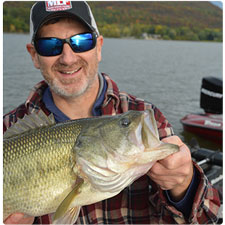 October is here. Cold nights, warm days. Waters are cooling down. Leaves are turning. Won't be long before we see frosty grass and rooftops in the mornings. I've said it before, but I'm going to remind you again – this is the best time of the year to fish! Most anglers have abandoned the water for duck blinds and tree stands. Which is a mistake if you want to catch some of the most aggressive fish of the year. Everything is biting as fish binge feed for winter. I was out this past weekend, and the bass and pike were crazy aggressive (I lost a number of good lures to those toothy critters that day). My mistake. I forgot my wire leaders. Don't hang up those rods just yet. Uncrowded waters, and fish willing to play. I'll definitely be out again before it's over. 
—Shawn Good, Fisheries Biologist shawn.good@vermont.gov
Brook Trout - Salvelinus fontinalis
While fishing for just about every species we have gets really good in the fall, come October, there's one species that shines above all others. Vermont's state fish, the brook trout. Known by many names – brookie, speckled trout, squaretail – many Vermonters simply refer to them as "natives," as in "I hit a stream up the mountain this morning and got a nice limit of natives."  There are nearly 100 fish species native to Vermont, but every angler in the state knows what catching "natives" means. It's ingrained in Vermont's soul, mind and spirit.
The brook trout is one of the most-widely dispersed fish in Vermont and can be found in nearly 3,800 miles of streams and rivers throughout the state. Just about every mountain stream, from small headwater trickles to larger valley rivers, have healthy naturally reproducing populations, provided water temperatures stay below 68°F.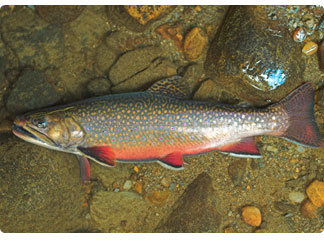 Many consider the brook trout to be our most beautiful fish but catching one in October is something special. Brook trout are fall spawners, and to attract mates, male brookies put on a color show that would rival the brightest rainbow or the most vivid mountainside of New England fall foliage.
From September through October, male brook trout develop brilliant orange bellies and their lower fins take on a similar color, edged in deep black and bright white bands. Their olive-green backs, laced with dark worm-like markings take on a deeper hue, and the red and yellow spots with blue halos seem to jump off their sides.
How To Target Brookies
To catch one of these beauties, it's best to keep it simple. No need to daintily present dry flies or nymphs to wary fish. Instead, use a short ultra-light rod and reel setup with 4 to 6-pound test line. Tie a small #6 or #8 baitholder hook to the line and add a small splitshot about 8 inches up from the hook.
Use a half a nightcrawler threaded on the hook, and find some pools, pockets and deeper runs between boulders. Keep in mind that "deeper" is relative, as deep water in smaller headwater streams might only be a foot or two. Toss your worm to the head of the pool or the run and let the current bounce it downstream. If it's not moving, you've got too much weight on. You want a nice roll along the bottom. I like to keep my index finger on the line as I drift my bait so when a brookie darts out to take the worm, you'll feel a tap on the line. Set the hook, and reel in what just might be the prettiest fish you've ever caught.
Northeast Kingdom (NEK)
Department fisheries biologist Pete Emerson who works in the St. Johnsbury office says landlocked Atlantic salmon fishing on the Clyde River should be picking up this week, as we've finally received enough rain to fill the waterbodies upstream. Salmon are starting to show up in the Clyde River trap, so they're on the move. If you want to try some salmon viewing, check out the Clyde Street Bridge or the pool just downstream of the bridge (the so-called "Fair Chase Pool"). Pete says you can often see adult salmon and even walleye holding in the pool in both spring and fall. The recent rains and falling temperatures in the Kingdom have also cued the brook trout, and Pete says they're moving upstream into the headwater spawning reaches now.
NEK bass and pike anglers have been reporting good fishing in the shallower waters of the Memphremagog main lake, Seymour Lake and Norton Pond. As summer stratification and thermoclines break down in lakes and ponds across Vermont these species roam more freely, and aggressively feed in the cooler waters. It's also a time on some of these lakes when you have a real shot at a lake trout in shallow water, often in the same areas as you're catching bass and pike.
Don't forget to return to the Trophy Trout sections of stocked rivers around the state to look for hold-over brown and rainbow trout from our early summer stocking.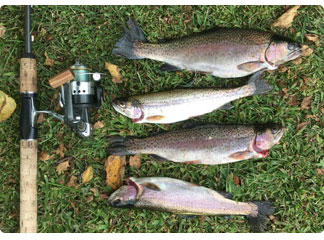 St. Johnsbury fisheries biologist Jud Kratzer fished the Passumpsic River right in the Village of St. Johnsbury the other day, and he says the river has many deep pools where stocked trout can survive the summer. Jud caught four rainbow trout and spotted a couple fairly large brown trout but was unable to get them to bite. Jud also fished West Mountain Pond for wild brook trout and reports that pond brook trout are starting to feed again. He landed one 9-inch brookie and lost a nice 12-incher at the net.
Fishing on remote brook trout ponds can be very good in the fall. Good ponds to try include Jobs, Martins, West Mountain, Unknown (Ferdinand), Unknown (Avery's Gore), South America, and Notch. Remember: using fish as bait is prohibited at most of these ponds to prevent the introduction of other fish species that could be detrimental to wild brook trout populations.
Streams & Rivers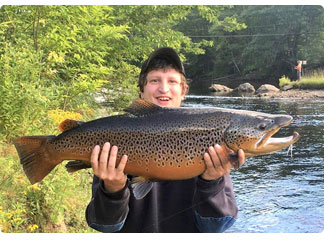 While the brook trout shines for October fishing opportunities, the brown trout is a close second. Brown trout also spawn in the fall, and some of the largest fish of the season are caught at this time of year, before trout season closes on October 31. Vermont's streams and rivers regularly produce browns well over the 20-inch mark, but for most of the year, these fish are elusive, tucking up in thick log jams and debris piles, often feeding at night, and are notoriously difficult to catch. In the fall however, big spawners go on the move, often migrating long distances up river systems to find suitable spawning habitat.
If you haven't already seen it, check out this 31-inch Deerfield River brown trout caught by Whitingham VT angler Andrew Massari. What a beast!
Burlington VT angler Eric Lamontagne is still at it, and he recently fished a handful of his favorite trout streams in Central VT. The water is still fairly low in many places, so he moved around on the rivers looking for deeper pools. His persistence paid off and he was able to catch a few decent browns and brookies. 
Inland Waters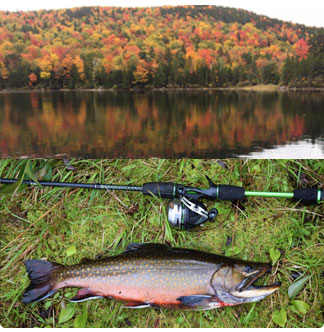 If you're a closet leaf-peeper, but also like to fish, why not combine both and fish one of the remote ponds in the Green Mountain National Forest (GMNF) this month?  You'll be rewarded with beautiful fall colors in a gorgeous setting, and some spectacular fishing. There are several GMNF ponds that are stocked with brook trout fry each year by helicopter, and these unique ecosystems provide optimal growing conditions that can often produce very large trout. With a little effort and some fun hiking, remote GMNF brook trout pond fishing opportunities can be found in Big Mud Pond, Bourn Pond, Branch Pond, Griffith Lake, Little Rock Pond, and Stratton Pond.
Lake Champlain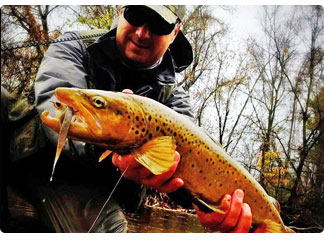 Cold Water Species - Lake trout, landlocked salmon, browns and steelhead have slowed down considerably on the big lake in the last few weeks. As Essex Jct. angler Ron Winter put it, "September was a tough month."  It's not surprising that open water trollers hit a wall at this time of the year. Salmon and trout are moving into the rivers and other spawning locations with something else on their minds. But it won't be long before that changes, and things ramp up to overdrive. So, don't put your boats away just yet!
November and December on Lake Champlain have affectionately been dubbed the "Frostbite" season by a group of hardy anglers (known as the Frostbite Fleet) that like to troll during these chilly months, right up until the lake finally freezes up too much to find enough open water. For those dressed and geared appropriately, there's possibly no better time of the year to catch trout and salmon on Champlain. The fish have just come off the spawn, winter is setting in, and they are hungry.
Waltham VT angler Randy Colomb says the magic water temperature is 42°F to really get things going. Ron Winter says anything under 50 is good for him.
Either way, you'll likely see both anglers at the 11th Annual Frostbite Salmon Shootout being held at Point Bay Marina on November 2. Forty to Fifty anglers get together for a little salmon trolling, and then have a BBQ at the marina, swap stories, and see who caught the biggest salmon. I'm told newbies are welcome, so for anyone interested in seeing what early winter trout and salmon trolling is all about, look into it. More information can be found on the Lake Champlain United Fishing Forum.
Warm Water Species - I didn't get a lot of submissions this week for warm water species. Like I said, most people have hung it up for the year. Don't be that person!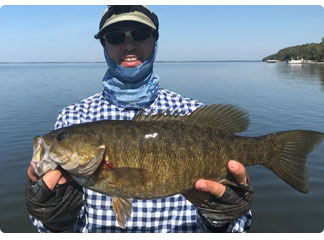 Geza Carr of Colchester VT is not one of those "time to hang it up" anglers. He let me know that he's been finding a lot of bass on northern Champlain stacked up on south facing rocky points. Finesse jigs, chatterbaits, and swimbaits have all been productive presentations. He's also been getting real good action on topwater lures near weed edges fishing Whopper Ploppers and Zara Spooks, including many in the 3.5 to 4.5-pound range. 
And finally, I hit the waters of southern Champlain around Larabee's Point for a short 4-hour trip this past Saturday with a couple bass fishing friends. They weren't impressed I came loaded for pike. While they threw jigs and plastics for bass, I was tossing big hardware for toothy critters. The pike did not disappoint. Literally EVERY weed edge we fished was loaded with both hungry pike and bass. I missed a pike that was easily in the 12 to 14-pound range as it tried to annihilate my buzzbait – I swung too soon. I caught maybe 10 others, had half that many again bite my lures clean off, and I also managed a solid largemouth in the 4.5-pound range. My friends Jim and Brian tried their best to keep the pike off their bass lures without much success, but they definitely caught more bass than I did.
Bottom line is – GET OUT THERE yourself. The season is not over by any means. Let me know how it goes.
See also: