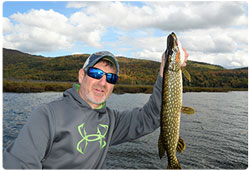 I love hunting season. I get the fish, and the water, all to myself. You've probably heard that old adage before, but it's not far from the truth. Right now, in Vermont, archery season is in full swing for turkey and deer. Goose season is on, and the duck opener is this weekend. Upland birds, rabbit, squirrel. There's a lot going on, and hunters and anglers are faced with tough choices when deciding what to do with a free day.
Most folks opt to hang up their rods now and shift their focus to hunting—to the benefit of those who still want to wet a line. This makes October a great time to be on the water. You'll find plenty of action, and practically no competition for spots.
For me, I'll sneak in a few hunting hours later in the month, particularly for turkey or on deer youth weekend with my son. But it's likely I'll put in more hours fishing this month than I have in any other month since May.
The question will be, what to fish for? Bass? Pike and pickerel? Stream trout? Migrating salmon?
On second thought (or fourth or fifth thought), a summer of fish fries have pretty much wiped out my freezer stash of panfish, so maybe I should get after some perch or crappie to tide me over until the hardwater season sets in.
This is where I tend to fail, in epic fashion. My FADD (fishing attention deficit disorder) will kick into overdrive, and I'll bring too much tackle and too many rods, and have contingency plans for everything. I just can't focus!
But I'm sure you're all more disciplined than I am. Just get outside, enjoy the fresh air, the beautiful scenery, and take advantage of the last best fishing month of the year.
—Shawn Good, Fisheries Biologist shawn.good@vermont.gov
Landlocked Atlantic Salmon
What a difference two weeks make! I wouldn't say we're out of the woods just yet in terms of the drought we've been facing, but the recent rains have brought some welcome relief to streams and rivers around the state. And none are more relieved than the trout and salmon that live there.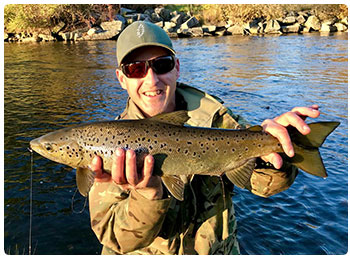 Up in the Northeast Kingdom, the Clyde River salmon run got off to a slow start this year due to the low water conditions, and by last week, only 15 or so Atlantic salmon had made the journey from Lake Memphremagog to the #1,2,3 Powerhouse Dam. But in the last few days, department fisheries staff have captured 50 salmon at the trap and trucked them upstream for release into Clyde Pond. This is more fish than any of the previous four years, and the run is continuing. It should be a good October for Clyde River salmon fishing.
If you're interested in giving salmon fishing a try, it's worth noting that only a small percentage of the salmon that migrate from Magog up the Clyde River ever enter the trap at the powerhouse dam and are moved upstream. Most stay in the lower river, and your best bet to catch a one is between the Clyde Street bridge and the dam.
The salmon released in Clyde Pond have miles of river to spread out in, and can go as far upstream as the West Charleston dam. But if you're adventurous, want to get away from the crowds, and know how to read a salmon river, head upstream. There's plenty of holding water to fish upriver.
Clyde River salmon fishing between September 1 and October 31 is catch-and-release only, and anglers must use artificial lures or flies. Fly anglers should consider big streamers, or traditional salmon flies like a Royal Wulff, Gray Ghost or Mickey Finn. Or, use spinning gear and cast and swing spoons like Krocodiles or Little Cleos along current seams.
If you're lucky enough to catch a salmon this year, pay attention to its fins. The department is conducting an evaluation of two strains of salmon to determine which one performs better and provides a better fishery. Equal numbers of Magog strain (the traditional strain used for Clyde River stocking) and Sebago strain (the type used on Lake Champlain) have been stocked with different fin clips. If you catch a salmon with the adipose and right ventral (pelvic) fins clipped, that's a Magog strain fish. If the fish has an adipose/left ventral fin clip combination, or no clip at all, that's a Sebago strain fish. You may encounter a department employee on the river who will ask you about clips on any fish you catch. Your cooperation will help us improve salmon fishing for the future!
There are some other waters to consider on the Champlain side of the state as well. Salmon can be caught on Otter Creek below Vergennes Dam, Lamoille River below Peterson Dam, Winooski River below the Winooski-One Dam, and Missisquoi River below the Swanton Dam. A few fish showed up at the salmon trap on the Winooski this week, but there's definitely fish in a holding pattern in the salmon hole and the fast water below. Reports of anglers catching a few there are starting to come in.
Salmon are also congregating in the cove by the ferry landing on Grand Isle and can be caught there from shore near the mouth of Hatchery Brook, as well as the Colchester Fill causeway. These fish are mostly orienting to the currents moving through the gaps in the causeway.
Normally, the Sandbar Causeway on Route 2 would provide the same opportunity, but with the low water levels in Lake Champlain right now, that area is almost completely dry, so save yourself the trip.
Don't forget about using the Vermont Master Angler gallery page as a tool to see what's biting and where. We recently added a "month" option to the search criteria. By selecting "salmon" from the species list, and "October" in the month box, you'll see all the waters that have produced Landlocked Atlantic salmon at this time of year. Very handy!
Oh, one last thing. Salmon don't spawn every year, meaning they're not all piling into the rivers right now. If you have a boat, don't forget about lake fishing. Essex VT angler Ron Winter says the main lake area of Lake Champlain is at 59°F, and salmon can be caught from 5 feet to 70 feet down. And as spawning wraps up, more hungry salmon will be heading back out to the lake looking to eat.
The action will only get better through mid-December. Lake Champlain's Frost Bite fishing season is nearly here! In the meantime, anglers are catching salmon on Champlain right now. Lead core setups with one color out or Big Jon Mini Discs set back 100 feet are taking salmon 15 to 20 feet down as they chase bait near the surface. Spoons like Crazy Ivans, Honeybees, Mooselook Wobblers and Speedi Shiners in copper, orange, red, or pink are working great.
Something Fishy About Vermont's Fall Colors
As you're all well-aware, leaf-peeper season is here. Lots of folks driving the back roads looking for the perfect vista to soak in Vermont's spectacular fall colors. But looking up at the trees isn't the only place to catch a glimpse of fall color. The only thing that gives our fall foliage a run for its money is a brook trout in full spawning brilliance. Brook trout spawn in October, and males develop intensely vivid hues of red, yellow, orange, and blue all assembled on a perfect green palette. 
With the recent rains, higher flows, and cooler water, I feel a little better about suggesting that anglers do a little stream fishing, if for no other reason than to witness firsthand the marvelous show of colors put on by these fish every fall. Brown trout are no slouch either when it comes to coloring up during their fall spawning season.
Be sure to get out of your car and spend some time fishing Vermont's hundreds of wild trout streams for a close-up look at the fish-version of Vermont's stunning fall colors. Nothing fancy required. Go bare-bones, and drift a worm and hook on a lightweight rod.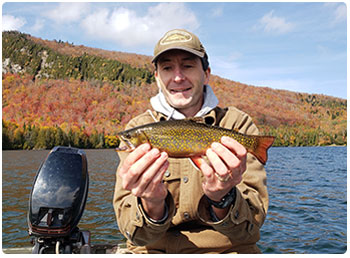 I mentioned in the last report that stocked trout ponds, especially the more remote ones, can provide great fall fishing opportunities. Department fisheries biologist Jud Kratzer fished two of these ponds this past week, and says water temperatures are perfect for trout feeding activity. Trolling or casting spoons tipped with a piece of nightcrawler, or a minnow-imitating lure like a Rapala should help you find success. Jobs, Martins, Noyes, Unknown (Avery's Gore), Unknown Ferdinand, West Mountain, Notch, Cow Mountain are all great NEK producers. Check out that dazzling brookie he caught! The scenery's not half bad either.
Jud also says this is a great time to hit some of the NEK rivers like the Passumpsic. It has several very deep pools where stocked brown and rainbow trout tuck away to sweat out the summer heat. With better flows and cooler temperatures now, Jud says those fish are active and feeding again. He catches most of his fish on spinners, spoons, and jerkbaits like a Rapala countdown minnow.
Yellow Perch
Yellow perch are one of Vermont's most sought-after species. Actually, it's THE number one targeted species in the wintertime. The reason is simple. They're abundant, and excellent eating. Most of the year, yellow perch are typically spread out. Some are deep, some are shallow. Sometimes they're in weeds, other times on rocky bottomed areas. And finding eating-sized fish can be inconsistent at best.
But in October, yellow perch group up in huge schools, and do what other species do at this time of year—feed heavily in preparation for the coming winter. It's a mystery why yellow perch are relatively ignored by fall anglers.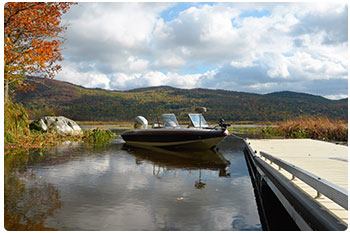 But a little homework can put anglers onto a perch bonanza and put quality sized fish in the boat. It starts with understanding their feeding behavior at this time of year. Schooling perch mostly patrol deeper water along the edges where a harder bottom transitions to soft mud and silt. Here they eat small worms, bottom insects, crustaceans, and the minnows that are there to feed on the same thing.
An underwater point or sunken reef that slopes down from 10 to 20 feet of water or more is ideal. But here's the ticket—don't fish on the rock. Fish adjacent to the rock on the soft bottom. This is where the fish will typically be.
If you find them, you'll catch a lot. And the technique is as simple as it gets. Use a 1/4-oz to 3/8-oz jig tipped with a minnow. Soft plastic lures on a jighead will work too, but in the fall, perch want real meat, and a minnow will outfish a plastic. Cut your minnow in half to release some scent in the water too. Just sayin'.
Crappie
In my books, crappie comes a close second to yellow perch for eating. And October presents a great opportunity to catch some of these in a very similar way, if you have a lake or pond near you with a population of crappie.
Start by looking in the 10 to 15-foot depth range around underwater points and sunken islands. If you find a piece of structure on the bottom like a submerged tree, large rocks, an isolated patch of vegetation, or even something unusual like a sunken duck blind, there's a good chance you'll find crappie suspended around it.
Areas with wind-driven current are also hotspots in the fall, as crappie congregate there to feed on minnows that are in turn feeding on plankton being funneled and pushed by the current. Classic locations include narrow channels, or bridge pilings and abutments. On Lake Champlain, check out the Champlain Bridge in Crown Point, or any of the bridges and causeways connecting the Islands up north.
If you've ever looked closely at a crappie, their mouths are turned upwards, and because of this, they prefer to approach their food from below. With cooler waters in the fall, crappie won't be too active, so use lightweight 1/8 to 3/16 oz. jigheads so they sink slowly. Soft plastic minnow imitations work just as well as live minnows for crappie. Lift and drop your jigs slowly. Most of the time, the fish will take your bait as it sinks.
Hook and Cook

Panfish, particularly yellow perch, white perch, and crappie start schooling up in the fall, making it a perfect time to stock up for a fish fry.
Whether it's perch or crappie, keeping a dozen or so for a fresh fish fry is one of the best rewards a day on the water can bring. My go-to recipe is a simple dry breading, fried in hot canola oil in a cast iron pan. This will even work for you east coast miscreants who prefer white perch over yellows. Sacrilege!
After cleaning your catch into boneless fillets, mix up a thin batter using a couple cups of white flour, a teaspoon of corn starch, and your choice of liquid (milk, water, or beer). In a separate bowl, mix equal parts Italian breadcrumbs and crushed corn flakes cereal. Dip the fillets in the batter, and let it drip off. Don't coat it too thickly. Then, roll in the dry breading mixture, and put straight into the hot oil. Fry until golden brown. Serve with homemade tartar sauce (mayo, sweet green relish, and a squeeze of lemon), cocktail sauce, or whatever floats your boat. Mostly, I eat them straight! And it's hard to stop.
Other Fishing Reports
I heard this week from a few anglers who aren't too busy sitting in a tree stand hoping for a shot at a deer. Fish are much more cooperative!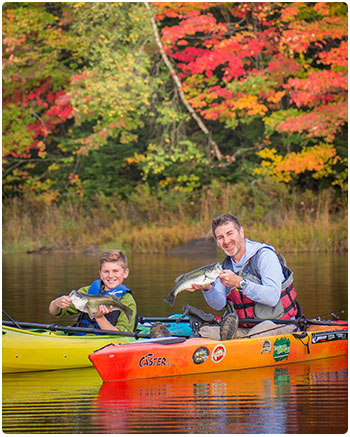 Vermont angler David Chandler wrote to tell me he became enamored with an idea I planted in his head in a previous report, where I suggested a one-way kayak float on the Connecticut River. He's done it a couple times now, putting in at Wilgus State Park. David says every time he's gone, he's learned something new, and is beginning to understand how to read the water, and even predict where good spots to cast will be. Last Sunday he was really excited for a return trip, and on my recommendation, brought a box of Mepps spinners in Size 2 and 3, in an assortment of colors.
Outside of live minnows and crayfish, Mepps spinners were about the only artificial lures my grandfather ever used. And they haven't stopped working in decades. They catch everything!
Feeling confident, David hit the river around 1pm and paddled upstream, fishing places where the habitat looked good. He found that areas where the riverbank was steep right down to the water's edge generally had deeper water, and when he found a few beaver lodges, he'd cast the Mepps around the wood, and connected with several fat, spunky bass, and even a brown trout! To top it off, the sun was shining, the colors were beautiful, and he saw several hawks and an osprey. I've said it before—fishing is always more than just fishing.
Jared Shaw of North Hero said he's been multi-tasking, squeezing in a few hours on the water in between bow hunting. He's still on the hunt, but for big northern pike. The fall is one of the best times to catch big pike in open water. Jared is fishing around neckdown areas where he sees school of baitfish, or deep weeds on points and reefs. He's after big fish, so he's throwing big lures like 5 to 8-inch paddletail swimbaits in natural colors. Jared suggests making long casts and counting while your lure sinks (about one second per foot is a good starting point), then retrieving it slowly along the bottom back to the boat. If you get hung up in weeds, rip the lure out hard. This will often trigger a strike from a following fish. And pay close attention as your lure nears the boat. You might see a pike following. Speed up or slow down the retrieve speed to get followers to hit. Jared's had a number of fish this fall over 10 pounds. Sounds like a killer technique!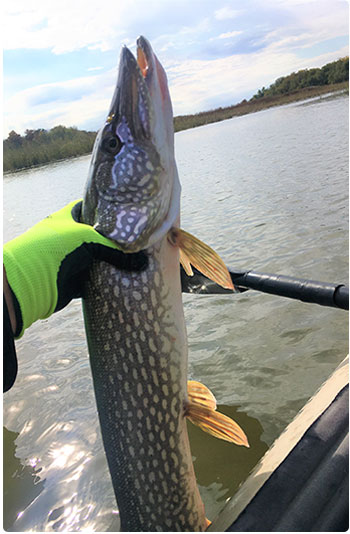 Orwell VT angler Daniel Redondo has also been having great luck chasing northern pike this fall. He recently spent a day in the Kingsland Bay and Town Farm Bay area on Lake Champlain, but unlike Jared up north, Daniel said most of his action came in 2 to 3 feet of water where he saw pike thrashing and slashing at baitfish on the surface close to shore. That's an exciting thing to witness, and even better when you have a rod in your hand, ready to cast! Paddletail swimbaits were the hot lure for Daniel as well, with a simple slow retrieve.
And finally, Roy Gangloff of West Dummerston sent in a southern Lake Champlain report. Roy says that without a doubt, October is his favorite month of the year to fish if you have comfortable weather! His best fishing always seems to be on warm fall afternoons, which is nice, as you get to sleep in a bit and not have to rush to the lake for an early morning bite! 10 a.m. arrival is fine with him.
Roy says the south lake is down to the low 60s now, and fish have been feeding well. All the bass and pike he caught last weekend were fat and healthy. He's finding both species still holding tight in milfoil, and not prowling the outer edges too much yet. But that will come as the weeds start breaking down.
Roy found action for both bass and pike fishing the inside weed edges closer to shore. Swim jigs with a paddletail swimbait trailer, and chatterbaits in white or white/chartreuse caught a lot of fish. And although it's often considered a summertime technique, Roy says it's never a bad idea to try throwing a topwater bait like a toad or a buzzbait over and around the thinning weeds. Although these types of lures were designed to catch bass, they can be even more effective on pike in the fall.
Just a few weeks left of good weather and hot fishing, so get out there and take advantage!
See also:
---

Thank you for supporting healthy fisheries in the Green Mountain State through your Vt. fishing license purchase, and through excise taxes on your purchase of fishing equipment and motor boat fuel, administered through the Federal Aid in Sport Fish Restoration Program.