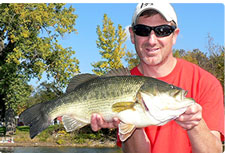 One of the things I've really enjoyed since starting to write these reports this year is hearing from anglers all over the state, and I've been surprised at how willing folks have been to not only share experiences but offer advice and tips, and even point people to specific locations to help them catch fish and have fun. It's been wonderful to see anglers eager to help others be successful themselves. This week we have a couple new contributors and new voices and new perspectives can only make these reports better. Thank you again to everyone who's helped, and thanks for reading.
—Shawn Good, Fisheries Biologist shawn.good@vermont.gov
Landlocked Atlantic Salmon – Salmo Salar
2019 has been identified as the "International Year of the Salmon" and so this is a great time to profile this native fish species, and Lake Champlain's salmon restoration program, a collaboration between Vermont Fish & Wildlife, NY Dept. Environmental Conservation, and the US Fish & Wildlife Service.
Atlantic salmon have been in Lake Champlain for 10,000 years, since the Champlain Sea receded and became the freshwater Lake Champlain we know today. Because of its remaining connection to the Atlantic Ocean through the Richelieu and St. Lawrence rivers, sea-run Atlantic salmon would migrate from the ocean to spawn in Lake Champlain's tributaries. Salmon were so plentiful at one time that historic accounts talk about farmers harvesting them by the hundreds with just pitchforks and baskets. Unfortunately, by 1840, Atlantic salmon had disappeared from Champlain due to the construction of dams that blocked their access to spawning areas, and widespread deforestation which caused erosion, sedimentation, degraded water quality and smothered spawning habitats.
A coordinated effort was initiated in 1972 to restore Lake Champlain's Atlantic salmon population, and has included stocking, strain assessments, habitat restoration, invasive species control and other research efforts. Recently, for the first time in 150 years, naturally reproduced salmon fry were documented in two Lake Champlain tributaries – the Boquet River NY in 2016 and the Winooski River in 2017. While that's a remarkable achievement, there's still a long way to go, but the future looks promising for Lake Champlain salmon and the fishing opportunities they provide.
For more information on landlocked Atlantic salmon restoration efforts in Lake Champlain and the Year of the Salmon, visit Lake Champlain Basin Program - International Year of the Salmon. 
Salmon Fishing Opportunities
The fall is a time when shore-bound anglers get a crack at catching a fish species that isn't normally accessible to them since it's usually found in deep, open waters of large lakes and is targeted with specialized gear from boats. However, because landlocked Atlantic salmon migrate up rivers in the fall to spawn, there are numerous locations around the state that provide river fishing opportunities from shore.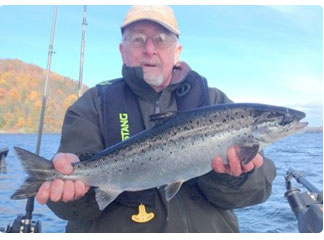 On Lake Champlain, you'll find good salmon fishing on Otter Creek below Vergennes Dam, Lamoille River below Peterson Dam, Winooski River below the Winooski-One Dam, and Missisquoi River below the Swanton Dam. Salmon also congregate in the cove by the ferry landing on Grand Isle and can be caught there from shore near the mouth of Hatchery Brook. Similar opportunities exist at causeways where current is generated as water moves under constrictive bridge openings, like the Sandbar Causeway on Route 2 and the Mallet's Bay causeway.
Anglers fishing these locations often use fly fishing gear and swing traditional salmon flies and streamers along current seams, but casting small spoons like Krocodiles or Little Cleos, or Rapala minnow baits on spinning gear can also be very effective.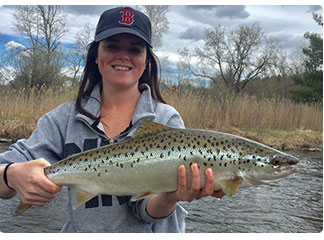 In the Northeast Kingdom, the Clyde River is the premier salmon fishing destination. The best stretch of river to target is from the Clyde St. bridge upstream to the Great Bay Hydro Station, and anglers in the know say that using streamers and small nymphs will trick some of these wary fish.
If you're looking for something fishy to do on Saturday October 5, come take part in one of Vermont's local International Year of the Salmon festivities. A FREE Salmon Festival is being held in Richmond VT from 9:30am - 3:30pm. This will be a fun and informative day for families and interested anglers to learn more about salmon conservation in the Winooski River, watch short local documentary films, paddle the river, take a fly-casting lesson, and even help release juvenile salmon into the river. For all the details CLICK HERE for the flyer.
Lake Champlain
Cold Water Species - With salmon spawning season approaching, anglers are focusing on areas closer to river mouths where fish are congregating waiting to migrate upriver. Ron Winter of Essex VT has been doing well on landlocked Atlantic salmon but has been surprised to find them 65 to 85 feet down. He thinks that recent winds have pushed the thermocline down and the fish have followed. In the Converse Bay area, Ron's also caught the occasional brown trout and steelhead mixed in with salmon. His best luck has been in the late morning two to three hours after sunrise and again in the evening two to three hours before sunset. Crazy Ivan spoons in Blue Moon color trolled at 2.7 mph have been working well. Ron also says if you want to have a lot of fun, you can target big pre-spawn lake trout near reefs where they will be spawning in late November. He's finding lakers adjacent to these reefs like those in Whalon's Bay and the fish seem to be in 70 to 90 feet of water.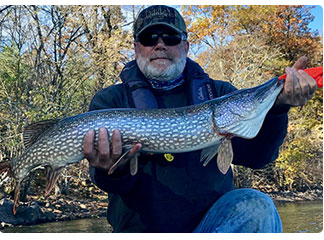 Warm Water Species - Roy Gangloff of West Dummerston VT has been taking advantage of the fall pike fishing and targeted them this past week on southern Lake Champlain. Roy found that the bigger pike are now moving shallow and can be found along weed edges.
For maximum excitement, he likes fishing over the weed tops with topwater lures like buzzbaits and says you can cover a lot of water quickly, and the lures provoke vicious strikes from large pike as well as largemouth. Black works best in the morning and evenings, and during the day he suggests switching to chartreuse/white or all white if you spot bright and shiny minnows in the area. Roy will fish a buzzbait all day as long as he's getting steady action on it, but if the fish's interest stops, he'll switch to something slower and sub-surface. On some fall days, you may never need to change your lure ... unless of course a pike gets its teeth on your line and steals it.
Inland Waters
The inland waters seem to be picking up as fall sets in and the waters cool down.
Drew Price of Colchester VT reports that fish are really starting to put the feed bags on, and he's been catching bass, pike, and panfish in "fall feeding mode." Although there's a lot less angling pressure on the lakes, ponds, rivers and streams now, low clear water is presenting a bit of a challenge, so he suggests going with lighter line to avoid spooking fish. Also, according to Drew, this time of year is when he starts thinking about using larger lures and baitfish fly patterns for bigger fish.
Nate Olson, who works at the Roxbury fish hatchery, says fishing has been picking up for him in the last couple weeks as water temperatures have cooled down to the 60s. While fishing Parker Pond recently he caught bass as deep as 30 feet and also shallow using topwater lures, and managed multiple fish over 4-lb in both locations. 
On a recent rainy-day trip to Lake Memphremagog, he found most of the bass to be fairly shallow, and he caught a dozen or more in the two to three-pound range using topwater lures. Nate says there are still many good days of fishing left this year and it should continue to pick up as the water cools down further.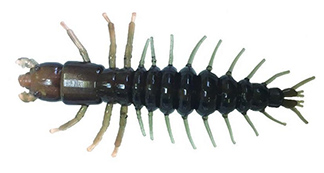 Mariann Hulse of Rutland VT took advantage of the recent fall weather and fished Kent Pond from her kayak. She said she had one of her best days of the year, catching largemouth bass along the shallow edges of the pond under deadfalls and around dying weed edges. Mariann said she had one stretch where almost every cast produced a fish around the thick vegetation. And like I said earlier, Mariann was quick to share the very lure that was so productive for her – a Nikko hellgrammite rigged Texas-style on a 3/0 EWG hook with a  ¼-ounce tungsten weight. She let the bait sink into the vegetation along the edges and waited for the hit. Mariann says the Nikko hellgrammite has caught more largemouth bass than any other bait in her box this year.  Hmm, I don't know about you, but I think I might be looking around for some of those myself.
Streams & Rivers
As water temperatures cool and we inch closer to spawning time for brook trout and brown trout, stream fishing should pick up even more as these species get more active.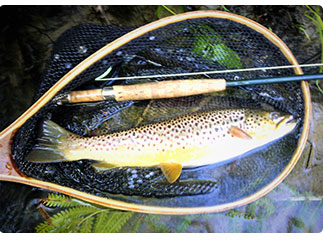 Al Moorhouse, who works at the Salisbury fish hatchery, had a great day fishing Otter Creek near Middlebury the other evening where he witnessed trout feeding heavily on a mayfly hatch. He landed four between 10 and 14 inches, mostly on dry flies. On a nearby tributary, flows were low and clear, and Al said he was able to spot fish in the channel, but for those same reasons, they were hard to catch, though he did manage one brown trout around 14 inches.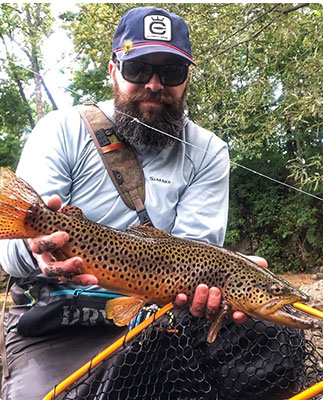 Woodford VT fly guy Greg Brown reports that water levels in his area are still super low but noted that the Deerfield and White rivers are running pretty well. He caught a nice brown the other day in the 20-inch range on a Size 14 Waltz Worm fly, and said that small black wooly buggers were working.
Northeast Kingdom
Department fisheries biologist Pete Emerson reports that with the cool temperatures and recent rains, the salmon have started to move up the Clyde River on their annual fall spawning run. The department operates a "Trap and Truck" program where fish are captured at a fish barrier on the river and then moved by truck miles upriver to areas of high-quality spawning habitat. This week the operation moved four adult salmon upriver, and Pete says that with more rain and cold weather in the forecast, fall salmon fishing on the Clyde looks very promising.
Department fisheries biologist Jud Kratzer recently targeted northern pike in South Bay on Lake Memphremagog and caught about eight in less than four hours while fishing with a friend. His three biggest were between 28 and 30 inches long. Jud says September can be a great time to target pike along the edges of submerged aquatic vegetation beds in six to eleven feet of water, and he likes to use flashy lures, like spoons or spinnerbaits. Just make sure you use a wire leader because a pike's sharp teeth can easily cut through most fishing lines.
Dennis Thomson of North Westminster VT spent some time recently fishing lake trout and brook trout in Northeast Kingdom waters. Dennis reports having caught over 50 lake trout while staying at Maidstone Lake for two weeks. Most fish were caught in 28 to 32 feet of water using Mooselook spoons and downriggers. When he wasn't trolling on Maidstone, Dennis fished in brook trout streams around West Mountain and the Silvio O. Conte Refuge. Dennis caught brookies in a number of streams and beaver ponds, with a few over 10 inches using small pieces of worms and black and gold Panther Martin spinners.
Tips From a Let's Go Fishing Instructor
And finally, this week's report includes some insights from Karl Hubbard of Shelburne VT. Karl is one of the chief instructors for the department's Let's Go Fishing Program, and has worked with hundreds of new anglers, young and old alike, teaching them how to fish.
When it comes to teaching beginners the ins and outs of fishing, Karl recommends avoiding difficult or advanced techniques and high-end gear, and just go back to the basics. Too often, we experienced anglers want to jump right into the way we fish now when trying to teach someone new. A basic spin-cast rod and reel combo with a bobber, hook, and worms is about all you need to get someone started. Just have them cast into the water and see what bites. As long as it's fun, that's what counts.
Don't be afraid to pepper your instruction with conversations about fish biology, fish habitat, even fish coloration. These are things we seasoned anglers might take for granted, but something a new angler might not consider, especially if they strike out on their own to try to catch fish.
Where do fish live?  What do they need to survive?  Is it the same for all species?  Bass and perch typically live in warmer water than salmon and trout. Warm water holds less oxygen than colder water. Different fish have different feeding preferences. Some eat insects while others eat frogs and minnows. Some fish like bass and pike have even been known to eat ducklings.
As for where to find fish, you can get some clues by looking at the fish themselves. Perch are yellow with dark green stripes, letting them blend in with most weedbeds. Largemouth bass like to hide under lily pads, so the tops of bass are dark green making them hard to see from above, while their underside is light greenish-white so they are difficult to see from below. In streams, brook trout are dark greyish-green on top so they can hide amongst the rocks. Fish coloration is basically camouflage and can give an angler some clues on where to look for them.
See also: