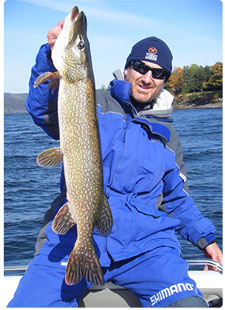 The fall is my favorite time of year. The air feels crisp and clean. Vermont's forests and mountains put on a spectacular show. The low autumn sun filtering through the changing leaves lights everything in a gilded, golden hue. The way it glints off a pond's surface in the morning as the mist rises is almost magical.
Plus, I just plain prefer cooler weather. Call me crazy, but you won't see me heading south after retirement. No. Thank you.
But the main reason I love the fall is because of the fishing. Cool mornings and warm afternoons aren't just my bag. It's the fish's bag, too. Feed bag, that is.
Most anglers think the "fall feeding frenzy" is triggered by dropping water temperatures, but fisheries research has shown that fall movement and aggressive feeding behavior coincides more with shorter day length than it does water temperatures.
The morning temperatures this past week have given us a taste of what's to come in October. Chilly, with the promise of warm sunbeams midday. I like it.
Added bonus—you'll have the lakes, ponds, rivers and streams to yourself. Pleasure boaters and jet skis are gone, no line-ups at ramps, no crowded shorelines.
It's peaceful. It's tranquil. It's colorful. It's a great time to be on the water. Don't make the mistake of hanging up your rods too soon!
The hottest bite is yet to come.
—Shawn Good, Fisheries Biologist shawn.good@vermont.gov
The Fall Fishing Scoop
The Fall is the perfect time to multi-task. Leaf-peeping and fishing. And, you'll likely have the water to yourself.
Brook Trout
Normally at this time of year, I'd be telling you how great the trout stream fishing is in September and October and encouraging you to get out there. In a normal year (whatever normal is these days), stream temperatures would be recovering from summer heat, and fall rains would have brought flows up, triggering upstream movement as brook trout and brown trout move towards prime spawning areas.
Unfortunately, that's not the case right now in many areas of the state. Though water temperatures have cooled down, the drought has made stream conditions tough, stressing trout, forcing them into the few remaining deep pools, and limiting their movement.
So, for the time being, I'm just going to leave stream fishing alone.
With one exception. There's always an exception.
For anglers who are open to some potentially tough slogging, beaver flowages offer great (and guilt free) trout fishing during low water periods. When beavers set up shop on a trout stream, their dams help mitigate the negative effects of a drought by retaining water. A lot of water.
It's amazing how much water beaver-created wetlands can hold. And when they're built on a trout stream, well, they hold a lot of trout too. Most of these tend to be off the beaten path, but for the adventurous angler looking for something a little different this fall, this is a great option.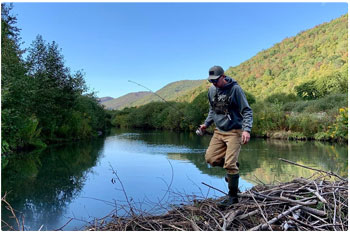 It's important to understand that in most cases, a beaver dam on a trout stream does not mean the end of the trout population. As long as these ponds stay cool (and they usually do through ground water and flow-through), brook trout will thrive and grow to much larger sizes than in a stream environment because they have more room, more cover, and more food.
Case in point. Department wildlife technician Tyler Brown sent me this photo of a beaver pond he fished just the other day. I love this shot. So very Vermont-y. Tyler said in 30 minutes he caught a handful of brookies between 8 and 12 inches using a #2 brown and gold Mepps spinner. Coincidentally, Tyler's job is to travel the state helping landowners deal with beaver conflicts (to the benefit of both species). The beavers get to keep their ponds, and the landowners get to keep their driveway, barn, house.
How convenient for Tyler. Getting to scope out potential fishing spots as he works!
Remote Brook Trout Ponds
Ok, so I lied. There's a second exception I'm going to mention regarding brook trout fishing. This one may be even better than the first.

Tucked away in the southern Green Mountain National Forest are a handful of small, remote ponds— Little Rock, Big Mud, Griffith, Stratton, Bourn and Branch—that offer unique fishing opportunities in Vermont. The ponds are stocked by helicopter each year with fingerling brook trout. In these simple, pristine waters, the stocked trout have little to no competition, so they survive, grow well, and reach impressive sizes. Fish up to 18 inches are possible.
With the exception of Branch Pond, a moderate 4 to 7-mile round trip hike is needed to get in and out. Branch is a drive-to pond with only a short walk required from the parking area.
Similar pond opportunities for brook trout occur in the Northeast Kingdom, and anglers in that area should try waters like Job's, Martins, Unknown (Ferdinand), Unknown (Avery's Gore), Cow Mountain, Notch, West Mountain, and Noyes ponds.
Fall is the perfect time for a hike in to one of these ponds to do some trout fishing. The weather's cool, fall foliage is nearing peak, and the thermoclines will have broken up, meaning the trout will be roaming shallower water.
Northern Pike
If there's one lake-dwelling species fall fishing is synonymous with, it's pike. September and October fishing means BIG PIKE. I've caught my biggest Vermont northerns at this time of year. Fish pushing 40-inches. And it's no surprise, as I explained in a report last year. After a long summer, fall is the time when pike get more active, freely roaming the shallows looking for easy meals in preparation for the long winter ahead.
For techniques, it can't get any simpler. Something big, something loud, and something flashy. Think ¾ to 1-oz chatterbaits with paddletail swimbait trailers, large Colorado-bladed spinnerbaits, or #5 Mepps inline spinners. Or go old school and throw a spoon—one of my favorite pike baits. A red-and-white Dardevle or yellow five-of-diamonds, or an Original Doctor spoon. Try tipping the hook with a 3-inch curly tail grub. This gives the spoon even more action.
Cast around points and weed edges that are starting to break apart, scattering baitfish out into the open, hungry jaws of a thick pike. Or, if you have a boat or paddle craft, there's no better way to locate fish than trolling parallel to the outside edge in 10 to 14 feet of water.
Fall hotspots include South Bay on Lake Memphremagog, the Connecticut River, Woodward Reservoir, Moore Reservoir, and of course, Lake Champlain.
Smallmouth bass
Smallmouth bass are like any other predator fish species in the fall. They're hungry and aggressive. But one thing that sets them apart is that you'll often find them in schools. When you find one, you usually get a bunch! As fish sense the pending winter setting in, they go on a feeding binge, and big fish can dominate the bites.
For smallmouth, fish rocks and points. Or, you could try points and rocks. Either way, smallies are predictable, but very transient. So move along quickly to find active fish. Fishing around long tapering underwater points that come out to 20 feet or more is a good place to start. Begin shallow, less than 10 feet of water, and throw a wacky rigged senko on an o-ring. Let it sink slowly. If there's a smallmouth around, you'll know it. Work your way out to the 20-foot mark. If you don't have a smallmouth within 15 minutes, leave. They aren't there. Find another point and start over. 
Other productive techniques to mix in with the Wacky Senko include topwater and jerkbaits.
If you get an early start and find calm water and bright skies, fishing a topwater popper like a Rebel Pop-R or a Rapala Skitter Pop. These work particularly well in the fall for big aggressive smallmouth.
If there's a bit of a chop on the surface, it's the perfect time to throw a jerkbait. This is a bit of an advanced technique, and takes some practice to get proficient at, but it's well worth learning. Jerkbaits are not a "cast out and reel back" type of lure. Action is given to the lure by twitching the tip of your rod. Make a long cast and then on the retrieve, jerk the lure with slack in your line. Then take up some but not all of the slack, and jerk it again with a sweeping sideways snap of your rod tip. Getting a good rhythm going will cause the jerkbait to slash erratically side to side. After two or three of these rips, pause for 3, 4 even 5 seconds. When a hungry smallmouth sees this "fluttering, dying baitfish" they will often follow, but not hit until it suddenly stops right in front of them.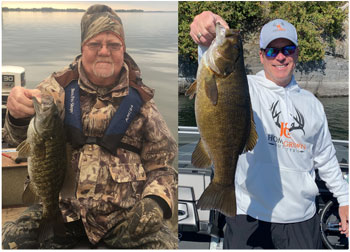 Department fish health biologist Tom Jones is a smallmouth a-fish-ionado and spends a lot of time plying Vermont's waters for them. This past week Tom was on a stay-cation on northern Champlain with his father and a few friends, and they found the shorter days have the bass turned on. They targeted smallies around rocky points, with most of the action coming in the morning and evening hours.
Like a page out of the fall bass fishing play book (actually, Tom may have written that play book), Tom and his Dad anchored up in 3 to 10 feet of water and fan-cast wacky-rigged Yum Dingers (just like a Senko) on an O-Ring setup. In the evenings, they crushed them on Rebel Pop-Rs. Tom said the key to getting bites was to make long casts (important in clear water) to areas where they saw fish swirling on the surface. Casting to the ripples left by the fish, they'd let the lure sit for a few seconds at a time, then give an occasional twitch, and wait for the explosion! If the fish didn't react to the Pop-R, they'd toss a wacky-rigged Dinger to the ripples, and the hits came as it slowly sank to the bottom.
A great way to spend a week with Dad, reliving old memories, and making new ones!
Department hatchery technician Nate Olson has noticed that fish in Central VT and the Northeast Kingdom have transitioned from late summer to early fall patterns. Bucking the trend, Nate says he's been having most of his luck fishing Texas-rigged soft plastics and jigs tipped with a soft plastic crayfish imitation trailer. Nate's still catching the occasional bass in 15 to 20 feet of water, but his best success has been in 4 to 10 feet.
Nate echoed one of my earlier statements – fall fishing, especially in October, can provide some of the best fishing of the year, and it's a great time to catch big fish, maybe even your biggest of the year. Pair that with fall foliage, it's a great time to be on the water.
Channel Catfish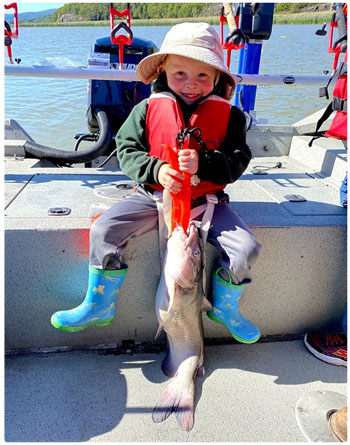 Lastly, don't be afraid to try going after species more commonly associated with summertime, hot weather fishing. Take the lovely channel catfish, for example. I've written about them in past reports. It's bank fishing at its finest. Find a shoreline near shallow, weedy, muddy, warm water, throw out a chunk of perch you caught, or a leftover shrimp from last night's Chinese takeout. Let it sit on the bottom, and wait for the bite.
In the fall, throw all that out. It doesn't work. Because the fish aren't there. Unlike bass, pike, trout and other species that come shallow when things cool down, channel cats start moving deeper. They don't like the cool water and frigid nights so much. So they move into 15 to 20 feet of water where the temperatures are more stable and not affected by cold overnight air temperatures.
Zach McNaughton of Proctorsville has learned how to catch fall catfish, and he caught 12 fish in a few hours of trolling on southern Lake Champlain last weekend with his young son using Santee Cooper catfish rigs. The setup trolls chunks of cut bait on the bottom using a 2-oz rope weight on a 3-way swivel and a large 6/0 circle hook. Trolling at 0.5 mph keeps the bait just off the bottom with the 2-oz weight. Just remember, with a circle hook, don't set the hook when a catfish grabs hold. Just reel down until you feel solid pressure. If this sounds interesting to you, check out the episode of Vermont Master Anglers TV Zach filmed last year showing this fall catfish technique in detail.
Well, It's nearly October. But fishing isn't over by far. Pick your day, bundle up, and get out there. Enjoy the solitude and the fall foliage.
See also:
---

Thank you for supporting healthy fisheries in the Green Mountain State through your Vt. fishing license purchase, and through excise taxes on your purchase of fishing equipment and motor boat fuel, administered through the Federal Aid in Sport Fish Restoration Program.