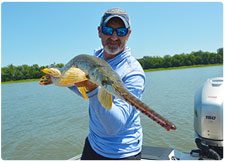 I have a lot of friends and co-workers who fish. I guess as a state fisheries biologist, that sort of comes with the territory.
I also have friends whose eyes start to glaze over when I start talking fishing. Or, they look at me with deep confusion, and a little suspicion, like I'm about to sell them some swampland in Florida. "Tell me again just what exactly is fun about throwing a hook in the water and waiting all day for something to bite?' I'm working on them. But I'll save that story for another day.
Back to my friends who do fish.
I feel fortunate that when I get a break from my side gig as the live-in Uber driver, there's always someone to go fishing with. I appreciate the invites I get (many still pending that I've yet to fit in), and I have a long list of people I can text or call if I need a companion for the day.
But in almost every case, there's usually a clearly stated objective when I hear from someone.

It's almost never "Hey, wanna go fishing?" No one invites me to just go fishing.
Some anglers peg themselves into a specific fishing box. A bass angler. A trout angler. A fly angler. A big-water troller. I understand how rewarding it is to really be able to dial in a particular species and be good at catching it. That's Stage 4 Fishing. Mastering a challenging species or technique.
But at the same time, I've always tried to encourage folks to look beyond that. Get outside their comfort zone. Fish outside the box.
I can't tell you how often I've seen this:  I'll be out with any one of a number of friends who consider themselves bass anglers. We're having fun and getting excited when a four or five-pound largemouth, or a three-pound smallmouth is caught.
And then, something happens that I have a hard time wrapping my head around.
My fishing buddy sets the hook on what's clearly a much larger fish, and they're jumping around in the boat like a kid, saying "oh, it's a big one! It's a hawg. Get the net!"
And then, a 15-pound freshwater drum, a 12-pound pike, or an impressive bowfin rolls up, and I watch the air deflate from their chest, and the sparkle leave their eye.
Sometimes, they don't even try to land it. They throw slack in their line and try to shake it off at the side of the boat. Like it's not worth their time pulling it in.
Dejected, they mutter, "dammit, it's just a drum."
Wait, what? How was that experience disappointing? I watched them go from being super excited, to feeling let down, just because that big fish wasn't the species they wanted. If big fish are what revs their engine, they just landed a fish that's two or three times bigger than any bass that would make them whoop and holler like they won the lottery.
Part of the thrill of fishing I've come to appreciate is the surprise I get when I reel in something I wasn't expecting. Our waters and fish communities are so diverse, you never know what you're going to catch. And that's exciting to me.
I'd like to see anglers take a minute to appreciate and enjoy every fish they catch—whether purposeful or accidental. Get stoked and see the value in each one. Be a kid again. I've yet to see a kid reel in any fish species and not be happy about it.
Spread your wings (or your fins) and give something else a try. On purpose. You just might find a whole new box you like just as much.
—Shawn Good, Fisheries Biologist shawn.good@vermont.gov
So, here we are, the last long weekend of the summer. There's still lots of fishing to be had. As a matter of fact, we're heading into my favorite two months of the year to fish.
Heat and humidity are going away. The air feels different. And the fish know it. The start of their fall feeding frenzy is just around the corner. Let's practice up this weekend and get on the water.
Paddlecraft Double Dipping
I've never seen so many kayaks on roof racks and in the backs of trucks as I have this year. I'm also psyched to see that a lot of people have fishing rods along with them. For those of you who paddle, and fish, but don't paddle and fish, you ought to give it a try.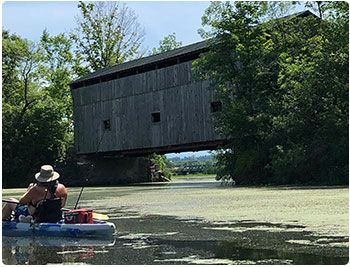 Canoes and kayaks can get you on waterbodies that are untouched. You'll have the scenery and the fish to yourself. Vermont is loaded with small ponds and large rivers perfect for paddling or rowing a small boat, and there's great fishing in these waters too.
This Family Friendly Fishing page on the department website will get your started finding some good waters in your area. Some other areas worth considering include:
Richville Reservoir (Shoreham) – this impoundment on the Lemon Fair River goes for miles upstream, meandering through Vermont's quintessential rolling fields and valleys. Anglers will find largemouth, pike, crappie, and panfish, plus a ton of great wildlife watching opportunities. As Let's Go Fishing Coordinator Corey Hart put it, "It's the perfect family friendly paddle." Bring your rods!
Otter Creek (Proctor downstream to Vergennes) – This could be the subject of an entire report. As Vermont's longest river at nearly 100 miles, it's broken up into segments by several dams. Spend some time on Google Earth, starting at the link provided, and explore the river downstream. There are places to put in at most road crossings, covered bridges, and dams. A point-to-point downstream paddle is a great way to spend a day fishing for pike, smallmouth bass, and some of the biggest fallfish you'll find in Vermont. Just be sure to leave a vehicle downstream at your take-out, or it'll be a long paddle back upstream! The outflow of Belden Falls and the Weybridge Twin Bridges are sure to provide some action whether you're fishing from shore or from a canoe or kayak. If you have a kayak, fish upstream to Huntington Falls for good smallmouth and perch action.
Another point-to-point fishing trip to consider is the Connecticut River from the Cornish Bridge to Wilgus State Park. A kayak or canoe will get you into shallow, rocky areas that motorboats can't access, which is where the smallmouth hang out! Using small Mepps spinners and shallow running crankbaits should provide plenty of action, and you might catch a pike or a fallfish too.
For shore fishing opportunities, department fisheries biologist Pete Emerson says the Clyde River salmon run will be starting any time now as the recent rains and cool weather should pull fish from the lake to stage in the lower river. This is an excellent opportunity for anglers who want the challenge of catching a migratory salmon in a riverine environment. As a reminder, Clyde River salmon fishing from September 1 to October 31 is catch-and-release with artificial lures and flies only.
If you're on the west side of Vermont, similar salmon runs will be happening on the Winooski and Lamoille rivers as well. Most anglers target salmon right below the Peterson Dam and Winooski One dams, in the runs and fast water of the tailouts.
Finally, shoreline fishing has been pretty good around the Burlington Waterfront and Oakledge Park. Nothing huge, but lots of small smallmouth bass and panfish are being caught around the breakwall, ledges, and rocks. It's a great place to ride your bike to and fish if you live in the city.
If this interests you, check out the most recent episode of the department's new Podcast Program. Host Tom Lacy speaks with department Education Coordinator Ali Thomas, and random anglers he finds shore fishing in and around Burlington, to get the scoop on all the opportunities in the state's largest city.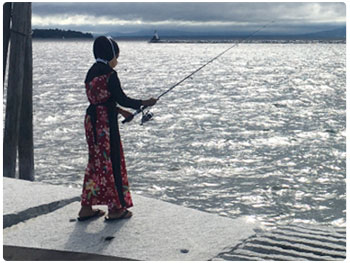 One of the unique programs Ali has been working on lately in Burlington is introducing New Americans to fishing. She provides fishing equipment and teaches them how to fish from shore. Ali says during the last few excursions fishing around the cove and rocks at Oakledge, the participants have been really getting into it, catching a bunch of small fish on worms and rapalas. A great way to get newcomers hooked on the sport!
Other Fishing Reports
I'm impressed with how Danielle McEnany has worked to expand her fishing repertoire. With only a small amount of fishing experience, mostly on small streams, she's been eager this year to learn more, and she's not afraid to get after it. Danielle's contacted me a number of times over the summer to ask for advice on where (and how) to fish, and she's asked friends to take her out as well. As a self-proclaimed Stage 3 angler (maybe she skipped Stage 2?), she set out this summer to learn how to catch bigger fish.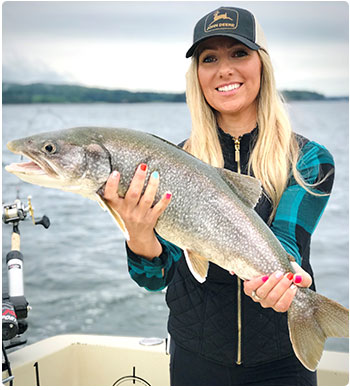 Last week she took her family on a chartered fishing trip on Lake Champlain. They targeted lake trout, and in Danielle's words, "It felt awesome to cross another species off my list and also finally hold a much heavier fish!"  I encourage others to follow Danielle's lead. If you know an avid angler, invite yourself out with them. Don't be shy! And (I've said this before), I think all avid anglers should be mentors as often as possible. If you know someone that might enjoy a fishing trip, take them out! Do your part to share our great fishing opportunities with others.
Proctorsville VT angler Zach McNaughton has been taking his young son panfishing lately and has found one of the simplest setups to be super effective—a cane pole and tiny jig. A four to five-foot bamboo stick from the craft section of any large box store with a piece of four to six-pound monofilament fishing line of similar length tied to the end is practically foolproof for kids.
An extremely productive spot to try, if you have a small rowboat, kayak, or canoe, is around beaver lodges. Underwater, the lodges are a maze of criss-crossed sticks and brush, and they are full of rock bass, panfish, and sometimes other, larger fish. Zach suggests using a 1/64-oz trout magnet jig, and dunking it in a pocket amongst the sticks, giving it a little jiggle now and then. When you feel a tug, just lift and swing the fish into the boat.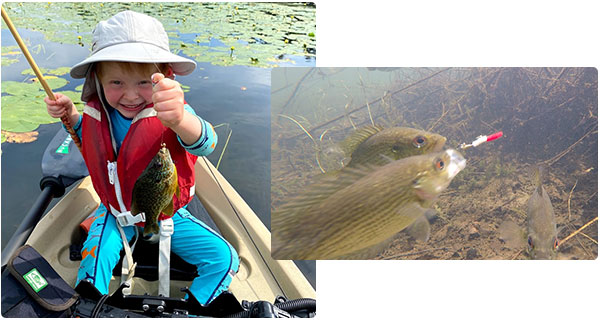 For shore anglers, the same technique will work, but you'll need to fish around public docks, retaining walls, bridge abutments, or the edges of lily pads and other aquatic vegetation. Since you can't cast with this rig, just hold the stick in one hand and the lure in the other, then let the lure swing through the air away from you. At the end of the swing, drop the tip of the bamboo stick, letting the lure sink into the water. As it swings back towards you underwater, panfish will chase it down. This is an exciting way for kids to fish, as they can often see the fish chase and bite the lure, being so close. It really holds their attention. Bonus—bamboo floats, so no more lost rods if your kid drops it in the lake!
A hot tip from department Fish & Wildlife Specialist Tony Smith in St. Johnsbury. The white perch bite is on at Lake Memphremagog. That means the fall congregations and white perch frenzy on Lake Champlain and the lower tributaries like the Missisquoi, Lamoille and Winooski won't be far behind! Up on Magog, Tony says big flats out in front of bays have been alive with white perch boiling on the surface right before dark. Anglers are catching them on worms, and when they run out of those, they're getting them on bare hooks! Small spinners and spoons are working too.
Department hatchery technician Nate Olson is still finding bass fishing to be very good on central Vermont ponds. With water temperatures dropping into the 70s, bass are moving back into six to ten feet of water. On calm, bright days, using a weightless senko rigged on an o-ring is super effective, especially when cast around steep drops and tapering points that bass follow when moving deep to shallow. Cast it out, let it sink, and watch for your line to twitch or move. Then tighten up and set the hook!
If it's overcast, or a little choppy on the surface, Nate suggests using moving lures like spinnerbaits or chatterbaits, reeled just under the surface. And don't forget topwater action. As bass get more active in the cooling waters, fishing buzzbaits, poppers and torpedo style lures is about the most exciting way to target largemouth and smallmouth bass. There's nothing quite like the anticipation of a huge topwater strike. Once Labor Day passes, you'll also notice much less boating activity on the water and less people overall. This means less skittish fish, and more fishing action!
Adam Evans of Northfield VT spent a recent day fishing Lake Dunmore and discovered good action on something he wasn't targeting at all. Setting out to catch rock bass from his canoe, he was casting a small piece of worm on a hook around rocks and ledges. Not having much luck, he let the splitshot weights pull the worm all the way to the bottom under some overhanging tree branches on shore. After it sat there for a couple seconds, he started reeling in and had a good fish grab hold, which turned out to be a 22-inch channel catfish. After catching another identical fish on a subsequent cast, he realized he was on to something, so he started paddling around looking for areas with similar structure (overhanging tree branches, big boulders, and sunken wood), and ended up catching five more catfish up to 27-inches. The technique was simple—cast out the worm, let it sink to the bottom and sit for a few seconds before lifting up to feel for a bite. Adam said that was his first time catching a catfish, and he was impressed with how hard they fought. Not his intended target, but a happy angler nonetheless!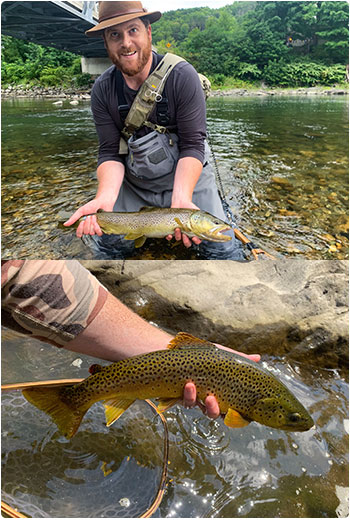 I'll be talking more about fall trout fishing in the next report or two, as waters continue to cool, but I thought it was worth sharing this report from Bethel-area angler Jacob Sotak. Jacob spends a lot of time plying the waters of the White River and its various branches and tributaries. Drifting a brown stonefly pattern under an indicator he got a beautifully colored 17-inch brown trout on the Third Branch, and a 21-inch brown out of the main branch on a size-14 caddis pupa of his own making. Both fish were released. Those are two gorgeous fish!
And finally, Waltham VT angler Randy Colomb, who spends much of his fishing time trolling for trout and salmon on Lake Champlain, wrote to say he's "had some pretty good rod-in-hand fishing" lately. I guess that troller-speak for people who fish without rods in their hands!
Randy says he was jigging with worms on reefs in 25 to 40 feet of water, and he caught yellow perch, white perch, smallmouth bass, freshwater drum, and a nice 22-inch walleye, which he was quick to point out was broiled with butter, lemon, and Frank's Hot Sauce and served with sliced garden tomatoes.
Now that's fishing outside of the box.
I saw a post on the Fishing 802 Facebook group the other day that said "Went after bass. Got pike and crappie instead. I'll take it."
I couldn't agree more. Enjoy the long weekend.
See also:
---

Thank you for supporting healthy fisheries in the Green Mountain State through your Vt. fishing license purchase, and through excise taxes on your purchase of fishing equipment and motor boat fuel, administered through the Federal Aid in Sport Fish Restoration Program.