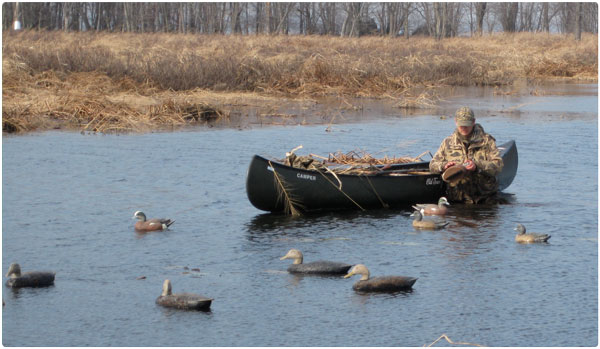 Federal law requires migratory bird hunters to register with the Migratory Bird Harvest Information Program (HIP). Migratory game birds include: ducks, geese, brant, coots, snipe, and woodcock.
How do I register?
Registering is easy. You will be asked for your name, address, date of birth and a brief summary of last year's hunting activity. There is no charge for a HIP registration number.
There are two ways to get a HIP registration number:
Call 1-877-306-7091 Monday - Friday, 8:30 am to 4:30 pm EST. A live operator will give you a HIP registration number.
You must write the HIP registration number in the Harvest Information Program section of your hunting license.
Permanent or lifetime license holders should print the response form with your HIP registration number and carry it with you while hunting migratory birds.
Please remember Vermont and federal migratory waterfowl stamps are also needed to hunt ducks or geese, if you are 16 years old or older.
Hunters must re-register annually.
Forgot your HIP registration number?
What is HIP?
HIP allows the U.S. Fish and Wildlife Service (USFWS) and state wildlife agencies to develop more reliable estimates of migratory bird harvests throughout the country. Biologists use these estimates to make sound decisions regarding hunting seasons, bag limits and population management.
The USFWS will ask a sample of hunters to record daily hunt information on survey cards and to return completed cards at the end of the hunting season. Visit the USFWS HIP web page to learn more about the survey and HIP.
Thanks for your help!
Cooperation from hunters is key to sound wildlife management. The Migratory Bird Harvest Information Program helps ensure the future of migratory bird hunting.