Date: Wednesday, April 29
Time: 2:00 - 3:00 PM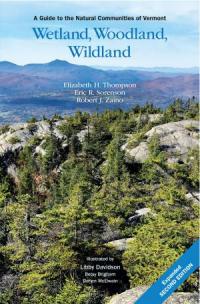 Authors Liz Thompson, Eric Sorenson, and Bob Zaino will present a slideshow about Vermont's fascinating natural communities in celebration of the new edition of their book, Wetland, Woodland, Wildland: A Guide to the Natural Communities of Vermont. Using photos and personal stories of their favorite natural communities, the authors will explain how this book expands on the first edition, and how natural communities help us understand and conserve nature.
Liz Thompson is Director of Conservation Science at Vermont Land Trust; Eric Sorenson is Natural Community Ecologist and Bob Zaino is State Lands Ecologist at the Vermont Fish and Wildlife Department. The book is co-published by Vermont Fish and Wildlife Department, Vermont Land Trust, and The Nature Conservancy. Copies can be purchased from local bookstores or ordered from Chelsea Green Publishing.
Please register in advance for this meeting:
After registering, you will receive a confirmation email containing information about joining the meeting.
Event Date
April 29, 2020 - 10:00 AM - April 29, 2020 - 11:00 AM