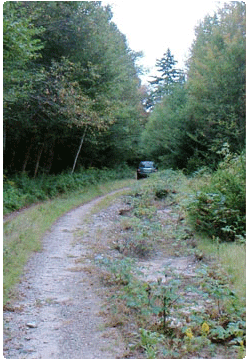 As of August 27, 2021:
The bridge replacement over West Mountain Brook is completed. The bridge and road are now passable and open to the public and camp owners.
Road grading and resurfacing is occurring on all main roads on West Mountain WMA from  August 30 to September 6, and should be completed by Labor Day.  Please use caution while traveling these roads including: South America Pond, Paul Stream, West Mountain Pond, Dennis Pond, and Notch Pond Roads.
As of May 28, 2021:
The gates at the Nulhegan Basin Division of the Silvio O. Conte National Fish and Wildlife Refuge will be opened for the season. Please be advised, road maintenance will be occurring throughout the summer months.  Logging and government trucks have the right-of-way at all times, so please do not block any roadways while visiting or parking.  Please drive with caution.
As of May 12, 2021:
Roads at West Mountain WMA were opened to the public for the season.  Logging trucks will be using the Paul Stream Road throughout the summer season, so please drive with caution and do not block any roadways while visiting or parking.
As of April 29, 2021:
The Hurricane Road gate at Bill Sladyk WMA was opened to the public for the season.
Background
West Mountain WMA is the largest wildlife management area in Vermont. It is a vast area of bogs and evergreens and is known for its remote character and large moose population.
Since 1999, the Agency of Natural Resources has managed West Mountain WMA for natural resource conservation and public access, and has managed a public access easement on adjacent lands now belonging to the Weyerhaeuser Timber Company. This complex project has involved collaboration with partner organizations including The Nature Conservancy, Vermont Housing and Conservation Board, Vermont Land Trust, and Weyerhaeuser, as well as numerous local and state constituent groups.
See also: