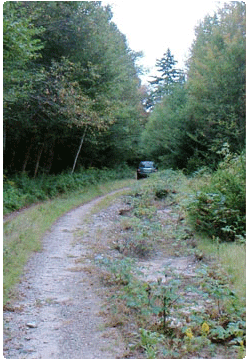 As of July 7, 2023:
West Mountain and Wenlock WMAs: The gates at West Mountain and Wenlock WMAs are open for the summer season.
Nulhegan Basin Division of the Conte Refuge: All the roads at the Nulhegan Basin Division of the Conte Refuge, including the Stone Dam Road, are open to the public as of May 26, 2023.
Weyerhaeuser Lands: All of the main roads are open to the public as of May 25, 2023.
Bill Sladyk WMA: A significant road improvement project began in October 2022 and included five miles of gravel road resurfacing, bridge work, culvert installation and replacement, parking lot and broad-based dip installation. This work will affect the roads located north and west of Ben Cole Clearing to include the North, South and West roads. Portions of the Hurricane Road will also be improved with gravel resurfacing.
The East Road, located just past the gravel pit after crossing the Coaticook Brook bridge will also be involved for the first 0.5 mile from the Camp Road. Most roads will remain open during construction, but drivers should use caution, and travel may be delayed at times.
This roadwork has not been completed as of this date and will continue to the end of June 2023.
The gate on the Hurricane Road is now open for the 2023 summer season.

View Map of Road Network Upgrade Work
Background
West Mountain WMA is the largest wildlife management area in Vermont. It is a vast area of bogs and evergreens and is known for its remote character and large moose population.
Since 1999, the Agency of Natural Resources has managed West Mountain WMA for natural resource conservation and public access, and has managed a public access easement on adjacent lands now belonging to the Weyerhaeuser Timber Company. This complex project has involved collaboration with partner organizations including The Nature Conservancy, Vermont Housing and Conservation Board, Vermont Land Trust, and Weyerhaeuser, as well as numerous local and state constituent groups.
See also: