Boating in Vermont can't be beat. Hundreds of lakes and ponds and thousands of miles of rivers mean you are never far from boatable waters.
Check out these links for everything you need to get out and enjoy Vermont's waters. Education | Waterbody Information
Education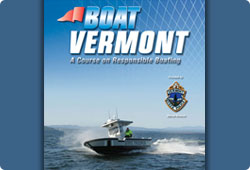 Safe boating is no accident. The handbook introduces you to Vermont laws governing boating and provides general information about safe vessel operation.
---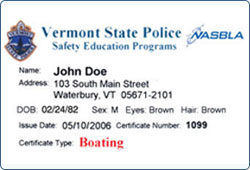 Vermont law requires all motorized boat and PWC operators born after January 1, 1974, to pass a boater safety course and to carry a boater education card. Click this link for a Vermont–approved online boating license course. For information on other course options visit Vermont State Police.
---
Upcoming In-person Courses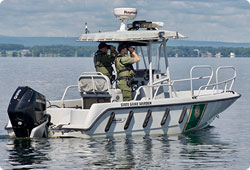 Information about scheduled in-person boating safety courses will be posted here when courses are being held. Check back for updates as new classes are scheduled.
As of 10/6/2023
No classes are currently scheduled
_________________________________________________
The Vermont Agency of Natural Resources (ANR) operates its programs, services, and activities without discriminating on the basis of race, religion, creed, color, national origin (including limited English proficiency), ancestry, place of birth, disability, age, marital status, sex, sexual orientation, gender identity, or breastfeeding (mother and child). Reasonable accommodations are available on request at no cost to the student. Please include a description of the accommodation you will need. Individuals making such requests must include their contact information. Requests should be made as early as possible, for example an interpreter must be requested at least two weeks in advance. Please send an e-mail to: Jenna.Reed@vermont.gov or call 802-279-9058
---
Waterbody Information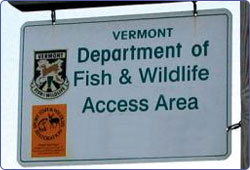 With more than 200 access areas, public access to launch your craft for a great day on the water is closer than you might think!
---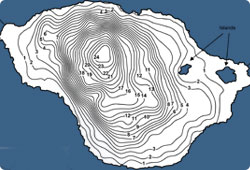 Printable maps showing the depths of many of Vermont's lakes and ponds.
---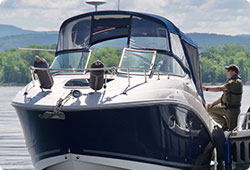 These rules establish a number of general management rules to protect normal uses on all lakes, ponds and reservoirs.
---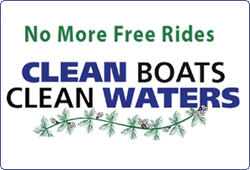 Boating and fishing can be the primary means for aquatic invasive species to "hitch a ride" between waterbodies. Learn more about the species of primary concern.
Before moving boats between waterbodies:
• CLEAN off any mud, plants, and animals from boat, trailer, motor and other equipment. Discard removed material in a trash receptacle or on high, dry ground where there is no danger of them washing into any water body.
• DRAIN all water from boat, boat engine, and other equipment away from the water.
• DRY anything that comes into contact with the water. Drying boat, trailer and equipment in the sun for at least five days is recommended if rinsing your boat, trailer parts and other equipment with hot, high pressure water is not an option.
---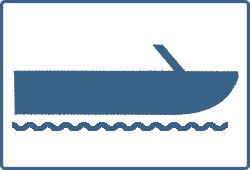 A Vermont Certificate of Registration and validation stickers are needed to operate any vessel propelled by a motor legally on the public waters of Vermont.
Registration/title and validation sticker application forms are available from the Vermont Department of Motor Vehicles.
---