The department's fish hatcheries raise and release more than a million fish each year to restore fish populations and enhance angling opportunities.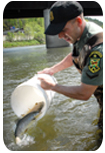 Whether you're looking to catch a beautiful "Trophy Trout" on the Winooski River or cast for brookies in a stocked stream near you, this year's stocking schedule will not let you down.
While fishing is a "state-approved" activity during these times, we urge you to practice effective "social distancing" and other measures to help stop the spread of the coronavirus.
Visit Outdoor Recreation and COVID-19 for best practices for safely enjoying Vermont's outdoor recreation.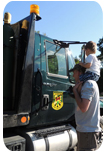 Vermont's fish hatcheries are a great place to visit to see fish and learn about the different species raised for stocking