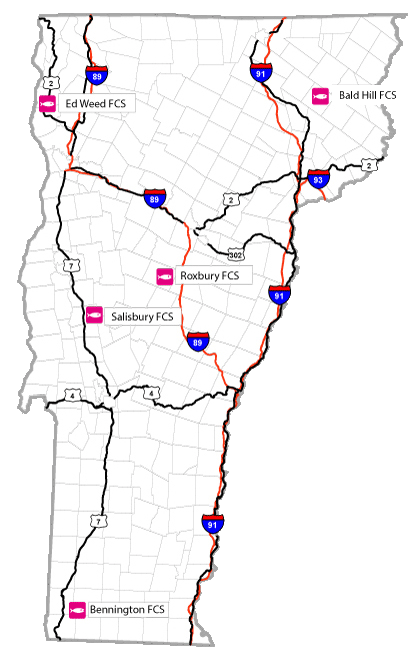 Vermont's fish hatcheries are a great place to visit to see fish and learn about the different species raised for stocking statewide.
Our fish culture stations produces more than 1.5 million fish annually for distribution, or stocking, to Vermont's lakes and streams. Stocking fish helps to restore fish populations and enhances angling opportunities.
The department operates five culture stations, as known as hatcheries, rearing seven different fish species. The fish hatcheries are open to the public seven days a week, and tours are available.
Bald Hill Fish Culture Station in Newark - Bald Hill FCS is located in the Northeast Kingdom. This facility rears trout, salmon and walleye.
Bennington Fish Culture Station in Bennington - (will be closed to visitors in June and July 2023) Bennington FCS is situated in the southwest corner of Vermont. Three species of trout are reared at this facility.
Ed Weed Fish Culture Station in Grand Isle – Ed Weed FCS overlooks Lake Champlain and is the newest state fish hatchery, rearing trout, salmon, walleye and muskies.
Roxbury Fish Culture Station in Roxbury – Roxbury FCS is located not far from Montpelier, the state's capitol. It is oldest state fish hatchery and is on the National Register of Historic Sites
Salisbury Fish Culture Station in Salisbury- Salisbury FCS is situated close to Lake Dunmore, south of Middlebury. It is where we keep our older and larger fish for producing eggs.