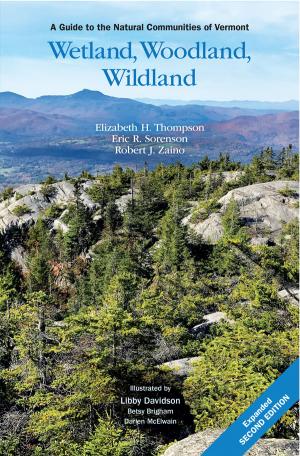 Price: $29.95
Wetland, Woodland, Wildland: A Guide to the Natural Communities of Vermont. 2nd Edition
This second edition describes the nine biophysical regions and the 97 natural community types recognized in Vermont in 2019. It contains practical information for naturalists, teachers, students, landowners, land managers, foresters, conservation planners, and everyone who loves the outdoors and wants to learn more about their surroundings.
This book may be purchased from local bookstores or online.
Paperback, © 2019, 515 pages, 6.25" x 9.5"
ISBN: 9780977251735
---
2023 Fish & Wildlife Calendar
Our colorful 2023 Vermont Fish and Wildlife calendar features hunting, fishing and trapping season dates listed for each month.
Order your calendar by using our online shopping cart or with our printable order form. (Please mail the form to the address listed on the form.) At this time no orders will be taken over the phone.
PLEASE ALLOW 2-3 WEEKS FOR DELIVERY 
Click image to view back cover showing featured images.
---
Guide to Wildlife Management Areas
This 162-page guide is designed to help Vermonters and visitors experience the richness of the wildlife resources of our beautiful landscape. It features detailed colored maps of each Wildlife Management Area with UTM coordinates, plus a general description, a brief history of the land and its acquisition, habitat features, and what common fish and wildlife you may see while visiting the area.
Paperback, © 2006, 162 pages, 11"x9"
ISBN 0977251705
---
Fishes of Vermont
The Vermont Fish & Wildlife Department is pleased to announce the publication of a new field guide, Fishes of Vermont, the only comprehensive handbook for identifying fishes across the state. This field guide offers fascinating natural history accounts of our 92 fish species. From mountain trout streams to the waters of Lake Champlain and the Connecticut River, this valuable resource covers all the drainages and aquatic habitats of the state. Fishes of Vermont is written for anglers, naturalists, biologists, and anyone interested in fishes and Vermont's natural resources.
Paperback, © 2006, 320 pages, 9"x6"
ISBN 0977251713
---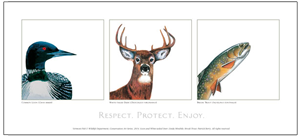 Price: $25.00 (unsigned)
Price: $75.00 (signed)
Fish & Wildlife's Conservation Art Series
Fish & Wildlife's Conservation Art Series features the three wildlife designs of Vermont's Conservation License Plate. The image for the brook trout plate was painted by former Fish & Wildlife commissioner Patrick Berry. The deer and loon images were painted by Berlin, VT artist Linda Mirabile
Limited edition of the print signed by the artists is available for $75.00.
Product Measurement: 8"H x 17-3/4"