Acquiring and permanently conserving land is central to our mission to protecting fish and wildlife and providing opportunities for wildlife-based recreation.
All Fish & Wildlife lands are open to the public for hunting, fishing, trapping, and wildlife watching, except for the waterfowl refuges within Dead Creek and Sandbar Wildlife Management Areas.
Get in Touch
If you have land that you would like the department to consider for conservation, please contact Jane Lazorchak at jane.lazorchak@vermont.gov. The Fish & Wildlife Department is particularly interested in lands that fall within our focus areas.
Recent Acquisitions
Check out some of these lands that were recently permanently conserved by the Vermont Fish & Wildlife Department.
Waterfowl and songbird habitat that connects Otter Creek WMA to Green Mountain National Forest was conserved with help from Vermont Land Trust. And a recent donation from the estate of Charlotte Tatro has added 5.5 acres more of Clayplain Forest to the WMA.
This vast 11,000-acre wilderness was expanded by 225 acres of young forested habitat that is perfect for warblers, woodcock, and moose. 
Windsor Grasslands Wildlife Management Area – Winhall and Jamaica
Vermont's newest WMA that used to house a state prison consists of hayfields, young forests, and apple trees and is a hotspot for grassland birds in the state.
The 281 acres adjacent to the Kehoe Conservation Camp where campers have been learning about wetlands and sleeping out under the stars is now permanently conserved for generations of campers yet to come.
In the Works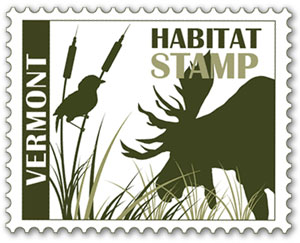 Below are some of the many properties that we are currently working to conserve. If you would like to donate directly to any of these projects, please contact Jane Lazorchak at jane.lazorchak@vermont.gov or purchase a Habitat Stamp.
Les Newell Wildlife Management Area – Bridgewater
We're looking to permanently conserve an additional 436 acres in a 50,000-acre forest block in Bull Hill, with a long history of recreational use by hunters and birdwatchers with ecologically significant forest types and six rare, threatened or endangered plants.
Kesick Swam Wildlife Management Area – Sunderland
We recently conserved 46 acres of beaver-created wetlands including a heron rookery and are continuing to work with the Vermont Land Trust to conserve two adjacent properties to provide a new parking area, additional public access and additional upland and wetland habitats.
See also: