2018 A Successful Year for Vermont Habitat Stamp Program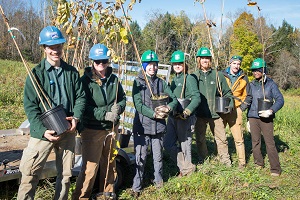 The Vermont Fish & Wildlife Department is encouraging nature enthusiasts to include the 2019 Vermont Habitat Stamp among their year-end donations.  The $15 stamp is available on the Fish & Wildlife Department's website and is also available as a voluntary add-on to 2019 hunting or fishing licenses when purchased online at vtfishandwildlife.com. 
"The first few years of the Vermont Habitat Stamp program have been a success and 2018 continues that trend," said Louis Porter, commissioner of the Vermont Fish & Wildlife Department.  "Since 2015, and thanks to the many donors to the program, the Vermont Habitat Stamp has contributed to the direct conservation of more than 3,200 acres of land, restoration efforts on numerous streams and rivers, and the removal of dysfunctional dams for fish passage."
The Habitat Stamp raised more than $110,000 in 2018 and used that money to leverage more than $142,000 in federal funds for habitat conservation in Vermont. The funds supported several important projects, including helping a biologist work with local Watershed Groups to bring out hundreds of students to plant trees along streambanks. The funds also helped provide assistance to landowners to improve wildlife habitat on thousands of acres.
"From bringing Shelburne middle-schoolers into the field to learn about invasive plants, to finalizing significant wildlife habitat designations with county foresters, 2018 has been a productive year," said Andrea Shortsleeve, a habitat biologist whose work is funded through the Habitat Stamp program. 
With support from the Habitat Stamp, the Vermont Youth Conservation Corps worked directly with state wildlife biologists to improve habitat on the state's newest wildlife management area, Windsor Grasslands WMA. The young people working for the VYCC spent a full week battling invasive plants and working to establish a mix of native, wildlife-friendly trees and shrubs in their place.
"The Fish & Wildlife Department is uniquely positioned to conserve habitat in Vermont because we can leverage every dollar donated for several additional dollars in federal funds," said Porter.  "Even a small donation makes a big difference for habitat conservation. As forests and fields in Vermont yield to development, the Habitat Stamp will allow us to continue to protect the critical open spaces that Vermonters enjoy." 
The 2018 Habitat Stamp Annual Report highlighting the conservation work done through the program is available online at www.vtfishandwildlife.com. Matching funds for habitat projects sponsored by the stamp have come from the U.S. Fish & Wildlife Service Wildlife and Sport Fish Restoration Program.
For Immediate Release:  December 20, 2018
Media Contacts:  John Austin, 802-371-9895