Biologists and Foresters to Present on Managing Woodlots for Wildlife in Wardsboro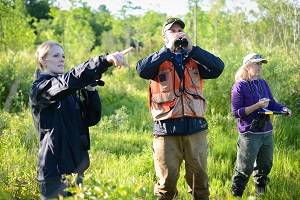 WARDSBORO, Vt. – Landowners interested in managing their woodlots to improve wildlife habitat are invited to attend a free, two-hour workshop on Wednesday, September 26 from 6:00 to 8:00 p.m. The presentation will be held at the Wardsboro Town Hall at 71 Main Street in Wardsboro, Vermont.
Presenters will discuss various goals landowners may have for their woodlot, such as improving wildlife habitat, timber quality, or aesthetic value. They will outline various strategies for managing woodlots and talk about the programs for assistance that are available to landowners. 
Partners and topics include forest management planning practices and considerations with Vermont Department of Forests, Parks & Recreation; managing for wildlife habitat and farm bill programs with the Vermont Fish & Wildlife Department; woods, wildlife, and warblers with Audubon Vermont; habitat for pollinators with Vermont Fish & Wildlife Department; and invasive species management with Land Stewardship, Inc. 
"There are a few simple things that landowners can do to improve wildlife habitat on their woodlot while still maintaining high-quality timber harvest opportunities and keeping the aesthetic beauty," said Andrea Shortsleeve, habitat biologist for the Vermont Fish & Wildlife Department. "We'll give landowners ideas on what they can do themselves, as well as discussing opportunities for financing and technical assistance from state and federal programs." 
The workshop is free and open to the public and is sponsored by the National Wild Turkey Federation and the U.S. Forest Service. For more information, contact Matt DiBona at 302-943-3239 or mdibona@nwtf.net. 
 For Immediate Release: September 12, 2018
Media Contacts: Matt DiBona, National Wild Turkey Federation, 302-943-3239; Andrea Shortsleeve, 802-477-2257