Bristol Woman Hospitalized after Snowmobile Accident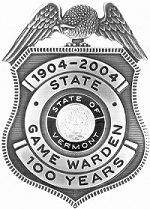 Wendy Livingston, 52, of Bristol, VT was transported to the University of Vermont Medical Center Sunday, February 9th, with non-life-threatening injuries she sustained when a snowmobile she was riding collided with trees in Hinesburg. 
Investigation by Vermont State Game Wardens revealed Livingston was operating on a groomed VAST trail when her snowmobile hit a bump and exited the trail, colliding with several trees. Livingston was thrown from the snowmobile and struck a tree with her hip.  She was removed from the trail by Hinesburg Fire Department personnel.
"Snowmobile trail conditions can vary considerably," said Lieutenant Carl Wedin, the Northwest District warden supervisor.  "We urge drivers to maintain a safe speed at all times because obstacles can come very quickly."
For Immediate Release:  February 11, 2020
Media Contact:  Lieutenant Carl Wedin (802) 879-5669