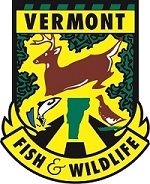 A Burlington man was arrested after attempting to avoid arrest by State Game Wardens at the Salmon Hole on the Winooski River.
Kevin Cherry, 28, of Burlington was apprehended Sunday, June 30, for fishing while his privileges to hunt, fish or trap were under suspension, for attempting to provide a warden with a fishing license belonging to another person, and for providing false information.  He tried to escape but was quickly apprehended by wardens and Winooski police.  South Burlington police also assisted with a K9.
Cherry faces fines of up $4,000 and sixty days in jail for fishing while his license was suspended.  He also faces up to one year in prison or up to $1,000 in fines, or both, for providing false information to police, and he could receive up to $1,197.00 in fines for providing a false statement and using another person's license.
Cherry is due in Chittenden Superior Court August 6, to answer to the charges.
For Immediate Release:  July 2, 2019
Media Contact:  Lieutenant Carl Wedin 802-879-5669