Colchester Man Arrested for Several Fish and Wildlife Crimes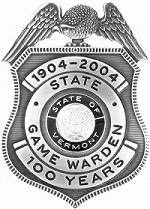 Jeremiah (Jed) Ruhl, 43, of Colchester, was arrested April 26 by Vermont State Game Wardens, along with U.S. Fish and Wildlife special agents and Colchester Police Department officers.
Ruhl has been indicted in the U.S. District Court of Vermont on six counts, including illegally shooting and possessing migratory birds and illegally possessing a shotgun and rifle ammunition, all federal crimes.  If convicted of these federal charges, Ruhl could face a maximum penalty of ten years imprisonment and a maximum fine of $250,000.  If convicted of the migratory bird violations, Ruhl could face six months imprisonment and a $5,000 fine for each count.
In addition to the federal violations, Ruhl has been charged for several state fish and wildlife crimes.  Over a three-year period, Ruhl allegedly hunted under revocation, took and transported deer out of season, and possessed illegal deer among other crimes.  He was arraigned for the state charges March 23 in Chittenden County Superior Court.  Ruhl has been a habitual violator of Vermont State Law and has a record of illegally taking fish and wildlife dating back to 2002.
If convicted of state charges alone, Ruhl faces penalties of up to $21,000 dollars in fines and restitution and up to 540 days in jail and will also lose his privilege to hunt, fish and trap in Vermont for three years.  
"Mr. Ruhl has repeatedly shown himself to be a significant threat to both the natural resources of Vermont and the migratory species we share with neighboring states and provinces," said Colonel Jason Batchelder, chief Vermont state game warden.  "Thanks to the collaborative efforts of State Game Warden investigators, federal agents and prosecutors working in concert, the crimes Ruhl committed will be appropriately redressed."
For Immediate Release: May 2, 2019
Media Contact:  Carl Wedin, 802-879-5669; Jason Batchelder, 802-828-1529