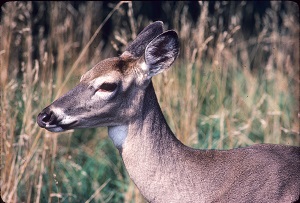 The deadline to apply for an antlerless deer permit to be used during Vermont's December 7-15 muzzleloader deer hunting season is Wednesday, August 14. 
Paper antlerless permit applications are not available this year.  You can apply online at the Vermont Fish & Wildlife's website www.vtfishandwildlife.com), or license agents across the state that sell hunting and fishing licenses can process your application for you.
Landowners who do not have a Conservation ID number will need to create a profile through the online license sales system to apply for a landowner application even if they do not intend to purchase a hunting license.  Landowners who post their land may not apply for a muzzleloader landowner antlerless deer permit.
"The winter of 2019 was severe in central and northeastern Vermont, causing the permit allocation to be 51 percent less in those areas than in 2018," said Nick Fortin, deer project leader for the Fish & Wildlife Department.  "Elsewhere, the permit allocation is similar to 2018 as little change is expected in the deer population in those areas."
A lottery drawing for muzzleloader antlerless permit recipients will be held September 17.
For Immediate Release:  July 15, 2019
Media Contact:  Nick Fortin 802-786-3860; Scott Darling 802-786-3862