Deer Ages Available on VTF&W Website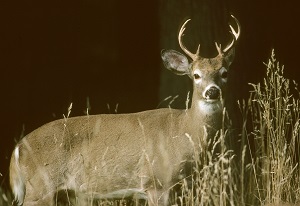 Hunters who provided the Vermont Fish & Wildlife Department with a tooth from their deer last year can now find out how old their deer was by visiting the department's website, www.vtfishandwildlife.com. 
Hunters submitted 2,999 teeth from the bucks they took during the November rifle deer season.   Combined with the 915 deer examined by biologists at reporting stations during the youth and rifle seasons, biologists were able to get accurate ages for nearly 4,000 deer.
"We are thankful to the thousands of hunters who were willing to support our deer management efforts by bringing their deer to a biological reporting station or providing us with a tooth from their deer," said Deer Project Leader Nick Fortin.   "We are also grateful to the reporting stations that helped collect teeth from the deer they reported.  This effort would not have been as successful without their assistance."
The oldest deer harvested was a 20-year-old doe, taken by a youth hunter in Braintree.  This is tied with a road-killed doe from 2016 as the oldest deer ever documented in Vermont.  The oldest buck was 12 years old and shot in Ferrisburgh.  It matched three bucks harvested in 2016 and 2017 as the oldest bucks ever documented in Vermont.
For Immediate Release:  April 10, 2019
Media Contacts:  Nick Fortin 802-786-3860; Scott Darling 802-786-3862;