Discover the New Dead Creek Wildlife Management Area Visitor Center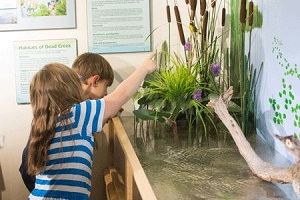 ADDISON, Vt. – The new Dead Creek Visitor Center is celebrating the success of its first year this September with expanded hours and a variety of educational programs. 
From September 1 through October 31, 2018, the center is open Tuesday through Sunday from 8 a.m. to 4 p.m. The visitor center will also be open on Monday, October 8, 2018 for the Columbus Day holiday, and Monday October 15, 2018 for a special event. 
The center will host a variety of educational programs and public events this fall.  On Wednesday, September 26, department staff will lead an evening bird-watching paddle at a nearby waterway.  The group will set out in canoes and kayaks hoping to catch a glimpse of the many bird species that are present in the Champlain Valley during the fall bird migration. People must register ahead of time to join the paddle at www.register-ed.com/events/view/129563
On Saturday, October 6, the grounds will host the free Dead Creek Wildlife Day. Early risers can begin the day with a bird banding demonstration at 7:00 a.m.  Two large tents at Dead Creek WMA headquarters will open at 9:30 a.m. featuring wildlife-related exhibits and activities such as decoy carving, nature walks, building bluebird boxes, and wildlife photography. Visitors can see snakes, turtles, owls, and more up close and learn about their ecology.
Bird-lovers are invited to attend Bird Banding Week with hands-on songbird banding demonstrations on the mornings of October 15, 16, and 20 from 8:00 a.m. to 12:00 p.m. and a special evening owl banding session at Snake Mountain from 8:00 to 11:00 p.m. on Friday, October 19. A brief presentation will be given every 30 minutes starting at 8:00 p.m.  Members of the public will help identify the birds, observe the banding process, and can even help release the birds after they are banded.
Dead Creek WMA in Addison is beloved for its wildlife viewing and waterfowl hunting opportunities.  Starting late September, thousands of people visit the WMA every year to watch the fall snow geese migration. Snow geese touch down at Dead Creek and the surrounding farms by the thousands, creating a spectacle that is among the best wildlife-watching opportunities in Vermont.  The migration peaks in mid- to late- October through early November and is usually passed by mid-November.
For more information, directions, or to sign up for an event, go to vtfishandwildlife.com/watch-wildlife/dead-creek-visitor-center
For Immediate Release:  September 20, 2018
Media Contacts:  Amy Alfieri 802-759-2398