Dog Owners Reminded to Keep Dogs Under Control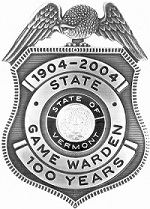 The Vermont Fish & Wildlife Department reminds dog owners that they must keep their dogs under control to prevent them from chasing deer or moose. 
Vermont law prohibits letting your dog run deer or moose and provides that a State Game Warden or other law enforcement officers may shoot a dog that is running deer.  In addition, a dog owner may be fined up to $200 for allowing his or her dog to run deer. 
"Dogs will instinctively chase and kill deer and usually once they start, they will continue doing so, especially in winters with much snow," said Chief Game Warden Col. Jason Batchelder.  "In almost all cases, these are wonderful family pets and their owners cannot comprehend that their dog would kill a deer."
Deer survive during the winter by browsing on low-growing hardwood and softwood vegetation, which has little nutrition compared to the lush vegetation they can eat during the rest of the year.  Their energy reserves are at their lowest, leaving them vulnerable to starvation, especially if they are chased by dogs. 
"We are issuing this reminder to make dog owners aware of the law and to urge them to keep their dogs under control so they won't chase deer," added Batchelder.  "We responded to about 60 incidents of dogs chasing deer during each of the last five years."
For Immediate Release:  January 15, 2019
Media Contacts:  Col. Jason Batchelder or Maj. George Scribner 802-828-1529