Fish & Wildlife's Dead Creek Visitor Center is Open for the Season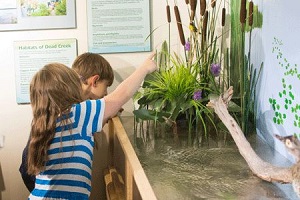 The Vermont Fish & Wildlife Department says its Dead Creek Visitor Center off Route 17 in Addison is open for the season. 
The visitor center will be open on weekends from 9 a.m. to 4 p.m. through the end of August and will offer a variety of free programs for all ages throughout the spring and summer.        
The Dead Creek Visitor Center educational facility features displays highlighting the history of Dead Creek and conservation, fish and wildlife management, conservation partnerships, habitat features, and the many species – particularly birds – that live in the region.
Visitors can take a self-guided tour to learn about local fish and wildlife, the history of Dead Creek, habitat and land management, and the impacts of climate change on the natural world.  Knowledgeable staff or volunteers will be on hand to answer questions, help visitors find a place to see wildlife, or assist with buying a hunting or fishing license or Vermont Habitat Stamp.    
"Dead Creek is beloved by so many and is a great place to experience nature," says Amy Alfieri, biologist and manager of the Dead Creek Wildlife Management Area.  "We are excited to have the visitor center open for the season so we can help people learn about wildlife conservation efforts on the property."
For more information about the Dead Creek Visitor Center, see https://vtfishandwildlife.com/watch-wildlife/dead-creek-visitor-center.
Here are two events based at the Dead Creek WMA coming up in June:
An Evening with Bugs at Dead Creek, Friday, June 14, 8:30 p.m. to 11 p.m. at the Dead Creek Visitor Center.  Mid-June is the peak of insect emergence, and biologist Mark Ferguson and Vermont State Game Warden Kelly Price will lead the group in insect observation using a variety of trapping methods.  Ferguson works for Vermont Fish & Wildlife on the conservation of Vermont's rare, threatened and endangered insect species and is a knowledgeable expert on the fun and fascinating world of bugs.  Warden Price has travelled the world to observe and collect insects and has two species of insects named after him.  In addition to collecting and observing insects on-site, Ferguson and Price will bring some of their collections for people to see.  Participants should bring a flashlight, tick protection and be dressed appropriately for the field.
Snake Mountain Botanical Walk, Sunday, June 23, 10:00 a.m. to 1:00 p.m. Snake Mountain Wildlife Management Area, Addison and Weybridge.  Explore the unique flora of one of the Champlain Valley's largest remaining forest blocks.  There are plants found here that are rare and interesting and aren't commonly seen elsewhere in heavily-developed Addison County.  Everett Marshall, a scientist with Vermont Fish & Wildlife's Natural Heritage Inventory, will lead the group up the side of this popular mountain. 
Participants must sign up to attend these events at www.vtfishandwildlife.com.
For Immediate Release:  May 1, 2019        
Media Contacts:  Amy Alfieri 802-759-2398; Ali Thomas 802-371-9975