Fisheries Biologist to Speak on Batten Kill Restoration in Arlington, VT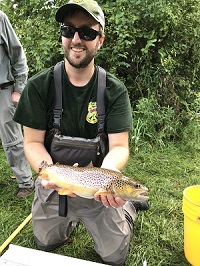 Vermonters with an interest in protection, conservation and fishing are invited to attend a presentation about efforts to conserve trout on the famed Batten Kill River on Thursday, November 15 at 7:00 p.m.  The presentation will be given upstairs at the Arlington Town Hall at 3828 Route 7A. The talk is hosted by the Batten Kill Watershed Alliance as part of their annual meeting and is free and open to the public.  
Biologist Lee Simard will be presenting on ongoing fish conservation efforts. Simard knows the waters of Vermont well, as a native Vermonter with both a bachelor's and master's degree from UVM studying fisheries.  He now works as a fisheries biologist for the Vermont Fish & Wildlife Department, protecting the state's fish populations and their habitats in lakes and streams throughout southern Vermont.  Simard has also worked on fish conservation in other parts of the country, studying lake trout populations in Yellowstone Lake in Yellowstone National Park. 
The Batten Kill is one of Vermont's pre-eminent wild trout streams.  The status of its brown and brook trout populations has been closely monitored since the early 1980s and a near collapse of the brown trout population in the Batten Kill in the 1990s prompted increased research and monitoring of the stream.  More recent conservation efforts are attempting to improve habitat and sustain wild trout populations within the Batten Kill and its tributaries. 
Simard's presentation will begin with an overview of the Batten Kill, talking about what makes it special.  He will then examine the Batten Kill trout management plan, exploring how the plan has been implemented since its development and what the next management steps are for the watershed.
"We'll talk about this important and much-loved wild trout stream and the work being done to restore this incredible ecosystem," said Simard.  "The Batten Kill is an example of what can happen when biologists and anglers team up to help restore Vermont's wild fish populations."
For Immediate Release: October 30, 2018
Media Contacts:  Lee Simard, 802-622-4017