F&W Website Helps with Learning How Best to Process Deer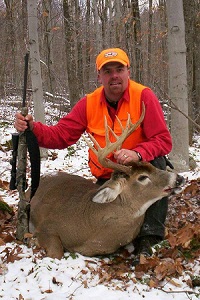 MONTPELIER, Vt. -- Vermont is one of the most rural states in the country, and Vermonters have a proud heritage of living close to the land.  Hunting is highly regulated and provides a way to connect with the land, connect with nature and connect with a healthy, sustainable food source that is rooted in Vermont.  In 2017, Vermont's four big game species (deer, bear, turkey and moose) yielded more than 3.5 million servings of wild game meat. 
Making the most of these meals starts with the immediate processing of game correctly which is why the Vermont Fish & Wildlife Department now has three online videos demonstrating how to process deer.  Finding the videos is easy on the Fish & Wildlife website (www.vtfishandwildlife.com).  Click on "Hunt" and then "From Field to Freezer." 
The educational videos are titled Field Dressing Your Deer, Skinning a Deer and Butchering a Deer.
"Correctly processing game can make a big difference in the taste of the meat," said Nicole Meier, an information and education specialist with the department.  "Taking the time to do it correctly assures that you and your family will have many enjoyable meals ahead."
For Immediate Release:  November 6, 2018
Media Contact:  Mark Scott 802-777-4217