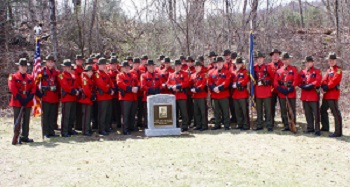 BRANDON, Vt. – Vermont State Game Wardens paid tribute on Saturday, April 28 to the memory of Warden Arnold Magoon of Brandon who was killed 40 years ago by a suspected deer poacher.
The wardens gathered at the Magoon residence in Brandon to remember Warden Magoon and place a granite memorial commemorating his public service.
"Magoon is the only fallen officer who served with the Vermont Fish & Wildlife Department," said Fish & Wildlife Commissioner Louis Porter. "Our wardens initiated this memorial which reminds us of Warden Magoon's dedication and ultimate sacrifice in protecting Vermont's wildlife resources."
Magoon, 47, was at home when he responded to gunshot one night in late April of 1978. Magoon was bludgeoned to death with his own flashlight by a Brandon man suspected of killing a deer in a nearby field. As a result, Scott Johnson, 24, was tried and convicted of second-degree murder and given a jail sentence of six to 20 years.
"It is very important to us that Warden Arnold Magoon be forever remembered," said Vermont's Chief Game Warden Colonel Jason Batchelder. "He was very well liked in his community for being dedicated, fair and professional as he went about his work. He was an excellent role model for those of us who came along in his footsteps as wardens."
For Immediate Release: May 1, 2018
Media Contact: Commissioner Louis Porter 802-828-1454; Col. Jason Batchelder 802-828-1529