Game Wardens Urge Timely Reporting of Poaching Activity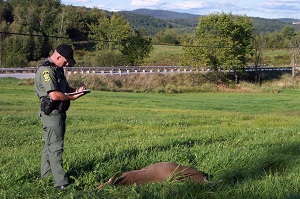 Vermont State Game Wardens are appealing for help in curtailing poaching activities.  They are asking for people who witness or believe they have knowledge of poaching to contact them quickly.
"If you hear a shot in the night, see lights in a field or have any information about a poaching incident, please contact us right away," said Col. Jason Batchelder, Vermont's chief game warden.  "The quickest way to reach a warden is by calling your nearest State Police office so the radio dispatcher can give the information to a warden in the area."
"Details such as names, vehicle descriptions, vehicle plate information, and direction of travel all can help.  We often can discover evidence and piece together a case if we can investigate the situation rapidly," added Batchelder. 
If you have information about any illegal activity relating to Vermont's wildlife, you also can anonymously call Operation Game Thief at 1-800-75ALERT (1-800-752-5378).   Rewards are paid for information leading to arrests. 
For Immediate Release:  October 09, 2018
Media Contact:  Col. Jason Batchelder 802-828-1529