Help Improve Wildlife Habitat at New Windsor Grasslands WMA on October 26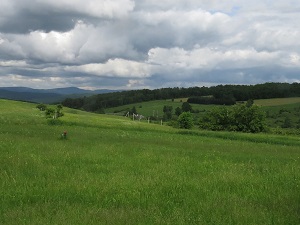 The Vermont Fish & Wildlife Department and Vermont Youth Conservation Corps are seeking volunteers to help improve wildlife habitat at the Windsor Grasslands Wildlife Management Area on Friday, October 26.
Volunteers will help plant trees and remove invasive species on the state's newest wildlife management area (WMA). The public is invited to bring their own lunch and learn more  about the Windsor Grasslands WMA at noon. The group will start working on projects at 1 p.m. and people are welcome to stay as long as they would like.
The Windsor Grasslands WMA restoration project is more than five years in the making and was first envisioned to restore wetland functions on the property which had been affected by past agricultural uses. Now five years later, the Vermont Fish & Wildlife Department owns the property and is working to help restore the health of the property's wetlands, streams and forests, efforts that benefit the entire watershed downstream.  
The VYCC's habitat improvement efforts are sponsored by the Vermont Habitat Stamp, a program that was started by the Vermont Fish & Wildlife Department in 2015 to help protect and restore the state's wild places. The goal of the stamp is to conserve the habitats that fish, wildlife, and plants depend on, and to provide places for birdwatchers, hunters, anglers, and others to enjoy the outdoors. The first few years of the program have been successful and contributed to the direct conservation of 3,200 acres, the restoration of streams and rivers, and the removal of dysfunctional dams for fish passage.   
"The young people working for the VYCC will spend a full week battling invasive plants and working to establish a mix of native, wildlife-friendly trees and shrubs in their place," said Chris Bernier, the Vermont Fish & Wildlife Department biologist who manages this WMA.  "Habitat stamp donors should take pride in knowing these funds are helping to restore fish and wildlife habitat, protect water quality, and engage youths in conservation. This collaboration demonstrates how, when the will and funding come together, we can improve our environment."
Equipment will be provided but volunteers are encouraged to bring their own tools including shovels, hand saws and lopping shears.  Suitable work clothes and gloves are required.
For questions, contact Chris Bernier at chris.bernier@vermont.gov or 802-289-0628. To register as a volunteer, go to: https://www.register-ed.com/events/view/130994-30-
For Immediate Release:  October 8, 2018
Media Contact:  Chris Bernier, 802-289-0628