Hunter Access Seminar for Vermont Landowners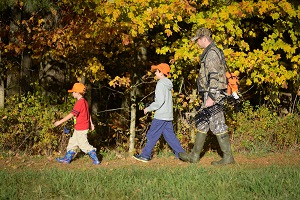 Hunting can be a valuable tool for private land conservation but managing hunters can be intimidating, particularly if you are not familiar with hunting.  To help, the Vermont Fish & Wildlife Department is holding a free seminar in Manchester for landowners interested in learning more about hunting and managing hunter access.
Co-hosted by the nonprofit Vermont Coverts, department staff will introduce you to what hunting is and is not, review landowner rights and the laws governing hunting, and provide a forum to discuss concerns about hunters and hunting on your property. 
The seminar will be held on Tuesday, October 2 from 6:30 p.m. to 9:00 p.m. at the Orvis Fly Fishing School at 4169 Main St, Manchester Center, VT 05255. The building is across the street from the Orvis flagship store.
"While everyone is welcome, this seminar is designed for new landowners and those with limited experience with hunters and hunting," said Chris Saunders of the Vermont Fish & Wildlife Department.  "We'll address many of the facts and myths about hunting and hunters and we won't shy away from the real concerns some landowners have with public access." 
Pre-registration is not required.  For more information, contact Chris Saunders at chris.saunders@vermont.gov or (802)343-5487.
Reasonable accommodations for persons with disabilities are available upon request.  Please include a description of the accommodation you will need.  Individuals making such requests must include their contact information.  Please email cathering.gjessing@vermont.gov or call the office staff at 802-828-1000 (voice), 1-800-253-0191 (TTY).
For Immediate Release:  September 17, 2018
Media Contacts:  Chris Saunders, 802-343-5487; Lisa Sausville, VT Coverts, 802-877-2777;