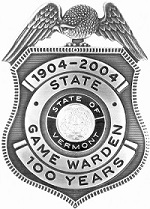 Gerin Fortin, 22, of Orleans, Vermont, pleaded guilty on June 26 in Orleans Superior Court to taking a moose in closed season and taking a moose by illegal means after several other related charges were dismissed. 
Fortin admitted shooting a cow moose in September of 2017 in a remote Westmore hay field using the headlights of his truck.  Using his truck, he dragged the moose 8 miles over pavement to the outskirts of Orleans before abandoning the moose to rot.   
Fortin was sentenced to serve 60 days on state work crew, plus probation, ordered to pay $2,000 in restitution, ordered to attend alcohol counseling, and he was ordered to forfeit the firearm he used.  Fortin also lost his privilege to hunt, fish and trap for three years in Vermont and all member states of the Interstate Wildlife Violators Compact.  The truck used to drag the moose was repossessed by a lienholder.
"Many of the fish and wildlife violation cases investigated by Vermont State Game Wardens come from members of the public who care enough to provide information," said Chief Warden Col. Jason Batchelder.  "You can help by reporting a violation with a phone call to a State Police radio dispatcher, or anonymously by calling the Operation Game Thief phone."
The toll-free Operation Game Thief line is 1-800-75 ALERT (1-800-752-5378), and there is a report form on Fish & Wildlife's website, www.vtfishandwildlife.com
For Immediate Release:  July 15, 2019
Media Contacts: 
Commissioner Louis Porter 802-828-1454
Colonel Jason Batchelder or Major George Scribner 802-828-1529